MONEI News
MONEI Helps Glop Revolutionize the Physical Payment Experience
MONEI | October 23, 2023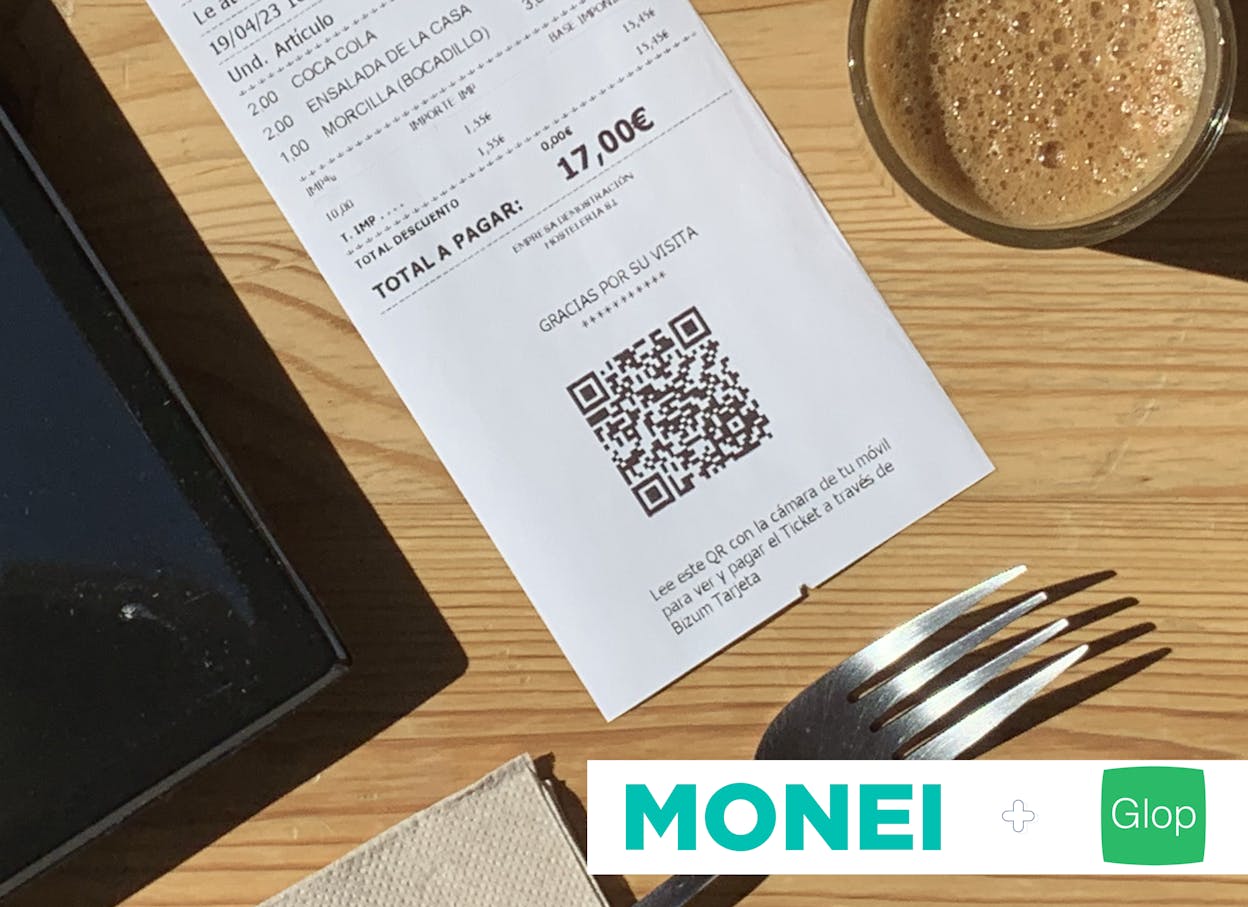 MONEI, the fintech that simplifies and speeds up digital payments, becomes the reference payment provider for Glop, the POS software used by more than 15,000 Spanish hospitality, food, fashion, and small business.
Nowadays, instant payments have emerged as a dominant trend in the financial sector. Companies strive to improve the convenience, speed, and security of the user experience, but a common limitation in standard payment systems is their reliance on bank POS systems, which restrict options to bank cards only. As a solution, from now on, thanks to MONEI Connect, the integrated payments solution for business platforms, Glop users can enjoy the fintech's wide range of payment methods through its POS to streamline and personalize customer transactions. 
Thus, with the integration of MONEI Connect, Glop clients obtain a complete POS solution by printing QR codes on the purchase receipt so the end user can pay faster and with their preferred payment method. In this way, businesses increase their productivity, save time, serve more people, and increase customer satisfaction by accepting more payment methods.
Álex Saiz, founder and CEO of MONEI, has pointed out the boost that this agreement represents for improving the physical payment experience, "Making online payments has become easier and faster, but surprisingly, physical payments have not followed. With this agreement, we work to continue offering users the payment option they prefer and simplify this process as much as possible also physically and not only digitally."
With MONEI as an integrated payments partner, Glop users will be able to accept more payment methods, such as credit cards, Google Pay, Apple Pay, local payment methods, direct debit, and even Bizum.
About Glop
Glop is software for the management and optimization of sales processes that replace old cash registers and optimize all the operations of a hospitality or retail establishment.
Given the need for digitalization in many establishments, Glop brings the experience of more than 25 years in the sector and offers an easy tool designed from the need for agility at the point of sale.
About MONEI
MONEI is a fintech that simplifies and speeds up digital payments. The company allows any entity to integrate with Shopify and other e-commerce platforms through a simple API. Thanks to its technology, both users and companies can combine more than 40 payment methods, local and alternative, through a single platform.
The omnichannel payments platform also has MONEI Pay, the first application (available on iOS and Android) that allows physical businesses to accept payments from their mobile phone by generating a digital QR code, thus eliminating the need for traditional POS devices at points of sale.
Likewise, the fintech integrates the MONEI Connect solution, which allows commercial platforms to manage and scale end-to-end payment experiences through a payment partner API. This tool has fully automated Know Your Customer (KYC) processes to facilitate the incorporation of new users into companies.
MONEI client funds are protected in safeguard accounts of supervised and regulated banking entities. The fintech is a member of several working groups within the European Payments Council and the European Central Bank. MONEI also has a payment entity license from the Bank of Spain, which allows it to carry out payment services, and have a contractual relationship directly with Spanish businesses.
👋 Want to receive more content like this? Subscribe to MONEI's once-a-month newsletter to get a roundup of the latest articles about e-commerce, payments, and expert business tips.


MONEI
MONEI is the leading omnichannel payments platform in Southern Europe.