E-Commerce Tips
How to Sell CBD Online: Your Guide to Success
Alexis Damen | May 25, 2022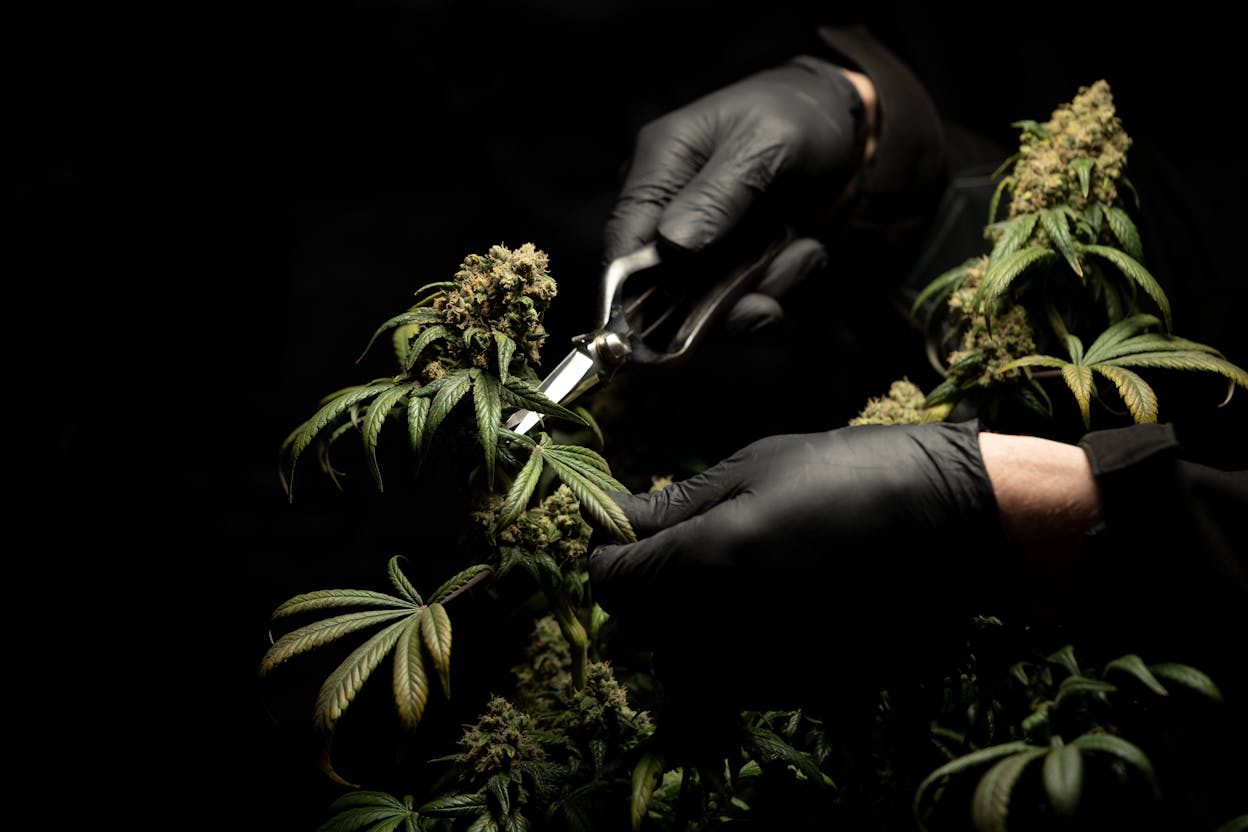 Are you looking for information about how to sell CBD online? You've come to the right place.
The cannabidiol (CBD) market is growing rapidly and it's not likely to slow down soon. Europe's CBD market is expected to account for more than $8 billion by 2028.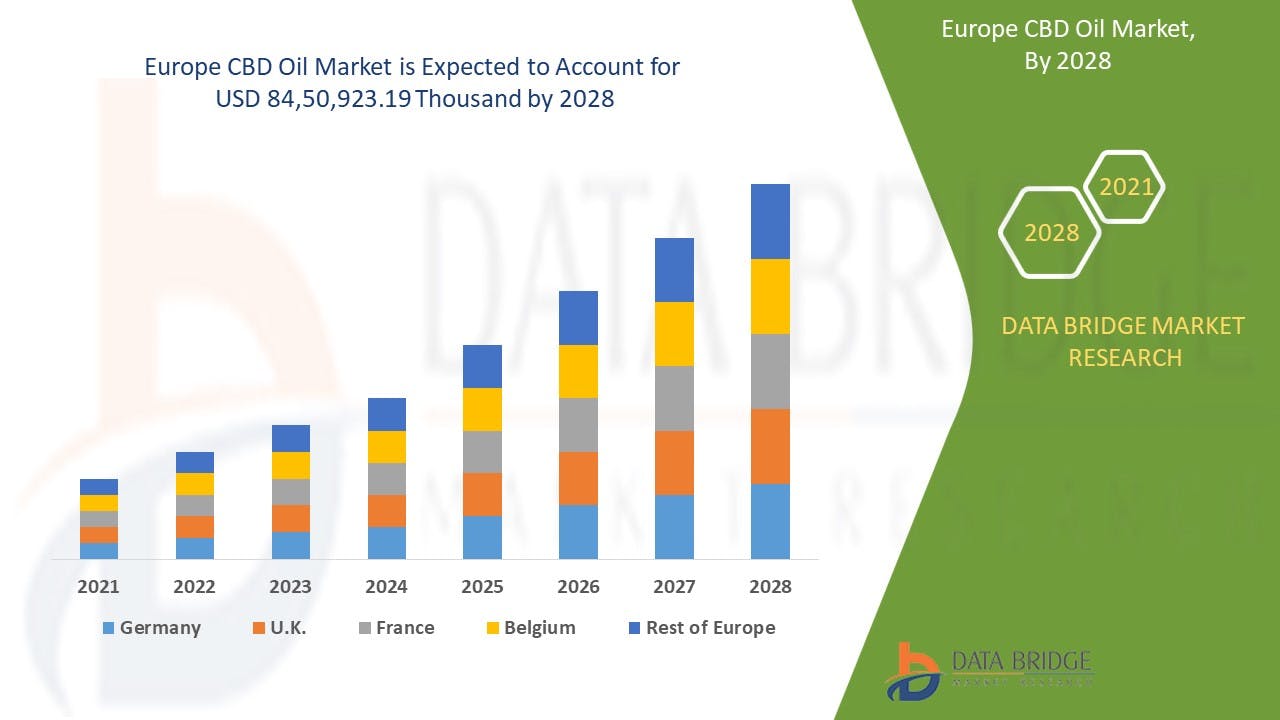 Source: Europe CBD Oil Market Report
Health stores, high streets, pharmacies, coffee shops, and even some clothing retailers now sell CBD oils. What was once a niche alternative treatment has become mainstream and online CBD sales are adding to the already flourishing market. Whatever you're selling, there seems to be a CBD-infused version of it.
In this article, you'll learn what CBD is, laws to be aware of regarding CBD, any obstacles that could get in your way, and how to grow your online CBD business.
Note: this article does not constitute legal advice.
Table of contents
What is CBD?
CBD, THC (tetrahydrocannabinol), cannabis, marijuana. There's a lot of confusion about what each of these is and whether they're the same thing. They're not. CBD is a compound found in all cannabis plants but it doesn't contain THC. THC is the compound responsible for psychological effects such as euphoria, short-term memory loss, an increase in appetite, and paranoia. 
CBD, on the other hand, is reportedly used to help a wide range of conditions, such as pain relief, reduced inflammation, anxiety relief, and more. It can be absorbed in multiple ways. For example, you can place a couple of drops of a tincture under your tongue, rub a cream directly on the affected area of your skin, or inhale CBD using a vaporizer. 
The CBD oil used in these products can be sourced from both hemp and marijuana plants. Full-spectrum hemp contains all cannabis plant compounds, including THC and other essential oils. Broad-spectrum hemp contains everything except THC, and CBD isolate only contains the CBD compound. 
The CBD industry is growing
Estimated to reach $8 billion in Europe by 2028 and $20 billion in the USA by 2024, the CBD industry is a market everyone is watching. Lots of businesses are starting up in the CBD market but there are always new opportunities. 
It's a good idea to look at the recent past to predict the future. Statista shows that since the end of 2018, CBD product sales have risen in the USA from $535 million to almost $2 billion.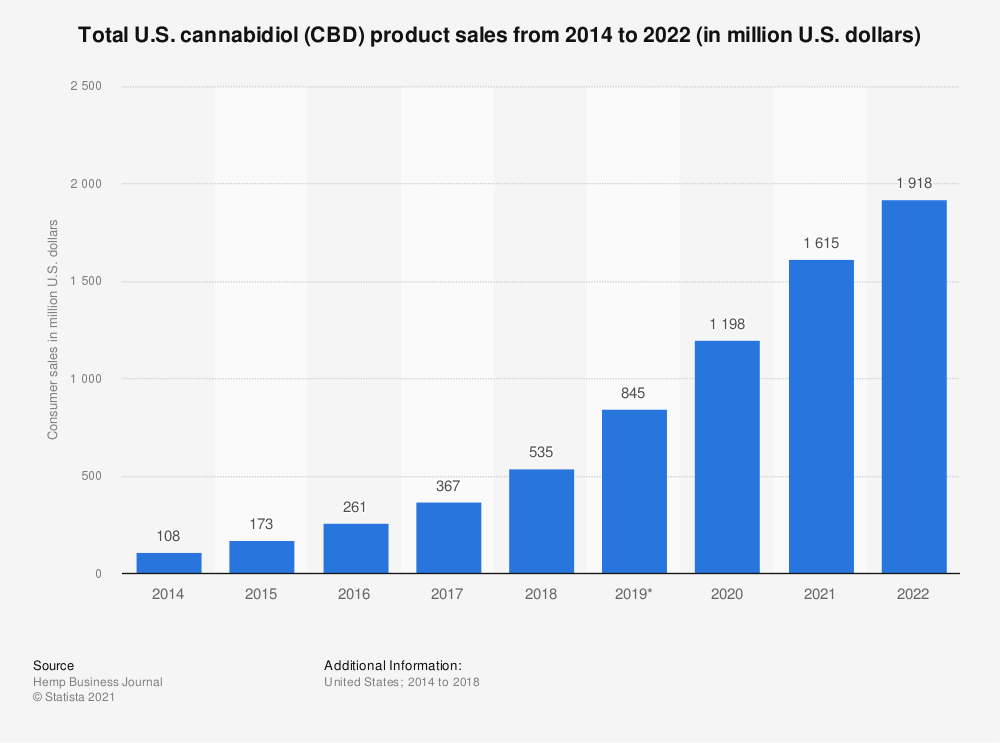 And the European CBD industry exceeded USD 1.9 billion in 2020 and is estimated to have over 33.5% CAGR from 2021 to 2027.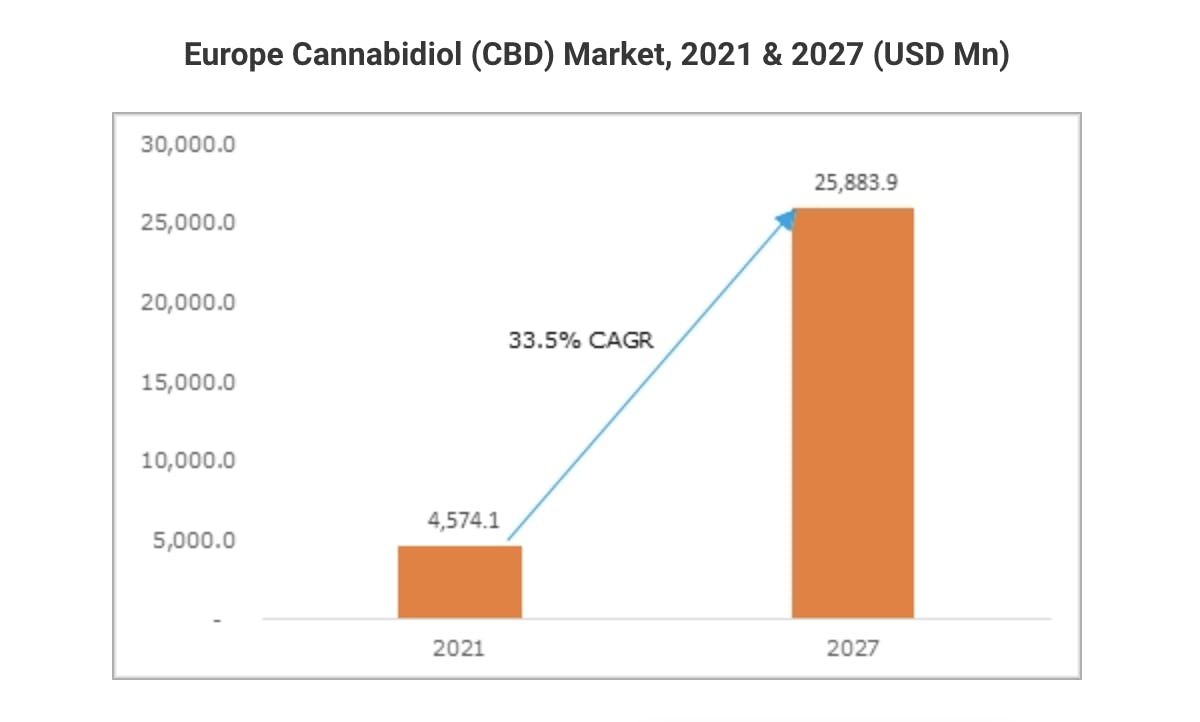 How CBD is consumed varies greatly. In Europe alone, the CBD oil market was worth over $450 million in 2020. And in the US, CBD infused chocolate isn't as popular as CBD gummies but is much more popular than CBD patches. With so many options available, you could become a specialist in your own market niche.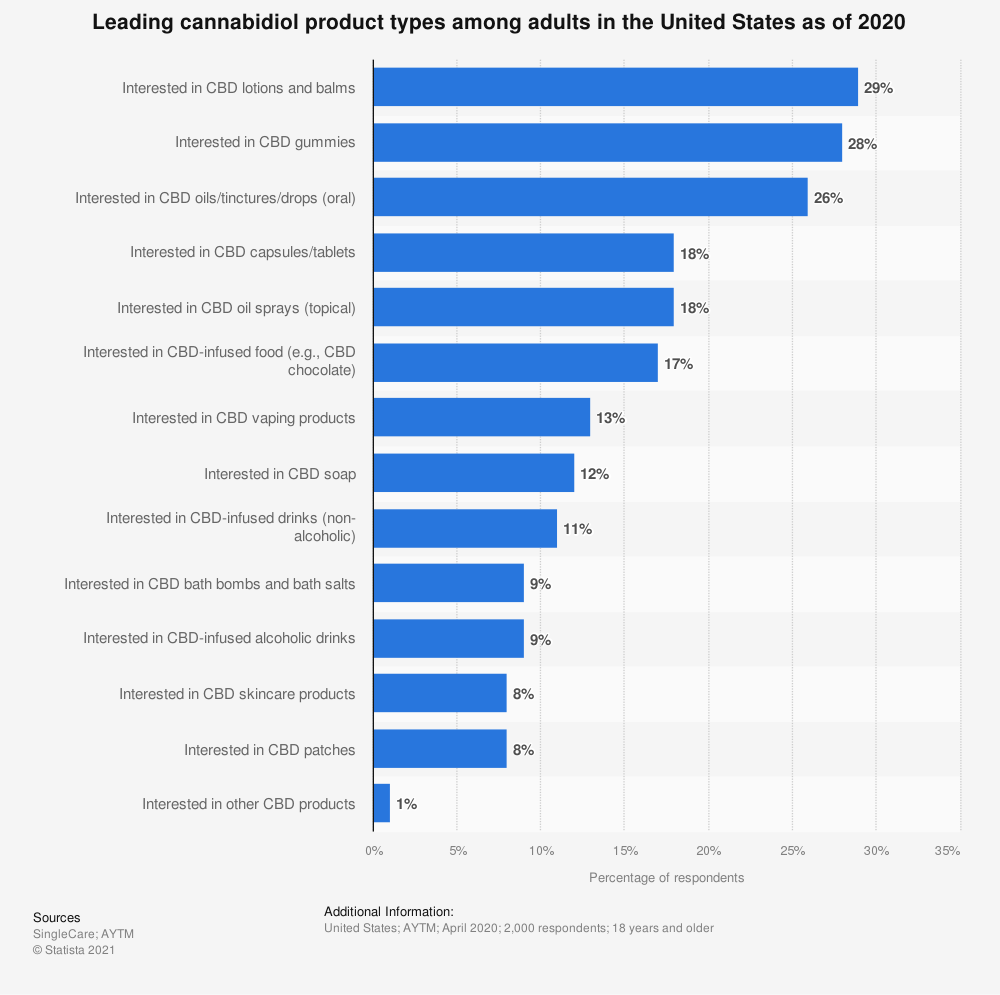 Source: Statista
Laws to be aware of before selling CBD online
CBD is federally legal in the USA, as long as it contains less than 0.3% THC. Anything above that is legally defined as marijuana. With that being said, the laws on selling CBD differ from state to state and from country to country. In Spain for example, the THC level has to be less than 0.2%. Check your local legislation before embarking on the sale of CBD.
Two further points:
You're not allowed to make medical claims to sell CBD
Yes, it's true that the main reason people say they use CBD is its medical benefits. However, as CBD hasn't been officially researched or medically approved in most countries, you're not allowed to make medical claims. When you're selling CBD, always double-check what you say about the product and make sure there's scientific evidence to back it up.
Avoid selling CBD edibles in the USA
CBD edibles are legal in countries such as the UK and the Netherlands, but they're illegal in the USA (regardless of THC levels). Check the specific laws in your country to see whether you can sell edibles but avoid selling them in the USA.
8 Tips on how to start selling CBD online
Once all your legal checks are complete, it's time to work out your CBD sales strategy. Here are eight tips to guide you.
Determine which CBD products you'll sell and your niche
Type in CBD followed by almost anything to your favorite search engine and you'll probably find a product that already exists. CBD creams and ointments, chewies for humans and pets, hemp clothes, accessories, and almost anything else you can imagine. 
What you sell is up to you. Focus on the "classics", or sell CBD products that are just starting to become more popular. It's easier to define by breaking products down into wider categories: 
Supplements/wellness products
CBD-infused food/beverages (better to avoid in the USA)
CBD pet products
CBD-based cosmetics
CBD products also come in many different formats, which affects absorption rates and ingestion:
Drops and sprays. CBD oil is the key ingredient here. Sometimes flavoring agents are added to improve the taste.
Tinctures. These are made by combining CBD with alcohol or another strong solvent. They can also contain extra herbs. They provide a quick effect but don't always taste great.
Pills and capsules. The big benefit of pills and capsules is that they're easier to digest. 
CBD Vapes and cartridges. For faster absorption into the bloodstream, inhalation products work best. People who enjoy the social aspect of vaping often prefer this method too. 
Topicals and patches. Many consumers don't like the flavor of hemp. Topicals and patches solve this problem and also offer a more targeted relief.
CBD edibles. CBD products you can eat, including gummies, candy, chocolate, honey sticks, and more. 
Research CBD laws and regulations
Every country has its own laws regarding CBD, so if you're planning to sell further afield, make yourself aware of every shipping destination's law. Some countries prohibit selling products with even a trace of THC and there will often be specific labeling requirements.
A few simple steps to follow:
Always check local laws before selling CBD online
Purchase high quality tested CBD for your products
Make sure your labels are clear and provide certification
Don't sell CBD with more than 0.3% THC
Never make medical claims about your products
Stay away from unreliable or unofficial CBD suppliers
Develop your CBD business plan
It's possible to start a business without a business plan but it's not recommended if you want it to be a success. Selling CBD online can be rewarding but it requires foresight. It's your starting point for keeping on top of regulatory policies, determining operational priorities, and getting ahead of new business opportunities. Your financial backers and other stakeholders will want to see a business plan before they invest.
Market analysis. What's the size of the CBD industry? What information do you have about potential customers? Who are your competitors? What are the other market variables? Answering these questions will ensure you make more informed decisions about product positioning, marketing, and your overall go-to-market strategy.
Make a compliance plan. Laws surrounding CBD products are constantly changing. Your compliance plan will help you stay aware and make changes to maintain compliance with new laws and regulations.
Define your brand. What makes you different from the competition? How do you make sure you're staying relevant? What will your messaging say about who you are as a business? Which products will you sell and why? 
Understand your finances. How much will it cost to launch? Which costs will only be incurred at the beginning, and which costs will be ongoing? Once you have determined the costs you know about, add some padding for the costs you can't plan for. With that information at hand, work out how many sales you'll need to break even. Make sure any estimated profits are realistic, especially when seeking investment. 
Develop a marketing plan. Your marketing plan needs to be realistic, backed up by data, and channel-specific. How will you grow awareness around your CBD brand? What steps will you take to acquire new customers? How will you keep them coming back? What barriers exist when advertising CBD products online?
Get your licenses and ensure all business documents are in order
Where you set your business up will determine exactly which licenses you'll need but most countries require a regular business license and a reseller license. A reseller license is needed if you plan to buy from wholesalers and different countries will ask for different requirements to obtain one. 
Some countries make it mandatory to have a specific CBD distributor license, retailer license, and/or product registration. This may even be necessary if you only sell to a particular country online and have no physical presence there.
Source a certified CBD supplier
A reliable, certified CBD supplier can make the difference between a successful and unsuccessful CBD business. You need to make sure your supplier only sells you CBD with a low enough dosage of THC to comply with the law. A reputable supplier will perform lab testing, making sure there are no other contaminants. 
It's not just about legal issues either. Your customers will want a quality product and a reputable supplier can provide that. Their products will be clean and consistent, which isn't always a guarantee with a low-quality supplier. 
Find an e-commerce platform or build a custom website
Not every e-commerce platform allows you to sell CBD due to its regulatory standard, so it's important to find one that does. It's just as important to find the right one for you and your customers too. It needs to be easy to build for you and easy to navigate for your customers. A good website will enhance customer satisfaction, a bad website could turn people away forever.
A few e-commerce platforms stand out when it comes to selling CBD: 
Shopify allows you to make full use of its impressive and easy-to-use platform to sell CBD, but only in the US. Fortunately, we offer CBD payment gateway services in Southern Europe and integrate with Shopify, making it possible for you to sell CBD products.
BigCommerce allowed CBD sales even earlier than Shopify and is probably the best-known platform in the sector. 
WordPress is harder to use but it can be a powerful store once you're set up. Their WooCommerce plugin makes the set-up easier too, but selling CBD products via this platform is not widely available in Europe. 
If you have the budget or the technical ability, you could also build a custom website. This takes away the restrictions of a templated site but it's also likely to add to your timelines and costs.
Create your shipping and returns policy
Shipping
Many customers are spoiled by the free shipping and quick timelines big brands such as Amazon offer, but that's often not feasible for small businesses. That's why it's important to work out exactly what you can offer, while still making a profit. Work out a threshold for free shipping, offer realistic delivery dates, and always make sure shipping fees are clear as early as possible on your website. 
To get this right, you'll need to know which fulfillment option serves you best. Work out how to store your inventory, which suppliers offer the best deals, the minimum order quantities (MOQ) you need to work with, and make sure you know how all of this will affect delivery times. 
Another thing to consider is the law regarding CBD shipments. What are you allowed to ship within a country and from one country to another? Which couriers are willing to make deliveries for you? Do your research on this. Not every company's policy is straightforward.
Returns
Just as important are the rules around returning products. Customers like to know where they stand, even if the rules are strict. How will returns affect logistics? How will your returns policy affect customer satisfaction? There are laws in place for returns where online sales are involved, depending on the country you're selling to. Consider things like damaged goods, lost stock, and more.
Start marketing your CBD brand
Everybody is going to buy from you as soon as you're online! That's what we like to think but marketing is never easy and marketing CBD has more barriers than most. Sadly, many of the more popular options for communicating your message, such as Facebook ads and YouTube don't allow the promotion of CBD. That makes creating content and leveraging SEO (search engine optimization) even more important than usual.
SEO is your way of letting Google know you exist, so people searching for CBD products can find you. You'll need a professional SEO expert to audit your site, making sure it's optimized for Google. You can then create lots of the right types of content. Blogs that inform, entertain and empower your audience will keep readers coming back. If they're full of the right keywords, Google is more likely to place them higher in their rankings. It's often worth hiring an expert to help with this. Videos and other content can play a big part too.
Think about where your audience spends their time. Who influences them? People who already have big audiences endorsing your products will make a powerful impact. Just make sure these influencers are aligned with your business and your values.
Obstacles of selling CBD online
It's not easy to sell CBD online but the most valuable things never are. Here are a few of the obstacles to be aware of:
Finding a payment gateway that supports CBD payments
There can be a lot of red tape when it comes to accepting CBD payments in your online store, but with the right payment service provider (PSP) you'll be able to build a thriving online CBD business. 
That's why it's important to choose a payment gateway that integrates with your e-commerce platform of choice, supports CBD payments, and helps you accept a wide range of online payment methods. 
📌Try MONEI to grow your CBD business online. Learn more. 
Standing out from the competition
What makes you different? There are lots of CBD products on the market. Maybe you sell something others don't, maybe your returns policy is fairer than everyone else's, and maybe your customer service is outstanding. What values do you hold dear? How do you communicate? It's crucial to define your brand so you're always communicating a clear, consistent, and relevant message.
Making sure you're following all CBD rules and regulations
We've already established that rules and regulations can vary depending on where your business is based and where you sell to. Plus they're changing all the time. Keep on top of these, so once you have a system and policies in place, adjustments will be easier when a change occurs.
Grow your CBD business online with these bonus tips
Starting your CBD business is only one piece of the puzzle. Once you're up and running, steady growth is key. Here are a few tips to help you on your way: 
Regularly ask for customer feedback
Nobody starts a business knowing everything. Customers can offer the best insights into what you're doing well and what you could do better. Ask for feedback and act on it. Pay attention to what people are saying about you when you're not asking them. Check social channels as people are more likely to give honest feedback when they don't know you're listening.
Lean on experts or organizations for help
You've made a good start. There's a lot of good information out there about selling CBD online. Read it, learn, and ask for more information. Initial costs are often outweighed by the return you get on your investment. 
Somebody who is already following the path you're about to go down can be a huge asset. A mentor can tell you which information is worth acting on and which isn't. It's early in the CBD sales market but there are plenty of mentors in the business world, ready to support you.
Set realistic business goals and measure performance
So often, you see rags to riches stories about e-commerce businesses that went from zero to millions in a day. These are almost always falsified or exaggerated. Good businesses take time to nurture and grow. 
There's ample opportunity but it's important to set realistic goals. Measure your performance regularly and adjust your goals accordingly. Learn from your successes and failures. Reiterate the good, get rid of the bad.
Never stop learning about the CBD market
You've seen the predictions for the CBD market, and you have a good idea of what's led us to this point. But there's always something new to learn about the CBD market. Whether it's a change in laws or regulations, a new product portfolio, or new research into evolving consumer behavior, you need to know. 
To stay on top of things, sign up for Kush's hemp and CBD industry newsletter, Cannabis Culture Magazine, or Hemp Industry Daily. 
Stay true to your values
Changes will happen in the market. Customers will change, suppliers will change, and sometimes, you'll need to make changes. Being flexible is vital in such a fast-paced industry but don't forget who you are as a business. Your decisions should never go against your values and should always align with your brand.
Wrapping up: how to sell CBD online 
There's a lot to do but you're ready to start. You know what CBD is, the laws surrounding CBD, and the obstacles to selling it. You're armed with a business plan, you have a payment gateway ready to support you, and most importantly, you know how to sell CBD online. 

How to sell CBD online FAQ
Is it legal to sell CBD online?

This depends on the jurisdiction. In Spain, your business must meet certain legal requirements. You cannot sell a product that has more than 0.2% THC and the products must be manufactured and sold within the EU. Local and international laws vary and are subject to change, so it's important to check current regulations in your area.
What are the requirements for selling CBD online?

Online CBD sellers in Spain can only sell products with less than 0.2% THC that are manufactured and sold within the EU. They also need to use a payment gateway and processor that allows CBD sales, and follow regulations for shipping CBD products.
Can I sell CBD on major e-commerce platforms like Shopify?

You can currently sell CBD products directly on Shopify, but only in the US and policies change. Fortunately, MONEI integrates with Shopify and offers CBD payment gateway services in Southern Europe, so you can sell CBD products.
How can I market my CBD products online?

Digital ads can be tricky for CBD products due to restrictions on platforms like Google and Facebook. However, if you follow the e-commerce best practices, strategies like content marketing, SEO, influencer partnerships, and email marketing can be effective.
What information should I provide about my CBD products?

Transparency is key in the CBD industry. Detailed product descriptions, lab test results, and information about sourcing and manufacturing processes can build trust with customers.
What are the best e-commerce platforms for selling CBD?

Some e-commerce platforms allow CBD sales and provide support for high-risk industries. Examples may include Shopify, but if your business is based outside of the US, you need to integrate with a CBD payment gateway. BigCommerce is another option, but it's important to check if there are limitations in your region.
Can I ship CBD products internationally?

Shipping CBD products internationally can be complex due to varying laws in different countries. It's important to understand and comply with the import/export laws of both the shipping and receiving countries.
Do I need insurance to sell CBD online?

Given the legal complexities surrounding the CBD industry, having business insurance can provide some level of protection. Consult with an insurance professional familiar with the CBD industry to understand what coverage is right for your business.
How can I find a payment gateway and processor for my online CBD store?
What types of CBD can I sell online?

In Spain, it's legal to sell CBD based products that contain less than 0.2% THC, as long as they are manufactured and sold within the EU. Remember, the CBD industry is still evolving, and legal and regulatory frameworks can vary widely. Always seek professional legal advice before starting a CBD business.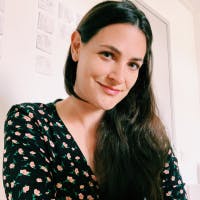 Alexis Damen
Alexis Damen is the Head of Content at MONEI. She loves breaking down complex topics about payments, e-commerce, and retail to help merchants succeed (with MONEI as their payments partner, of course).