Payments Technology
What is a Payment Gateway? (+ Compare Options)
Alexis Damen | December 3, 2020 | Updated: May 23, 2023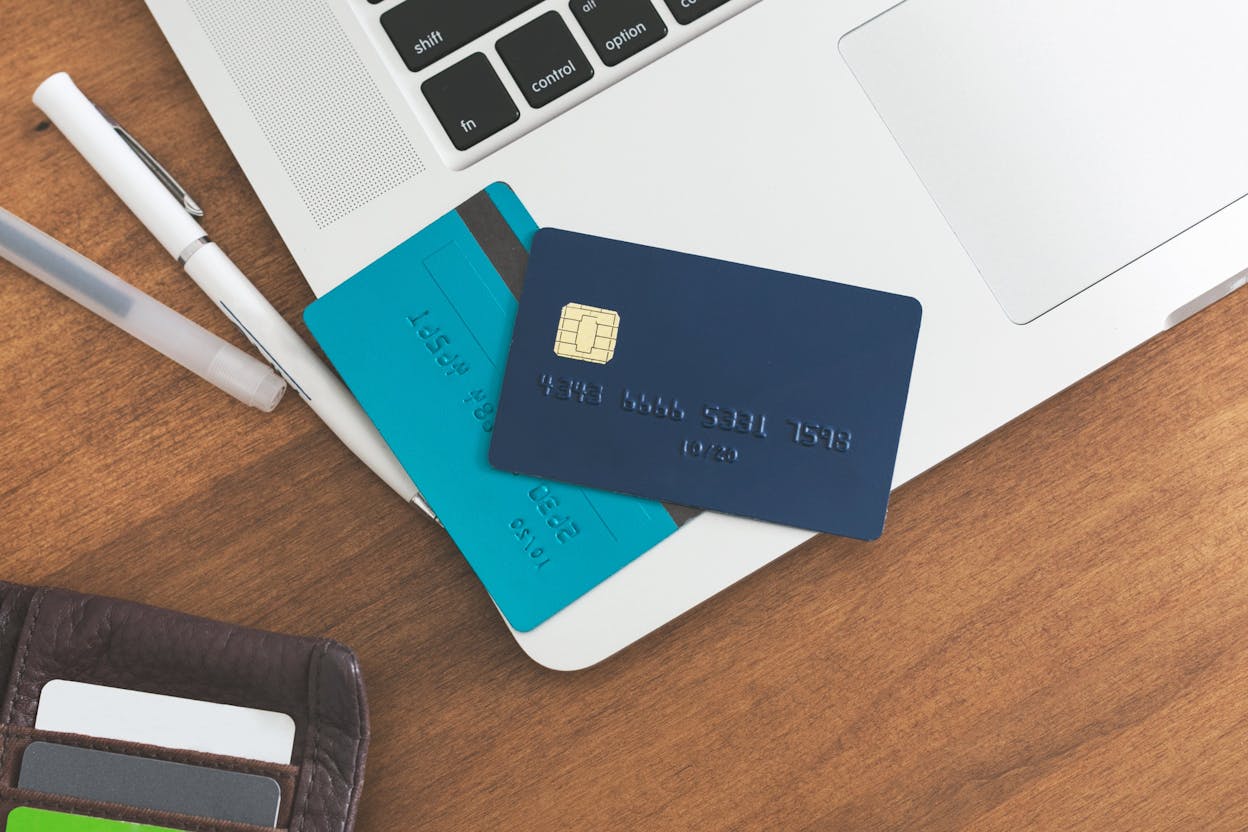 You've selected an e-commerce platform for your business, uploaded products, and added compelling product descriptions to entice shoppers to click "Buy Now". But what happens next is equally important to the success of your store. If customers can't quickly and securely complete online payments via your e-commerce website, you risk losing the sale altogether. Integrating with a reliable payment gateway is a crucial step in the process of starting and growing your business. 
But what is a payment gateway? Understanding the technology that works behind the scenes of online payments can feel overwhelming, that's why we're breaking it down for you in this article. Read on to learn what a payment gateway is, how it works, what makes it different from a payment processor, and the different types of payment gateways. 
Table of contents
What is a payment gateway?
A payment gateway is the technology that transmits payment data from the cardholder (your customer) to the acquiring bank. It then sends a response from the issuer to confirm whether the transaction is approved or declined. It's essentially a safe and secure infrastructure that bridges the gap between your business and your customers for online transactions.
In-store, a point of sale terminal (POS) or mobile POS system looks at card chips to validate the shopper's credit card. Online, a payment gateway confirms whether a payment is legitimate, whether it's made using a credit card, a digital wallet, a local payment option like Bizum or another online payment method. With online payments, you can't access your customer's physical card, so your payment gateway does the work for you.
📚Read also: Acquiring Bank vs Issuing Bank: 3 Minute Guide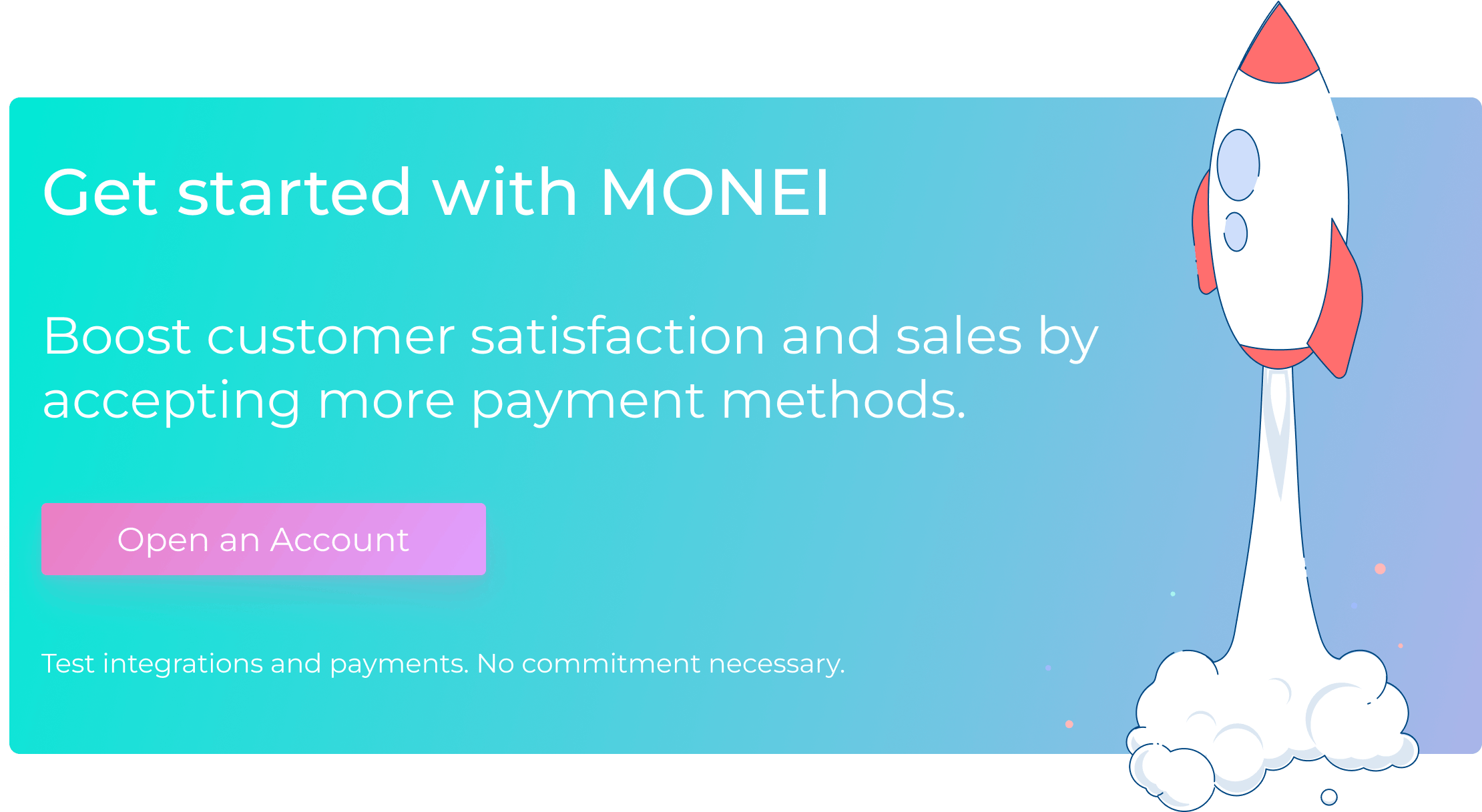 How does a payment gateway work? 
Before you can understand how a payment gateway works, it's important to learn about the key players involved in the online payment process. 
Merchant. An online business that does business in any vertical that sells its products or services online. 
Customer. Also referred to as the cardholder, the customer is the person who comes to your e-commerce website and initiates a transaction. 
Issuing Bank (or issuer). This is the customer's bank that issues the cardholder's debit or credit card.
Acquiring Bank (or acquirer). This is the bank that hosts the merchant's credit card processing account (referred to as the merchant account). Payments are received and then the acquirer sends the merchant's transactions to the issuer.
📚Further reading: Your Guide to Payments Terminology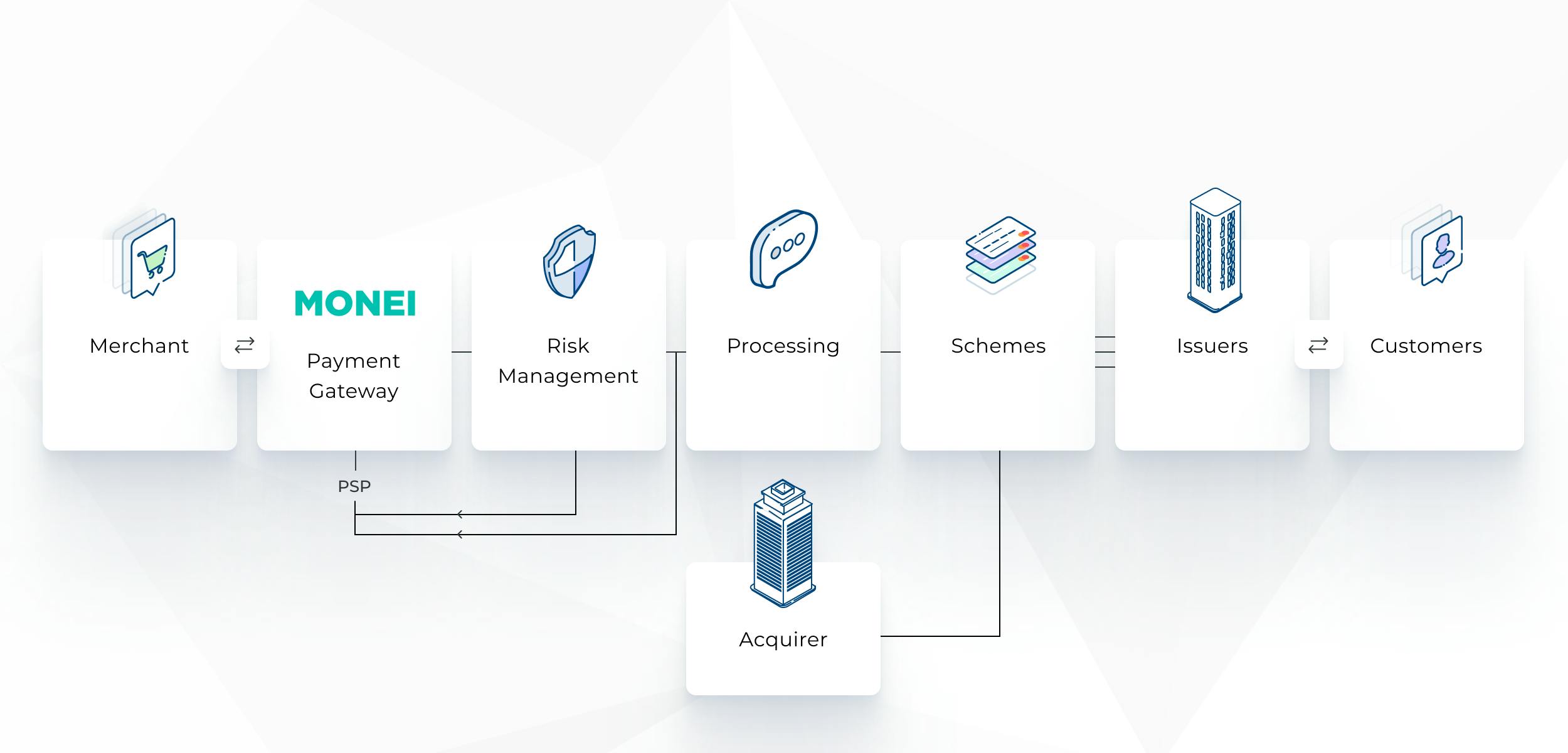 Now that you understand who's involved, let's see how a payment gateway works with the payment flow.
1. Customer proceeds to checkout 
Your customer selects the product they want to purchase and proceeds to checkout. Each payment gateway offers different options for your payment page. With MONEI, the easiest option is the Hosted Payment Page. It shows payment buttons for all the payment methods you've configured in your account and you can customize it with your logo, brand colors, and URL. 
2. Customer fills in card details 
Your customer fills in their payment details and then the information is securely sent to the payment gateway. 
📚Further reading: How to Accept Payments Online: 6 Step Guide
3. Payment gateway encrypts details 
Once the cardholder's information is received by the payment gateway, it encrypts or tokenizes the credit card details. Then the payment gateway runs fraud checks before the card data gets sent to the acquiring bank. 
4. Acquirer and issuer communicate
The acquiring bank (also referred to as the merchant acquirer or acquirer) securely sends the payment information to the card schemes, or card networks, who check for possible fraud and send the payment data to the issuing bank. 
After completing fraud screening, the issuing bank authorizes the transaction. The approved or declined payment message gets sent back from the schemes and then to the acquiring bank. 
The acquirer sends the approved or declined payment message back to the payment gateway, and the final message gets sent to the merchant. For approved payments, the acquiring bank collects the transaction amount from the issuer (or issuing bank) and transfers the funds to your business bank account. 
This typically happens one day after the transaction before the payment is settled and the money is deposited into your business bank account (minus transaction fees). Acquiring banks assume the risk of credit card transactions, and wait to get paid from the issuing banks at a later time.
📚Further reading: A Simple Guide to Accepting Credit Card Payments Without a Merchant Account
5. Payment confirmation 
Once the payment is approved and processed, you can display a payment confirmation page. If the payment is not approved, you can ask customers to provide another payment method. 
6. Payment settlement 
Settlement happens once the transaction is approved and funds get released and deposited into your business bank account. The official settlement time depends on the agreement you have with your payment gateway. With MONEI's payment gateway, it ranges from one to seven days from the date of the transaction — verified merchants get payouts in 24 hours.
Both you and your customers benefit from payment gateway technology.
Your customer's card details are always secure, and they have a range of payment methods to choose from. And you can be sure that your e-commerce store is compliant with payment security regulations like PCI DSS, PSD2, Strong Customer Authentication (SCA), and 3D Secure authorization Activity goes on in the background and the steps outlined above happen in milliseconds. 
💡Pro Tip: Check out our guide on how to choose the best payment gateway for your e-commerce business to learn what questions to ask and factors to consider before you select a payments partner.
Payment gateway vs payment processor: what's the difference?
You've probably heard the terms payment gateway and payment processor used interchangeably but they're not the same thing. So, what's the difference? 
A payment gateway is a type of payment service provider (PSP) that notifies you and your customer when a transaction has been approved or denied. It lets you accept more payment methods through your website and also integrates with card readers, point of sale systems (POS), and mobile payment apps. 
A payment processor sends transaction data between your merchant acquiring bank and a customer's issuing bank. It's required for all transactions, online or in person.
What are the different types of payment gateways?
Similar to e-commerce platforms, which offer hosted and self-hosted options, payment gateway solutions can be integrated into your store or hosted off-site. There are advantages and disadvantages to both scenarios. Let's look in more detail: 
Hosted payment gateway
A hosted payment gateway redirects the cardholder to the payment processor's platform to fill in payment information. The advantage of a hosted solution is that the payment gateway is responsible for all data security and PCI compliance. You don't have to worry about it.
The disadvantage of a hosted payment gateway is that your customer can be redirected off of your website to a third-party domain. This can result in lost sales and lower conversion rates.
Fortunately, with MONEI's Hosted Payment Page, the cardholder is never redirected. You can personalize your payment page with your logo, branding, and custom domain so the customer never leaves your website (i.e. fewer lost sales and increased conversions). 
Integrated payment gateway
Integrated payment gateway solutions (or a custom-built checkout) connect to your e-commerce website using a payments API (application programming interface) that is created by the payment service provider. 
The seamless experience is an advantage for you and your customers. They never have to leave your website to fill in their payment details and complete their purchases, which, in turn, helps to improve your conversion rates. 
The drawback of an integrated payment gateway is that you're required to manage the programming. MONEI's dev documentation helps you (or your developer) integrate the payment gateway with your e-commerce website so it's functioning in no time. 
In some cases, with integrated payment gateways, you're liable for complying with your country's payment regulations. However, at MONEI we handle it for you whether you choose a hosted payment gateway or an integrated payment gateway. 
Integrated payments are also a great solution if you have a business platform or marketplace and want to help your users/merchants accept more payment methods, something MONEI Connect was built for.  
Compare payment gateways for your e-commerce business
You have a wide choice of payment gateways and you need the best one for your e-commerce business. Let's compare payment gateways so you can make an informed choice:
Find the right payment gateway for your business
Regardless of the e-commerce platform you use for your business, choosing the right payment gateway is crucial. Look for a payment gateway that supports multiple payment methods, has fast settlements, scales with your business, and charges low transaction fees. Get started with MONEI.

What is a payment gateway FAQ
What is a payment gateway and how does it work?

A payment gateway is the technology that works behind the scenes to approve payments online or by using a payment terminal in person.
How do I know if a payment gateway is secure?

Security is an important part of a payment gateway, whether it's to prevent fraud, stop theft, or verify a transaction. Your business should always use a payment gateway with PCI DSS Level 1 security to make sure your customers can trust your e-commerce business.
What type of payment is the most secure?

Credit and debit cards are one of the most secure payment methods. However, local payment methods like Bizum, digital wallets, and payment links are secure too as long as you're using a payment gateway with PCI DSS Level 1 compliance. 
Are payment gateways PCI compliant? 

They should be! MONEI, for example, is PCI DSS Level 1 compliant. With our payment gateway, you never have to worry about compromising sensitive business or customer data.
How much do payment gateways cost?

Payment gateway providers charge different prices and charge in different ways so be careful to check what each company offers. Look out for monthly transaction fees, subscription fees, PCI compliance fees, initial setup fees, fees for returns or refunds, and higher prices for transactions with cards like American Express before you make a decision.
What's the difference between a virtual terminal and a payment gateway?

A virtual terminal (or virtual POS) is sometimes also referred to as a merchant ID, merchant code, or merchant acquiring. You can get one from your acquiring bank and it's required to process online payments. When you open an account with a payment gateway, you need to provide your virtual POS credentials to complete the setup. Or you can use an all-in-one payment gateway (like MONEI) that has built-in merchant acquiring services.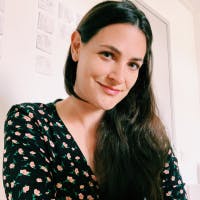 Alexis Damen
Alexis Damen is the Head of Content at MONEI. She loves breaking down complex topics about payments, e-commerce, and retail to help merchants succeed (with MONEI as their payments partner, of course).