E-Commerce Tips
15 Best E-commerce Platforms Compared (Plus How to Choose the Right One for Your Online Store)
Alexis Damen | November 24, 2020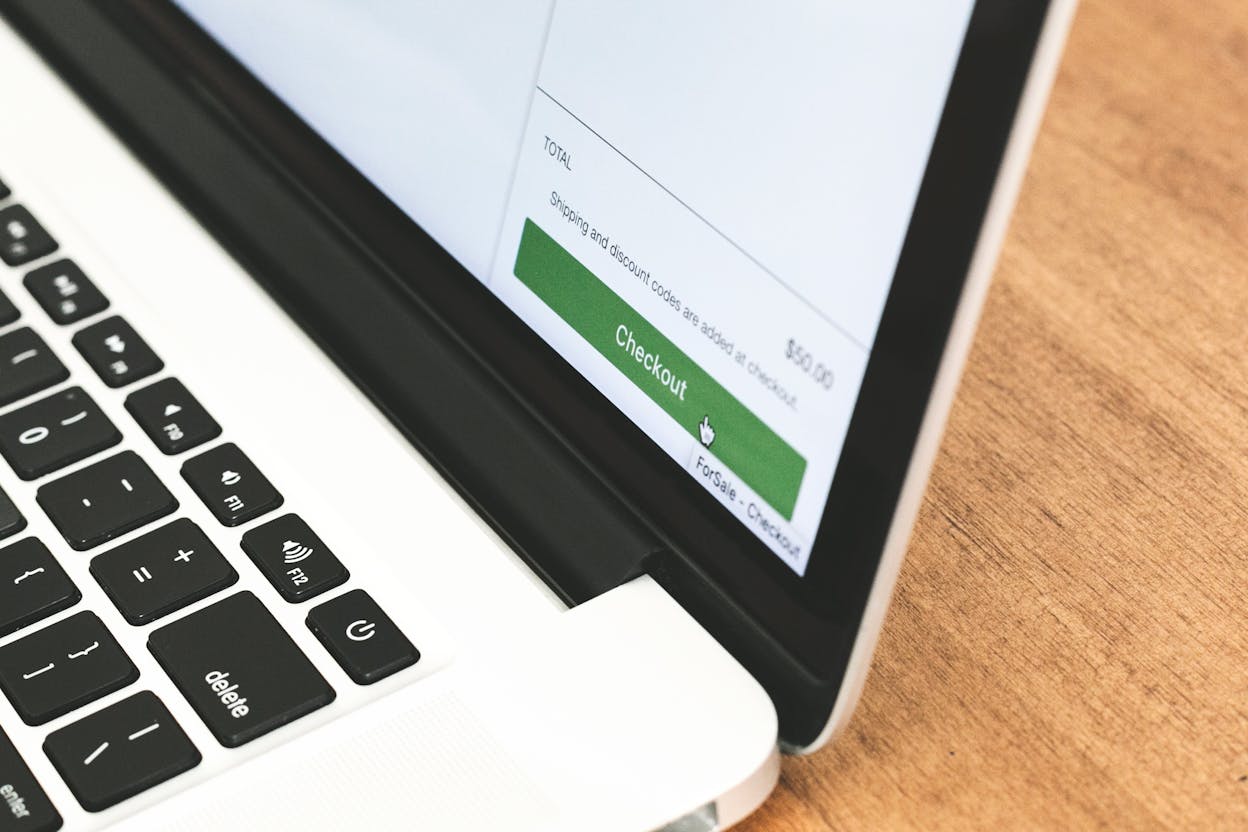 There's an abundance of e-commerce platforms available to today's online merchants. The barrier to entry to launch an e-commerce business is relatively low. However, finding the best e-commerce platform is a crucial step in launching and growing your online shop. 
Here we'll review the most used and different types of e-commerce platforms. Including recommendations by business type, and the key factors to consider when choosing the best e-commerce platform for your business.
What is an E-commerce Platform? 
An e-commerce platform is a software solution that online merchants use to create and manage their websites. Many e-commerce platforms include marketing, sales, and operations features to help online businesses succeed. 
A standard website builder has basic features like adding pages and dropdown menus. An e-commerce platform offers features like payment processing, order fulfillment and shipping tools, inventory management, and robust sales dashboards. 
Many e-commerce platforms are sold as software-as-a-service solutions (SaaS) with a range of monthly fees depending on your needs. There are also self-hosted or open-source e-commerce platforms that refer to software systems that allow you more control over your design and customization. However, with open-source, you need an experienced developer to maintain your site and you need to find your own hosting. 
E-commerce Platform Types 
Depending on your growth plans, you can choose an e-commerce platform that offers the features and customization capabilities you need. Think about what you need right now and in the future so you select the right solution to scale your business. 
Self Hosted or Open-Source E-commerce Platforms
Open-source means the original source code is freely available and may be modified and redistributed. An open-source e-commerce platform gives you more freedom and flexibility to create and build exactly what you want without restrictions. It's essentially a software system that you download and make work on your own. 
The downside of open-source frameworks is that they offer little to no support. You are responsible for making sure your site is secure and making sure it works. You're held accountable for everything. Unlike a SaaS, you don't pay a monthly fee for open-source.
Hosted or SaaS E-commerce Platforms 
Hosted or software-as-a-service (SaaS) e-commerce platforms usually have a monthly recurring fee that merchants pay to use the software. Think of it as an off the shelf solution. 
The SaaS will make sure your site is always up and running and develops new features so you can stay competitive and continue to use the platform. SaaS e-commerce frameworks are responsible for security, and they tend to offer great customer support. 
With SaaS e-commerce platforms, customization capabilities may be restrictive when compared to open-source frameworks. However, you can choose from a range of themes and pre-designed templates as well as work with a developer to design your online store. 
Headless Commerce Systems 
Headless commerce offers you the freedom to build whatever you want and can help to improve customer experience. Its architecture provides a separation of the front end and back end of an e-commerce application. 
Adopters of headless commerce are usually large enterprises with an IT and development team. Custom programming is necessary to build a separate yet reliable front end and back end. 
Further reading: The Lasting Impact of COVID-19 on E-commerce Growth
Important Factors to Consider When Choosing The Best E-commerce Platform for Your Business
Pricing, design, features, interface, and many other components go into choosing the best e-commerce platform for your online store. It may be tempting to choose the most affordable plan, but migrating your site later can be a hassle.
You can start by researching the following factors for each platform you're considering, and then narrow down your choices.
What's Your Budget? 
E-commerce platform pricing depends on the type of platform and your customization needs. The costs to build and host your e-commerce site can range from $10 to $10,000 plus.
Many SaaS platforms offer competitive pricing packages, but it's still important to understand whether it's the most cost-effective choice for your business. 
Paying more doesn't always guarantee the best experience, but choosing the least expensive option can mean you'll pay extra for plugins and additional features. Combining fees from various providers tends to be the most expensive option. 
Before you chose an e-commerce platform, you can consider your budget for the following pieces:
Website design
Programming and functionality
Security 
Custom app development
Monthly hosting fees
Maintenance 
Licensing 
If you choose an open-source platform, you'll need to research the costs of these services from various providers. With a hosted or SaaS platform, it's more common to find a package that includes all the features you need within a monthly subscription. 
What are Your Growth Plans and Can Your E-commerce Platform Grow with You? 
Choose an e-commerce platform that will grow with your business. That way, you'll already be familiar with how it works when you're ready to scale.
How many products will you sell?
Factor in whether you're selling one product or many products with numerous variants. An e-commerce platform that lets you increase the number of SKUs allows you to avoid restrictions later.
Can the platform handle high-volume traffic? 
Find a hosting infrastructure that can handle traffic surges without crashing your site. That way when your marketing campaign goes viral, you'll be ready. 
What are Your Customer Service Expectations? 
The livelihood of your e-commerce business is highly dependent on the platform you choose. 
You'll be using the platform every day. Can you get support from a real person to help you with a problem? Many SaaS e-commerce platforms offer email, chat, or phone support. 
As mentioned above, you'll have a harder time finding great customer support if you choose an open-source platform. 
Social Media Integration
Social media is a must-have for e-commerce businesses. It's important to define your social media strategy based on your target audience. It's key to figure out if the e-commerce platform offers built-in integrations with social media channels you plan to use. 
Social media integrations can provide a seamless experience so you can advertise and promote your brand directly to users in their news feeds.
Sales Channels and Synching
Selling products online can also involve syncing your inventory with marketplaces like Amazon. Does the e-commerce platform integrate with the marketplaces you plan to use?
Can You Understand the Backend Dashboard? 
The last thing you need when you're growing your e-commerce business is a dashboard that makes your head spin. 
Personal preference will play a role in preferred dashboard features and design. However, an easy-to-use interface that includes visuals, sales summaries, and guides to help you configure your store is a good starting point. 
Payment Gateway Options
E-commerce platforms offer integrations with payment gateways. Some platforms are limited to the basics like Stripe or PayPal, while others come with an abundance of third party payment gateway integrations.
When you evaluate payment gateway options, look for the following:
Transaction fees
Number of payment methods available to your customer
Cross border transaction capabilities
Checkout page appearance — can you customize?
Custom domain capabilities
Security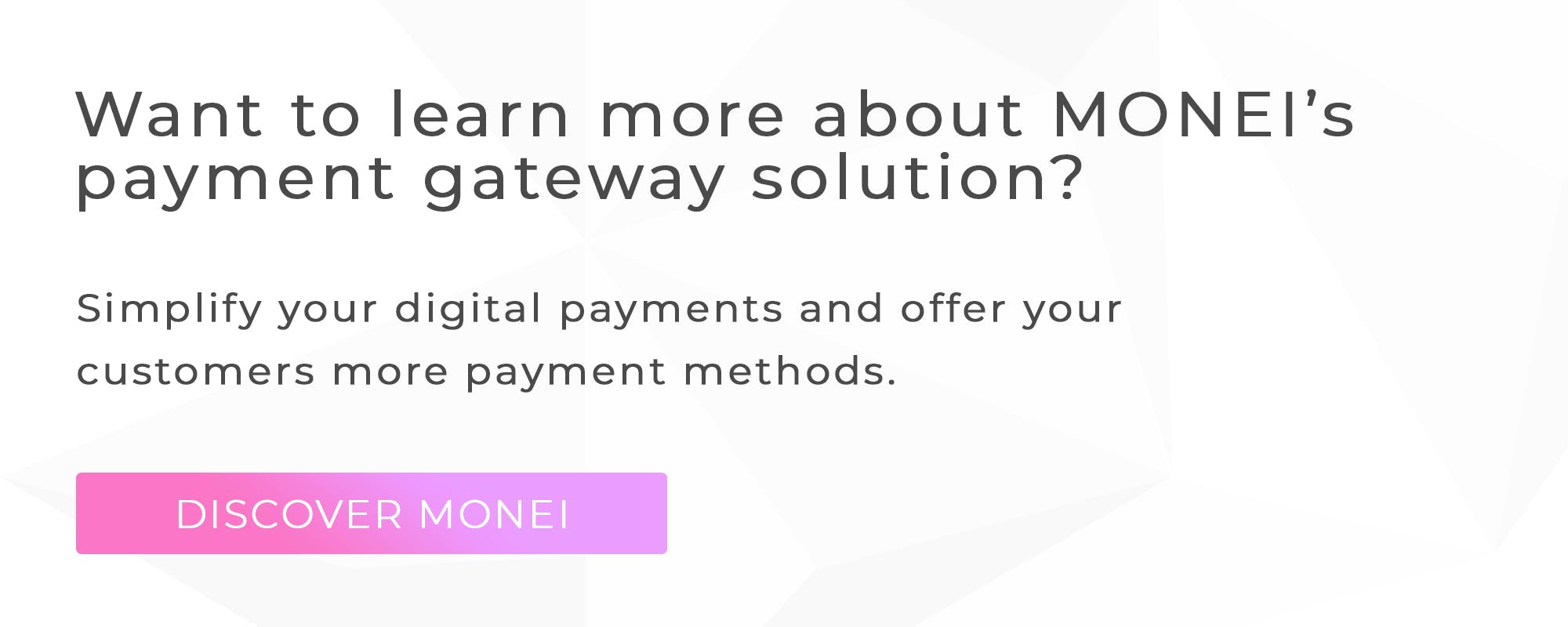 Design Capabilities and Prebuilt Themes
Many SaaS e-commerce platforms offer libraries of prebuilt themes and templates that can be used for a variety of industries. You can usually preview the themes before deciding on the best design for your business. 
If you choose an open-source or headless platform, you don't get this benefit. 
Shipping and Order Fulfillment Options 
Shipping needs depend on the products you sell. It's good to look for an e-commerce platform that offers plenty of options to make sure you're covered for every possible scenario. 
Some solutions offer dynamic rates or flat fees for shipping. And extra shipping tools like label printing, shipping emails, and automatic shipping calculations come in handy.
Some e-commerce platforms provide fulfillment solutions, but that's rare. Take a look at the method of fulfillment provided, and consider whether you want self-fulfillment, third party logistics (3PL), or dropshipping. Each option is unique and requires different solutions. 
Apps and Plugins
Apps and plugins can help you advance your online store without having to pay for a developer. 
It's vital to read app reviews to see if there are performance issues before integrating them with your store. Too many plugins can sometimes cause performance issues. However, it's standard to use apps for social media, design, marketing, inventory, and sales. 
The 15 Best E-commerce Platforms to Consider 
All e-commerce platforms have their advantages and disadvantages. It's crucial to evaluate each platform based on your specific business needs and long term plans for growth. 
Here we've provided an overview of the most popular e-commerce platforms (in no particular order). 
BigCommerce
Shopify
GoDaddy
Oberlo 
Wix
3dcart
WooCommerce
Volusion
PrestaShop
Weebly
Squarespace
Magento
Big Cartel
osCommerce
OpenCart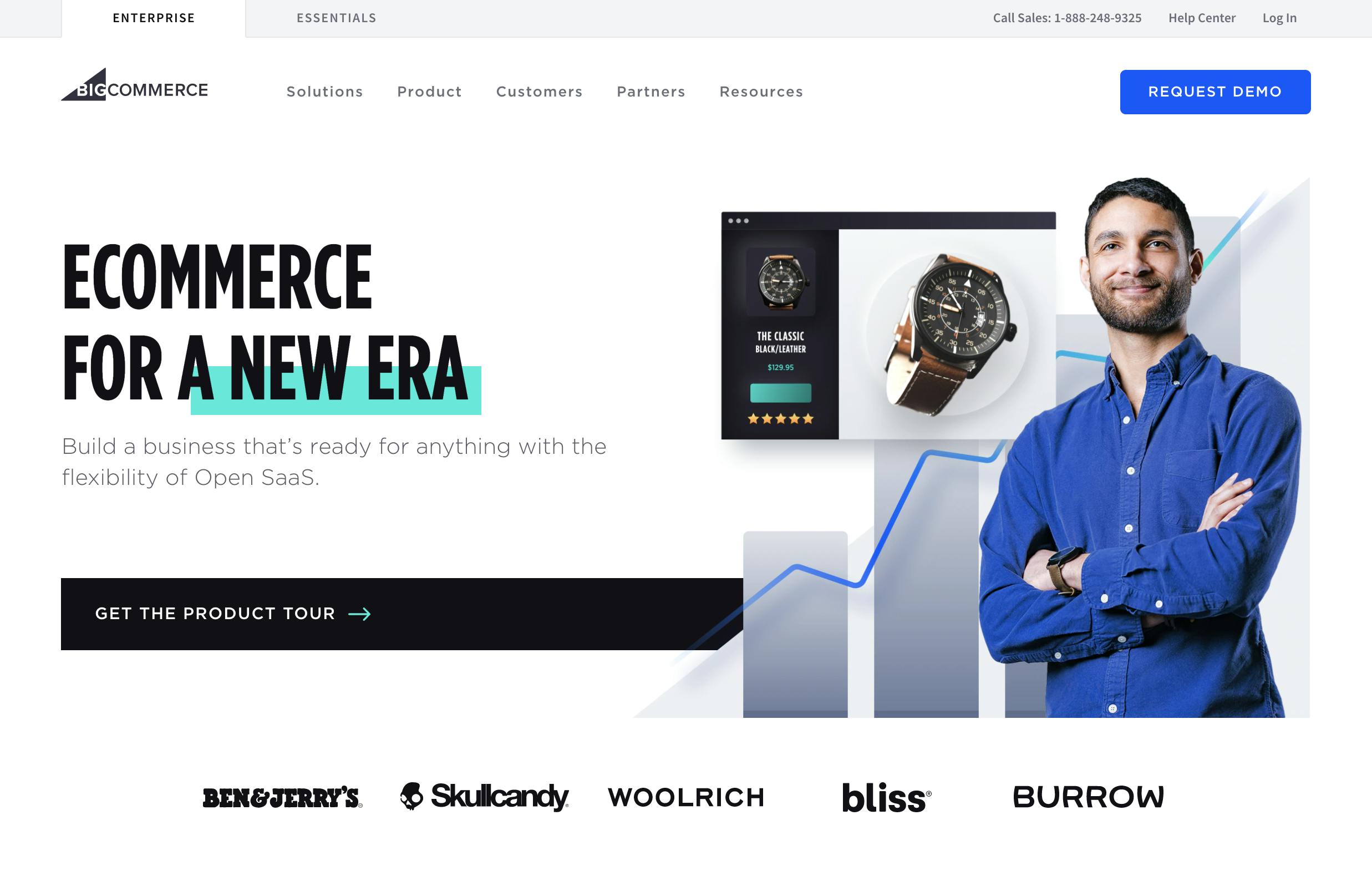 BigCommerce is a versatile and customizable e-commerce solution that offers cross-channel commerce — marketplaces, social commerce, brick and mortar, and multi-storefront. They have open-platform flexibility and extendibility supported by specialized services. 
Platform Type: 
Pricing: 
Free 15-day trial
$29.95 per month for a standard membership
$79.95 per month for a plus membership
$299.95 per month for a pro membership
Custom pricing for enterprise solutions
Pros:
User-friendly
Helps you with SEO so you don't need to outsource that task
Websites on this platform have fast load times
Cons: 
No function to save a customer's credit card information for repeat sales
Some functionalities require price upgrades that may be out of reach for some small businesses
The platform does include security, but some users may need to add a 3rd party to upgrade their security service
Who it's for: 
Enterprise and mid-market merchants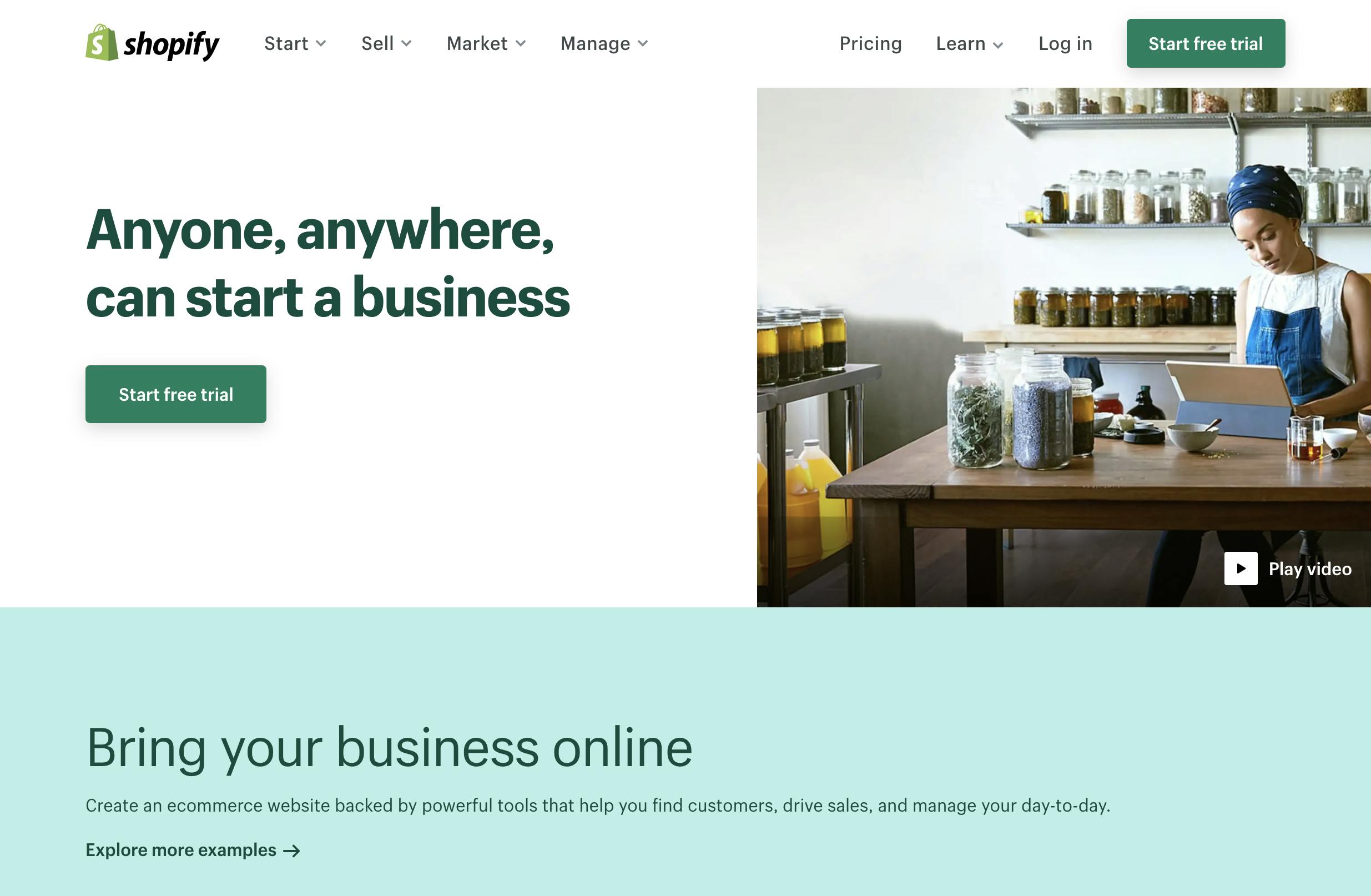 Shopify is one of the most popular e-commerce platforms. The interface is simple to use and good for most e-commerce businesses. Shopify offers many apps that expand functionality. 
Platform Type: 
SaaS
Supports Headless commerce 
Pricing: 
$9 per month for Shopify Lite
$29 per month for Basic Shopify
$79 per month for Shopify
$299 per month for Advanced Shopify
Starting at $2,000 per month for Shopify Plus, the enterprise-grade Shopify plan
Pros:
Highly-rated and widely used e-commerce platform
Costs are all-inclusive so there are no additional fees for a domain or hosting
Nice pre-built designs and themes that are regularly updated
Cons: 
Built-in themes are harder to customize because they are coded in Liquid, Shopify's own PHP language
No email hosting
The platform can be expensive
Who it's for: 
Small to large businesses
Dropshippers
Brick and mortar stores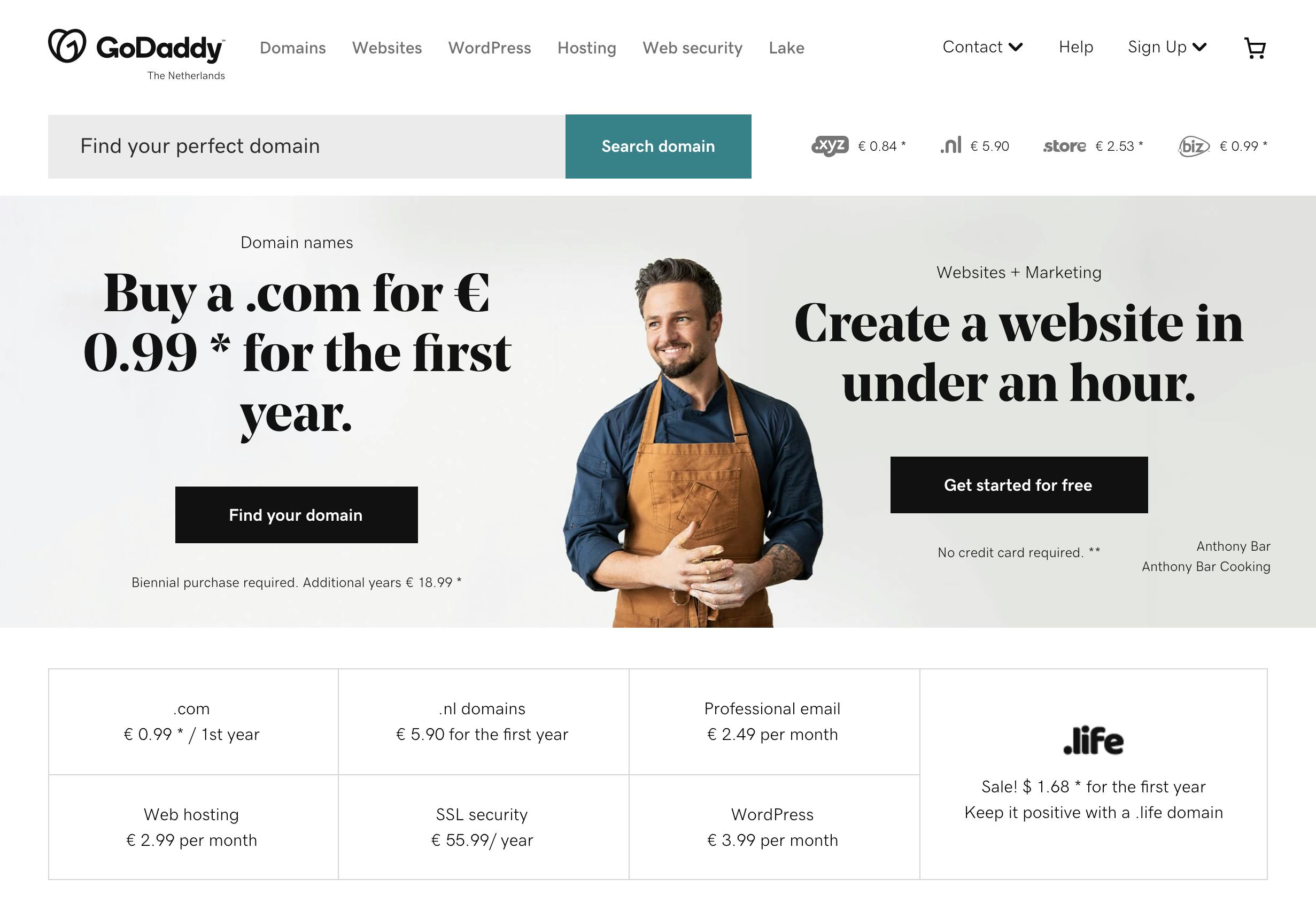 GoDaddy's e-commerce platform allows you to sell everywhere online and manage it in a single interface. 
Platform Type: 
Pricing: 
$14.99 per month for Standard 
$19.99 per month for Premium
$24.99 per month for E-commerce
Pros:
Manages your sales from your store, social media, marketplaces, and Google all in one place
Built-in marketing tools like SEO, Google My Business, Facebook Sync, and email marketing
Flexible shipping and payment options
Cons: 
Designs aren't as customizable as some other platforms
No live chat support
Internal speeds aren't always the best because it's such a large platform
Who it's for: 
Small to large stores
E-commerce and brick and mortar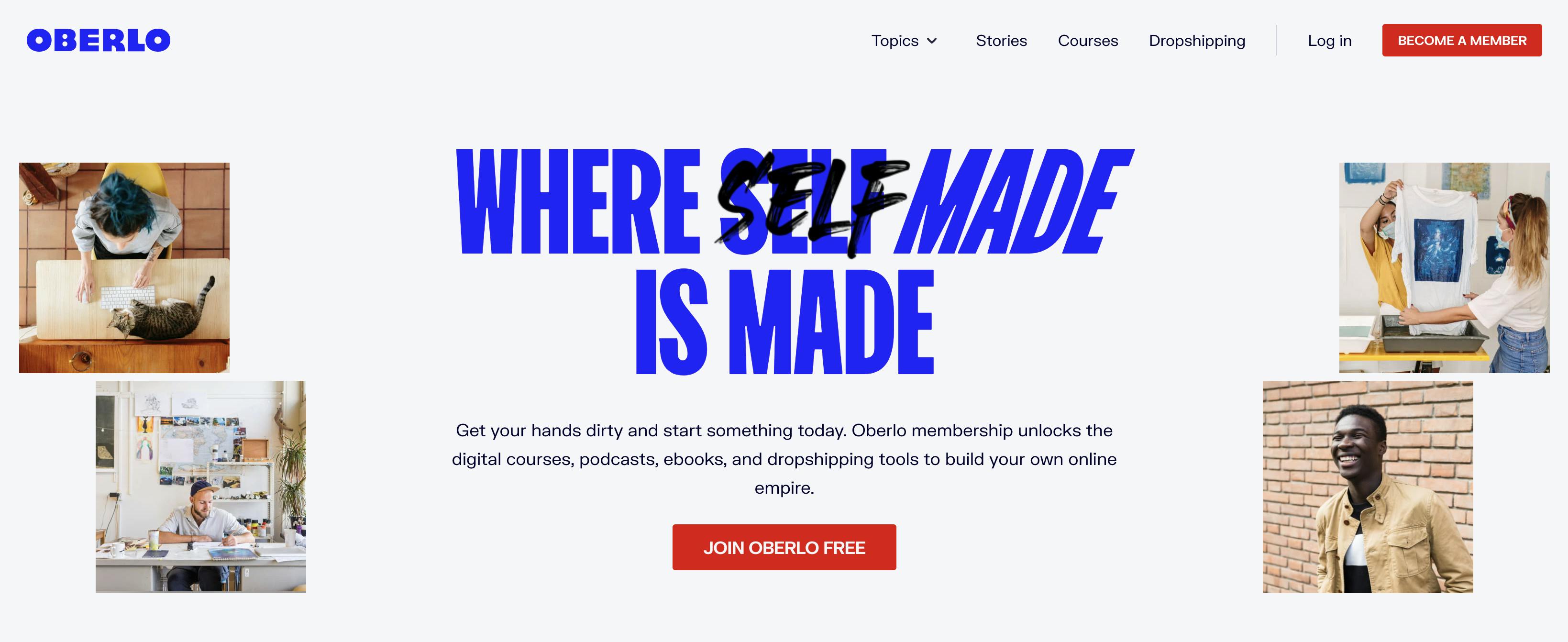 Oberlo isn't a full e-commerce platform. It's an extension on Shopify that allows you to drop ship items.
Platform Type: 
Pricing: 
Free for Starter Plan
$29.90 per month for Basic Plan
$79.90 per month for Pro Plan
Pros:
This extension offers secure product importing from AliExpress
User-friendly interface
Change suppliers whenever you like
Cons: 
Only works if you're using Shopify
It doesn't have an option for a standalone platform 
The extension only supports AliExpress
Who it's for: 
Dropshipping businesses who use Shopify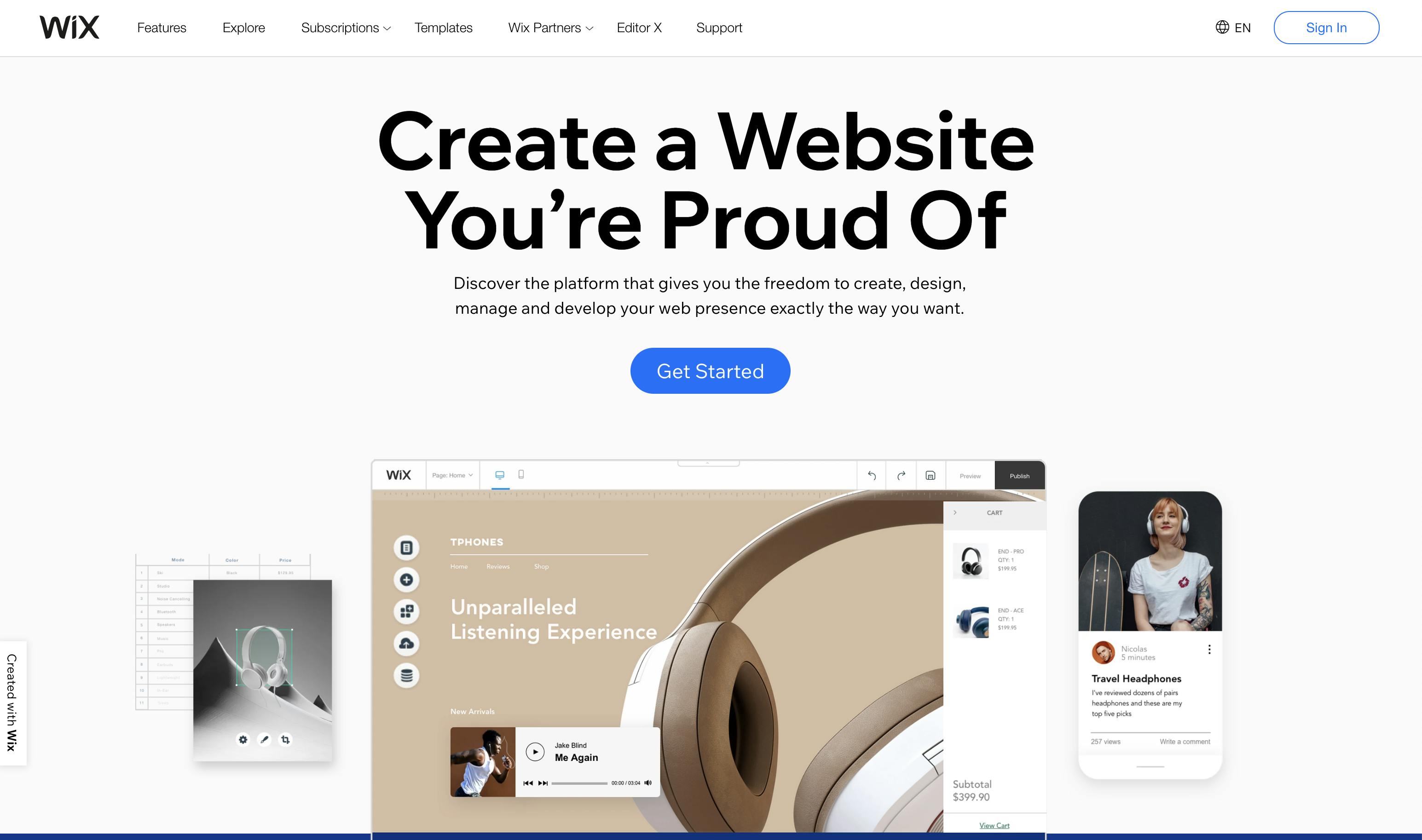 Wix is one of the most inexpensive, user-friendly ways to sell online. It's easy for beginners and has a large theme selection. 
Platform Type: 
Pricing: 
Free
$23 per month for Business Basic
$27 per month for Business Unlimited
$49 per month for Business VIP
$500 per month for Enterprise
Pros:
Casy to use for people without much technical knowledge
Good for selling both physical and digital goods 
Wix app market offers robust offerings to manage your site
Cons: 
Templates are not interchangeable
The free plan includes Wix branding and URL 
If you don't like it you can't transfer your site elsewhere
Who it's for: 
Small to midsize businesses
MONEI is currently working on integrating with Wix. Join our newsletter here to find out when it's available!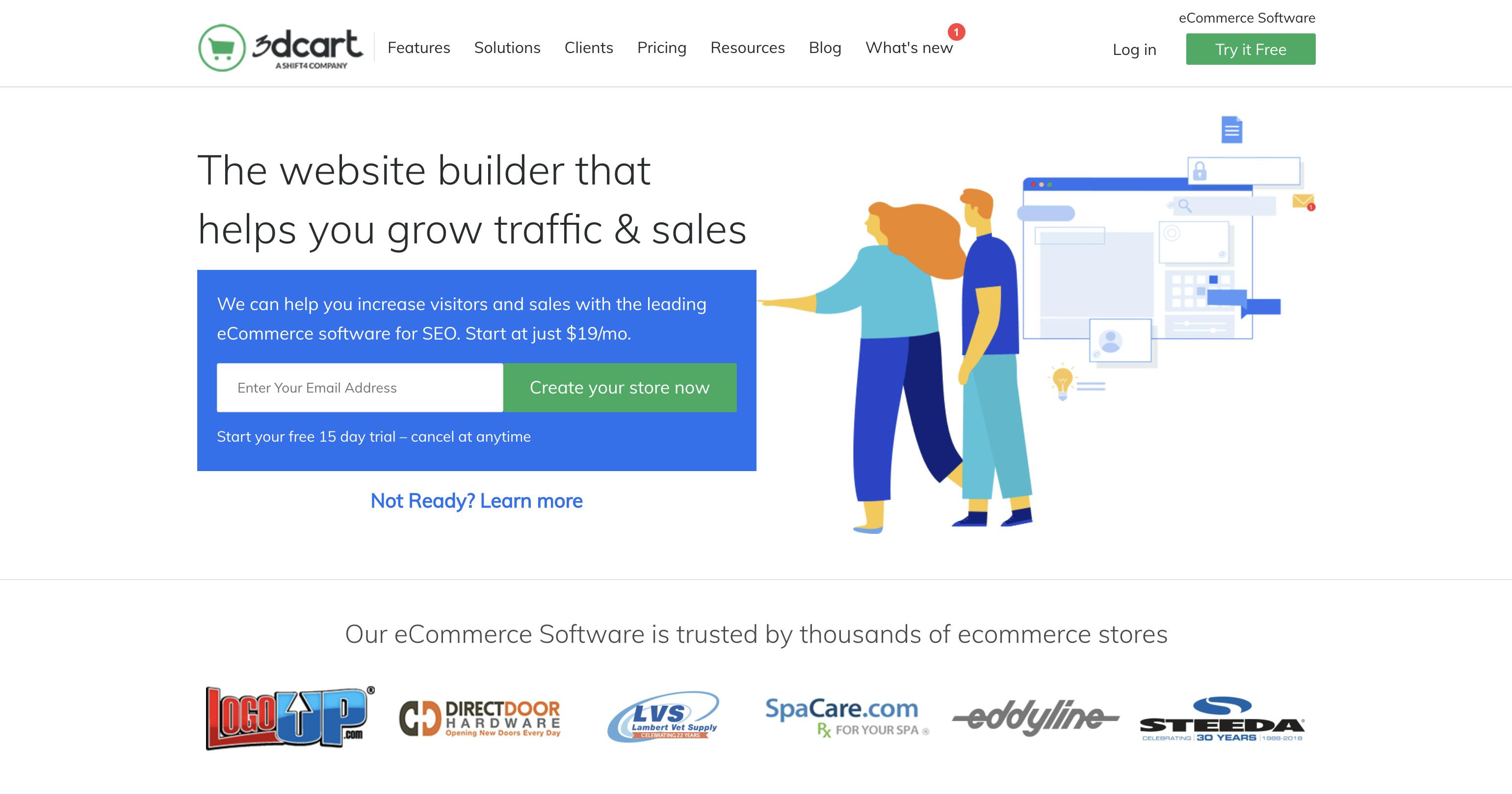 This theme-based web builder helps you grow your traffic and sales.
Platform Type: 
Pricing: 
$19 per month for Startup plan
$29 per month for Basic package
$79 per month for Plus plan
$229 per month for Pro plan
Pros:
Integrates with a variety of payment gateways giving you flexible checkout options
Easily scale your business with unlimited product storage options
Cons: 
Not as intuitive as some of the others we've mentioned
Design templates are limited 
Who it's for: 
Online businesses that want to grow and scale quickly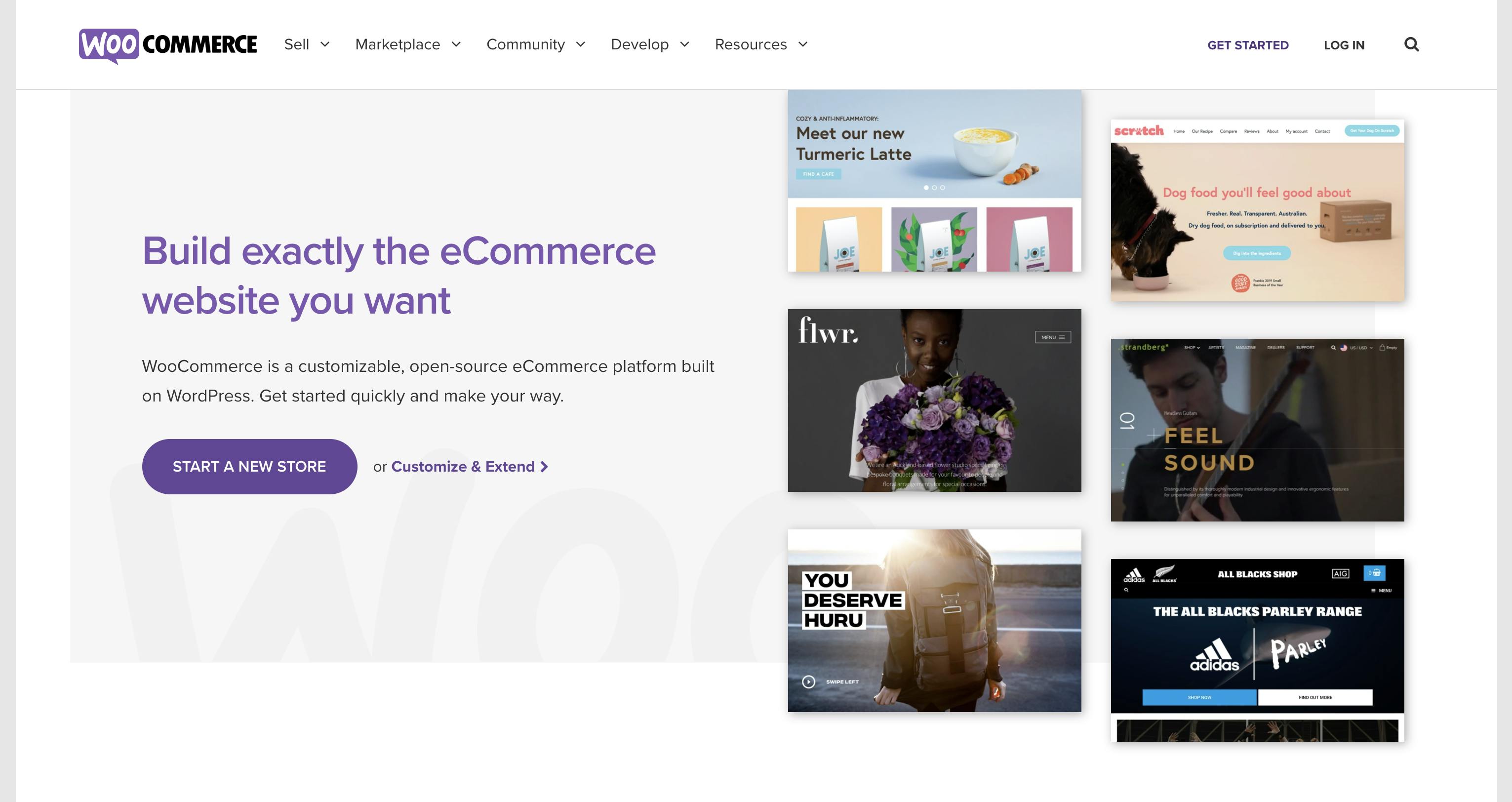 This platform is built on WordPress. It gives you many options to customize your store while being very user-friendly. 
Platform Type: 
Pricing: 
Free for software
Cost varies for themes, payment gateways, hosting, and plugins
Pros:
Advanced features for larger stores
Free and paid themes are both highly customizable
Customers can checkout as a guest without creating an account
Cons: 
Technical expertise is needed to set up your store
For your theme, plugins, and hosting you will have to seek support from different providers 
Who it's for: 
Small to large businesses who have the technical expertise or are willing to hire someone to set up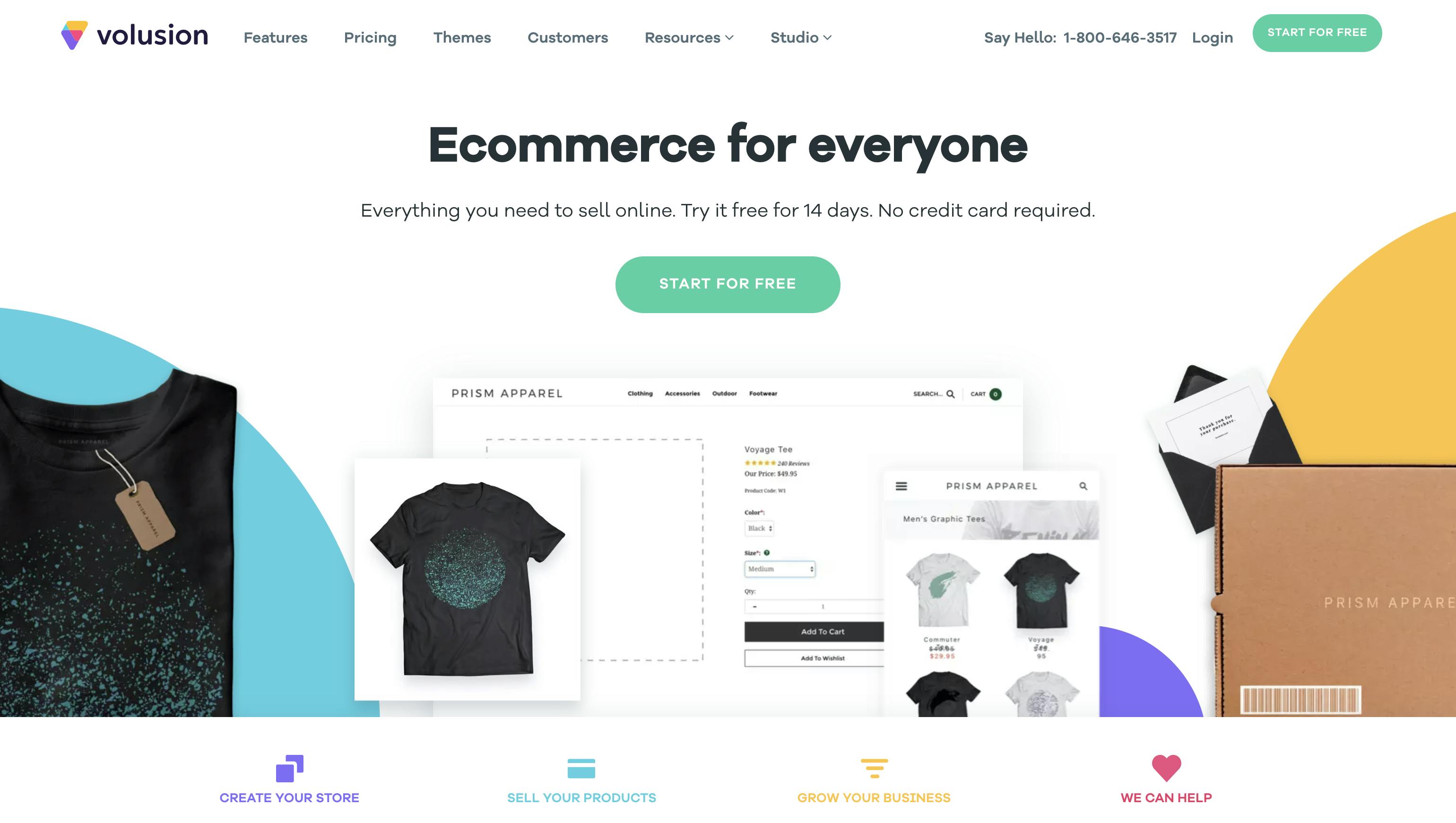 This platform offers an all-in-one e-commerce website builder. Its cloud-based service is feature-rich and integrates with many popular tools like Pinterest, Facebook Pixel, Mailchimp, and more. 
Platform Type: 
Pricing: 
$26 per month for Personal
$71 per month for Professional
$161 per month for Startup
$269 per month for Business
Pros:
Pages are easy to customize
24/7 online support 
Many business management tools built-in so you don't need to install plugins
Cons: 
You can't sell digital products
Premium templates are expensive
Who it's for: 
Small to large businesses that sell physical products.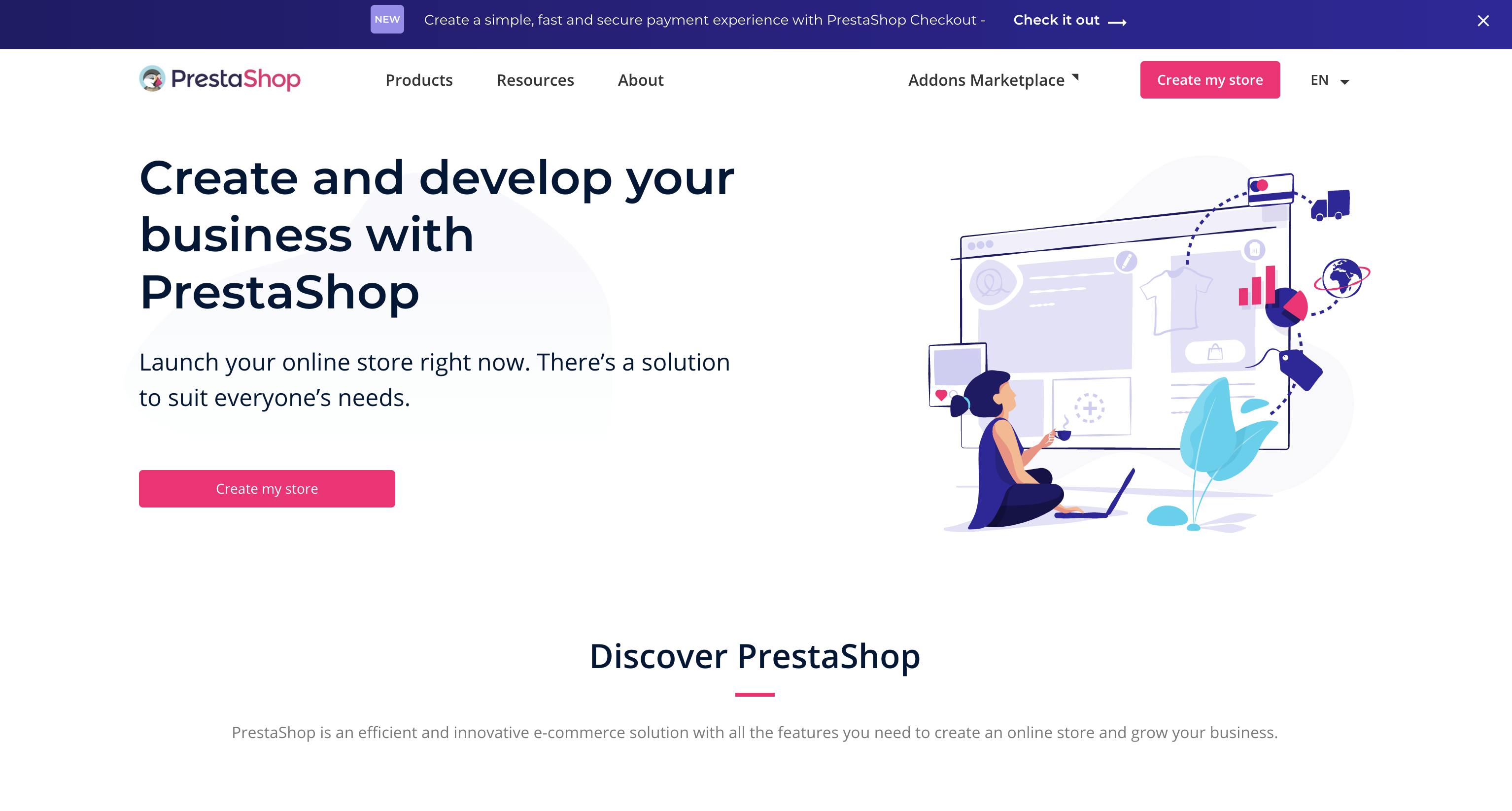 PrestaShop is an open-source e-commerce platform that's highly customizable and offers both free and paid options. 
Platform Type: 
Pricing: 
Free to download the open version 
You have to pay for hosting from their partner, 1&1, which costs between $8 and $15 per month
$22.62 per month for Prestashop Ready 
Pros:
Easily scale your store's functionality as your business grows
Don't need as much web development expertise for this platform as you do for other open-source options
Access to a strong user-support community so you don't have to pay customer support fees
Cons: 
The paid customer support option is expensive
Backend is more technical to use than a SaaS solution
Who it's for: 
Small to midsize businesses
Startups that don't want to incur monthly fees
📚 Read also: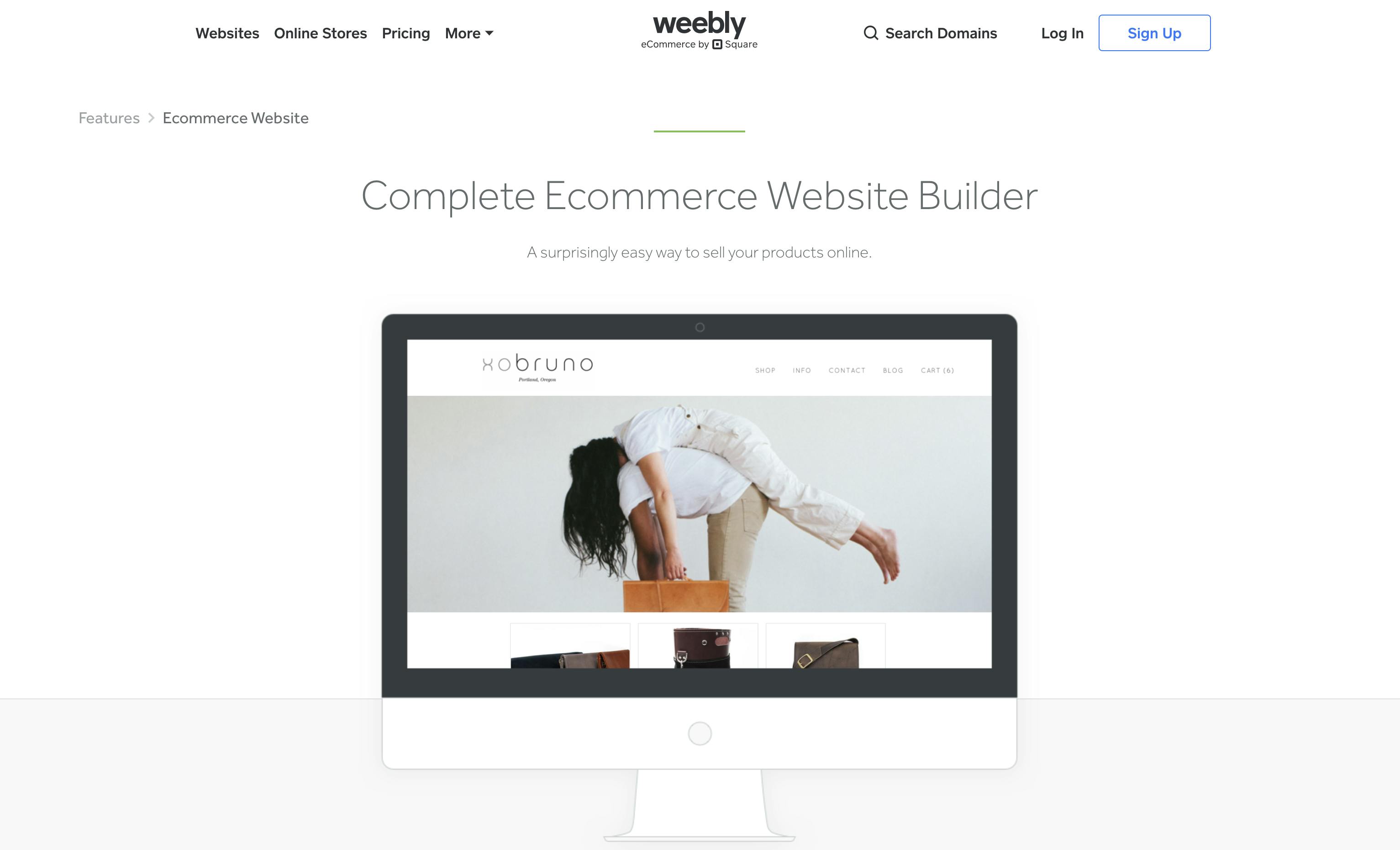 Weebly is a complete e-commerce website builder by Square. The platform is user-friendly and has a highly-rated mobile app. 
Platform Type: 
Pricing: 
$12 per month for Pro plan
$25 per month for Business plan
$38 per month for Business Plus plan
Pros:
Drag-and-drop capabilities making it easy to use for beginners
Multiple levels of navigation for multiple website pages
Cons: 
Can't undo mistakes because this platform doesn't offer versioning
Templates aren't very customizable if you don't have coding skills
Who it's for: 
Small businesses that aren't concerned with layout customization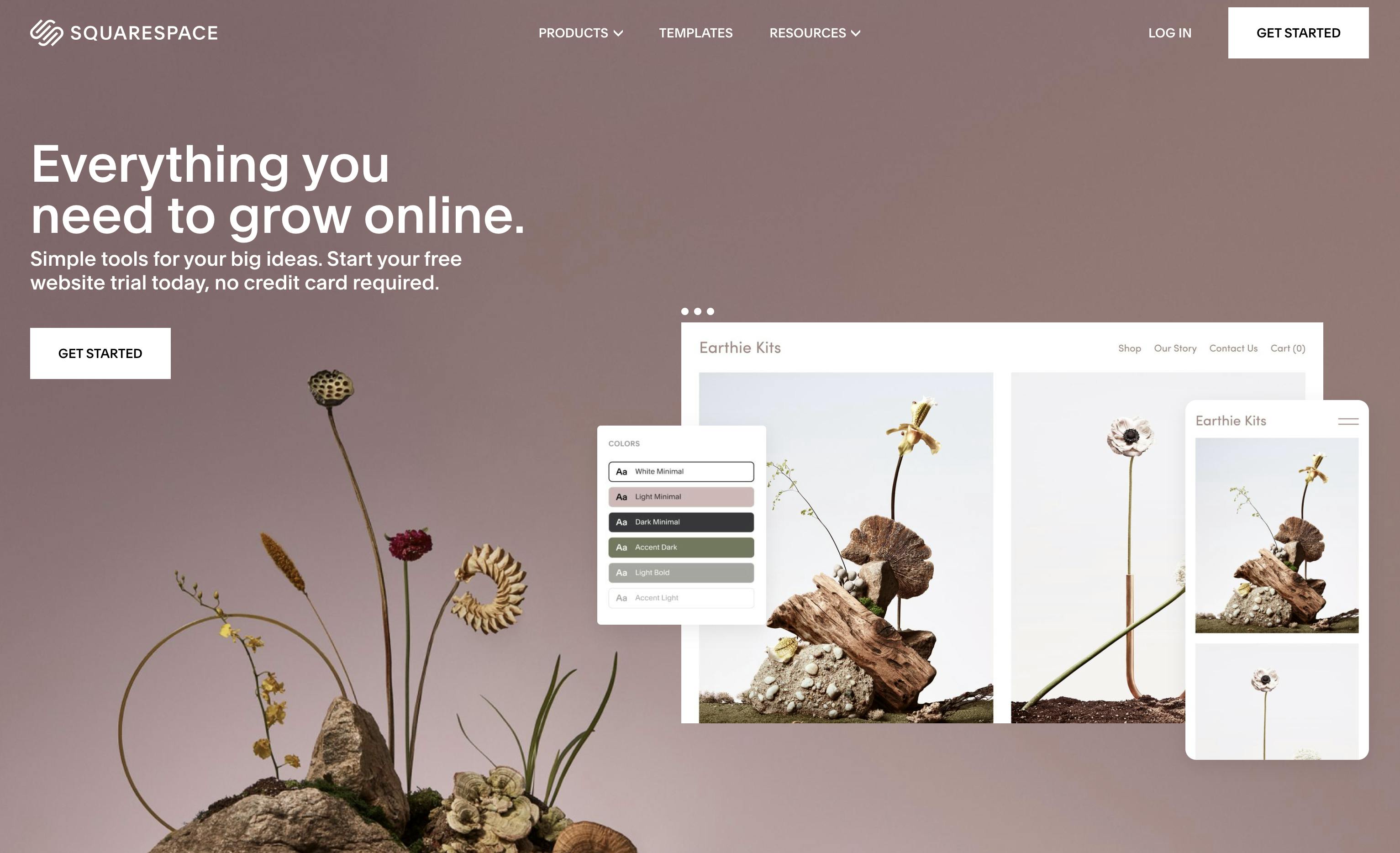 This platform is beginner-friendly with drag-and-drop capabilities and plenty of nice templates to create a professional-looking website.
Platform Type: 
Pricing: 
$18 per month for Business
$26 per month for Online Store (Basic)
$40 per month for Online Store (Advanced)
These prices are based on a one-year contract and include a domain name.
Pros:
Free domain name with purchase
Free SSL
Robust help center
Cons: 
Templates are restrictive
Limitations to which third-party apps you can use
Payment methods are limited
Who it's for: 
Small to midsize businesses
Creative businesses like artists, designers, and fashion sellers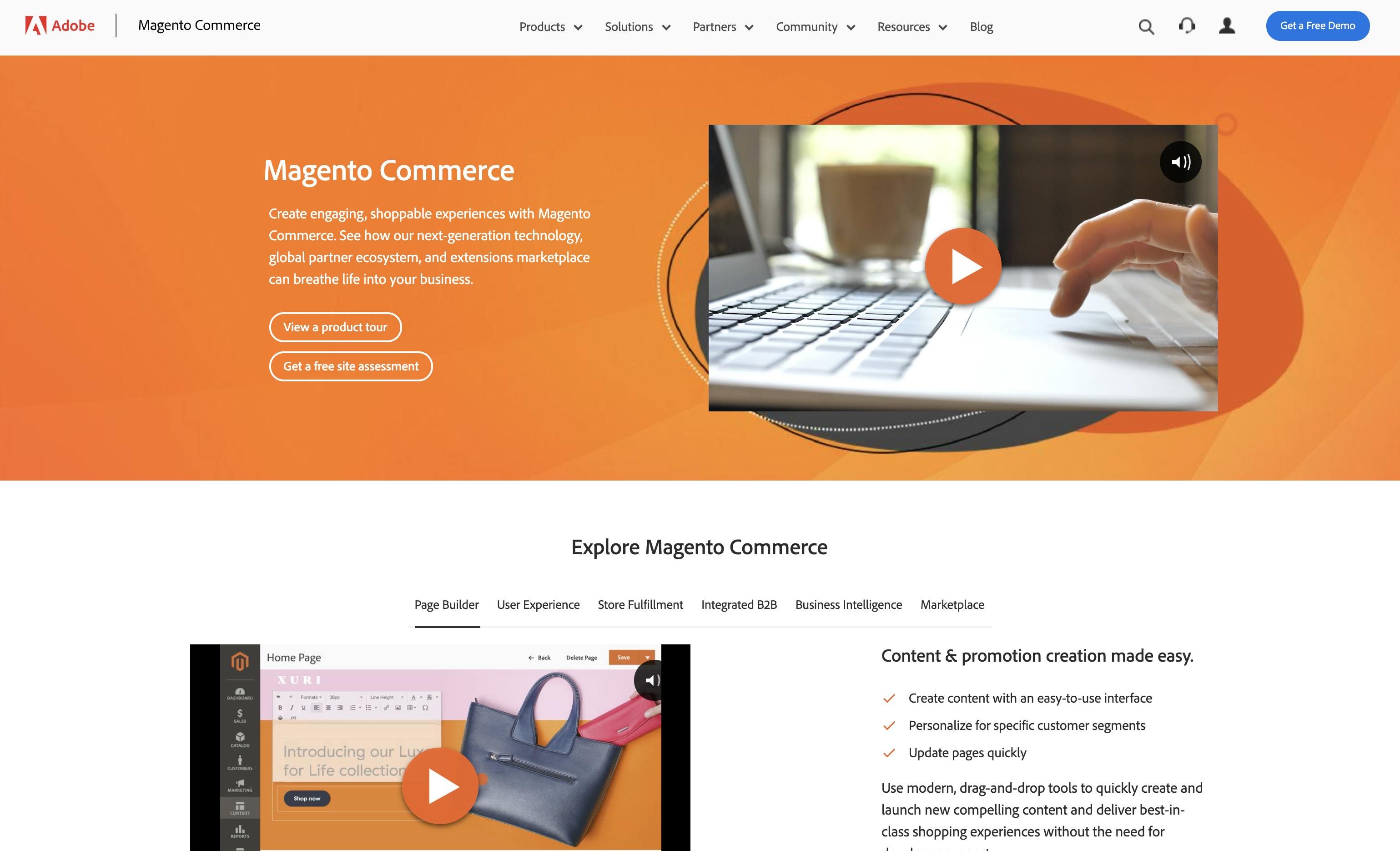 This platform is for larger businesses and people who have experience with professional web development (or the budget to hire a developer). 
Platform Type: 
Pricing: 
Starts at $1,988 per month 
Pros:
Flexibility to modify the source code. 
Offers features that other platforms don't have like VIP discounts
Many extensions and plug-ins
Cons: 
Expensive and likely out of reach for most startups or small businesses
Need a dedicated server to host it
Product support is not the best
Who it's for: 
Midsize to large businesses with developers to manage the site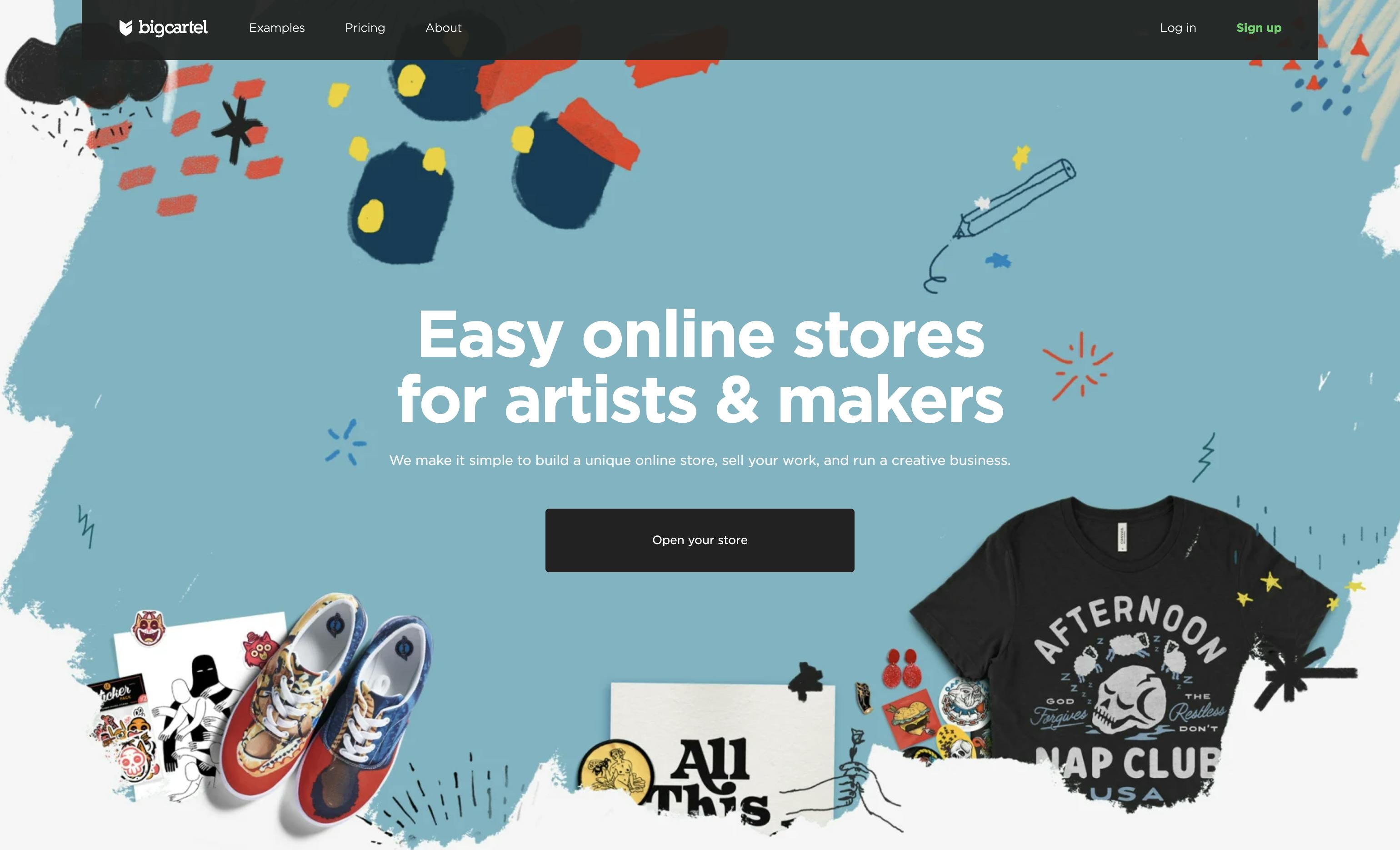 This platform is considered a lite e-commerce platform that is geared toward artists, musicians, makers, and other creatives. 
Platform Type: 
Pricing: 
Free for Gold plan
$9.99 per month for Platinum plan
$19.99 per month for Diamond plan
$29.99 per month for Titanium plan
Pros:
Very simple to use and requires very little technical expertise 
Pricing plans are very affordable for small businesses and startups
Templates are nice looking
Cons: 
No search function
Doesn't support large stores or stores that need advanced capabilities
Payment options are limited
Who it's for: 
Small creative businesses 
Startups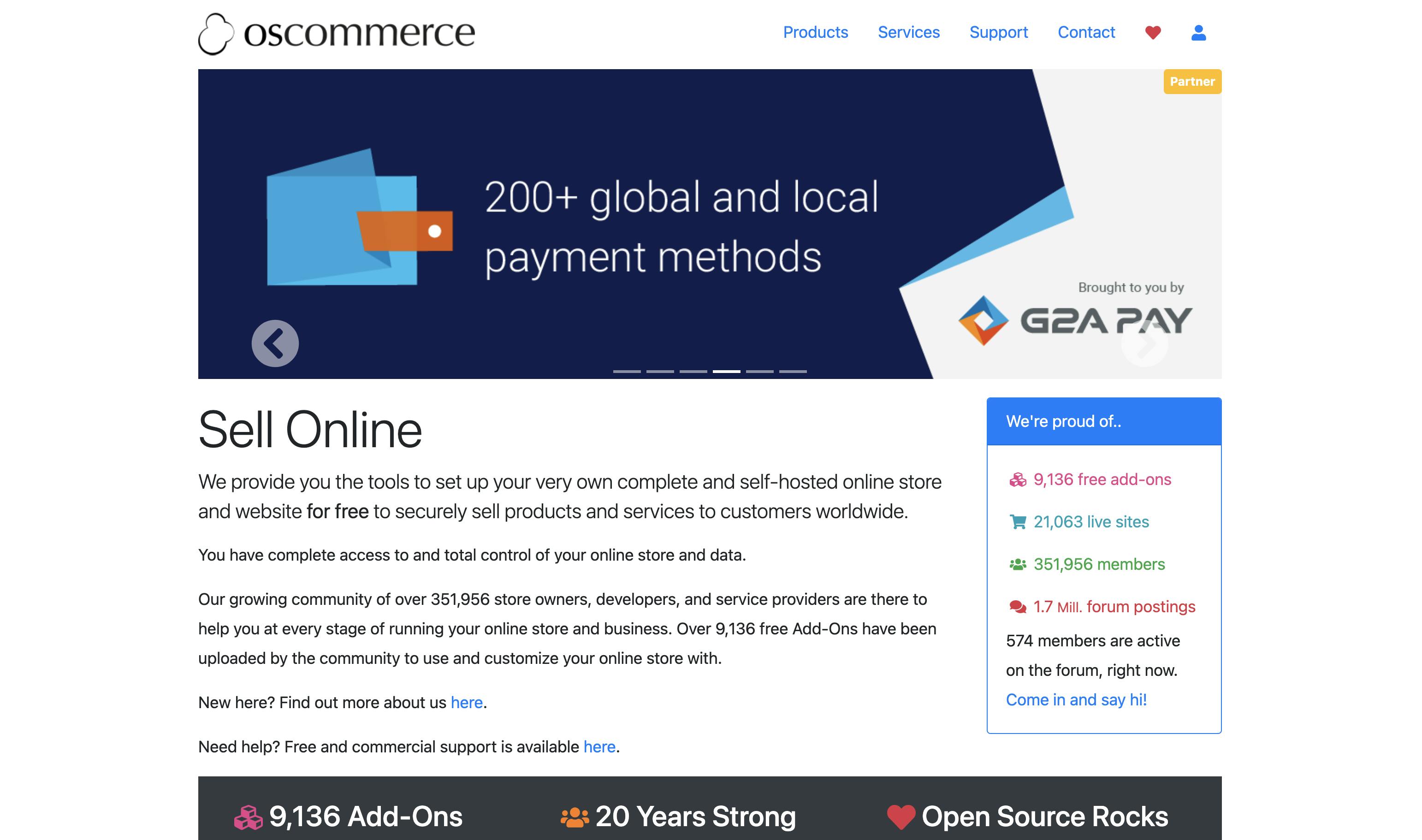 This platform offers the ability to customize your e-commerce site. It requires technical expertise because you have to perform site maintenance, hosting, and server updates.
Platform Type: 
Pricing: 
Free
Cost for hosting (usually starts around $5 per month)
Domain name (can cost around $10 annually)
Cost of third-party modules or professional design
Pros:
Easy to customize 
Community and expert support is available 
Nice looking pre-designed templates. 
Cons: 
Some users report that it's prone to errors
Requires a lot of manual work to build and keep your site up to date
Difficult to scale your business
Who it's for: 
Small to midsize businesses with technical expertise on board (or the budget to hire someone to handle technical aspects)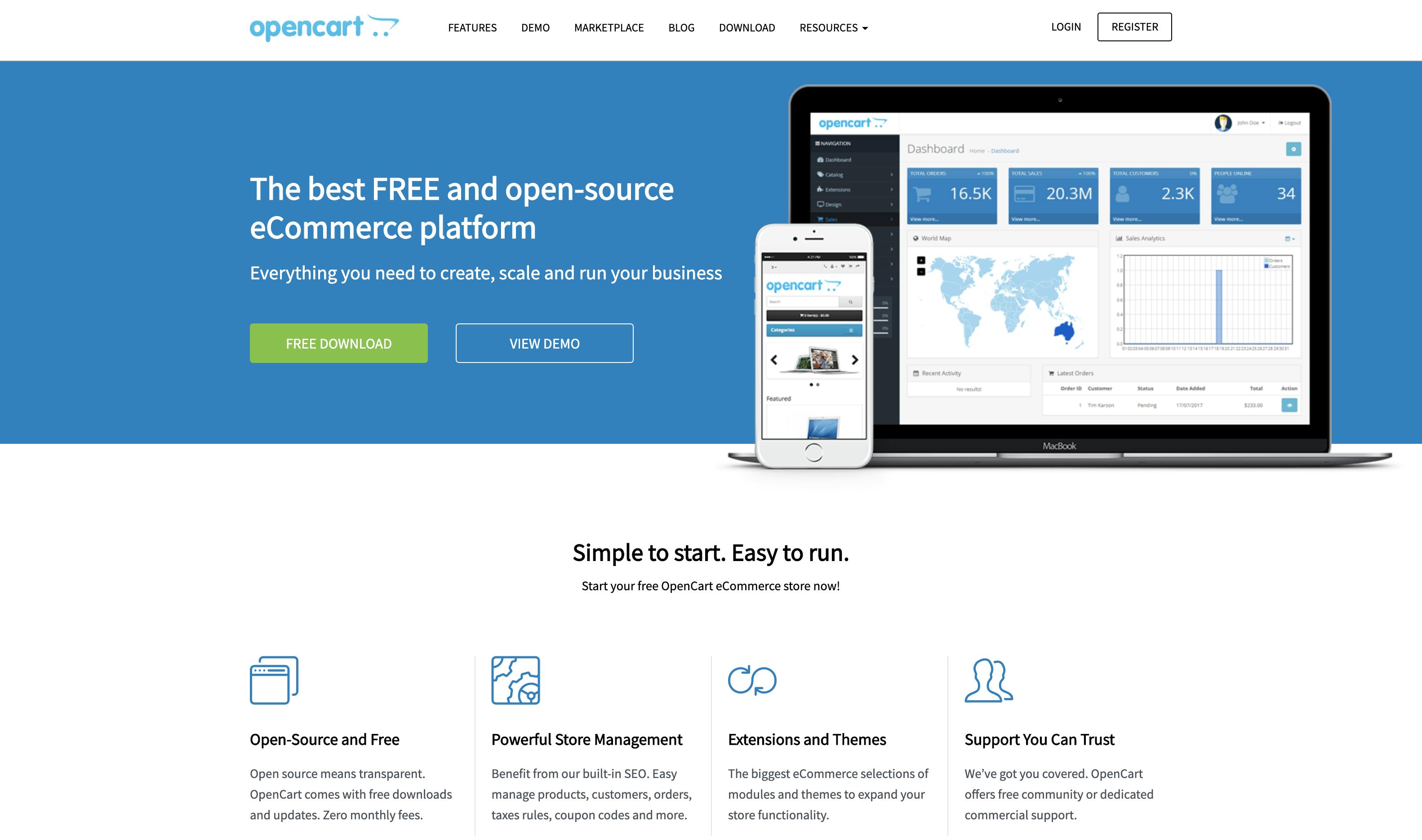 OpenCart is an open-source platform that is highly customizable and available without any monthly platform fees. You only pay for hosting.
Platform Type: 
Pricing: 
Free
Cost for hosting (usually starts around $5 per month)
Domain name (can cost around $10 annually)
Pros:
Open-source and highly customizable
Offers many integrations on its free platform
No large ongoing development costs
Cons: 
Built-in marketing features are limited
Pages are slower to load
You need to handle hosting, development, and maintenance on your own
Who it's for: 
Small businesses that don't need to scale
Conclusion 
Finding the best e-commerce platform for your online store is dependent on your needs for features, customization, and growth. Look for an option with the best overall value for you and your business today and as you scale.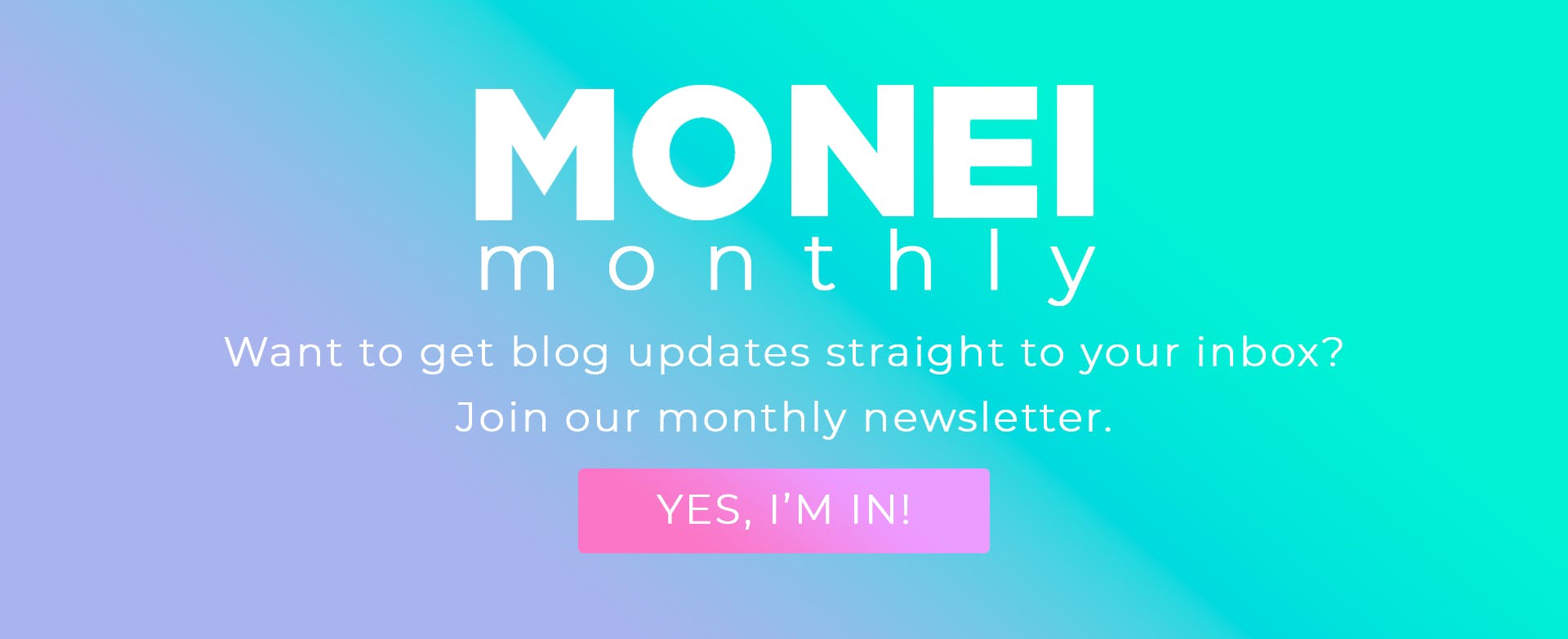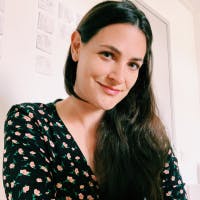 Alexis Damen
Alexis Damen is the Head of Content at MONEI. She loves breaking down complex topics about payments, e-commerce, and retail to help merchants succeed (with MONEI as their payments partner, of course).