E-Commerce Tips
PrestaShop vs Shopify: Compare E-commerce Platforms
Alexis Damen | August 24, 2022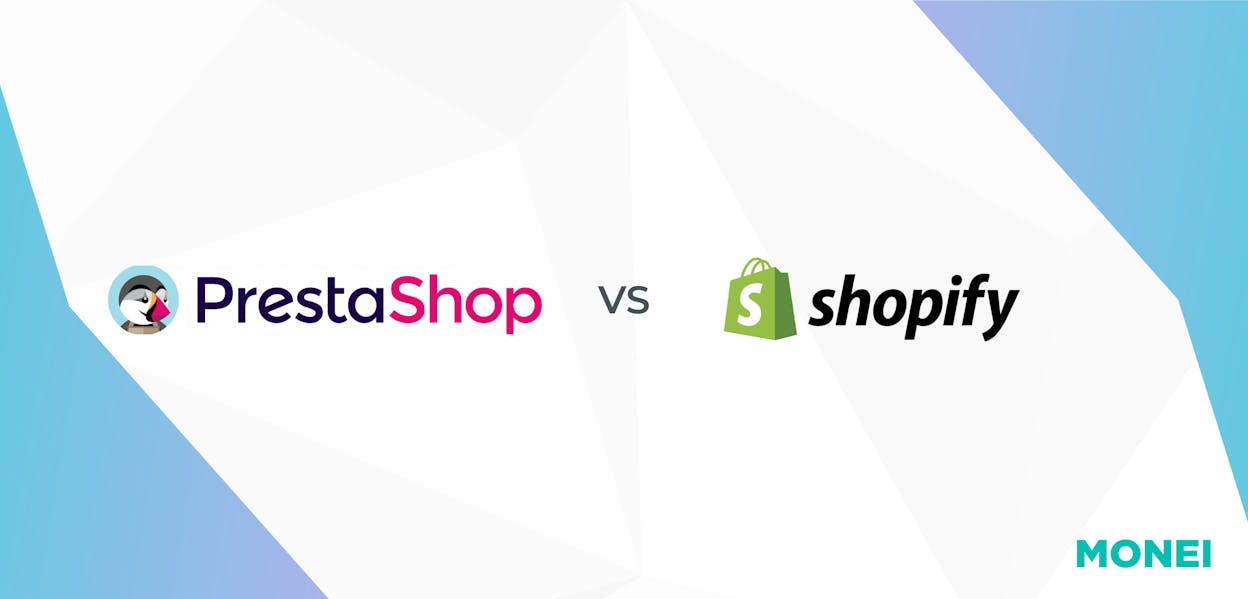 You've reached the stage of comparing PrestaShop vs Shopify and you're ready to take your e-commerce business to the next stage. You know you need a platform that showcases your products in their best light, makes it easy for customers to move from browsing to checkout, and offers as many benefits as possible.
You also need an e-commerce platform that matches your outlook on creating a site, accepting payments, and managing all of your operations. PrestaShop and Shopify are both great platforms but which one is the best for your business in 2022?
Let's explore the pros and cons of each platform, key features to be aware of, pricing differences, and the types of business each one is for. This way you can decide whether PrestaShop or Shopify is the right platform for you.
Table of contents
PrestaShop vs Shopify overview
There are a lot of similarities between PrestaShop and Shopify. You can build and customize your online store, market and sell a full range of products, process transactions, accept payments, and offer your customers an online shopping cart functionality with both platforms.
When you look closer, you'll notice there are also a lot of differences, which come from the way each one is set up. PrestaShop is an open-source e-commerce platform, which means developers can customize your site and create anything from a small online store to a multi-faceted e-commerce giant.
Shopify, however, is a SaaS (Software as a Service) online store builder. It offers a comprehensive toolkit, so you can build your site by dragging and dropping pre-configured templates in a way that suits your business. 
PrestaShop has 283,000 customers worldwide, in comparison to Shopify's 3.8 million, according to Builtwith, but PrestaShop is leading the way in places like Spain. Their Spanish user base, as of August 2022 stands at 29,000, almost double Shopify's 16,000.
Pros and cons: PrestaShop vs Shopify
PrestaShop has quite a few pros, so let's start there: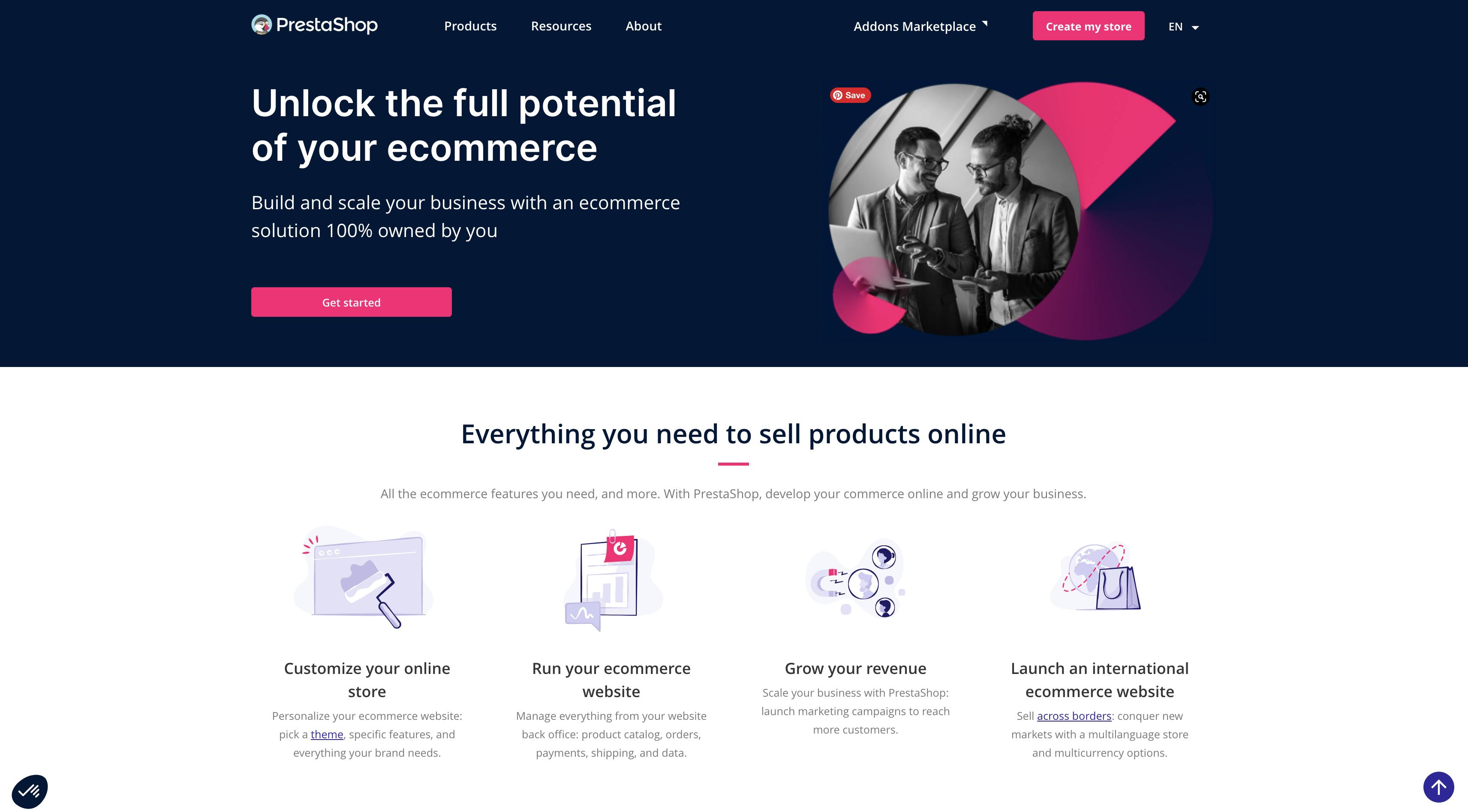 PrestaShop pros
Starting price. PrestaShop is free to download and install, so you can get started without paying for things you don't need.
Customization. PrestaShop is open source — with the right developer or skills, you can give your website the exact look and feel it needs.
Feature-rich. Your initial PrestaShop download will include inventory tracking, product management, an online shopping cart, analytics, reporting, and more. 
Store management options. You can easily access tools to manage your store, including allowing customers to create accounts.
Add-ons. PrestaShop has thousands of add-ons to make sure you're offering your customers the best possible service, including PrestaShop one page checkout and payment modules that let you accept a wide range of payment methods in your store.
Security control. How you protect your online store is completely in your control.
📌 Pro Tip: Try a PrestaShop payment gateway that lets you manage your entire payment stack from a single platform while managing payment security for you. 
Shopify Pros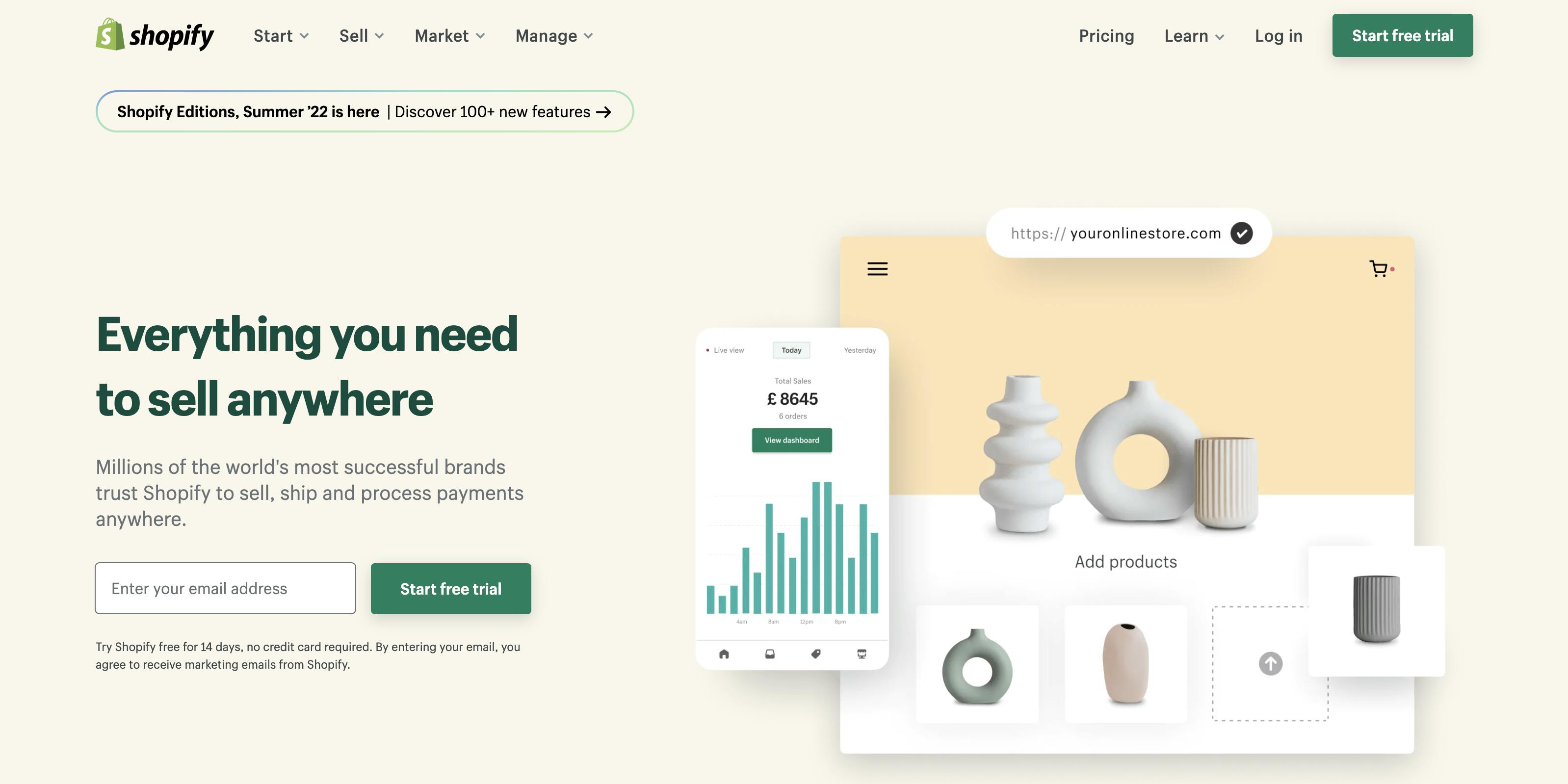 Usability. Shopify is easy to use. The store-builder is intuitive and the coding is done for you.
Excellent security. You'll have excellent website security as soon as you sign up with Shopify.
Powerful features. Even the cheapest version of Shopify's platform offers market-leading store and inventory management features.
Payment gateways. With payment gateways and other add-ons available, you can offer your customers a wide range of payment options.
Integration. Shopify integrates seamlessly with all the major marketplaces and social media platforms.
Customization. Although you can't change as much of the backend functionality, Shopify's comprehensive collection of add-ons and themes makes customizing your store easy.
There are some cons too. Let's start with PrestaShop again:
PrestaShop cons
Compatibility issues. Your app development and someone else's might not be the same, so individual modules might not be compatible with each other.
Stacked pricing. PrestaShop is free to download but depending on how you use it, the pricing can add up. Additional themes and modules can cost a premium.
Knowledge needed. For anything more than the basic store, you'll have to have a good technical understanding or hire a developer. This can cost money and time.
Extras. You'll have to find your own hosting, domain, and security to get properly set up. Having said that, PrestaShop will point you in the direction of their partners who look after that side of things.
Shopify cons 
Features you'll never use. Some of Shopify's features are incredible but they may be of zero use to your business. As they come as part of a package, you pay for them anyway.
Limited staff accounts. There are restrictions on staff accounts and store location numbers. For unlimited staff accounts, you'll need to opt for Shopify Plus, which can be an expensive option for small businesses.
Fewer themes. Shopify is customizable but doesn't have anywhere close to the number of themes available on PrestaShop.
Blogs. Shopify's big selling point is that it makes things easy but unless you're good at HTML and CSS, or you hire a developer, your blog will look boring. The basic features don't offer a lot of customization. 
PrestaShop vs Shopify: key features
Many of the features PrestaShop and Shopify offer are the same or very similar. So, let's go through them and see how they compare:
Product management
You can quickly create and update products with both PrestaShop and Shopify. Categorize them, configure prices, set order requirements and shipping information, then display them in a way that's appealing to your customers. Both platforms also allow customers to upload files if you sell customizable items.
Inventory management
Shopify makes it easy to manage your inventory. Powerful built-in functions let you track storage, adjust inventory quantities, and view a product's history. But PrestaShop has some impressive features of its own. 
It has the functionality to import products directly from your supplier in any format and from any file location. PrestaShop also syncs with third-party systems, keeps you up to date with out-of-stock items, and offers reporting to analyze stock levels. 
Store management
Let's start by highlighting how the two platforms differ when it comes to store management. PrestaShop gives you the option of running multiple online stores from the same back office. That's not a feature that Shopify has but you can link to up to eight physical retail locations, depending on your plan. PrestaShop also leads the way when it comes to staff accounts. It's completely unlimited, whereas Shopify only permits 15 staff accounts, even on its advanced plan. 
Shopify offers web hosting with every payment plan, PrestaShop doesn't offer it at all. Shopify is also incredibly easy to use. It guides you through the whole process of building an e-commerce website, choosing themes is simple, and listing products takes hardly any time at all.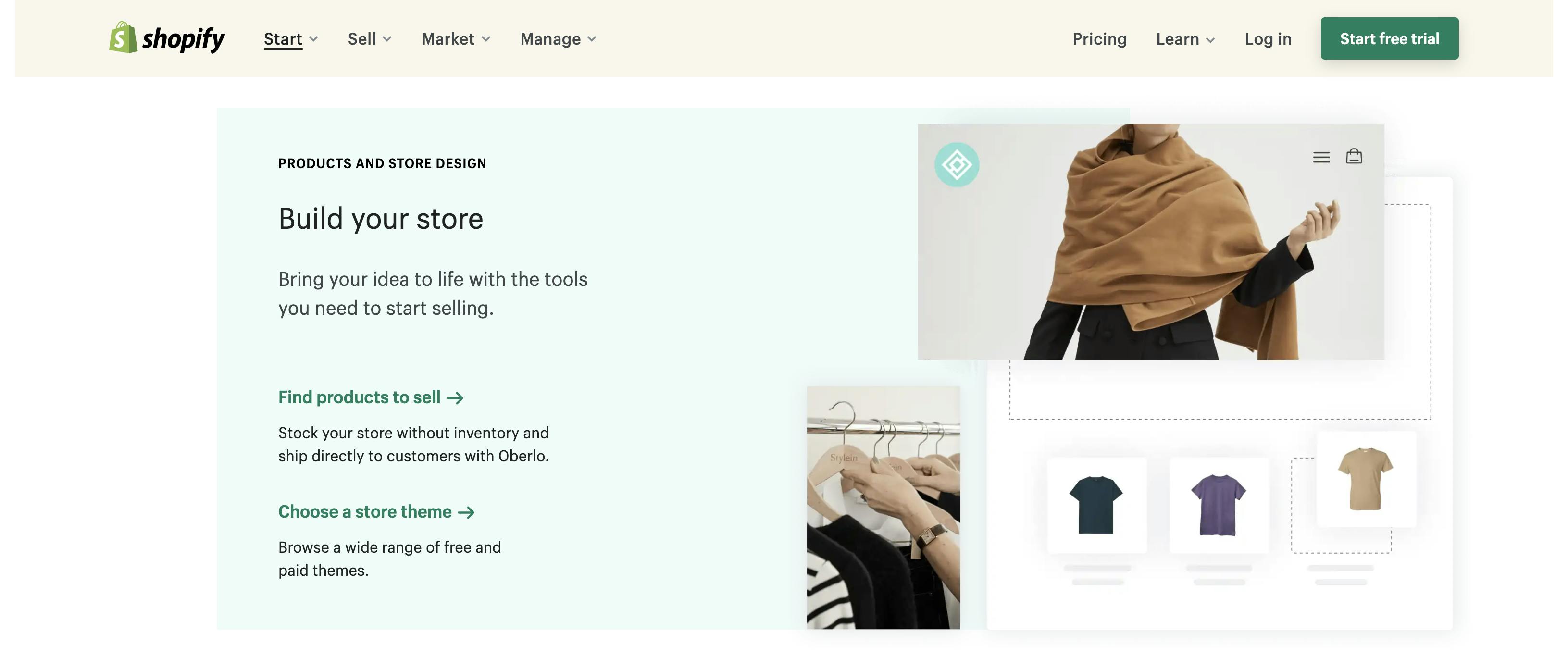 You can list and sell unlimited products, offer refunds, keep an eye on inventory, give customers the option to create an account, and handle order fulfillment on both platforms. Some features aren't available on the lower tiers for Shopify and need to be bought as an add-on for PrestaShop. 
Order management and shipping
With one click, you can fulfill multiple orders on both PrestaShop and Shopify. From the backend, you can set up automated store emails, connect to fulfillment centers and dropshipping apps, and configure shipping methods, services, costs, taxes, etc. depending on location. 
Your customers can buy as a guest or create an account at checkout. This often makes processing refunds and targeting communications easier. You can also set up automated store emails to confirm orders for customers with and without accounts. 
SEO and marketing
Add canonical tags, create unique URLs, and add 301 redirects on PrestaShop and Shopify to get your SEO on the right path. Shopify provides built-in SEO tools and generates a sitemap for you. PrestaShop requires you to add modules to get started.
Once you've got the right tools, both platforms have abandoned cart email capabilities, social media connectivity, and the capabilities to personalize the customer experience. For example, you might want to set up a loyalty program, offer discounts, and enable product reviews.
Shopify connects with other online marketplaces too, so you can sell directly through the likes of Facebook, for example. To make sure your marketing is working, you can generate reports and connect to Google Analytics with both platforms. 
Themes and customization
Many businesses choose PrestaShop for its customization possibilities. As mentioned, it's an open-source e-commerce platform so if you're a developer or you have the budget to hire one, you can use PrestaShop's base PHP to make your e-commerce site as unique as your business. 
If you'd like some ideas, PrestaShop offers thousands of free and paid-for templates and themes, which are specially designed for different industries. You can filter your search results by template style and/or business sector.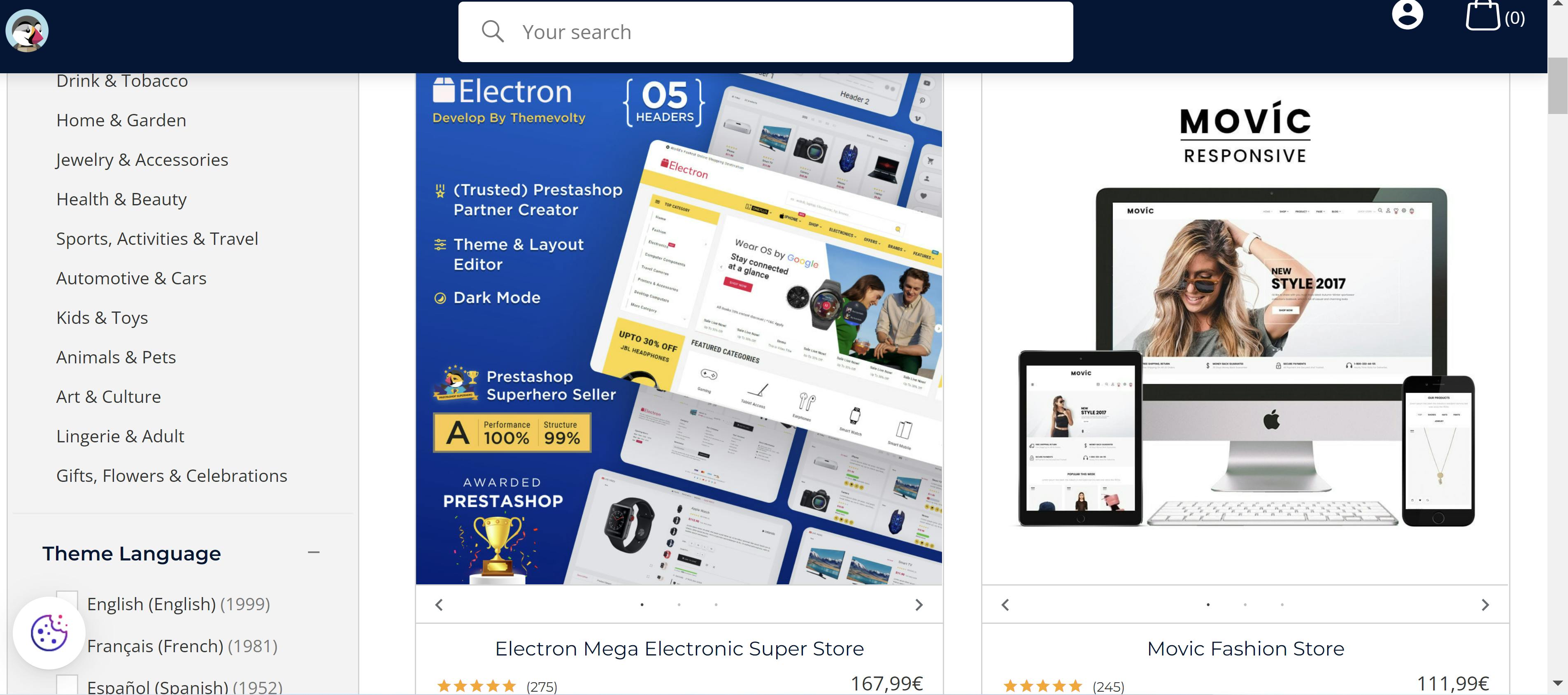 Shopify doesn't allow you to customize its core platform, but that doesn't mean it's not customizable. It has 70 professional-looking themes to choose from, created by world-renowned designers. Every design is mobile responsive, making it easy to create a sophisticated store for all devices. 
In fact, you can customize almost every aspect of your website with Shopify and compatibility isn't an issue. Plus, if you have some coding knowledge, you can adjust most elements to your liking by editing the theme code with HTML and CSS.
Online payment gateways
One of the most important aspects of any e-commerce store is the ability for your customers to pay, so you'll want to make it as easy as possible. Use a Shopify or PrestaShop payment gateway to accept debit and credit cards, and a variety of alternative payment methods like digital wallets (Apple Pay, Google Pay, and Click to Pay), and popular local payment methods:
With Shopify, you can integrate with over 100 external payment gateways as part of your plan. PrestaShop offers free integrations with its partners and paid integrations with a variety of other payment processors.
Accepting more payment methods will help you reach more people locally as well as internationally. If you're aiming to grow your business in more countries, accepting cross-border payments is a must.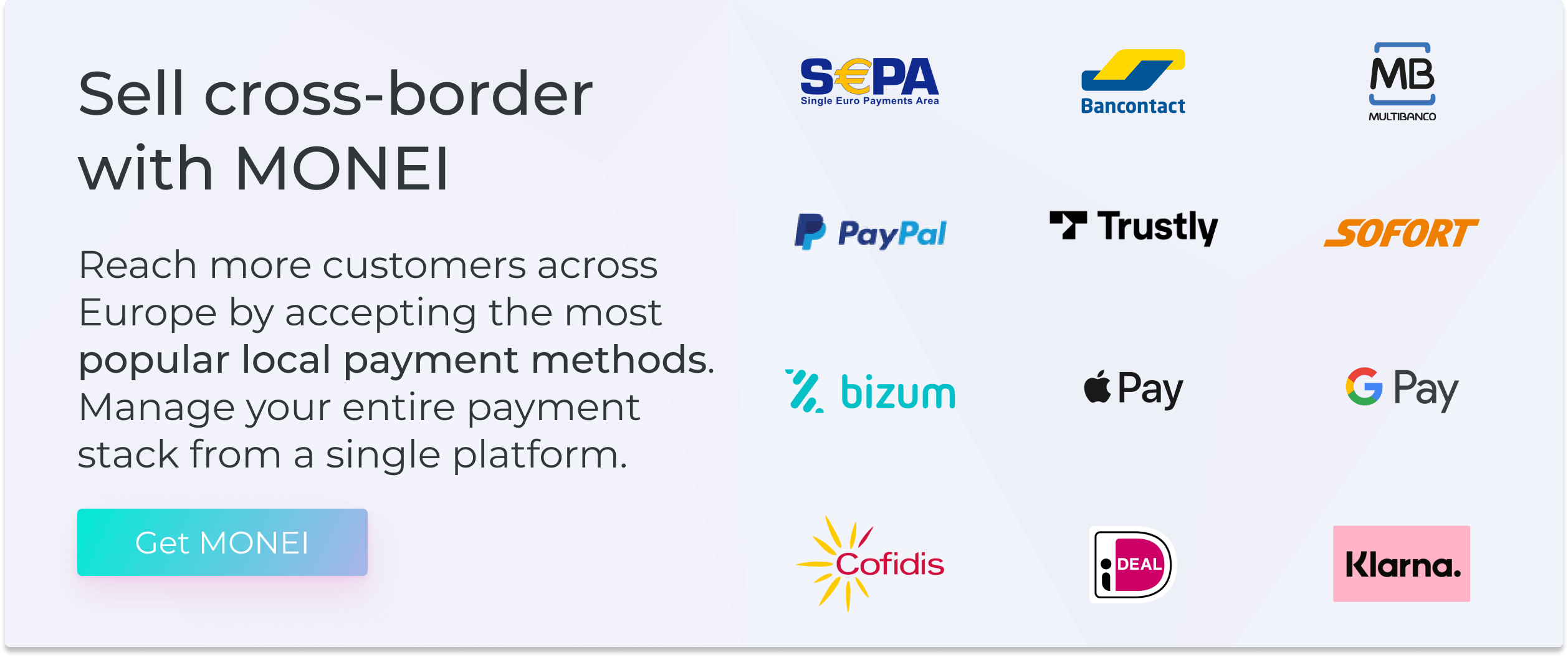 Checkout optimization
You can create a one-page checkout with PrestaShop and completely customize its look. To do that with Shopify, you'll need to be on their top-tier plan, called Shopify Plus. Having said that, you can integrate external modules on both platforms. 
Both PrestaShop and Shopify let you set up automatic and flexible shipping rates, multiple checkout languages, and abandoned cart emails. You can also make sure your checkout looks like the rest of your brand with both platforms.
📌 Pro Tip: Customize the appearance and the domain of your checkout page with MONEI. Plug in with PrestaShop or Shopify to enhance the customer payment experience today.
Staff accounts and customer profiles
There's a simple divide here. Even on Shopify's highest tier plan, you're limited to creating 15 staff accounts. With PrestaShop, you can create unlimited staff accounts for free. Neither platform has a limit to the number of customer profiles and groups you can create, which is great for marketing as we mentioned above. 
Mobile app
Manage your store on the go with the Shopify mobile app. You're never where you want to be when you need to make a change so this is a really useful feature. You can capture payments, fulfill orders, send shipping notifications, manage your inventory, and more. PrestaShop doesn't include this as standard, but you can download paid modules, developed by the community.
📌 Pro Tip: Manage your business on the go with the MONEI Pay app. All you have to do is download the mobile payment app to your mobile device (Android or iOS), and then you can view transaction history, issue refunds, generate digital QR codes (to accept contactless in-person payments), and keep a pulse on your business from anywhere.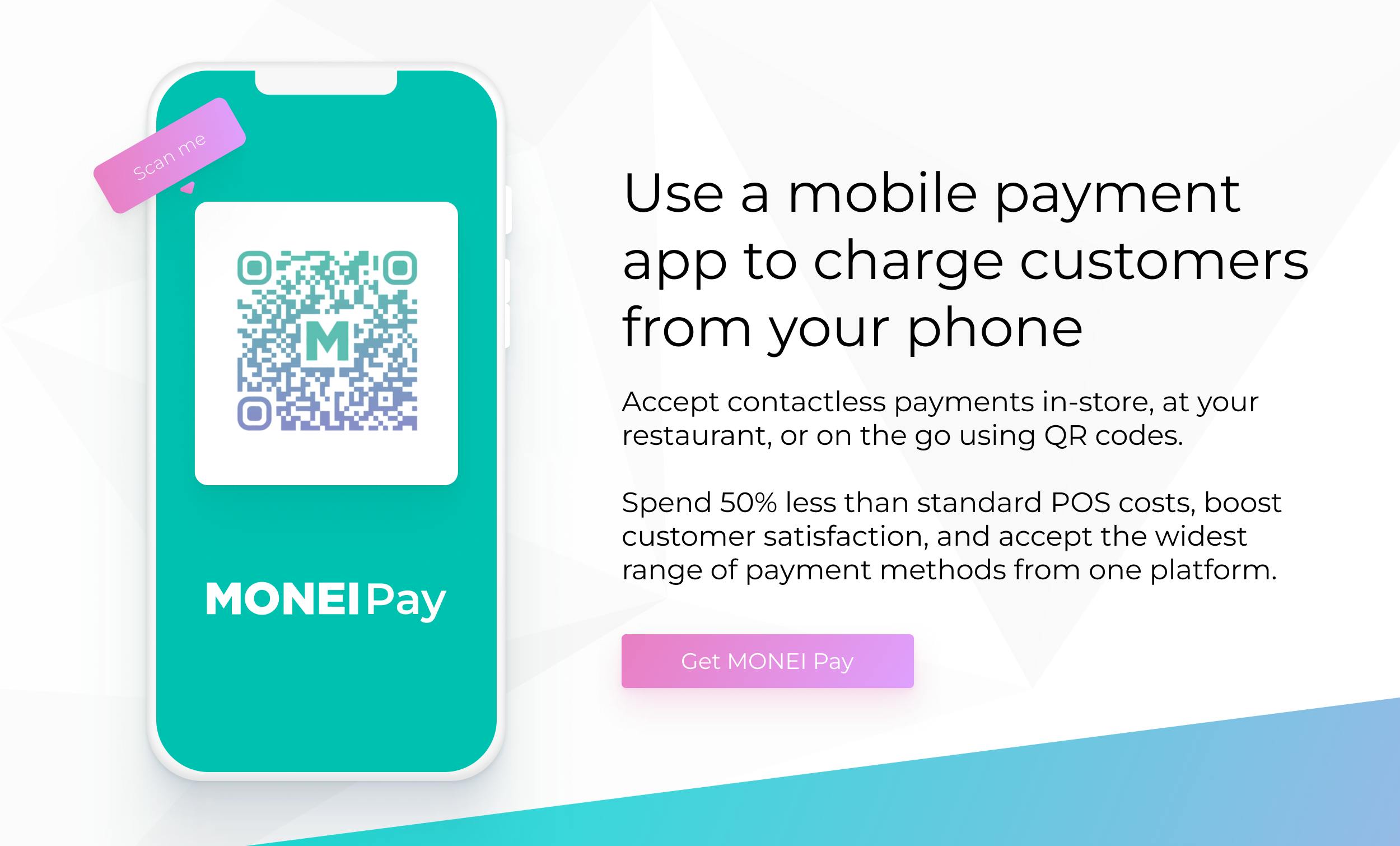 Security
Shopify comes with a free SSL certificate and looks after the backend of your website as part of every package. This includes instant upgrades, unlimited bandwidth, and 24/7 monitoring. You can add SSL certificates, keep your site updated, and buy a hosting plan with unlimited bandwidth and 24/7 monitoring through PrestaShop's partners but managing it all is up to you.
Customer support
PrestaShop and Shopify provide support through live chat and email. Both also provide telephone support but Shopify's is included and PrestaShop's comes with a fee. 
They both have community support online. PrestaShop's community is often full of technically minded people, who have developed themes, add-ons, and modules. Shopify's support is 24/7 and they pride themselves on having some of the best support in the industry. 
Performance
One of the most important aspects for website visitors and search engines on any e-commerce website is performance. A slow-loading website is less likely to rank on Google and even the ones that do are likely to be abandoned after just a few seconds. In fact, Website Builder Expert says that one in four website visitors would abandon a site that takes longer than four seconds to load. 
There are fewer variables on Shopify as the hosting server and base code are always the same. With PrestaShop, the performance is sometimes affected by the large number of plugins and modules available. 
Some are fast, some are slow, some are compatible, and some conflict with others. You have more control over the speed of your PrestaShop site as you choose the hosting server, but that also means you take the risk of getting it wrong. 
Apps, plugins, and integrations
We've already talked about this briefly above, but apps, plugins, and integrations are a huge part of how both Shopify and PrestaShop work. You can find more than 5,000 apps in the Shopify App Store with all the functions you might need for your website. 
PrestaShop has more than 4,000 modules that you can use to enhance your store. You can use them to customize your online website, look after administration, increase conversion rates, and more.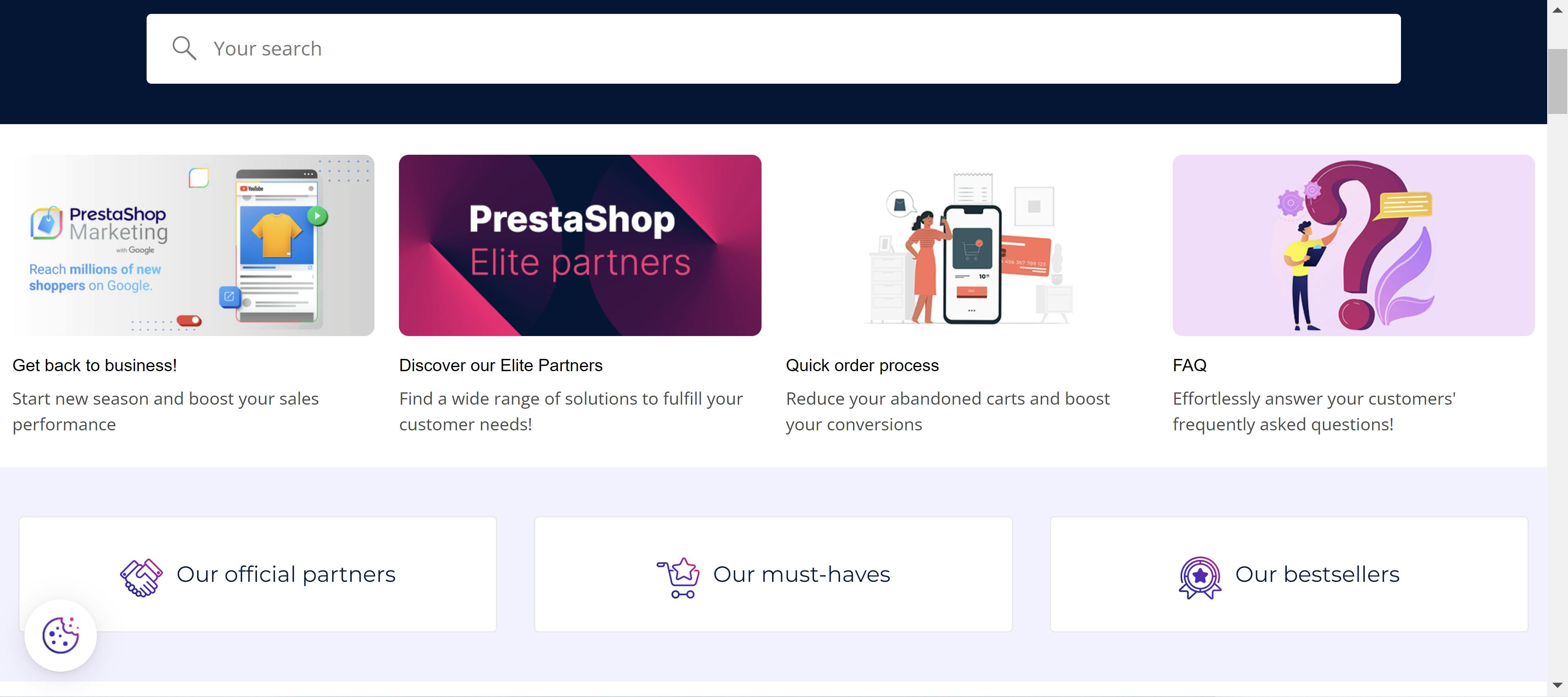 One note of caution. Not all apps are the same, especially when you're using PrestaShop. Its extensions and plugins are built by developers across the world. Be careful about what you add, and make sure your modules are compatible if you don't want to create a slow, glitchy website. 
International sales
If you're not selling internationally already, you ought to consider it. Cross-border e-commerce is becoming increasingly popular, so you'll want to make sure you have the best tools at your disposal to make customer transactions as easy as possible.
PrestaShop supports over 75 languages and that number is constantly increasing because of its open source capabilities. It's worth checking accuracy as some of the less common language translations are far from perfect. 
You can translate your storefront into five languages with Shopify's basic plan and up to 20 with Shopify Plus. Their admin is currently available in 21 languages. Both PrestaShop and Shopify support multi-currency payments and make it easy to comply with data processing laws like GDPR.
User dashboard, analytics, and reporting
Shopify's dashboard is simple with clear instructions. You don't need technical abilities to edit your website or undo steps, and you can follow its visible guides. PrestaShop's dashboard isn't quite as easy to use for the less technical but the dashboard offers a lot of useful information if you know what to look for.
Although Shopify is slightly easier to use, you can generate traffic and referral reports on both platforms, to see how visitors found your store. You can also see growth reports, best-selling products, less popular items, and many more useful product reports. You can export your reports to send to your bookkeeper and integrate your site with Google Analytics.
PrestaShop vs Shopify pricing comparison
You're familiar with the features and benefits of Shopify and PrestaShop now, so how much do you need to invest in each platform?
PrestaShop pricing
PrestaShop is free to download but you'll have to pay to get it up and running. To start with, you'll need a web hosting solution. PrestaShop's partners charge anywhere from $1 to $450 per month, depending on the level of website traffic you expect and the level of security you need.
There are other costs to consider too. If you're technical, you can set up and customize the site yourself but if you're not, you'll need to hire a developer. You'll also need to think about added integrations, maintenance, and future customization. PrestaShop's price will vary greatly depending on your needs so it's important to work out exactly what they are before you make a choice.
Shopify pricing
Shopify's pricing is based on a tiered, subscription plan. The higher the tier you choose, the more features you'll get. This can work out cheaper than PrestaShop but even if you only need one feature from a higher tier plan, you'll need to pay the extra on the monthly subscription. 
The plans are Shopify Starter, Basic Shopify, Shopify, and Advanced Shopify. You can also opt for the enterprise solution, Shopify Plus, which is for higher-volume merchants and is priced according to your needs.
Shopify Starter costs €5 per month in Spain but it doesn't give you the ability to create an online store. You can use it to sell on social media or an existing website instead. The Basic Shopify plan, at €27 per month, is the first to provide full online store functionality. Shopify costs €79 per month and Shopify Advanced is €289 per month. You can compare each plan on Shopify's pricing page.
Who is PrestaShop for?
If you're running an e-commerce store that needs significant customization abilities and is going after international business, PrestaShop is for you. Although you can customize a lot using Shopify, PrestaShop's open-source platform means that it really stands out in this area. 
You can edit, modify, and customize every part of your PrestaShop site to suit your business. There are great built-in features from the start and with the impressive number of themes and modules in the PrestaShop marketplace, you can find almost anything you need to make your store your own.
Selling internationally is a lot easier when you can work in 75 languages. PrestaShop comes with built-in currency capabilities, plus you're provided with checkout options for international taxes and shipping. 
Who is Shopify for?
If you don't have the technical skills or the budget to hire someone who does, Shopify is the better option for your business. Shopify's usability is probably the best in the market. It's easy to understand and you can get your store up and running in no time at all.
As it's a fully hosted solution with a drag-and-drop web builder, you don't need any coding skills to make Shopify work for you. However, if you know basic HTML and CSS, you can make your storefront blend nicely with your brand.
One of the major reasons many small businesses choose Shopify is its predictability. Once you sign up for a plan, you know how much it will cost and what you'll get in return. You may be paying for some things you don't need but you'll be aware of that from the start. 
PrestaShop vs Shopify: choose the right e-commerce platform
PrestaShop vs Shopify, which one's better? There is no objective answer, but now that you're better informed, you can decide which platform works best for your business. Think about the pros and cons of each platform. Do the available features create a solution for your business needs? How does your budget fit with each platform's pricing model? Can you scale your business? Once you've answered these questions, pick the best e-commerce platform for your business and start selling. 
Regardless of what you decide. We're here to help. MONEI's payment gateway quickly and easily connects with PrestaShop and Shopify so you can accept more payment methods and improve the customer payment experience.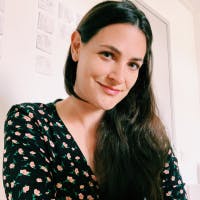 Alexis Damen
Alexis Damen is the Head of Content at MONEI. She loves breaking down complex topics about payments, e-commerce, and retail to help merchants succeed (with MONEI as their payments partner, of course).