E-Commerce Tips
23 Must-Have E-commerce Website Best Practices to Help You Sell More
Alexis Damen | June 10, 2022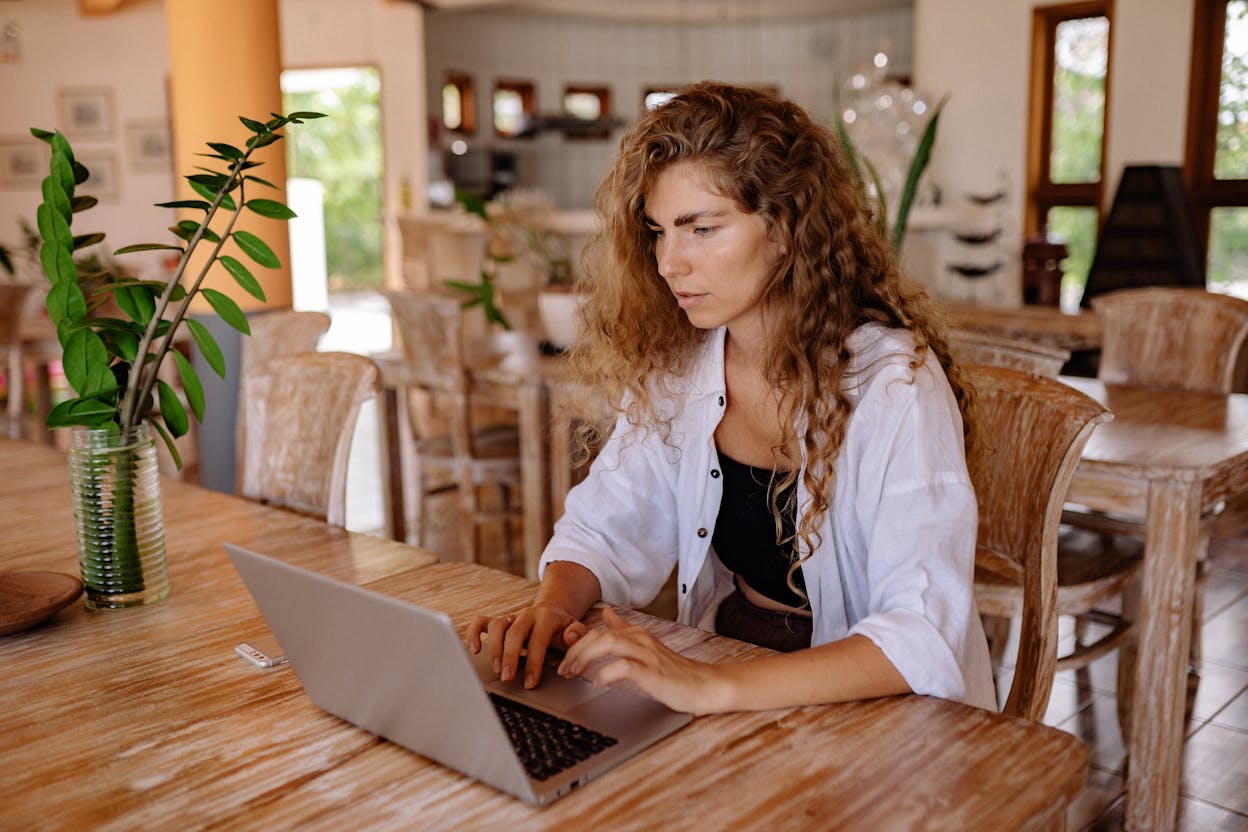 Are you getting loads of e-commerce website traffic but struggling to convert visitors into paying customers? This is a common challenge business owners like you face, but it can be mitigated by following a few e-commerce website best practices.
Revenue in the e-commerce market is expected to reach $828.30 billion in 2022 according to Statista, but if your customers don't form a positive opinion of your site within 50 milliseconds, they could leave and never come back. 
Making the right first impression is crucial to growing and sustaining a profitable e-commerce business. That's why we've put together a comprehensive e-commerce website best practices guide to help increase your chance of success when competing with international giants, local stores, and regional brands. 
Read through or skip around to the sections that are most relevant to your business right now, and don't forget to bookmark this resource so you can keep improving. 
Let's get started.
Table of contents
23 E-commerce website best practices
Let's explore the ways your e-commerce website can generate more leads and add additional sales revenue.
1. Use a simple design
What do you want a visitor to do when they visit your site? Make it easy for them by using a simple design with clear navigation and zero clutter. Think about the first thing your visitor sees. If it's an ad, a selection of everything you've ever sold, or something equally distracting, they won't hang around for long. Direct shoppers to your core products, a clear value proposition, or a CTA (call to action) that stands out from the rest of the page.
Your visitors will want to find the section of the site that's most relevant to them. Make it easy by structuring your navigation menu clearly and breaking products down into broad categories. Again, don't overdo it. Use "T-Shirts" instead of "Short Sleeved T-shirts with Polka Dots". 
2. Don't forget the search feature
It might seem simple but another e-commerce website best practice that's often missed is the inclusion of a search feature. You're keeping the navigation bar simple and clean so your visitors don't get overwhelmed. For browsers, that's perfect but for those looking for something specific, time browsing is time wasted. 
"Search functionality tends to have a high impact on any e-commerce website's conversion rate," says Jack Ananchenko, Co-founder & COO of Stellar Soft. "The more straightforward the process is and the more comprehensive the filters are, the higher the chances are of the end customer placing an order. Make sure every product on your site has attributes properly assigned so that the filters trace the right product while the customer is running their search queries."
A search bar allows your customers to find exactly what they're looking for. You can help them further by including filters to narrow down their choices. Once they only have a few products to choose from, they can navigate to your clearly defined CTA button and make a purchase.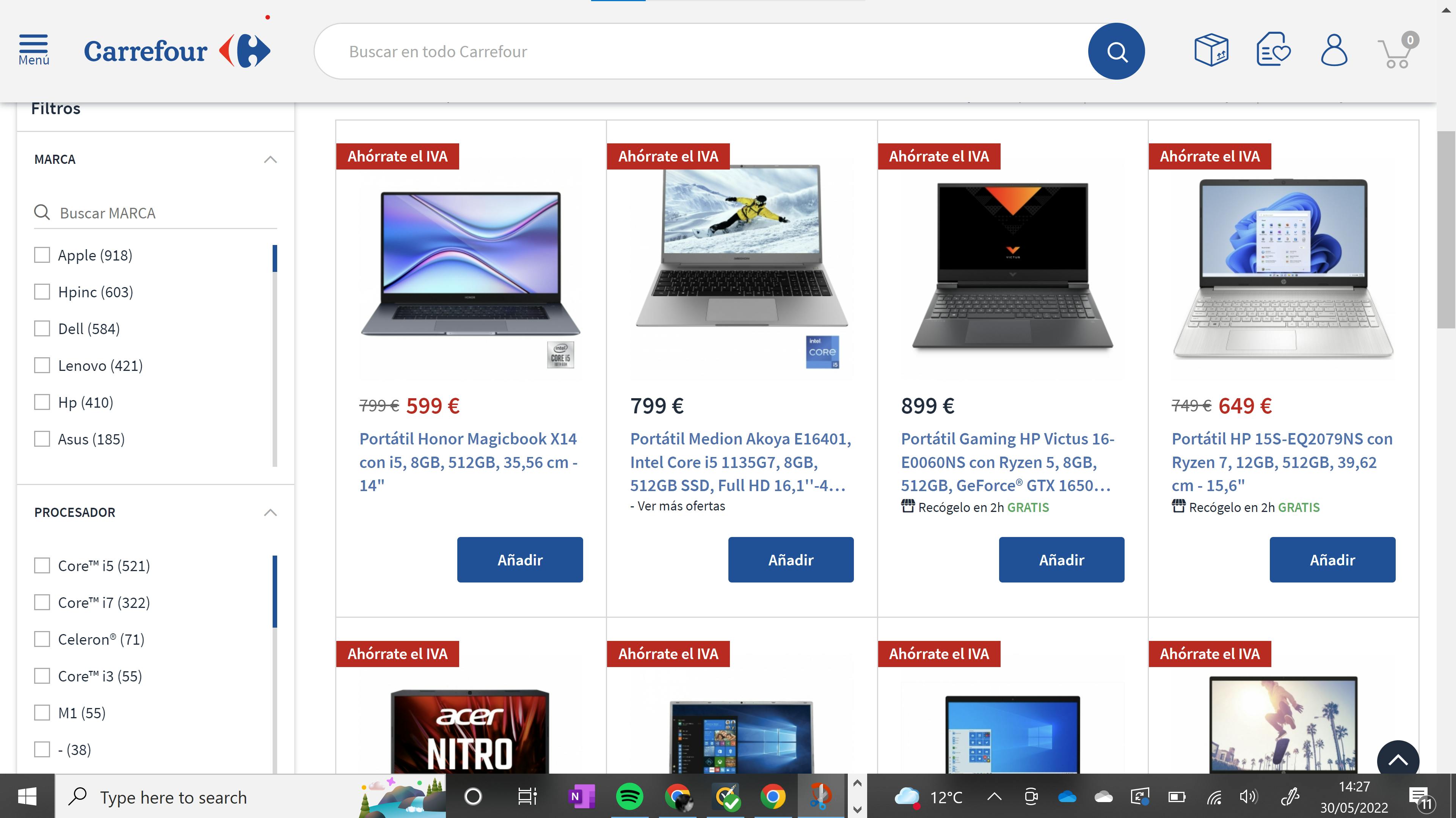 3. Choose a reliable web hosting service
Google is very unlikely to rank your website if it's slow and even if it does, the slower your website is, the more likely potential customers will click away. According to Loadstorm, Econsultancy, one in four website visitors would abandon a website that takes more than four seconds to load.
Unreliable web hosting services will slow your site down and may cause other problems too. Make sure you find a trustworthy host with good customer care, more than 99% uptime (meaning it won't crash), and no issues with speed.
4. Make the checkout process as fast as possible
How many steps does your customer have to take to get from selecting a product to receiving a confirmed order? Could it be quicker? According to Baymard Research, one of the main reasons for abandoning a shopping cart is a slow and complicated checkout process. 
Think about the forms your customer has to fill in. Are they necessary? Do you really need to know their favorite color? If it isn't vital to the logistical process of fulfilling the customer's order, don't include it.
5. Make registering optional
Forced account registration is even higher on the list of reasons for abandoning a shopping cart. Baymard's research also states that 24% of US adults say they didn't buy something because the site wanted them to create an account. 
"One of the biggest mistakes e-commerce businesses tend to make is limiting customers in their ability to place orders without having an account," says Ananchenko. "Make sure your guest checkout functionality is enabled for those who are looking for a one-time purchase. Of course, there are stores and businesses which do require an account — in those cases, you should implement a quick SSO login (single sign-on) functionality using Google, Facebook, LinkedIn, or something similar."
E-commerce website best practice is to encourage account registration, instead of forcing it. Remind your customer that having an account can significantly speed up the checkout process and offer incentives such as weekly offers or free shipping.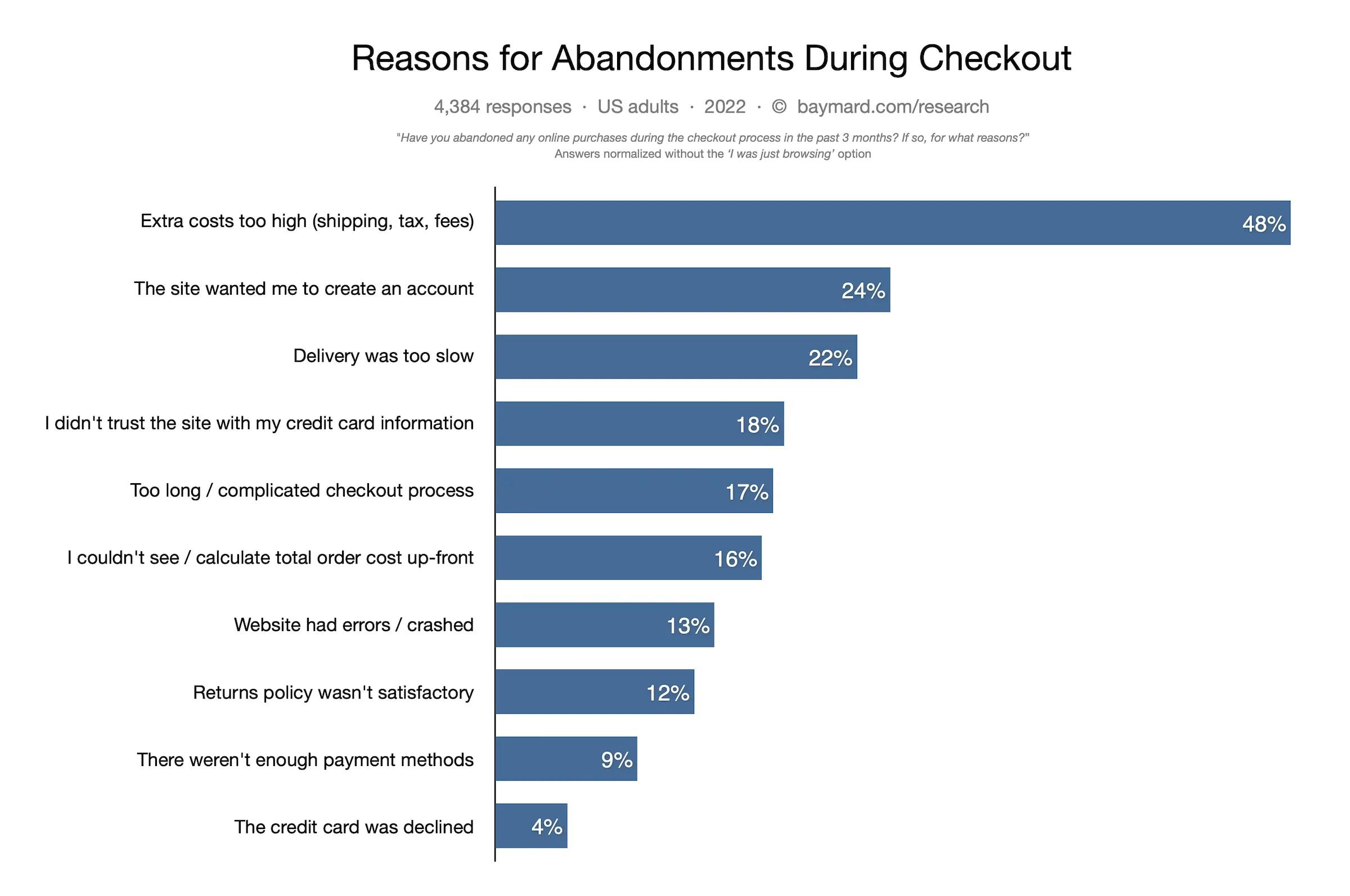 6. Work on your SEO
Nearly 20% of consumers in Europe and one-third of consumers in the US begin their online product search via a search engine like Google, making it important to work on search engine optimization (SEO) for your e-commerce website.
If you're not ranking, you'll lose out to your competitors who are. It's not easy to get to the top but with the right mixture of keyword research, optimized website pages, internal links, and external backlinks, it can be done. For a bigger chance of success, go local. Target your SEO toward your country, region, or even your town.
"Don't underestimate the positive effect of blog articles," says Ananchenko. "Even if you're already getting website traffic, SEO blog articles provide value. Small businesses usually don't prioritize their blog, but wisely compiled posts that target the right keywords and include internal links to products can increase conversions and at the same time, help boost your organic search results on Google in the short and long-term."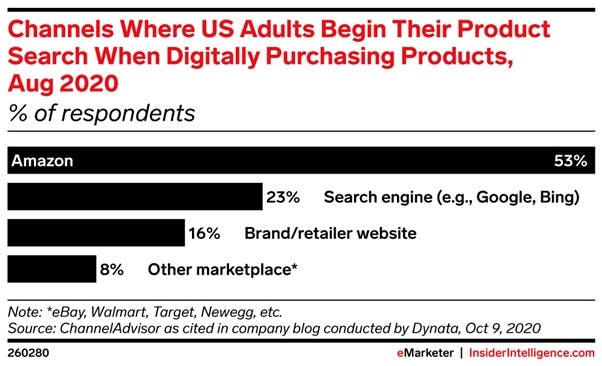 7. Publish blog articles regularly
Products aren't the only thing people look for on search engines. Creating informative, entertaining blogs about subjects related to your products and industry will help to increase brand recognition. Using the right SEO on those blogs will help get you to the top of Google. 
Remember, most people won't buy from you every day, but they might be interested in the topic. If you're their guide and have links to your e-commerce site for when they're looking to buy, you might even get them to skip searching on Amazon or Google.
8. Consistently grow your email subscriber list
One of the best ways to drive traffic to your site is through an email subscriber list. Offer incentives to sign up, such as exclusive special offers. To reduce unsubscribes, you could segment your emails using data you've gathered from previous purchases. Most email service providers allow you to personalize your email campaigns, making it easier to build customer relationships.
You can also ask subscribers how often they would like to receive emails. This way, they'll feel in control of communication and you still get the chance to show them how impressive you are. 
9. Reserve space in your email marketing strategy for non-sales emails
Now isn't always the right time for your customer to buy. If the only time you communicate with them is to try and sell something, they might stop taking notice. Instead, make some space to explore different, yet relevant subjects. 
Think about what you sell, are there challenges with its use that can be explained with a "hints and tips" email? Do you have any great stories to tell about something that was used for a good or even humorous purpose? Can you share your brand story with new customers or a behind-the-scenes look at your process? 
10. Set up abandoned cart email sequences
Even with the fastest website, the shortest possible checkout process, and no obligatory registration, potential buyers sadly still abandon their carts. Set up an automated win-back email campaign to encourage shoppers to complete their purchases. Be clear that their product is still in stock if they want it, offer some alternatives, and occasionally, even offer a discount. Following this process will greatly increase your conversion rate.
"An absolute no-brainer is to always make sure an email sequence for the customers who abandoned their cart is set up," says Ananchenko. "Essentially, this means you initially invest time in setting up this functionality (some platforms even have this built-in) but going forward, the process will be automated. E-commerce platforms like Shopify integrate with email marketing software like Klaviyo to automatically keep track of the customers who had something in their cart but never placed an order. An automated abandoned cart email sequence gets sent based on the settings you choose. As a quick tip, offer your customers some sort of a discount in one of your follow-ups to see if that helps close the sale. Bought product = opportunities to reinvest and grow!"
11. Find a payment gateway that easily integrates with your website and lets you accept more payment methods  
Accepting traditional payment methods like card payments is a great starting point, but in order to reach more customers, adding alternative and local payment methods to your e-commerce checkout is a must. Not only will you improve the payment experience, but having more payment choices can also help increase conversion rates, reduce abandoned carts due to the lack of customer-preferred payment methods, and aid in expanding your business internationally. 
For example, if you want to sell products to consumers in Portugal, you should accept Multibanco payments and if you want to reach more shoppers in Germany, SOFORT would be a great option. 
Powerful, ready-to-use plugins and custom integrations make it much easier to integrate your website with a payment gateway. This means you can accept many payment methods, customize the payment page, and benefit from built-in payment security.  
💡Try MONEI to accept a wide range of payment methods from a single platform. 
12. Customize your checkout page to build trust and brand awareness
Your customers want to feel like they are interacting with you the whole time. If they're taken away from your website to a third-party domain during the payment process, they might lose trust and even decide not to make a purchase. Use a payment service provider (PSP) that lets you create a customizable checkout page to stop that from happening. 
Seeing your logo, branding, and website URL will keep your customers feeling safe and their money will be secure as the PSP always handles it. You'll also boost brand awareness, making sure your business is always top of mind. 
13. Write product descriptions your target audience wants to read
What makes your products worth buying? Don't just think about what your products do, think about how they make your customers' lives better. What problem are they solving? What desire are they helping your customer fulfill?
Use this information to create product descriptions your target audience wants to read. Make sure they're informative, SEO friendly, using your brand's voice, and most importantly, make sure they're persuasive by focusing on product benefits.
14. Never sell ad space on your e-commerce website
There are many reasons not selling ad space is an e-commerce website best practice. Let's start with one we've already discussed. Your website needs to use a simple design and taking up space with ads will make it feel cluttered. 
You might get some additional income but you're more likely to lose business from potential customers. Sidebar ads and popups can look like spam, making a customer fear your website. This goes back to the trust factor we mentioned earlier.
Forty-three percent of internet users use ad blockers. When asked why, the top reasons are:
There are too many ads on the internet
Too many ads are annoying or irrelevant
Ads take up too much screen space 
Imagine how much better your customers will feel without ads on your e-commerce website.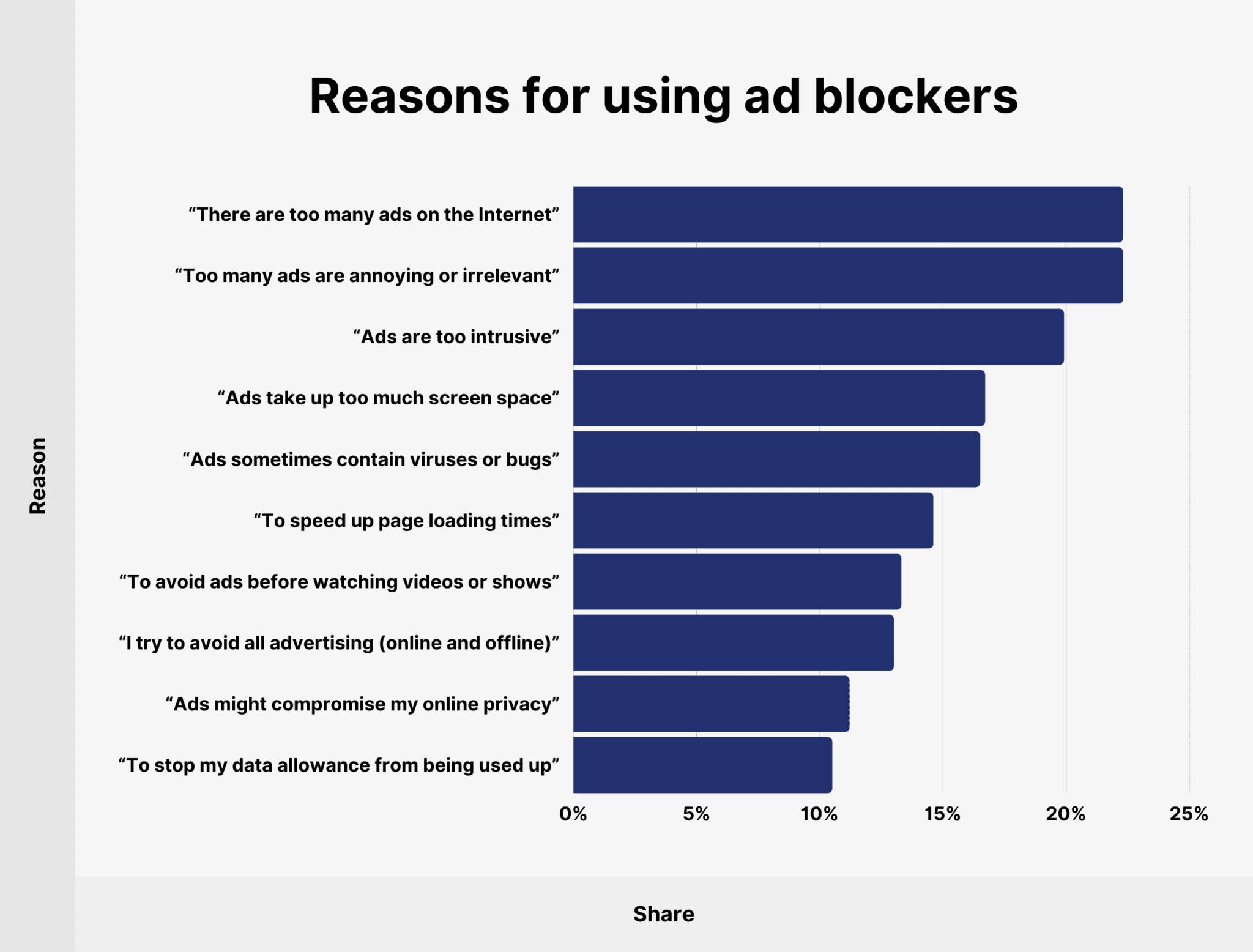 15. Always be there for your customers
Whether your customer is in the process of buying something or has already bought one of your products, they will need your help if something goes wrong. Make it easy for them to contact you and you'll reduce any damage caused.
Omnichannel customer service, including chat, social media, email, text, and WhatsApp will make customers feel like they're your priority. Customers are understanding when things go wrong, they are much less understanding when there is no way to resolve problems or if they have to deal with untrained or unfriendly staff.
📚 Further reading: A Simple Guide to Omnichannel Retail Strategy
16. Constantly test and analyze performance then iterate
How is your e-commerce website performing? The only way to know is to test it. Run A/B tests on a regular basis and analyze the stats. Does having your CTA higher up or in a different color increase purchases? Which landing pages generate the most results? 
Once you've tested one aspect, make adjustments and start again. Creating the perfect e-commerce website is impossible but you can constantly improve.
17. Pay attention to mobile experience 
Almost 60% of internet traffic worldwide comes from mobile phones. That's why you need to prioritize your customer's mobile experience. Make sure your e-commerce website is fully responsive. Set it up to work quickly and efficiently on any device with any screen size. The switch between a laptop to a mobile phone should feel seamless to your customers.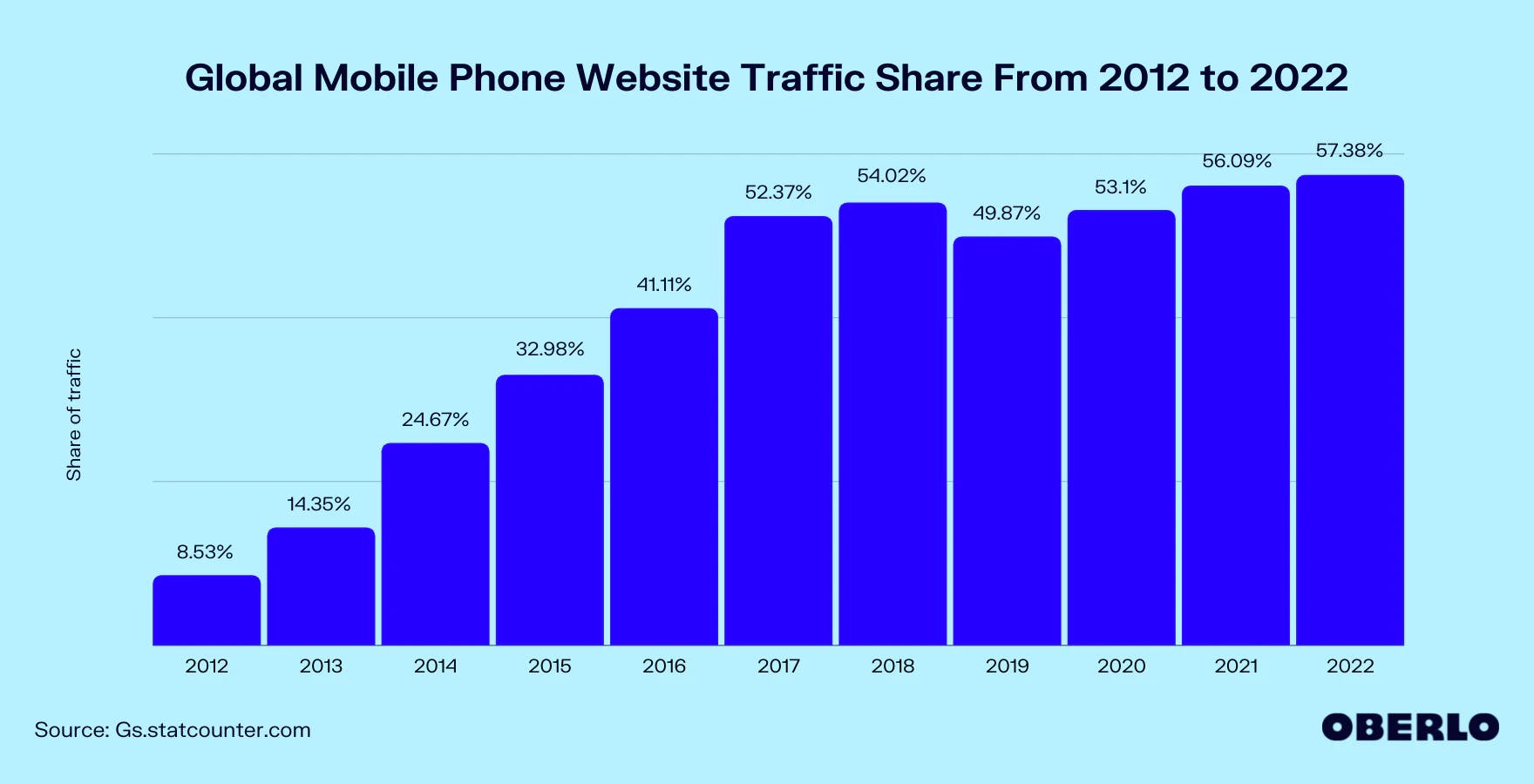 You could even build a mobile shopping app for a personalized shopping experience like no other. Then customers can input their preferences, set up automatic payment options, and submit a range of shipping addresses. Mobile shopping and mobile payments are here to stay.
18. Use free shipping thresholds to boost sales
No reason comes higher for cart abandonment than unexpected costs, including shipping. In fact, 40% of European consumers leave their intended purchase because the delivery costs are too high. You can deal with this in a few ways, depending on what you sell and how you sell it. Whatever option you choose, make it clear. Tell your customers as early as possible in the purchase process how much shipping will cost. Start with an estimate if you need more details from them.
One option to get around this problem is to always offer free shipping on everything. As long as you take shipping into consideration when setting your prices, you can cover the costs. 
If this isn't possible, because you sell lower price or lower quantity items, you can set a minimum threshold instead. For example, if your customer spends €50 or more on one order, they can enjoy free shipping. 
19. Offer flexible shipping options
In addition to displaying delivery costs as soon as possible in the online shopping journey, offering flexible shipping options such as same day delivery or click and collect are equally important. In fact, 43 percent of consumers in Spain leave their online shopping basket for logistical reasons such as delivery time or flexibility. And in countries like the Netherlands, same day delivery grew by 69% in 2021. 
20. Collaborate with influencers and brands on marketing campaigns
It seems like everyone uses influencers to market their products these days and there's a good reason. Their pulling power can dramatically increase your sales. Having said that, you need to make sure that whoever you're collaborating with has the same audience and the same values as you've defined for your business.
When you reach out to a brand or influencer, make sure they're not doing anything that might tarnish your reputation. Also, if your customer base is made up of pensioners and an influencer only talks to school students, you're probably not a good match.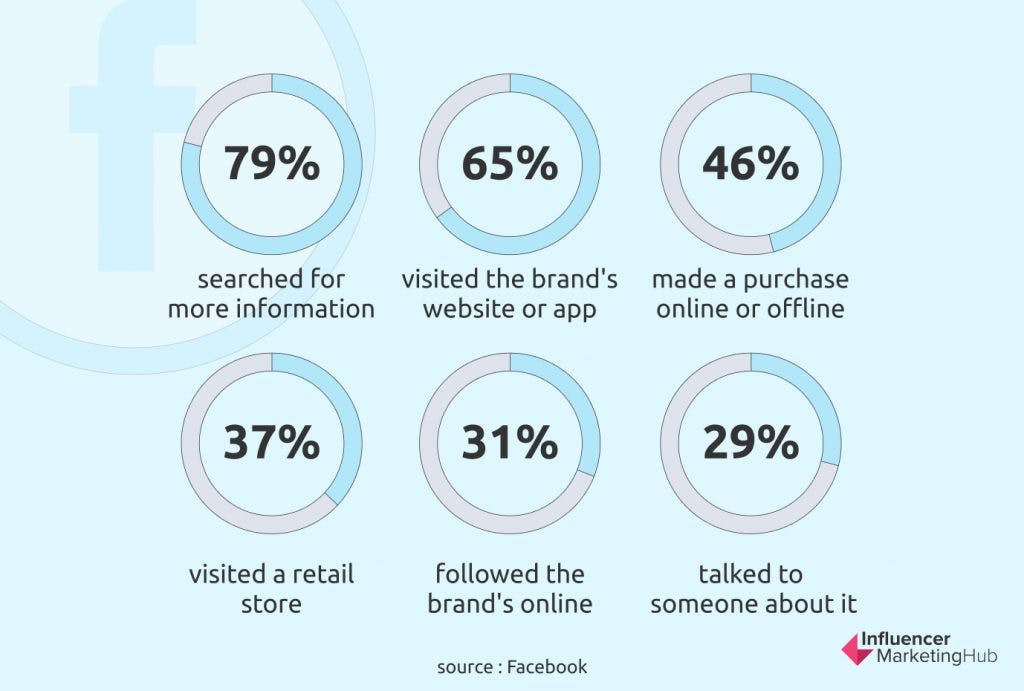 21. Add high-quality images and videos to your product pages
When you walk into a physical store to buy something, you can touch it, smell it, try it on, see it in full color, listen to the sounds it makes, and with certain products, you can even taste it. Not all of those things are possible online so you need to make the buying process as tangible as possible.
Lemonlight tells us that 94% of respondents to their video research survey say that watching a video has helped them make a purchase decision at least once. High-quality images and videos bring a customer closer to the product they want to buy, increase trust, and boost your opportunity for a sale.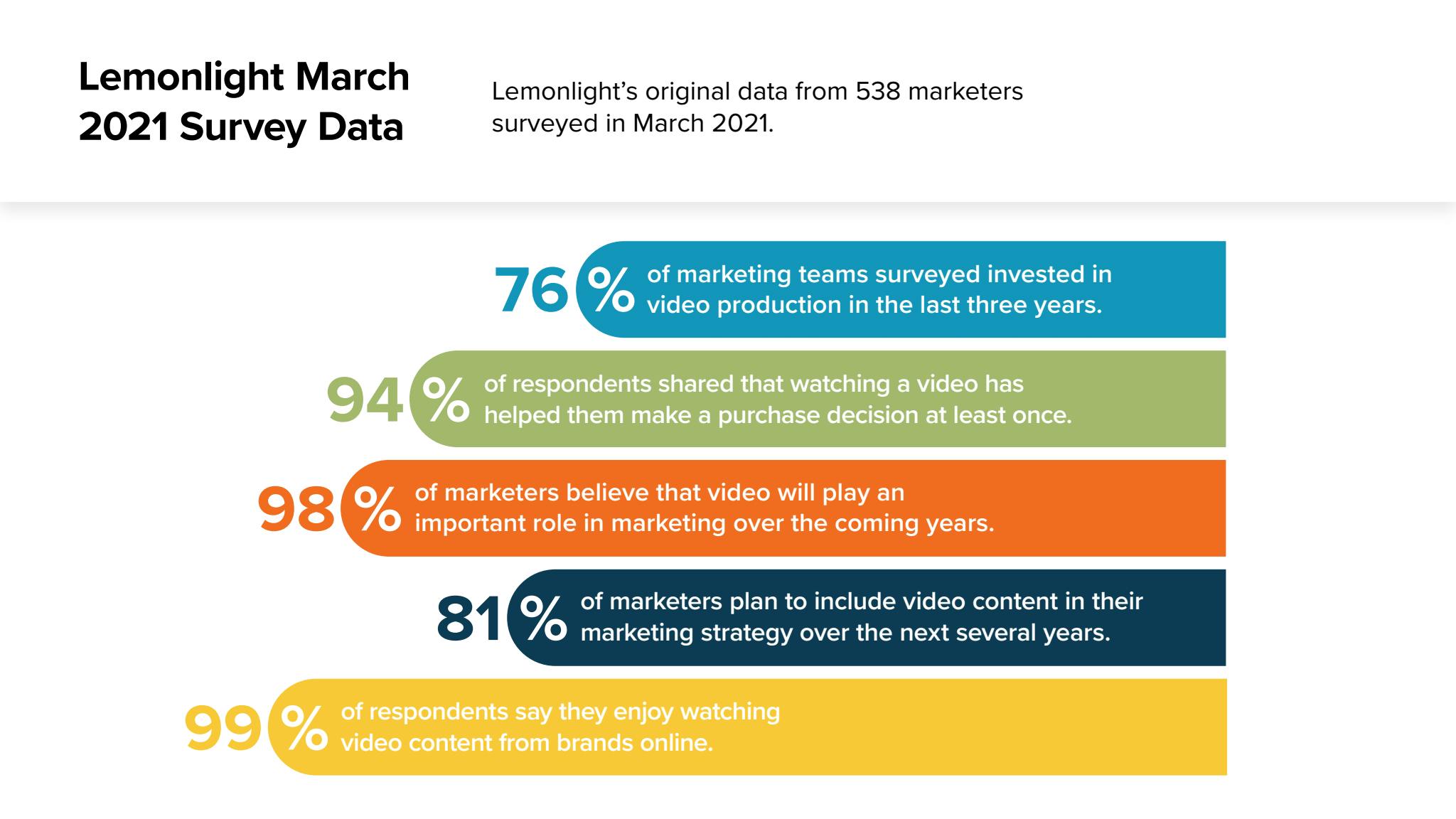 22. Include customer reviews and testimonials on product and other website pages
Nobody can explain the benefits of your products better than the people using them, so add credibility to your brand by focusing on positive customer feedback. Always follow up with your customers, asking for a review on the item they just bought, but only once they've had enough time to use it. 
Showcase your product reviews and your best testimonials on product pages and across the website. According to Semrush, 64% of marketers agree word of mouth is still the best form of marketing, but it's up to you to highlight it.
23. Review and respond to customer feedback
Some of your reviews will be negative. Things go wrong. Sometimes you can control it and sometimes you can't, but it's important not to ignore criticism. If you receive negative feedback, don't hide it. Forty-seven percent of consumers feel companies are manipulating their reputation with fake reviews, so having a mix of good and bad reviews will help people believe the positive feedback.
Your job is to act on the negative feedback. Read and respond to customer comments and where appropriate, implement changes. Something going wrong for one customer might be bad luck, the same thing going wrong for 10 customers means a process is misaligned. 
It's just as important to read and respond to positive feedback when time allows. Thank your customers, showcase it on social media, and make sure the parts that stand out are part of your standard process. If lots of customers say you're doing something well, keep doing it — or do it even better if you can.
Time to implement your e-commerce website best practices
Now that you know 23 of the most important e-commerce website best practices, the only thing left to do is to start implementing them. You've likely already started on some, and it's impossible to do everything at once. So start by testing new strategies one by one to see what works and what doesn't. The quicker you start experimenting, the faster you'll see positive results.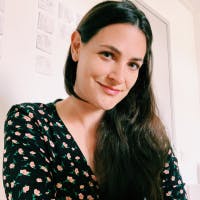 Alexis Damen
Alexis Damen is the Head of Content at MONEI. She loves breaking down complex topics about payments, e-commerce, and retail to help merchants succeed (with MONEI as their payments partner, of course).