Payments Technology
What is 3D Secure? And Its Advantages for E-commerce
June 9, 2020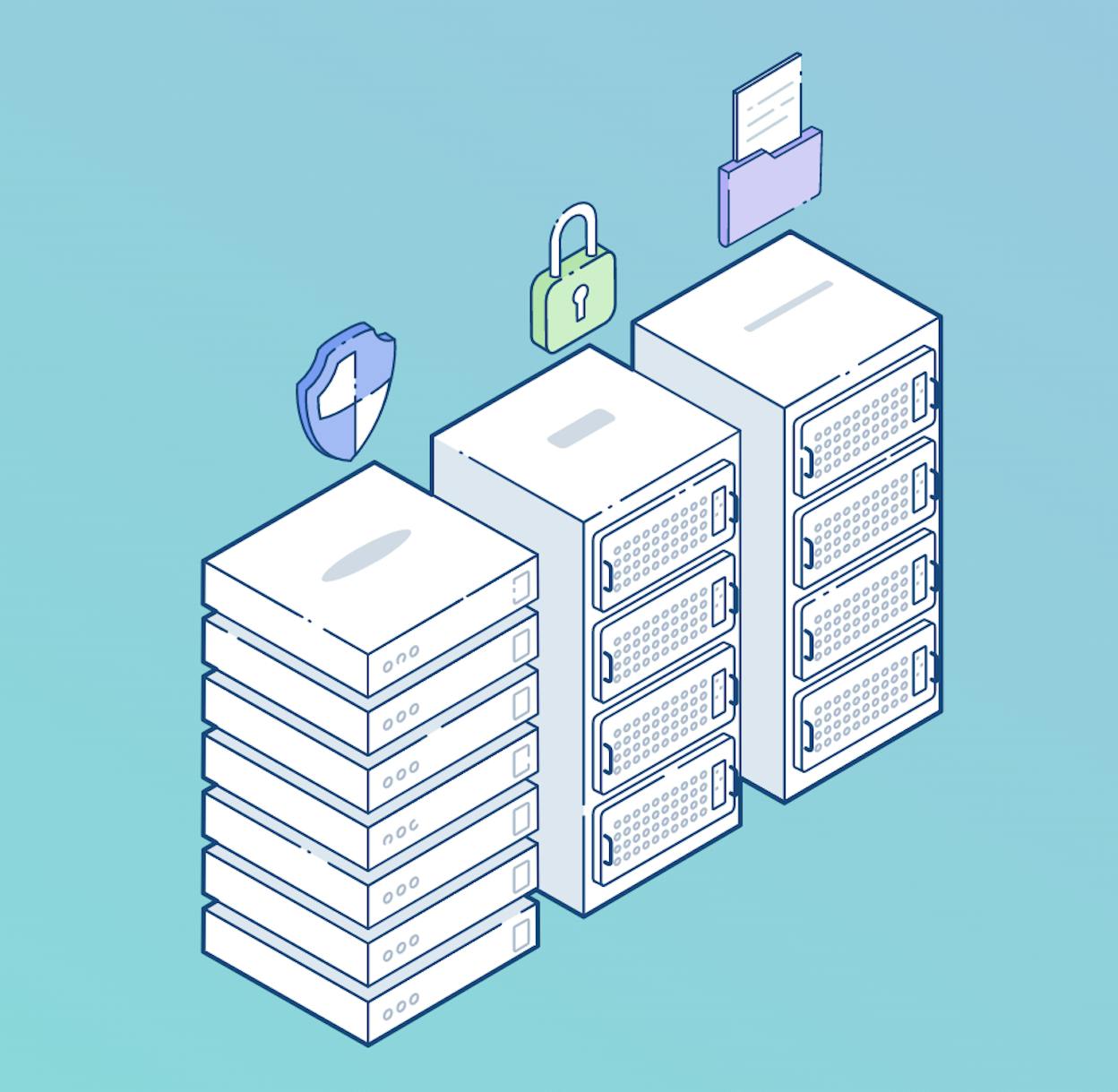 With over 800,000 e-commerce stores in Europe, customers need a way to know their money is going to a real store. Companies need a way to know their customers are legitimate to avoid chargebacks. 3D Secure helps companies and customers feel more secure in their online transactions. Read on to learn all about 3D Secure — how it works, what the domains are, the benefits of using it, and how to put 3D Secure to work for your e-commerce company.  
What is 3D Secure? 
3-D Secure, or 3-domain structure, helps prevent online fraud with credit and debit card transactions. It's also known as payer authentication. This security protocol provides extra protection for both the cardholder and the merchant.
During an e-commerce transaction, at checkout, 3D Secure provides an extra layer of authentication to prevent fraudulent card use. The info is gathered through a challenge to the customer. The challenge step will collect data supplied by the cardholder and their device, or additional info gathered through the issuing bank through a one-time SMS code, biometrics, bank app, or other processes. 
This security protocol protects you from chargebacks for fraud — the liability for those chargebacks shifts to the card-issuing bank. 
How Do 3D Secure Transactions Work? 
Here's a step-by-step breakdown of how a 3D Secure transaction works. 
The payment gateway contacts the directory server and receives notification that the card is registered in the program.
The payment process is redirected to the cardholder's bank website.
The cardholder enters card information, and the transaction details are submitted to the bank.
3D Secure asks the buyer to enter a static password or verify their identity with a one-time password.
The buyer verifies their identity. The process is performed by the cardholder's bank.
The authentication goes to the payment gateway. The gateway submits transaction details to the bank.
The customer transaction is approved or declined.
📚 Further reading: Secure Payments: How to Accept Them Online and In-Person
What Are the Three Domains of 3D Secure? 
This security protocol works with a data exchange between three different domains. Learn about the three different types of domains that make up 3D Secure.
Issuer Domain 
This domain is from a customer's bank that issues their card. This is the account where the money is debited for the transaction. The issuer domain is made up of several components.
Cardholder browser and related software - This is where the customer enters their initial data that triggers the security protocol.
Enrollment server - The customer enrolls in the authentication process on this server.
Access control server - This server helps authenticate the cardholder's identity and checks the authenticity of the card itself. 
Validation server - This server validates the cardholder's identity.
Acquirer Domain 
The bank that holds the seller's account is the acquirer domain. This is the bank account receiving money from the transaction. The acquirer domain is made up of two components. 
Merchant plug-in - After the purchase is finalized on the cardholder's end, the merchant plug-in creates and processes the cardholders' authentication messages.

Signature validation server - This server validates the digital signature on an authenticated order. 
Interoperability Domain
The interoperability domain decides which network is required for the transaction. This domain is made up of two parts. 
Directory server - This server validates if an account number is associated with a card scheme and forwards the request to the access control server. 

Certificate authority - This generates and distributes the card scheme, SSL server, digitally signed, and public root hierarchy certificates across all the domains. 
What is 3D Secure 2.0?
3D Secure 2.0 was created in 2016 and updated in 2017 to create new protocols for online transactions. These new protocols greatly improved the customer's experience using 3D secure, making the checkout process more seamless. Here are some of the features 3D Secure 2.0 brings to the table. 
Improved shopping experience - With more people shopping through apps, 3D Secure 2.0 improves their shopping experience by authenticating app-based transactions quickly and seamlessly.

Enhanced data sharing - It provides enhanced data sharing between the issuer and merchant acquiring banks, allowing the issuing card bank to make better risk decisions. 

Better authentication - This new protocol gives the customer better authentication options in risky transactions, like using a biometric or one-time password. 

Single authentication - Rather than clicking through a browser redirection process, 3D Secure 2.0 allows customers to go through a single authentication message flow. The streamlined checkout process improves the experience for customers using mobile devices.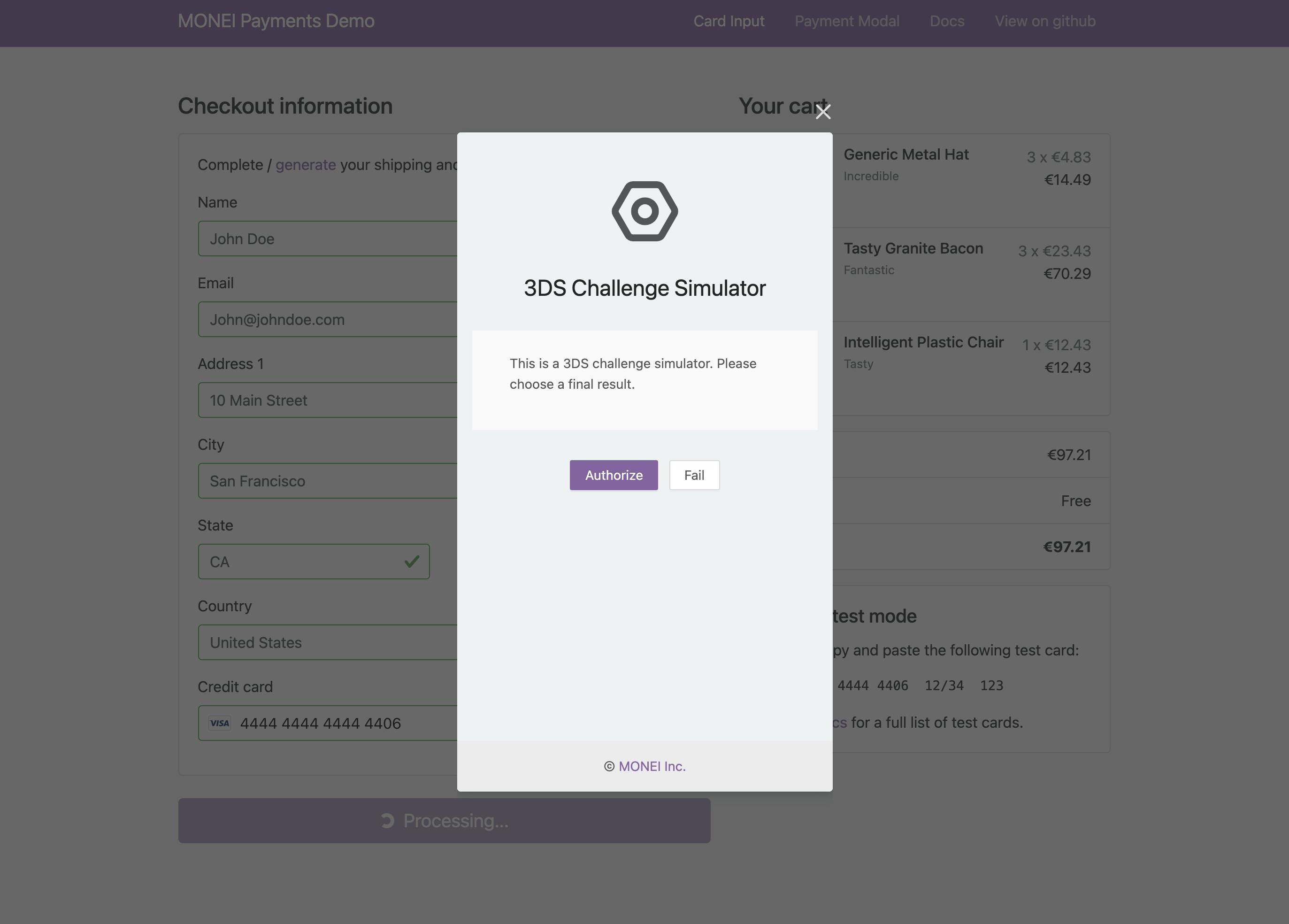 Simplify Your Digital Payments with Dynamic 3D Secure
3D Secure authentication, in its first version, can complicate the payment process and result in lost sales.
That's why we designed MONEI's 3D Secure verification screen, which pops up directly on your checkout page without redirecting shoppers. This prevents customers from forgetting their code and dropping off. 
And because two-factor authentication (2FA) is a security requirement, Europe introduced PSD2 and SCA regulations in 2019 and 2020. 2FA comes with many advantages for e-commerce — which we've outlined in the next section.
In each transaction, MONEI will try to authenticate the shopper without any interaction from the cardholder. This is Dynamic 3D Secure, also referred to as a "Frictionless Challenge", and provides the best of both worlds for two-factor authentication. 
Dynamic 3D Secure also helps you manage the balance between preventing fraud and simplifying your digital payments. 
MONEI's Dynamic 3D Secure assesses each transaction based on risk factors including customer behavior, location, and contact information. Suspicious activity is then routed through a 3D Secure challenge to reduce fraud. High-risk transactions are checked, but not blocked until proven that it's necessary.
Transactions that are identified as low risk don't get challenged. This means the cardholder can pay without interruption. With Dynamic 3D Secure, your customer drop-off rate decreases, and your conversion rate increases.
Further reading: Frictionless Payments Explained (+ 6 Benefits for Retail and E-commerce)
The Benefits of Using 3D Secure for E-commerce
3D Secure offers a number of benefits in e-commerce. Let's examine a few of them.
Reduces the risk of fraud - With additional layers of security authentication, it's harder for scammers to commit fraud online. Customers can be assured that they're shopping with a legitimate business, while your business is better protected from credit card fraud. 

Offers more protection for customers and merchants - Customers have additional layers of authentication to protect their card information. As more businesses implement 3D Secure, it becomes more difficult for people to steal and use their credit or debit card information. Merchants are protected against chargebacks because the card-issuing bank assumes liability for the transaction. All transactions are protected by SSL encryption to protect the data as it changes hands between financial institutions, making the process as safe as possible for all parties. 
Improves the customer's experience - Happy customers lead to more sales. With a safer transaction and simpler checkout, it's likely your customers will return and shop again. 

Facilitates more international transactions - You and your customers can feel more secure making international transactions because of the added security. This will expand merchants' reach to new countries and offer customers more buying options.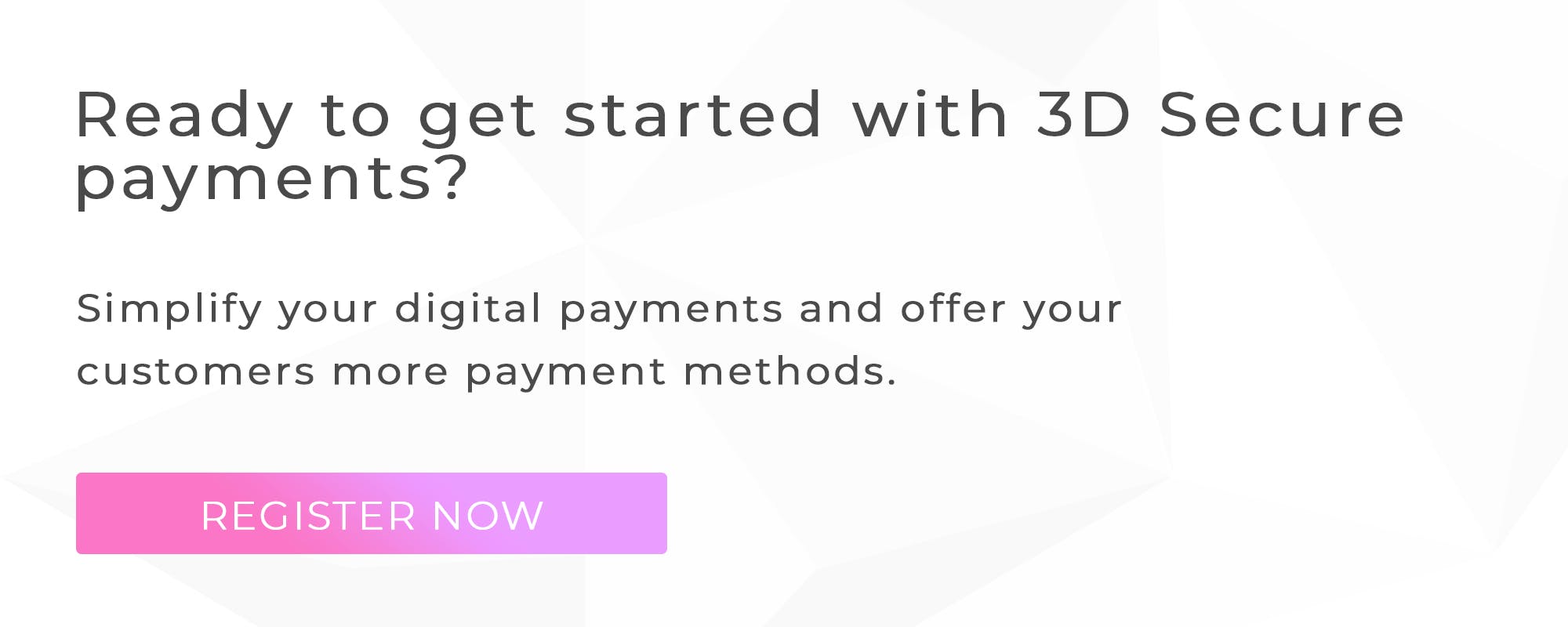 How to Get Started with 3D Secure Payments
Are you ready to take your e-commerce business to the next level? 3D Secure Payments protect your business from chargebacks and provide your customers with peace of mind. 
MONEI is a simple-to-use solution for 3D Secure Payments. Install it with just a few clicks so you can start making money right away. Once you're an approved merchant, MONEI provides short-settlement lead times. 
We know how important security is online, especially with financial transactions. That's why we offer top-of-the-line security so you can focus on building relationships with your customers and getting paid. 
Get started today and let MONEI handle your 3D Secure payments!
You may also like to read: