Payments Technology
Frictionless Payments Explained (+ 6 Benefits for Retail and E-commerce)
Alexis Damen | August 17, 2021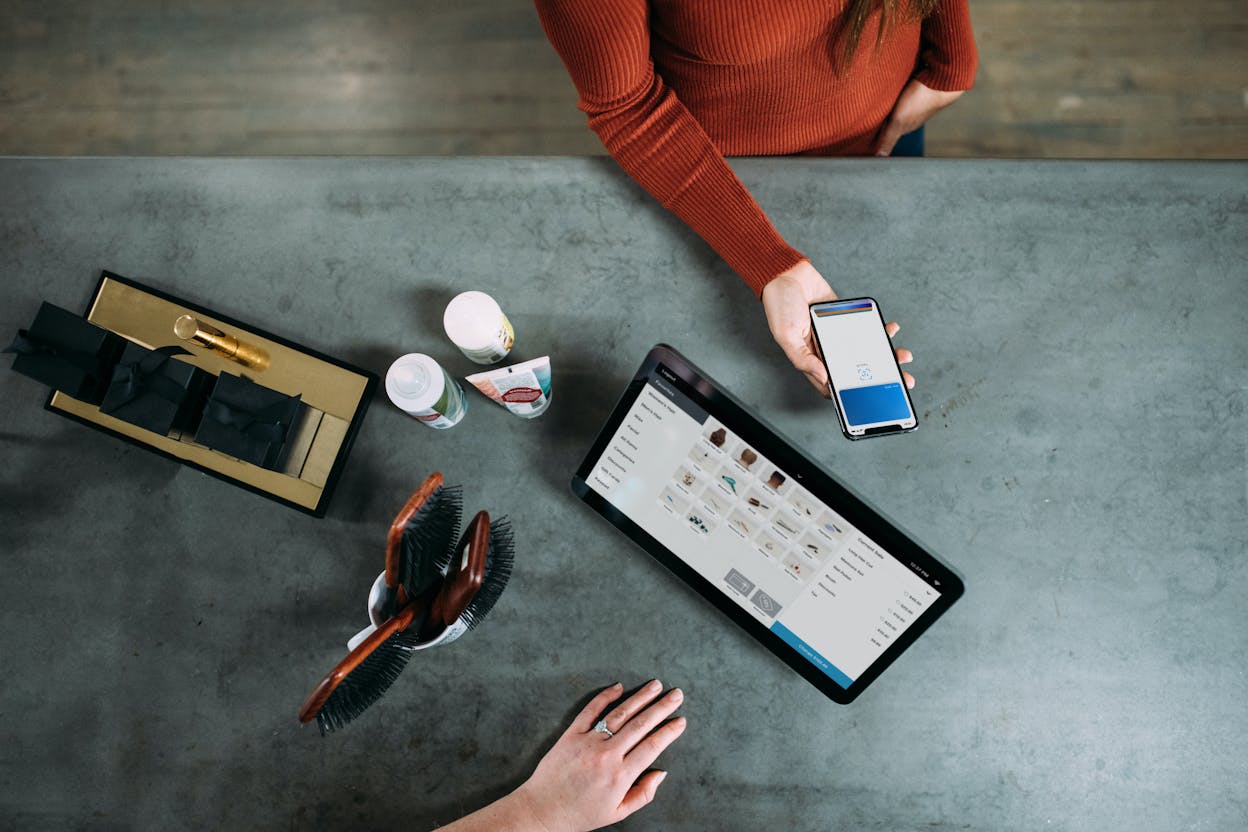 Both modern consumers and modern merchants seek out flexibility, convenience, and security when it comes to online and in-person payment options. That's why opting for a frictionless payment method has become more popular than ever seen before.
In fact, the international marketing statistics portal, Statista, estimates frictionless payment technology will grow to $8 trillion by 2024.
The term "frictionless payment" refers to an online or offline payment process that uses data from apps, devices, and/or websites in order to simplify the purchasing process for customers and, in turn, improve your conversion rate. 
In this article, we'll take a closer look at what exactly constitutes a frictionless payment, the different forms of these types of payments, and the benefits of frictionless payments for both you and your customers.
Let's dive in.
Table of contents
What are frictionless payments?
As one of the 8 trends shaping the future of payments and e-commerce, frictionless payments are defined as data-driven purchasing methods that meet the following criteria:
Providing a faster checkout (with fewer steps needed to complete checkout)
Minimizing or eliminating consumer waiting time
Reducing cardholders' cognitive strain by eliminating the need for PINs or general number memorization
Feeling like a natural part of the customer experience vs feeling like an extra step
Frictionless payments use data from websites, devices, and/or apps to help you mitigate cart abandonment, boost the customer experience, and increase revenue.
Having been first invented in the 50s, frictionless payments have seen a surge in both refinement and popularity over the years, with COVID-19 further skyrocketing its widespread usage.
Forms of frictionless payments
Now that you understand what frictionless payments are, let's take a look at a few examples of the most frequently used types of these payments.
Mobile wallets and digital wallets
While mobile wallets and digital wallets are often used interchangeably, the fact is the two forms of frictionless mobile payments differ in how they're implemented.
Mobile wallets are most often used by consumers who would prefer to not carry a physical wallet when making in-store purchases, whereas digital wallets are mainly used for online transactions. As an example, Google Pay and Apple Pay are popular digital wallets. But when used alongside mobile payment services and devices (i.e. your point-of-sale terminal), they are defined as a mobile wallet due to the added in-store functionality.
Digital wallets, for example, are used through third-party smartphone apps and ensure that all your payment details are stored in one place. These apps protect consumers' data via passwords and encryption (also known as payment tokenization), making online payments fast and secure. 
Mobile payment applications
Mobile payment apps are one of the other most-used forms of frictionless mobile payments.
As outlined above, mobile payment applications are frequently used as a form of mobile wallet for easier in-store (or restaurant) purchases. But there are other mobile applications, too. 
An example of this is QR code payments. QR codes for payments can help you circumvent expensive and unintuitive POS terminals by letting customers make contactless (and frictionless) payments in person via their smartphones. That's why we created MONEI Pay.
Once you've downloaded the mobile payment app to any mobile device (Android or iOS), all you have to do is generate a digital QR code payment. Then the customer can scan the QR code, choose their preferred payment method, and finish their transaction in real-time with the tap of a button.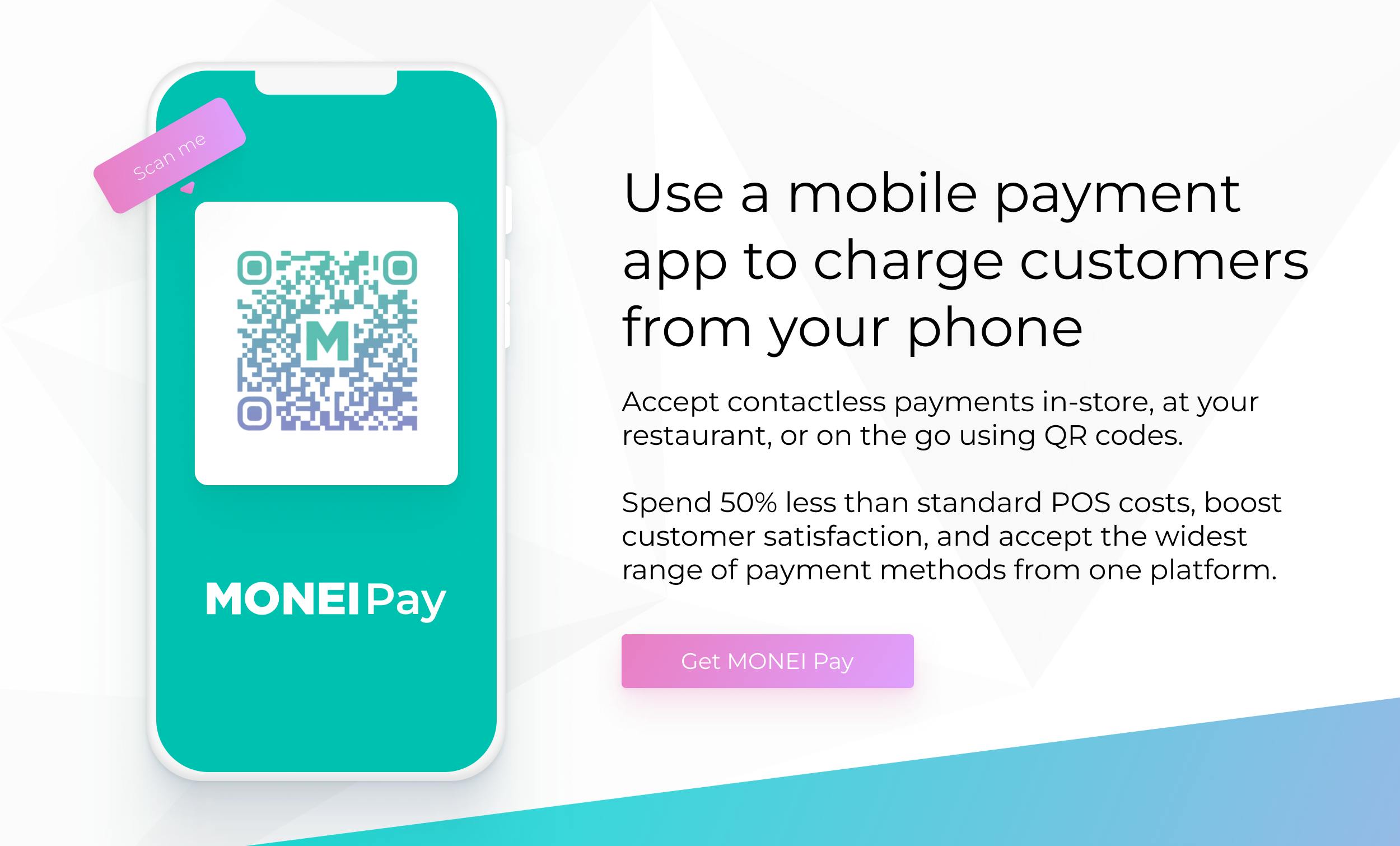 Mobile payment applications such as MONEI Pay are maintenance-free, easy to integrate, and do not require a dataphone or POS terminal hardware for set-up.
📚 Further reading: Everything You Need to Know About Mobile Payment Processing
Near Field Communication (NFC)
Near Field Communication (NFC) is a wholly contactless communication technology that is based on a radio frequency field that permits the exchange of data between two or more devices via touch — tap to pay is a perfect example of this.
This technology is used as a way for consumers to complete one-click and device-initiated payments in-store. Often used in conjunction with mobile wallets, two of the most well-known examples of payment services that use NFC technology are Google Pay and Apple Pay.
Contactless cards
Contactless cards are a frictionless payment method that offers a safer, faster in-person checkout experience.
As an off-shoot of NFC, contactless cards use short-range wireless NFC technology to make paying by card completely contactless.
Common methods of contactless card integration that you can use include:
Digital and mobile wallets
Buy online, pick up in-store (BOPIS)
Contactless credit cards
If you have a brick-and-mortar business you can position yourself competitively by incorporating contactless cards into your existing payments infrastructure.
6 Benefits of frictionless payments
Frictionless payments bring an abundance of benefits to you and your customers. With invisible in-store payments being forecasted to process over $78 billion by 2022, there is no time like the present for you to start familiarizing yourself with frictionless payments.
For your e-commerce or retail business, the benefits of frictionless payments include:
1. Reducing cart abandonment
According to a report by SaleCycle, up to 75.6% of consumers abandon their online shopping carts without completing their purchases. And according to Baymard, nearly a quarter of shoppers abandon their checkout due to a long or complicated process. 
Frictionless payments mitigate this by requiring fewer steps to complete an online transaction, in turn providing a better and faster customer checkout experience. It also ensures the purchasing process remains uninterrupted.  
2. Increasing payment security
Now more than ever before, consumers are calling for businesses to be proactive about data protection and security.
Heightened security both builds your brand reputation as trustworthy and bolsters customer trust. One way this is made a reality is via tokenization, which substitutes payment information for a randomly-generated ID, also known as a token. This removes the need for customers to enter their credit card details each time they make a purchase, so completing the payment becomes a frictionless process. 
Our Dynamic 3D Secure feature is also a way to provide the best of both worlds when it comes to guaranteeing payment safety but keeping the process frictionless. Customer transactions that are flagged as low risk don't require a 3D Secure challenge so the shopper can pay without interruption. 
3. Boosting your competitive advantage
Seventy percent of the C-suite banking executives recently polled from across Europe consider frictionless cross-border payment methods to be a core banking service, with American consumers echoing similar sentiments.
Both brick-and-mortar and online retailers who offer frictionless payments are viewed as more convenient, more technologically advanced, and more secure than competitors who don't. 
This ties into the benefits of frictionless payments for consumers, which include:
4. Improving customer satisfaction and retention rates
More advantages of frictionless payments that benefit both you and your customers in equal measures are improved customer satisfaction and retention rates.
Consumers report feeling more at ease when offered the opportunity to pay with the click of a button. And frictionless payments make this possible due to the removal of PINs and other passwords, faster processing times, and heightened flexibility.
5. Enhancing customer data tracking
Better customer data tracking enables more effective marketing, increased customer loyalty, and potentially higher average order value.
With more customer data, you'll be able to personalize marketing campaigns and provide a more enjoyable shopping experience for your customers. You can tailor messaging to offer recommendations, promotions, and a checkout experience based on their specific preferences and shopping history.
6. Saving the customer time
Instead of having to wait in long lines, fill out online payment forms, or remember multiple PINs and passwords to complete a purchase, customers can do the following thanks to frictionless payments:
Use self-service kiosks
Order and pay ahead of time
Save payment details for future purchases
This convenience saves consumers (and you) time and makes their payment options flexible, which is perfect for a population that is largely on the go.
The downsides of frictionless payments
Despite its many benefits, frictionless payments, like all forms of payment, have their drawbacks. But these drawbacks are set to be overcome in just a few short years.
Slow adoption 
Despite the growing popularity of frictionless payment experiences like Apple Pay and Google Wallet, merchants have been slow to make these payment options available to consumers.
This slow rollout has made it so frictionless payment methods are not yet available everywhere, which temporarily limits its convenience. This is due to…
Initial costs to merchants
To begin accepting in-person frictionless payments using NFC technology, an initial investment is needed to install the relevant hardware and educate employees on its use and security features.
But don't get scared away by Starbucks' $25 million investment in 2011 to kickstart the use of NFC in its chain.
The barrier to entry is quickly dropping with the availability of point-of-sale hardware and alternative in-store frictionless payments like QR codes for retail businesses of all sizes. 
Resistance to change
Last but not least is peoples' resistance to change.
Less than five years ago, almost 75% of people preferred to use cash for point-of-sale transactions. But with the explosion of the frictionless payment experience, usage of e-wallets and similar frictionless payments is forecasted by industry experts to make up the highest share of online payments within a year. People's mindsets are rapidly becoming more favorable toward these "new" and alternative payment methods.
Evolution of frictionless payments
While you may think of frictionless payments as a "new" technology, this is factually untrue: in actuality, they have been in the running to be the most-used payment method since the 50s.
Debit and credit cards
The evolution of frictionless payments began in 1950 with the advent of the credit card. 
Although the credit card was invented in the 50s, it wasn't until 1973 that the credit card payment system was computerized: the first financial institution to offer online banking opened in 1994, with the first online transactions becoming available to the public in 1995.
Chip, PIN, and tap payments
Chip, PIN, and tap payments marked the next significant step towards a fully frictionless payment experience.
The introduction of chip, PIN, and tap payments in the UK in 2003 was the first instance of cards storing data in a chip on the front of a card. America, and, shortly thereafter, the rest of the developed world then adopted this practice beginning in 2012. This adoption not only made in-store purchasing more convenient but added a layer of security at checkout that had been otherwise unseen until then.
Frictionless payments
This brings us to the present day.
According to Fintech News, mobile contactless payments are on the rise in Spain. This is largely due to the implementation of Google Pay and Apple Pay which provide shoppers with a frictionless payment experience. 63% of consumers say the main benefit of mobile payments is avoiding contact with surfaces followed by speed (62%) and ease of use (47%). 
The mobile revolution is happening, and frictionless payments are here to stay
For both your customers and the success of your business, the convenience, speed, security, and competitive advantage the frictionless payments experience offers is unbeatable. That's why it's important to embrace this payment technology and incorporate it into your e-commerce or retail store.  
Do you have further questions about how to use this guide to begin integrating frictionless payments into your e-commerce or retail business? If so, reach out to the experts here at MONEI today to get started.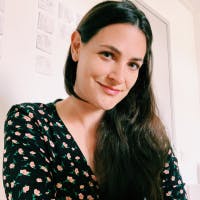 Alexis Damen
Alexis Damen is the Head of Content at MONEI. She loves breaking down complex topics about payments, e-commerce, and retail to help merchants succeed (with MONEI as their payments partner, of course).