Payments Technology
The Top 5 Digital Wallets to Add to Your Online Store + Benefits for E-commerce
Alexis Damen | February 9, 2021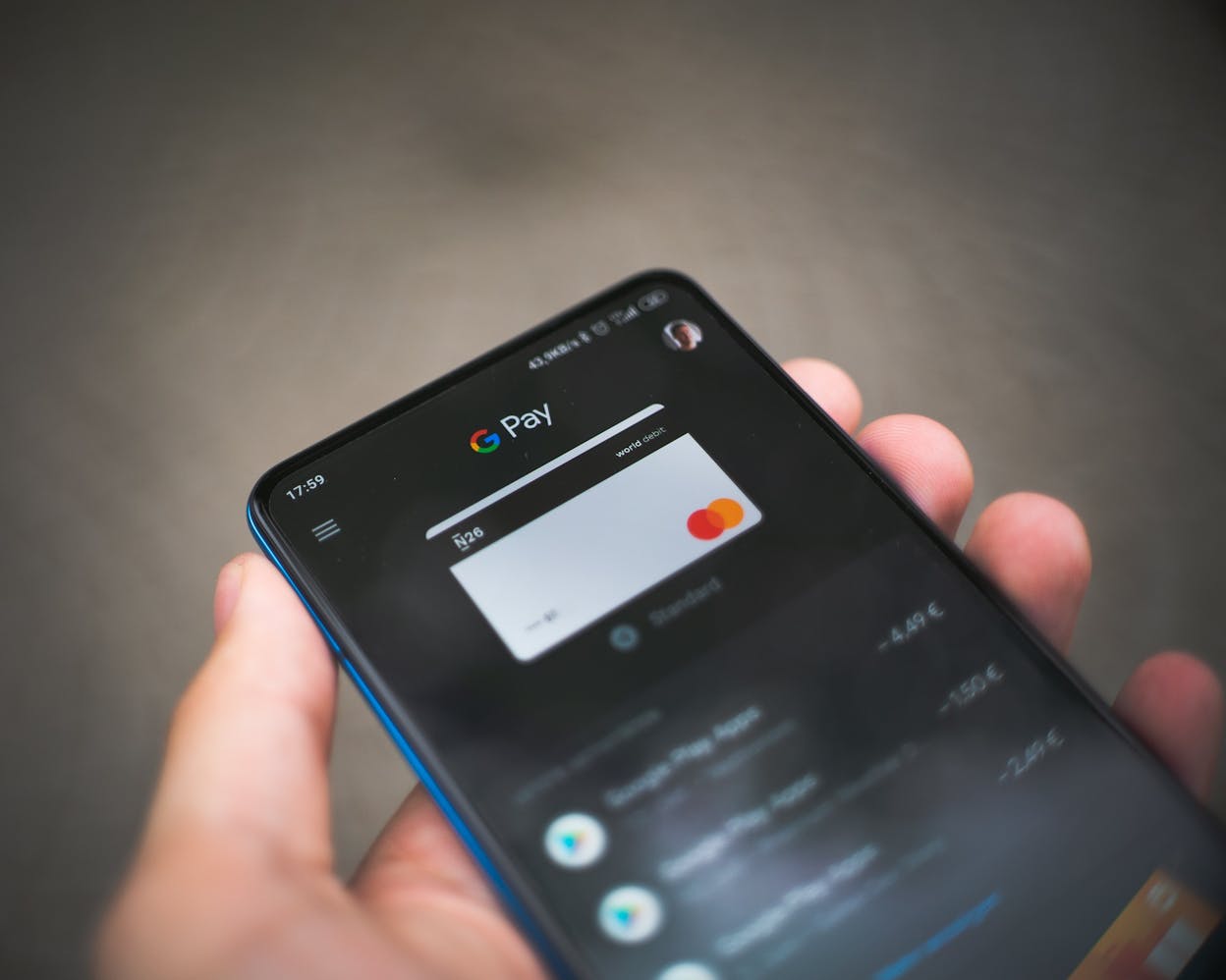 According to Statista, mobile e-commerce could result in $3.5 trillion in sales in 2021, making up almost three quarters (72.9%) of e-commerce sales.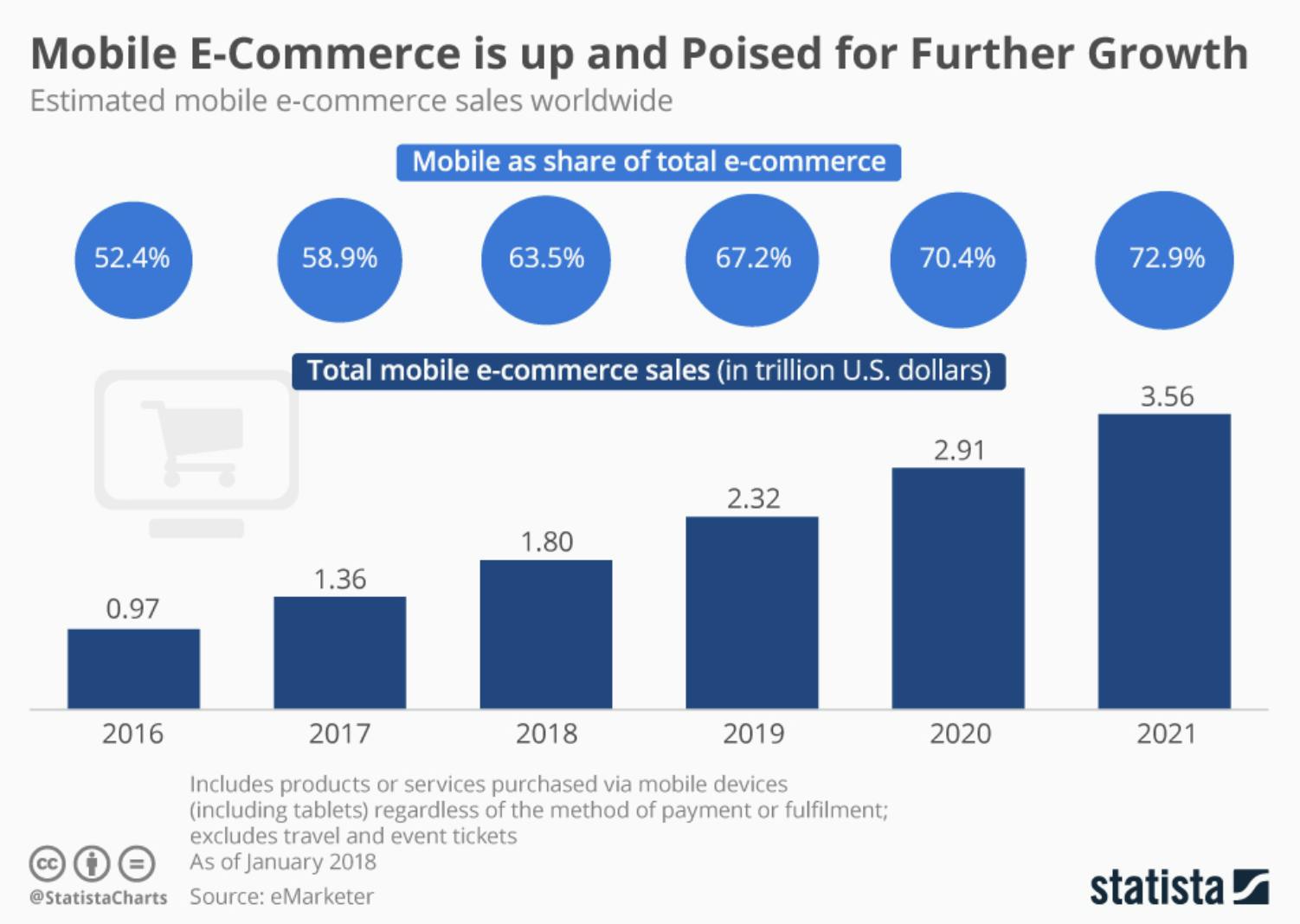 Image source: Statista
Mobile payment methods including digital wallets like PayPal and Google Pay make shopping through a small smartphone screen easier and more convenient for customers.
In 2019, 77% of shoppers in Spain used their cell phones to buy products online. Followed by 76% in Italy, and 65% in the United Kingdom.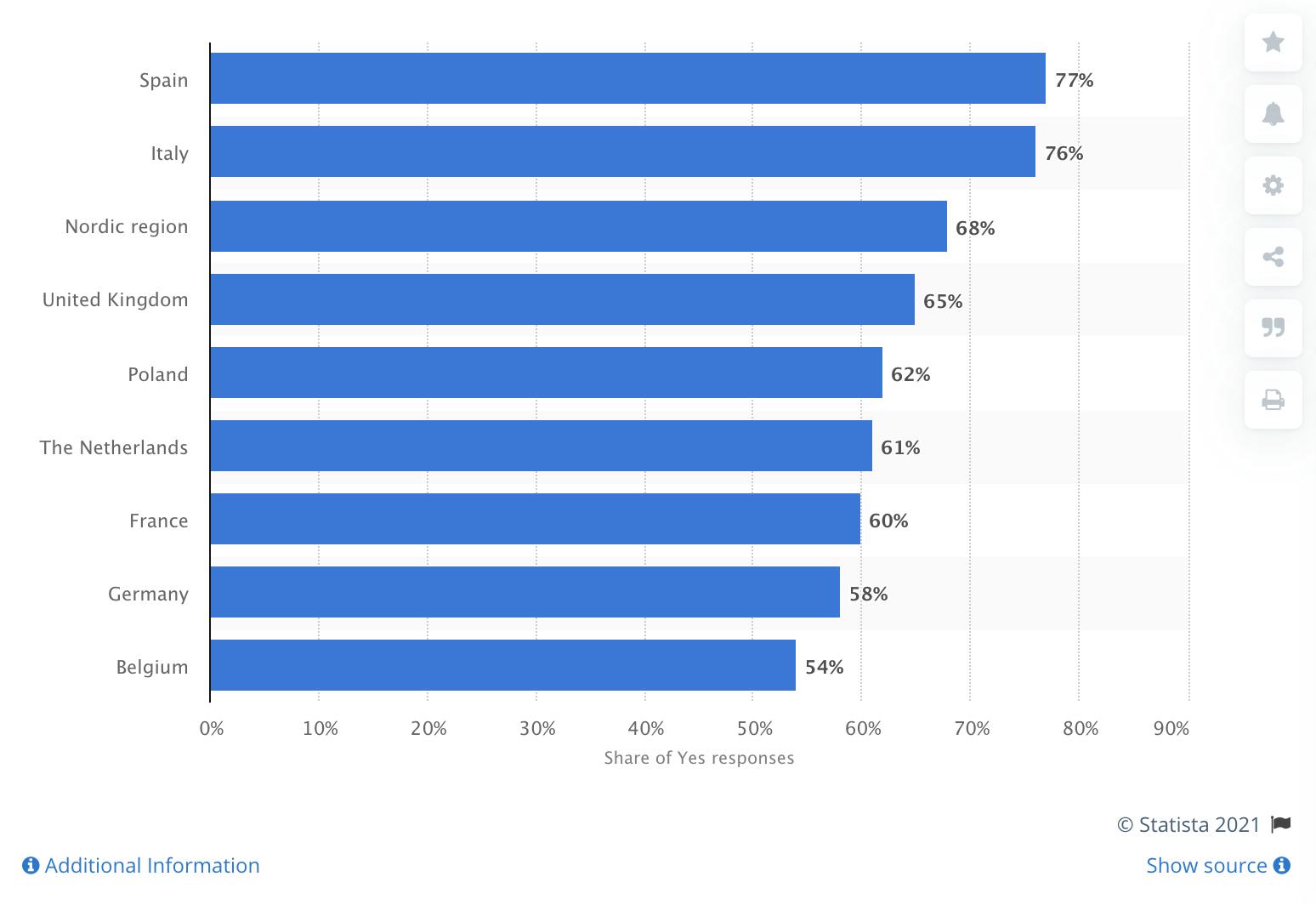 Image source: Statista
Creating a positive shopping experience is all about speed, simplicity, security, and customer convenience. Mobile shoppers need a simple and secure way to pay for products without re-entering payment information every time they make a purchase. 
Alternative payment methods like digital wallets use technology to hold various payment details in one app and streamline the customer's checkout experience. The result is a better mobile experience and increased conversion rates. 
In this article, you'll learn what a digital wallet is, its advantages for e-commerce, and the top five digital wallets to consider. 
What is a Digital Wallet? 
A digital wallet is the same thing as carrying around a wallet full of credit cards, cash, your ID, and other personal information. The difference is, it's virtual.
Users can save their personal financial information securely on the cloud.
Also referred to as e-wallets or mobile wallets, digital wallets give customers many secure options to make purchases from the convenience of their smartphones. 
Digital wallets are used through smartphone applications and are practical because all your payment details are in one place. These third-party apps protect the user's data through passwords and encryption. It lets shoppers make payments and send money from their mobile phones in a few clicks.
MONEI can help you integrate your online shop with the most popular digital wallets including: 
E-wallets use Near Field Communication (NFC) technology. NFC is a short-range wireless technology that transfers information quickly between the customer's smartphone and your payment gateway. It reduces friction during the checkout process and in a couple of taps, the payment is complete.
💡 Also read: How to Accept Payments Online: 6 Step Guide
Digital Wallet vs Mobile Wallet: What's the Difference?
Before we continue, let's clear up the common confusion between the terms digital wallet and mobile wallet. As we mentioned, the terms digital wallet and mobile wallet are interchangeable, but there is one small — but important — difference when it comes to the technical capabilities of a digital wallet versus a mobile wallet.
Both wallets store payment information for future purchases, but a digital wallet doesn't allow you to make contactless payments in-store by waving your device near a point of sale (POS) terminal. In this case, you need a mobile wallet like Google Pay or Apple Pay (which are also considered digital wallets).
So, while PayPal is a digital wallet, it's not technically also a mobile wallet because you can't use it to make contactless payments in-store. Shoppers can only use PayPal to checkout online.
💡 Also read: QR Code Payments: What They Are, How They Work, and How to Accept Them 
Advantages of Digital Wallets in E-commerce 
Digital wallets decrease friction during the checkout process. This helps to optimize the mobile commerce customer experience and increase e-commerce conversion rates. 
Here are some other advantages for e-commerce:
Reduce cart abandonment - The biggest benefit of enabling digital wallet payments for your e-commerce store is lowered cart abandonment and increased conversions.
Fewer lost sales leads to more sales revenue. By simplifying the checkout process, more customers will finish their purchases. Offering more payment methods also leads to more conversions. 
According to this study by Baymard, 21% of shoppers abandon their cart because the process is too long or confusing. And there's a 6% abandonment rate because there weren't enough payment methods.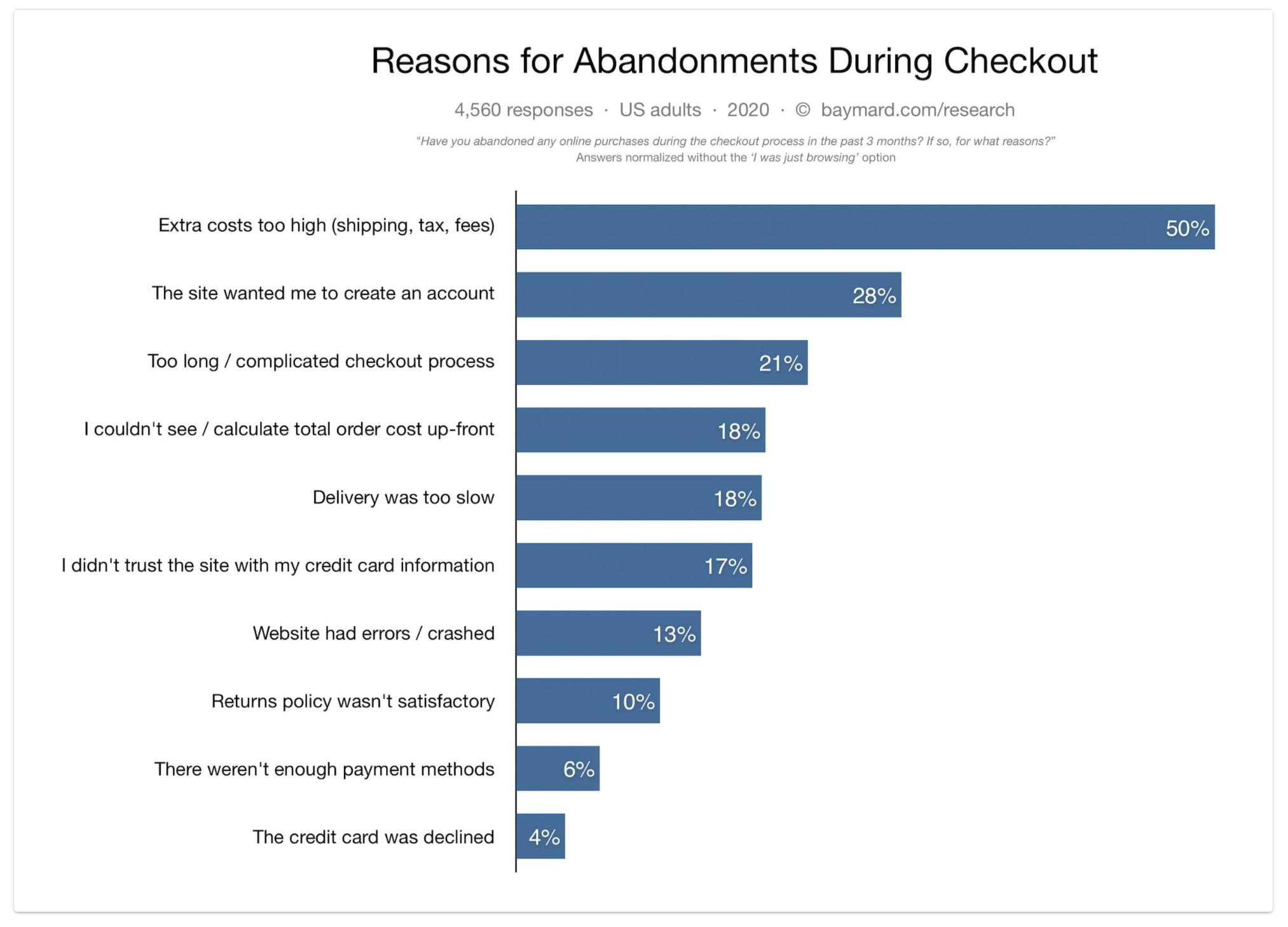 Image source: Baymard
Increased security - Credit card data is a target for fraudsters and hackers. Digital wallet transactions use tokenization technology, making them more secure than a debit or credit card payment. 
The digital wallet saves the cardholder's information, so they can choose one of their credit cards while making a purchase. A randomly generated identifier, known as a "token" replaces the card numbers for each transaction. Once the payment is complete, the number is meaningless, making this the most secure online payment method. 
Digital wallets are still somewhat new to e-commerce but are quickly becoming the customer's preferred payment method. According to Baymard, e-commerce sites can gain a 35.26% increase in conversion rates through better checkout design. If your payment gateway doesn't support digital wallets, you may want to consider switching to one that does.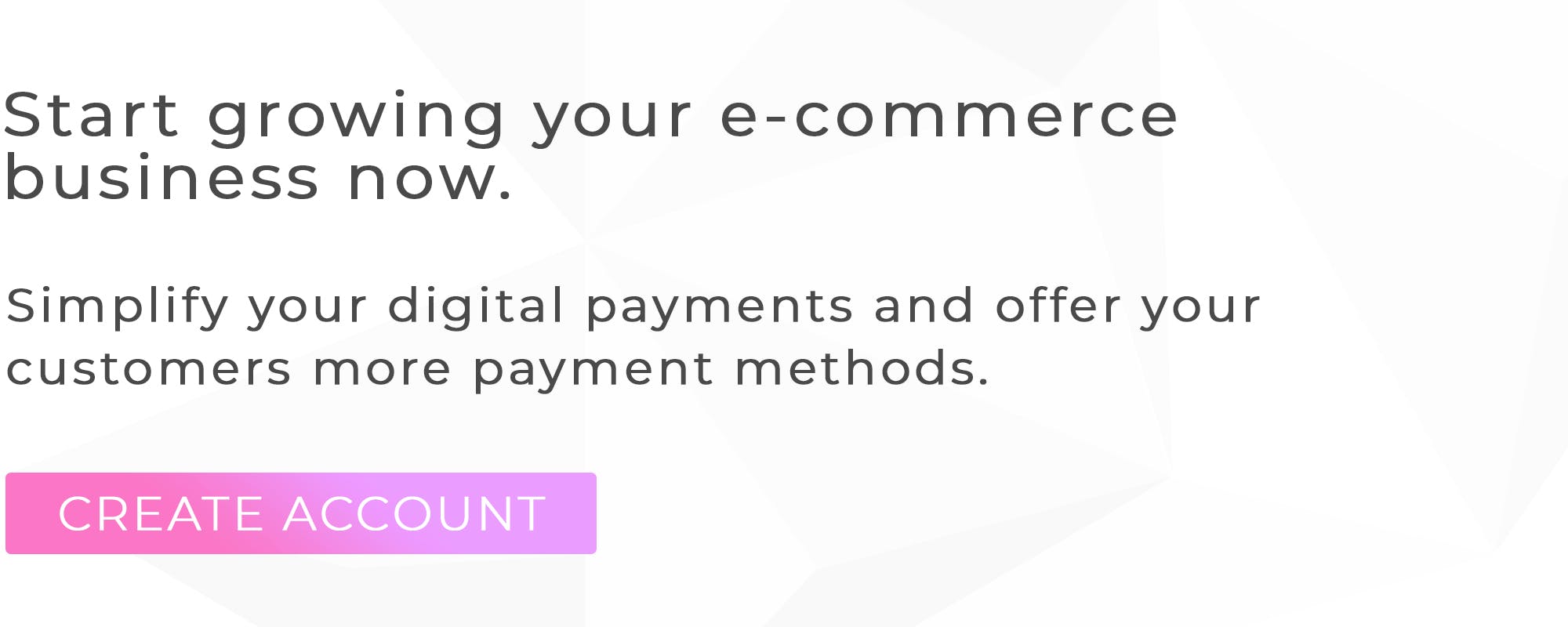 The Top 5 Digital Wallets to Add to Your Online Store 
Depending on the payment gateway you choose, integration with popular digital wallets is possible. At MONEI, we can help you add the following digital wallets to your checkout. 
PayPal
PayPal is the most popular digital wallet. According to Statista, in Q3 of 2020, it reached 361 million users.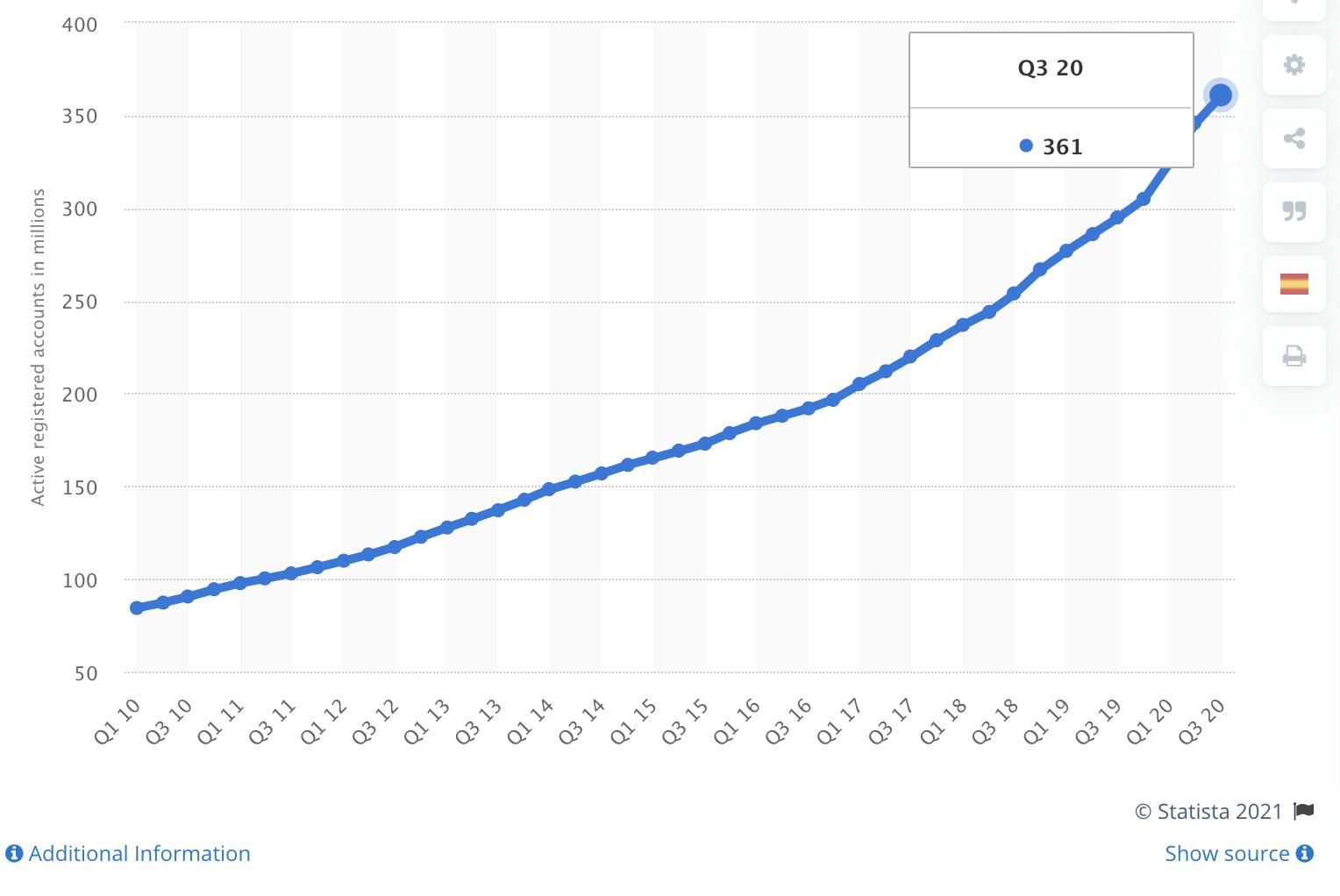 Image source: Statista
Because it's been around since the late 90s, PayPal is recognizable by most people. It offers a considerable amount of options to customers. Users can keep a cash balance in their PayPal account, and link credit cards or bank accounts to it. When the customer makes a purchase, they only have to confirm their PayPal password and can choose their payment source. 
Accepting PayPal payments is advantageous because of its reputation and popularity. As the most frequently used digital wallet, shoppers are likely more familiar with it and more comfortable using it.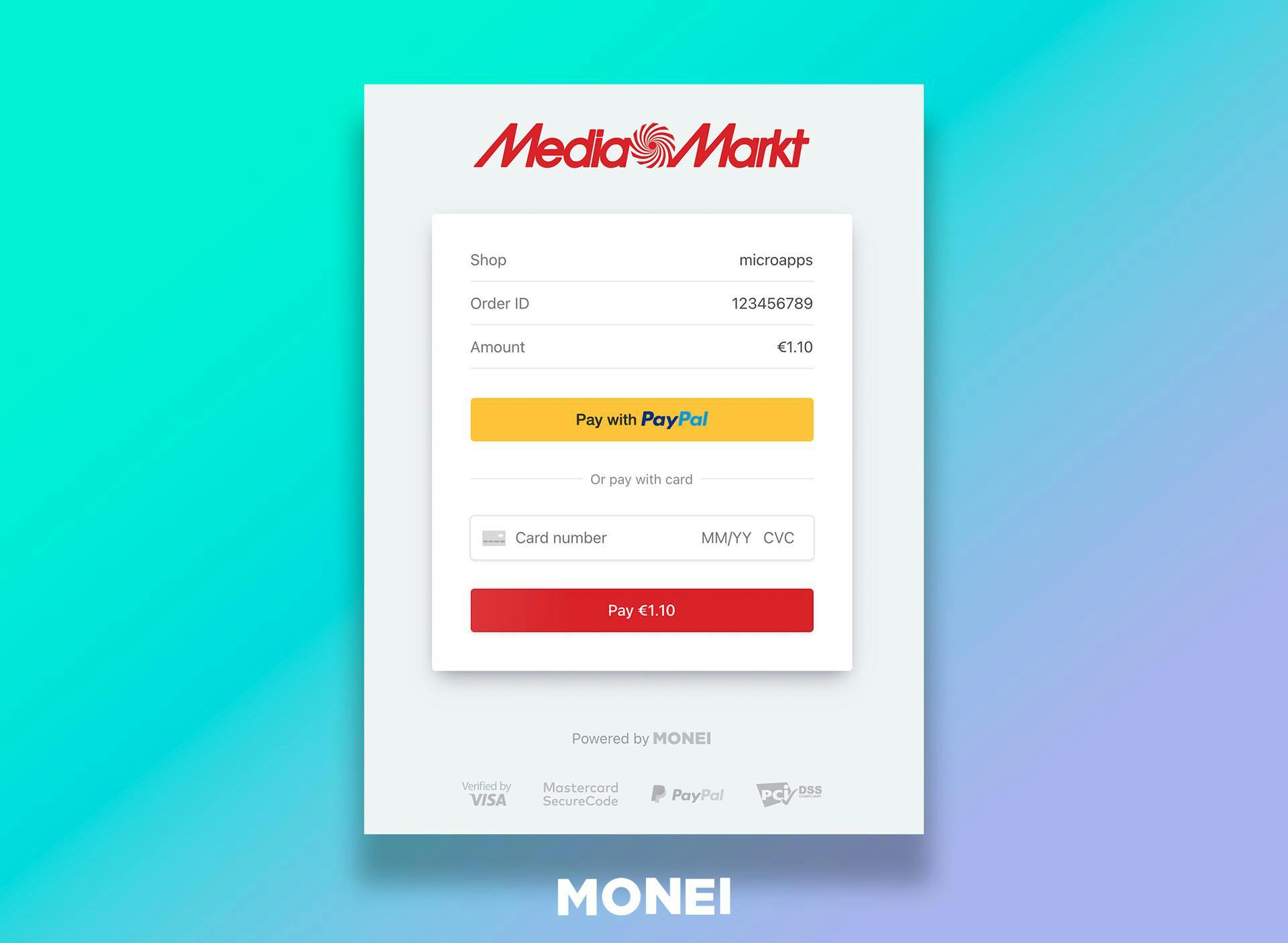 For some consumers, it's the only e-wallet they have. Like other digital wallets, PayPal gives shoppers the convenience of not having to enter their credit card information for online purchases.
Apple Pay
Apple Pay is a widely used digital wallet for Apple device owners. It works with your iPhone, iPad, and any other device that uses the iOS operating system. 
The iPhone market share is greater than Android and far beats Windows, making Apple Pay a key payment method for your e-commerce store. Touch ID is used to recognize the device owner's fingerprint. Apple Pay is one of the most secure digital wallets today. Your customer can check out with a single touch, making this a very convenient payment method. 
Single-touch checkout can greatly increase your e-commerce conversion rate.
📚 Further reading: Quickstart Guide to Accepting Apple Pay for Small Business
Google Pay 
Google Pay is a digital wallet that lets users purchase from your store using an Android phone with an NFC chip. This type of NFC mobile payment also works with a tablet or watch. Google Pay is a way for you to give your customers more options to conveniently pay for your products. 

Once shoppers set up their preferred payment methods, they can easily check out using Google Pay. It's a great way for you to give customers more payment options. The more payment options you offer, the more appealing your store will be.
Amazon Pay
Amazon Pay lets shoppers make purchases using the information they've already stored in their Amazon account. Amazon is one of the biggest e-commerce companies in Europe. Appealing to the increasing number of mobile shoppers that have an Amazon account is crucial. Prioritizing this popular payment method is a no-brainer. 
Amazon is trusted by millions of consumers who save their personal information in their accounts. Adding Amazon Pay to your online store will instill the same trust. When shoppers see the Amazon Pay button on your checkout page, it builds a strong connection in the customer's mind. They associate your website with Amazon.
They already shop at Amazon, so buying from your online shop will feel natural.
Click to Pay
Click to Pay is a fast and secure one-click payment solution supported by major card networks including Visa and Mastercard and it's gaining popularity. With this digital wallet, customers can configure their payment information in Click to Pay on the checkout page. All they have to do is add their card details to the app once. Then it's tokenized and during all future payments, the Click to Pay button appears as an available payment method. The advantages of Click to Pay are a frictionless payments experience for customers, and fewer abandoned carts plus a higher e-commerce conversion rate for you.
📚 Further reading: Mobile POS Systems (mPOS): A Comprehensive Guide
Configuring Digital Wallets with MONEI 
Once you've been accepted as a merchant and have activated your MONEI account, you'll be able to configure payment methods. 
After you configure digital wallet payments for your store, you can use our integration guides here. 
A few benefits of using MONEI's payment gateway to accept digital wallet payments are: 
Quick payment configuration 
Easy integration 
Optimized for mobile shoppers
Safe and secure (3DS and PCI DSS compliant) 
Configuring digital wallets for your e-commerce site is quick and easy. Sign up today to make it more convenient for shoppers to pay. 
3 Reasons Why Shoppers Love Digital Wallets
Because digital wallets eliminate the need to carry around a bulky wallet or bag, they're obviously more convenient. But there are more advantages that shoppers enjoy.
1. Safer than credit cards - Two levels of security make digital wallets safer than credit cards. Shoppers need to enter their pin to open their phone, and they also need a pin to access their digital wallets. 
2. More organized and easier checkout - Digital wallets store information for multiple cards. This way customers can easily choose their preferred card and avoid adding payment details each time they make a purchase. The checkout process is automatic and frictionless. 
3. Easier to manage - Digital wallet users can manage all of their accounts and payments within the digital wallet. All account information and receipts are saved in the digital wallet. 
Moving Forward with Adding E-wallets to Your Website
As an online merchant, the growth potential of accepting digital wallet payments is powerful. 
Depending on the payment gateway you choose, you may not be able to integrate digital wallets with your site. Luckily, with MONEI, you can fully integrate each digital wallet with your e-commerce store. 
According to Business Insider, it's predicted that mobile commerce volumes will have a 25.5% growth rate to hit 44% of e-commerce in 2024. 
Mobile payments are revolutionizing the way consumers pay for goods. This payments trend is here to stay.
Get in touch if you need help setting up digital wallet payments for your e-commerce business.

You may also like to read: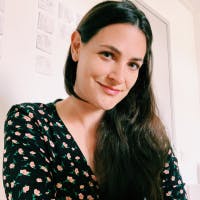 Alexis Damen
Alexis Damen is the Head of Content at MONEI. She loves breaking down complex topics about payments, e-commerce, and retail to help merchants succeed (with MONEI as their payments partner, of course).