Payments Technology
What is Click to Pay? (+ Benefits for E-commerce)
Alexis Damen | December 13, 2022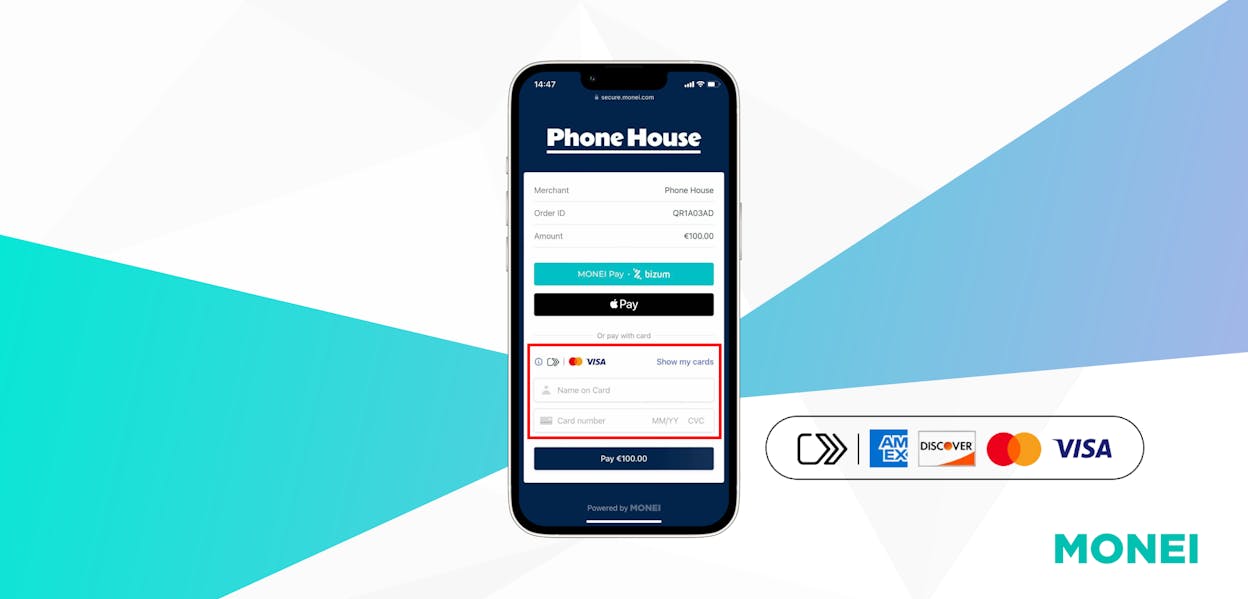 You're getting website traffic and shoppers are adding items to their carts, but your conversion rate is not where you want it to be. Abandoned carts can happen for many reasons, two being a lack of customer-preferred payment methods and too much friction during the checkout process. Accepting Click to Pay in your e-commerce store can solve both of these problems. 
Using Click to Pay is new but it's also quick and easy, which is why it already has 2.9% of the market share for online payment methods — a 125% increase from last year. 
Visa, Mastercard, American Express, and Discover created Click to Pay so e-commerce customers only need one payment account to pay online. 
Let's look at exactly what Click to Pay is, how it works, why it's useful, how secure it is, and the benefits for e-commerce businesses and consumers.
Table of contents
What is Click to Pay?
Click to Pay lets customers pay for their e-commerce purchases with a single click. They only have to add credit card information to their Click to Pay profile once and at checkout they can choose the card they wish to use to complete payment quickly, easily, and securely. 
Click to Pay is owned by a company called EMVCo. Visa, Mastercard, American Express, and Discover combined their payment services into a program called Secure Remote Commerce in 2019.
They passed on the service administration and support to EMVCo, who look after a lot of what happens in the background within the payments industry. For example, they're also responsible for maintaining the EMV (Eurocard, Mastercard, and Visa) security standard for EMV chip cards.
How does Click to Pay work in e-commerce?
Click to Pay is also known as one-click payment, which is exactly what it offers. Customers click a single button that takes them to a list of payment options that they have already saved. These credit, debit, and prepaid cards are associated with Visa, Mastercard, American Express, and Discover. 
Once a customer clicks on their preferred payment option, they're taken through a few quick authorization steps and their payment is complete. Something similar was possible with Amex Checkout, MasterPass, and Visa Checkout before the availability of Click to Pay for e-commerce sites. The challenge was that each platform only worked with one card brand, meaning customers with multiple cards would have to sign up for three separate accounts.
What problems does Click to Pay solve? 
According to SalesCycle, more than 85% of retail carts are abandoned globally, and 26% of people abandon their purchase during the checkout phase because of a long and complex process. Click to Pay solves this problem. 
Apple Pay, PayPal, and Google Pay pioneered payment convenience, but the companies in Click to Pay are catching up and staying competitive. Convenience is the keyword here.
Customers want purchases to be as easy and secure as possible. In fact, according to Baymard, lack of trust and payment methods and a complex checkout process can all lead to more abandoned carts:
18% of shoppers abandon their cart because they don't trust the site with their credit card information
17% don't complete online purchases due to a long and complicated checkout process
9% leave if there aren't enough payment methods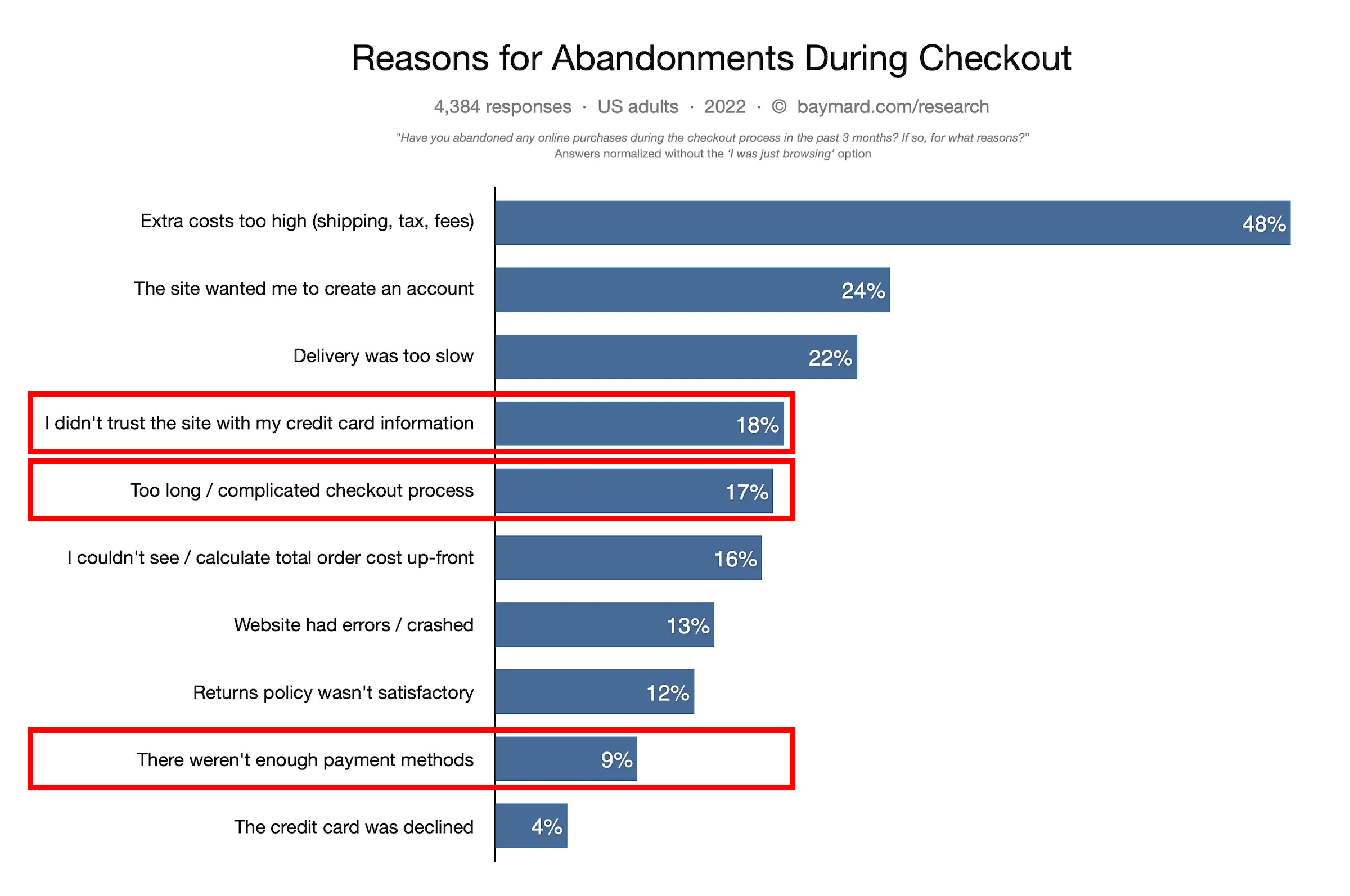 With Click to Pay, once the end consumer adds credit card information to their profile, it's stored for future purchases, making it faster and eliminating the need to share payment details with every business they buy from.
Which countries is Click to Pay available in?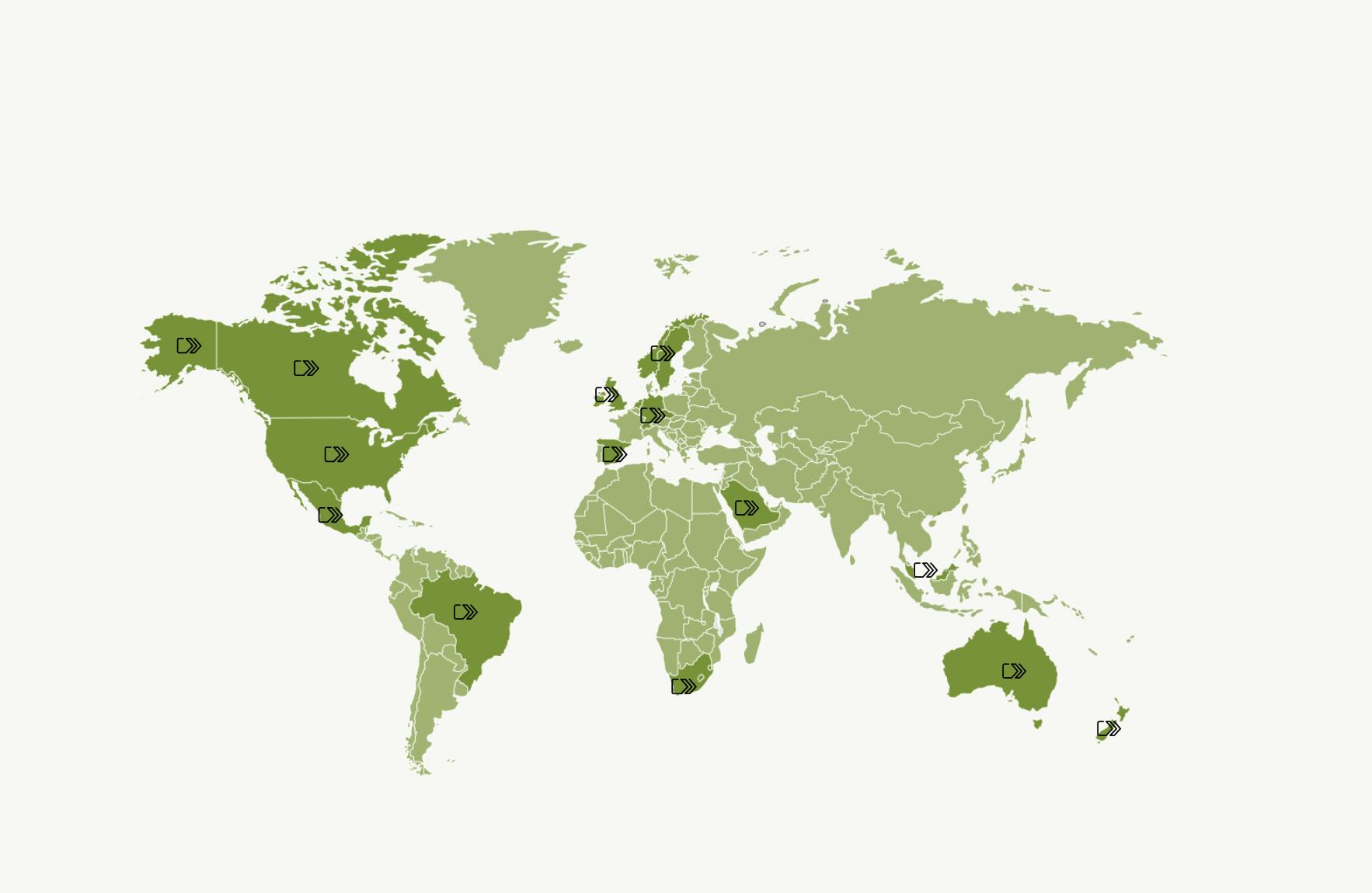 Click to Pay is already available in 23 countries, according to Mastercard and it's still expanding its reach. Here's where you'll find it:
Europe. Czech Republic, Germany, Ireland, Netherlands, Norway, Spain, Sweden, Switzerland, and the UK
America. Brazil, Canada, Mexico, and USA
Asia-Pacific. Australia, Hong Kong, Malaysia, New Zealand, and Singapore
Middle East & Africa. Kuwait, Qatar, Saudi Arabia, South Africa, United Arab Emirates
Is Click to Pay a secure online payment method? 
Security is important to customers. In fact, a survey by the European Central Bank says high safety and security standards are fundamental for digital payment methods. Click to Pay secures e-commerce purchases with these primary features: 
Tokenization. A customer's primary account number (PAN) is replaced by a unique random value (called a token) when a payment is made, which is useless outside of that transaction. This keeps the customer's card details safe.
Security Code. Each customer gets a unique six-digit code when they sign up to Click to Pay that they have to enter whenever they make a payment.
3D Secure (3DS). This is a version of two-factor authentication that requires customers to approve every transaction with, for example, a PIN, fingerprint, or face ID.
How can I add Click to Pay to my e-commerce store? 
Signing up for Click to Pay isn't always easy. If you're doing it from scratch, you usually have to add a Click to Pay API to your website so your customers see the icon as one of the payment options. 
But with MONEI as your payments partner, it's simple: 
After you sign up and your account has been approved, Click to Pay is enabled in your account by default and will appear on your checkout page as a payment button. It's easy to set up and there are no extra transaction fees because Click to Pay is technically not a payment method. It's a tokenization method that facilitates payments via the credit and debit cards your customer adds to their Click to Pay account.
How does Click to Pay work for consumers? 
After completing the initial sign-up process, using Click to Pay is easy for consumers. Here's how it works: 
Visa or Mastercard cardholders can create a Click to Pay profile directly from the card brand's website ahead of their first purchase. 
American Express or Discovery cardholders can create a profile the first time they make a purchase. 
With all card brands, after the user adds their card information they never have to do it again, it's saved for future purchases. 
Once the Click to Pay profile is set up, users can make purchases using any of the cards they've added to their Click to Pay account. 
Click to Pay profiles consist of the user's email address, phone number, credit card information, and current billing address. If a consumer already had a profile with one of the older services, their card details are transferred automatically. 
The benefits of accepting Click to Pay online
Click to Pay has many benefits, we've already mentioned some, so let's see them all in one place:
Reduced abandoned carts
Customers like convenience, and having to re-enter card details every time they make an online purchase is inconvenient. Click to Pay means customers can keep their payment information in one profile that they can use on any supported website.
Simplification
Click to Pay's one-click payment solution is simple. Setting up a profile is easy and you only have to do it once. Once it's complete, payment is even simpler. It saves time and makes customers more likely to stick with their purchase until the end.
Tokenization
Your customers can feel more secure with the protection that comes from tokenization. Their identity and card information are less likely to be stolen and you're guarded against a possible data breach. 
No extra cost
Neither you nor your customers have to pay anything extra for using Click to Pay. It simply streamlines the payment methods you're already using.
Make more money
A simple but significant benefit. The easier it is for customers to pay, the more likely they are to follow through on a purchase. More completed sales equal more money.
Reduced fraud risk
3D secure makes fraud much harder. It's already built into Click to Pay so you don't have to do anything or pay any extra for this piece of mind.
Staying compliant
Click to Pay and MONEI are PCI compliant so you'll get built-in security features when you add it to your e-commerce payment page. 
Meeting expectations
Customers already trust Visa, Mastercard, American Express, and Discover, so the more Click to Pay becomes known, the more they'll trust it, and the more they'll expect it to be available. Having it on your site will keep them happy and meet their expectations.
Compatibility
As long as you have the right payment service provider (PSP), Click to Pay is easy to set up on your e-commerce site and it's compatible with most platforms.
Click to Pay frequently asked questions
Let's answer the most common questions about Click to Pay:
Is Click to Pay a digital wallet?
Yes, Click to Pay works as a digital wallet for any card issued by Mastercard, Visa, Discover, or American Express.
What are Click to Pay transaction fees? 
Click to Pay isn't a payment method, it's a payment tokenization method that connects cards offered by the EMVco. Therefore, there are no extra costs outside of the credit card transaction and payment processing fees.
Which card brands does Click to Pay work with?
Visa, Mastercard, American Express, and Discover are all part of EMVco, and Click to Pay works with any cards issued by these brands.
What's the difference between Click to Pay and PayPal?
Click to Pay and PayPal are separate services. PayPal offers a similar service called OneTouch but it's not connected to EMVco.
How can I add Click to Pay to my website? 
It's easy to add Click to Pay to your website. Sign up for MONEI, and as soon as your account has been approved, Click to Pay will be enabled by default. 
Click to Pay for e-commerce is here to stay 
Click to Pay for e-commerce is already making an impact and it's here to stay. Your customers will grow to expect it so get ahead and add it to your website today.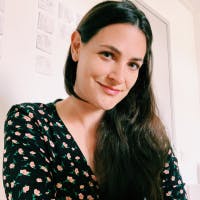 Alexis Damen
Alexis Damen is the Head of Content at MONEI. She loves breaking down complex topics about payments, e-commerce, and retail to help merchants succeed (with MONEI as their payments partner, of course).