MONEI News
Black Friday Cyber Monday Payment Trends (2022)
Alexis Damen | November 30, 2022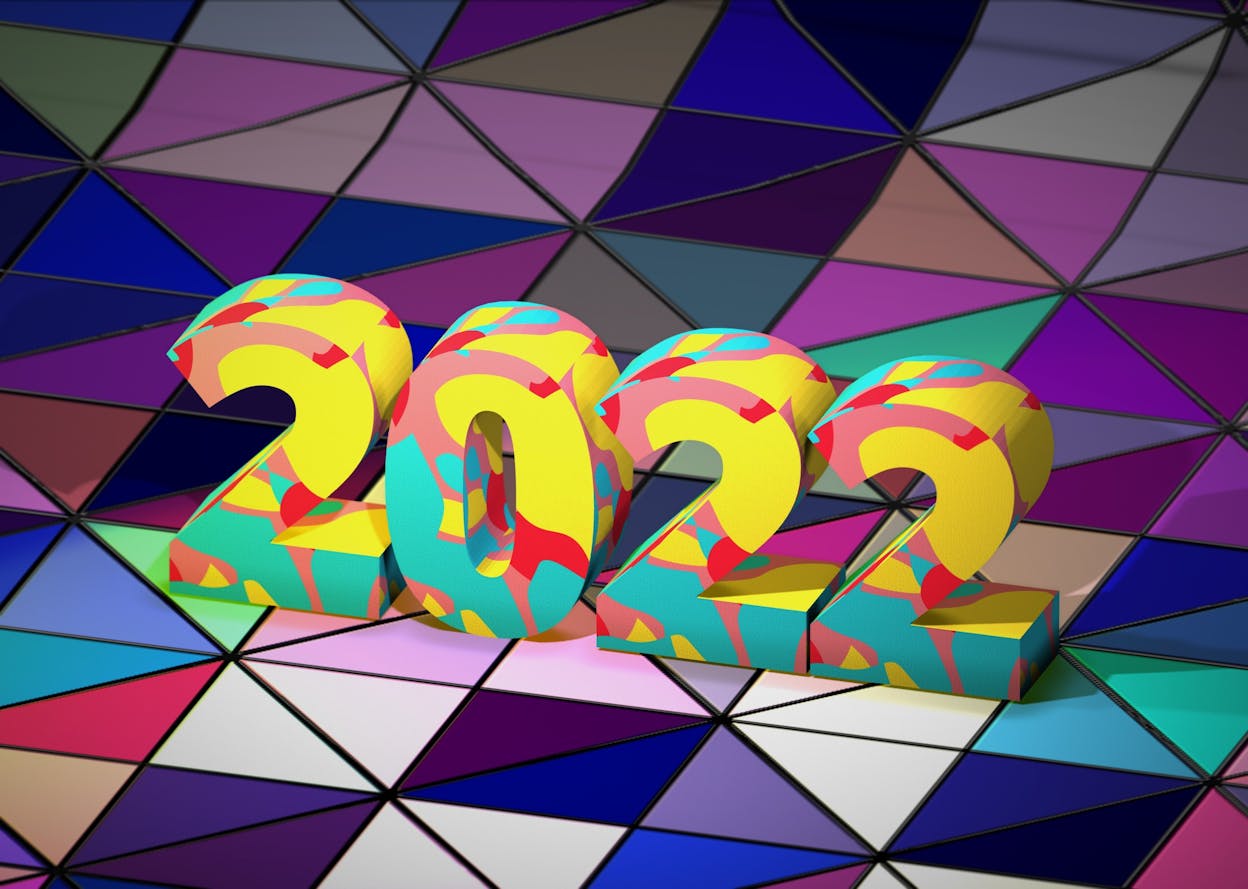 Spaniards increase their number of purchases during Black Friday, but average spending decreases compared to the same period LY. 
For our second annual Black Friday Cyber Monday payment trends report, we analyzed over 30,000 successful online transactions from the Monday before Black Friday through Cyber Monday 2022 to extract consumers' favorite online payment methods and changes in spending behavior. 
Here's what we discovered.  
Black Friday Cyber Monday Payment Trends 2022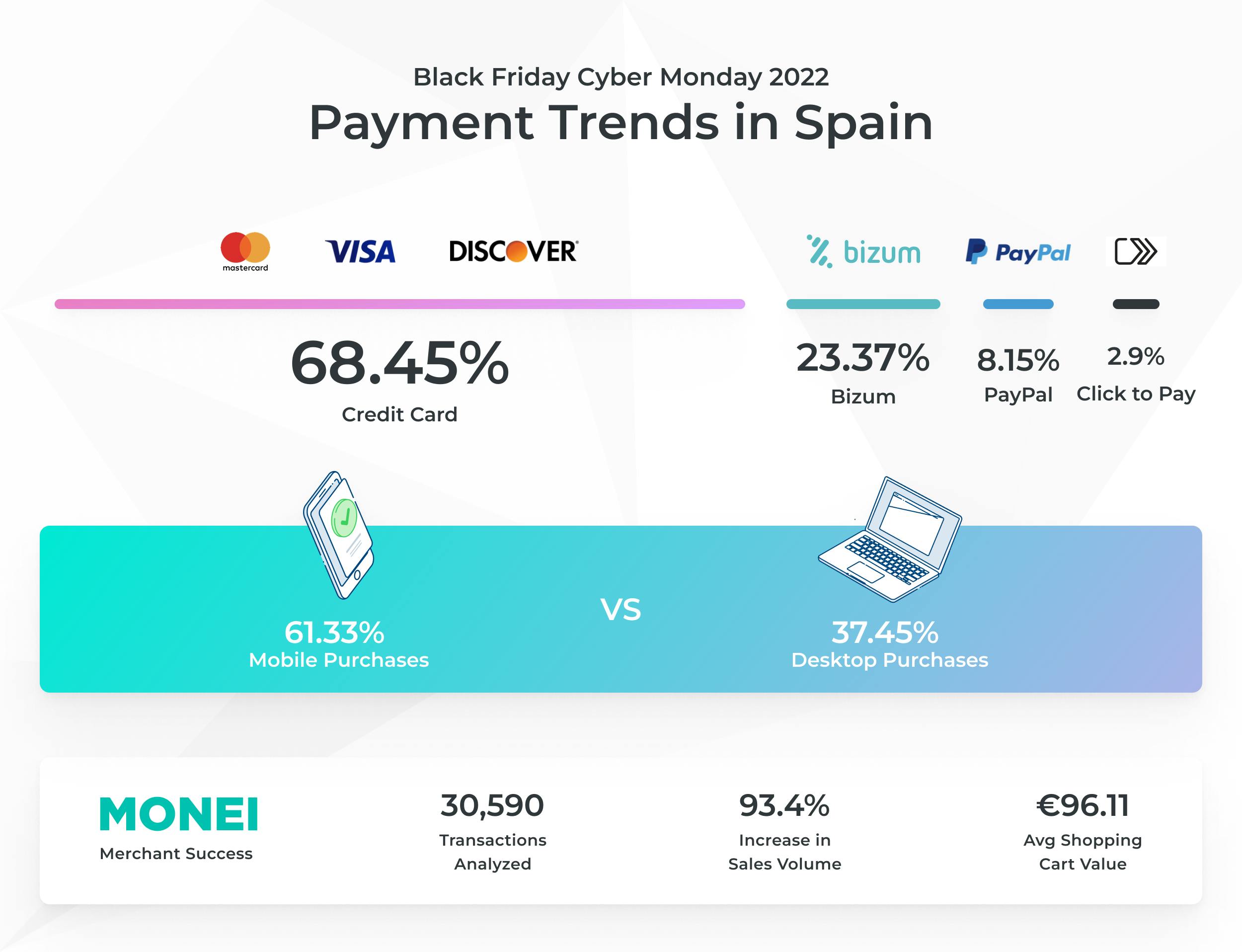 The BFCM discount period now lasts a whole week, with even more purchases on Monday, November 21st than on Black Friday itself.

Card payments continue to fall after losing almost 10% market share in one year.

Click to Pay usage has increased by 125% when compared to the same period last year.  

Bizum surpasses 20% share for the first time and consolidates its position as the second most used payment method.

The growth in the use of mobile devices to make purchases to the detriment of computers is noteworthy. 
Our second annual Black Friday Cyber Monday payment trends report confirms that Spanish consumers are starting their Christmas shopping earlier to make the most of the Black Friday and Cyber Monday discounts. The report also reveals that the discount and shopping period is getting longer and longer. According to our data, Monday, November 21 was the day of the week with the highest sales volume. 
💡 Looking for more recent payment data? Check out our 2022 and Q1 2023 Payment Trends in Spain report.
Cards payments continue to fall as Click to Pay and Bizum grow
Although card payments are still the preferred method of payment for Spaniards, the market share is declining steadily. Cards currently account for 68.45% of payments, a significant drop from the 85% they held at the beginning of 2021 and the 77.8% they accounted for during the same period last year. 
In turn, Visa and Mastercard's Click to Pay method for paying without having to include card details has more than doubled its share compared to last year, now close to 3% up from 1.29% last year — a 125% increase. And Bizum has exceeded 20% market share for the first time and maintains the upward trend, with significant growth compared to the previous year, when it barely reached 15%. 
PayPal manages to grow with respect to 2021 and maintains a relevant share of 8.15%. Digital wallets such as Google Pay and Apple Pay still have a limited weight with only 3.65% and 1.62% respectively. 
Finally, when it comes to making purchases, Spanish consumers value immediacy and simplicity and are becoming increasingly mobile (61.33%), having increased their market share by almost 12% compared to 2021 (49.49%). Purchases from computers have decreased by more than 1% compared to the same period last year and stand at 37.45%.
Our merchants continue to succeed 
Total BFCM sales volume through MONEI's platform increased by 93.4%.  
While the average shopping cart value was down at €96.11 from €133.82 last year, the total number of purchases more than doubled from 13,739 in 2021 to 30,590 in 2022 — a 122.7% increase. 
And compared to our July and August 2022 payments report, AOV has increased this period from €86.56 to €96.11. 
Álex Saiz, founder and CEO of MONEI, highlights the importance of knowing the market trends in order to be at the forefront, "quarter after quarter we confirm how shoppers demand a more digital service and the ability to pay with the options they prefer. It's vital that merchants understand this data, listen to consumers to design a better strategy, and offer them the best service."
A positive future 
Even with economic and supply chain issues, this year's BFCM payments report shows MONEI merchants are still going strong. We're excited to continue helping businesses improve the checkout experience by supporting more payment methods and in turn, satisfying consumer demand and speeding up the payment process. 
Follow us on LinkedIn to stay up to date on the latest MONEI news.
You may also like to read: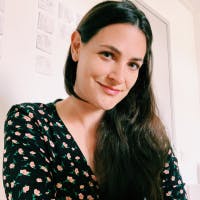 Alexis Damen
Alexis Damen is the Head of Content at MONEI. She loves breaking down complex topics about payments, e-commerce, and retail to help merchants succeed (with MONEI as their payments partner, of course).