MONEI News
Payment Trends in Spain 2022 & Q1 2023
Alexis Damen | April 25, 2023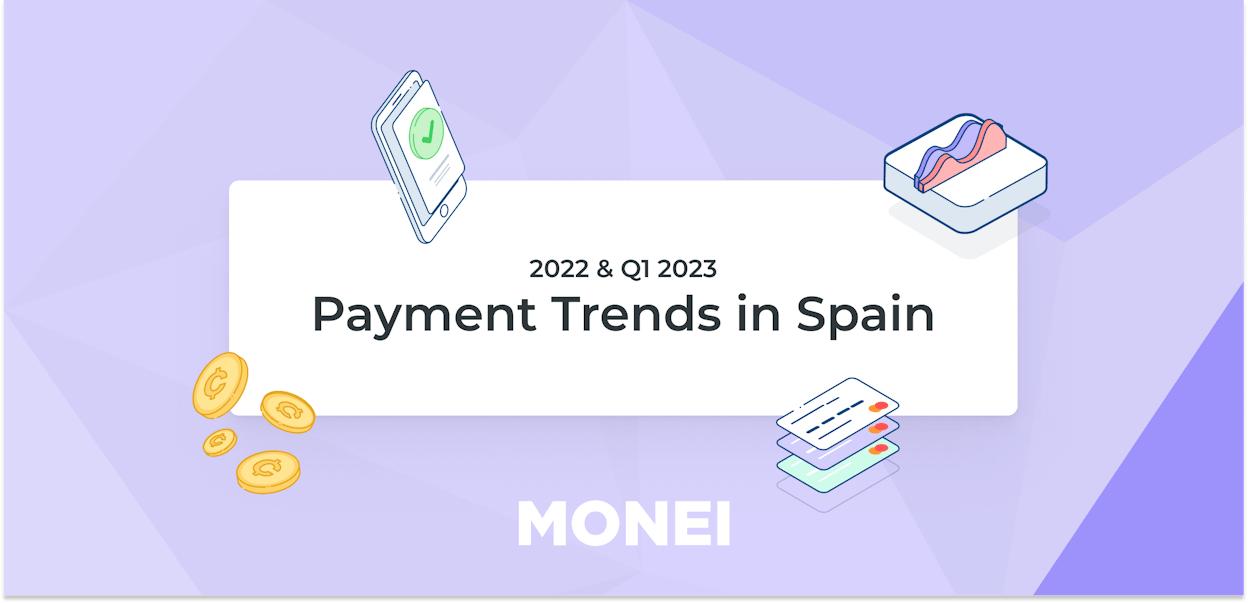 For our latest payment trends report, we analyzed more than 335,000 successful online transactions made over the last year to reveal the latest online payment trends. We're also sharing this data to help you discover Spanish consumers' favorite online payment methods. 
Let's dive in. 
Key takeaways according to MONEI's quarterly payments report:
The average order value for online purchases, which a year ago stood at almost €100, has dropped drastically to €68.10 in the first quarter of 2023.
Payments with Bizum continue the growth trend they have been accustomed to since 2021 with a rise of seven percentage points, while credit cards continue to lose weight.
The mobile phone continues to establish itself as the preferred device for Spaniards with a 63.73% market share, to the detriment of the computer (35.24%).
Click to Pay has grown the most with a 3.87% market share in the first quarter of 2023, compared to 1% during the same period last year.
💡 Looking for more recent payment data? Read our Black Friday Cyber Monday 2023 Payment Trends Report.
Mobile payments are still trending, but inflation leads to decreased average order values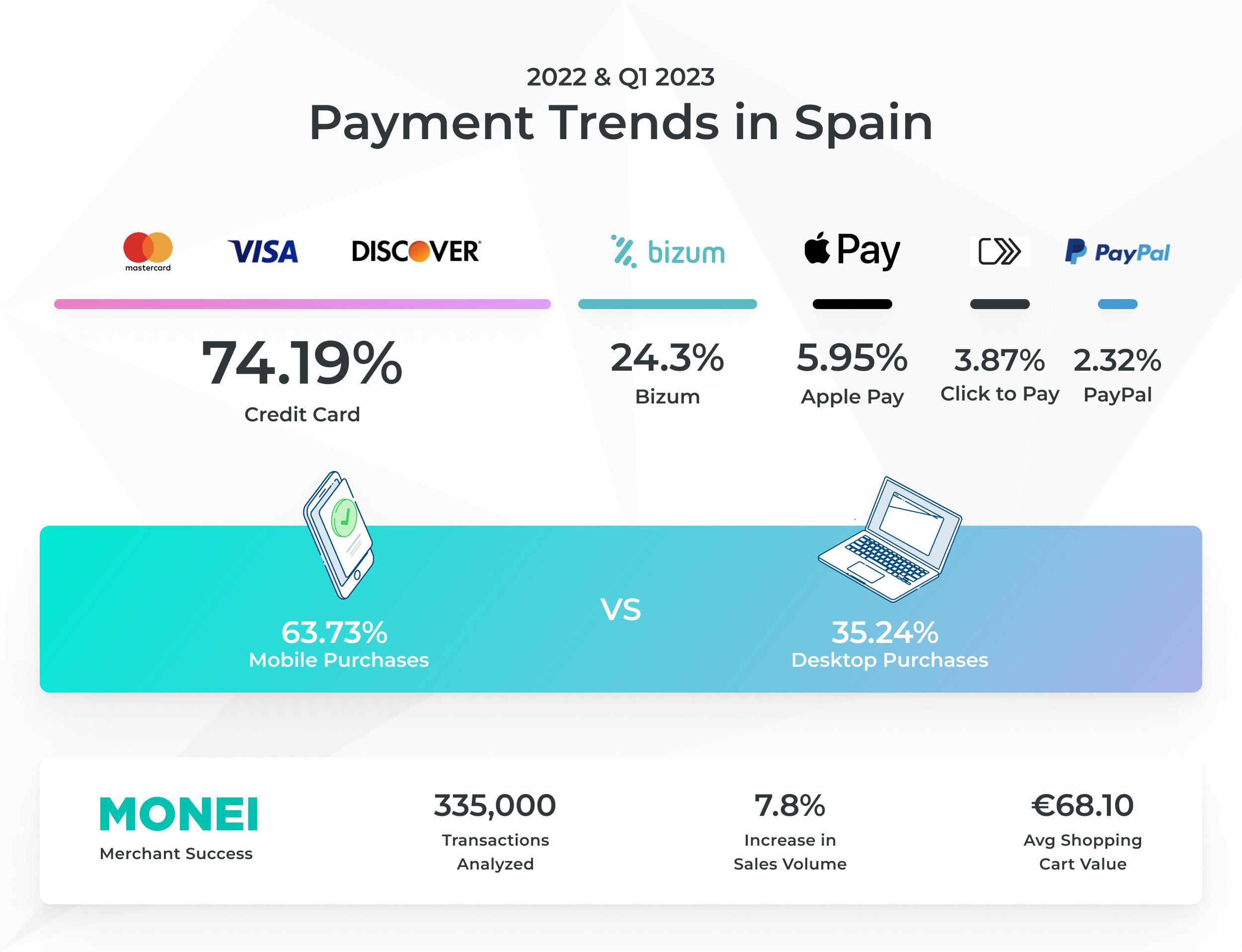 This report on the state of digital payment methods in Spain reveals that Spaniards spend €31.42 less on online purchases than last year. We observed a 32% decrease in the average value of the online shopping cart, which has gone from €99.52 in the first quarter of 2022 to €68.10 in the same period of 2023.
The mobile phone is still the preferred channel for making purchases — 63.73% of Spaniards complete online orders from their mobile devices, which continue to gain market share, growing from 57.01% in the first quarter of 2022. The suggestive increase in the use of mobile phones for online purchases is detrimental to the use of the tablet, which is disappearing. It has decreased from 2.19% in the first quarter of 2022 to 1.03% in the first quarter of 2023. 
On the other hand, the computer also presents a downward trend (it has lost more than five percentage points in one year), but it's still the second favorite purchase device for consumers. 35.24% of shoppers completed checkout via their computer in the first quarter of 2023.
"This report is as an x-ray of consumer habits in Spain," says Alex Saiz, founder and CEO of MONEI. "With the highest inflation rate in Spain since 1985, consumers are adjusting their budget. In addition, every day they demand more digital solutions adapted to their needs and priorities. At MONEI we remain at the forefront of new trends in order to respond to the real demands of consumers."
Key online payment trends in Spain: 2022 and Q1 2023
Trend 1: Bizum's growth continues
Bizum maintains the same growth trend in market share as we've seen since the first quarter of 2021 when it represented 16%. Its development has been positive during all quarters, reaching 23.43% of online transactions in the first three months of 2023. 
📚Further reading: 11 Important Reasons to Accept Bizum in Your Physical or Online Business
Trend 2: Card payments continue slow decline, but are still number one 
Card payments decreased, but maintained leadership with a 74.19% market share in the first quarter of 2023, compared to 76.1% corresponding to the same period of 2022.
📚Further reading: A Simple Guide to Accepting Credit Card Payments Without a Merchant Account 
Trend 3: PayPal loses market share 
PayPal continues to decrease from 7.8% a year ago, down to a discreet 2.32% so far in 2023.
📚Further reading: How to Accept Payments Online: 6 Step Guide
Trend 4: Apple Pay is the preferred digital wallet 
Apple Pay continues to position itself as the first option among digital wallets (5.95%), having grown almost three percentage points since the first quarter of 2022.
📚Further reading: 8 Benefits to Setting Up Your Apple Pay E-commerce Integration
Trend 5: Click to Pay is still gaining popularity 
Click to Pay, the one-click instant payment solution implemented by Visa and Mastercard is the payment method that has grown the most from the first quarter of last year to today (3.87% compared to the 1% it had in the same period of 2022). 
📚Further reading: What is Click to Pay? (+ Benefits for E-commerce)
Trend 5: Google Pay sees the least amount of change 
Google Pay has gone from occupying 1.3% of the market share in the first quarter of 2022 to 1.98% in the last year.
📚Further reading: The Top 5 Digital Wallets to Add to Your Online Store + Benefits for E-commerce
Merchant success
Despite the decrease in average online order value, our data shows that merchant sales continue to increase. Gross sales volume is up nearly 8% in the first quarter of 2023 when compared to the same period last year. 
Keep up with payment trends in Spain: use MONEI to accept more payment methods 
Taking card payments is still essential. But it's important to make sure many online payment methods are available on your e-commerce checkout page. It's crucial to accept alternative and local payment methods in your online store, particularly if you want to reach (or satisfy existing) international customers. 
At MONEI, we make it possible to accept a wide range of payment methods from a single platform. With one integration, you can accept the following payment methods (and more are coming soon):

Direct debit or bank transfer payments
E-wallet or digital wallet payments
Peer-to-peer payments (P2P)
Buy now, pay later (BNPL)

📚 Further reading: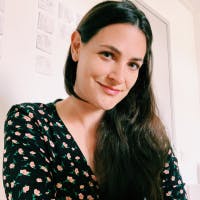 Alexis Damen
Alexis Damen is the Head of Content at MONEI. She loves breaking down complex topics about payments, e-commerce, and retail to help merchants succeed (with MONEI as their payments partner, of course).