Payments Technology
Payment Trends in Spain Q1 2022
Alexis Damen | April 6, 2022
The way consumers make online payments continues to evolve and shape the future of payments. That's why we regularly analyze our merchants' sales and share the data to help you stay competitive, improve customer satisfaction, and boost sales. 
For our first state of payments report, we analyzed 8,000 successful online transactions from Black Friday to Cyber Monday 2021 to learn consumers' preferred payment methods. This time, we pulled data from over 200,000 successful online transactions made in the last year to reveal the most popular payment trends in Spain for Q1 2022.  
💡 Looking for more recent payment data? Check out our 2022 and Q1 2023 Payment Trends in Spain report.
Spain consumer payment trends we discovered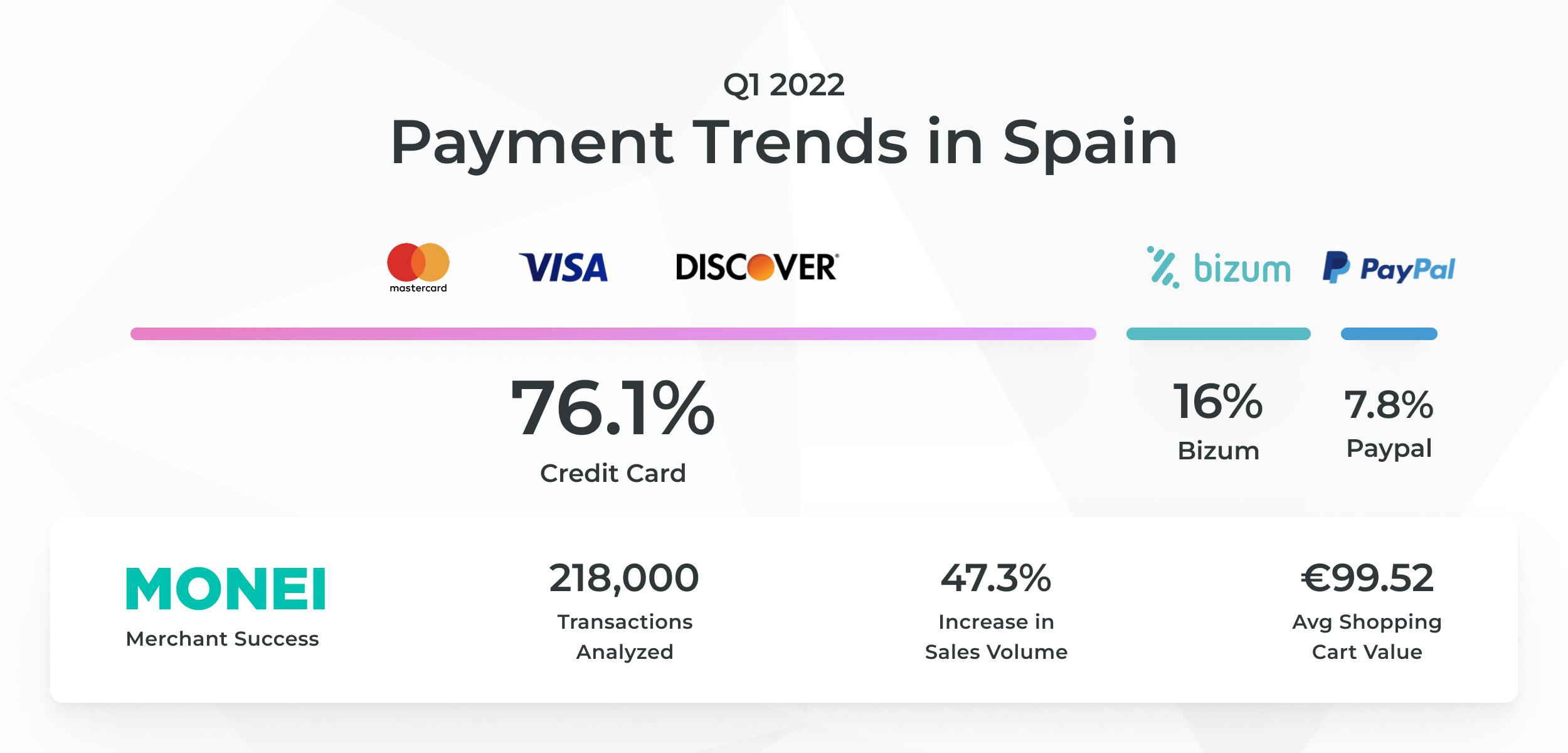 Card payment trends
Card payments continue on a downward trend, standing at 76.1% market share, down by two points compared to the last quarter of 2021 and down from 85% compared to Q1 of 2021. 
Bizum payment trends
In Q1 of 2022, Bizum surpassed 15% market share and consolidated its position as the second most preferred payment method. This is a massive increase when compared to the same period last year. In Q1 2021, Bizum only accounted for 4.6% of transactions. 
📌 Accept Bizum payments from anywhere with the MONEI Pay app.
PayPal payment trends
PayPal maintains a relevant share of 7.8% of transactions — it's stable when compared to the previous period (7.7%), but sees a sharper overall decline in contrast to the first quarter of 2021 (10.5%).
Digital wallet payment trends
According to our data, digital wallets like Apple Pay, Google Pay, and Click to Pay are still the least used payment methods in Spain but maintain a stable performance reaching a 5% market share, which is comparable to Q4 2021. 
"This data allows us to have a more accurate picture of what Spaniards demand and the trends they draw, precisely to be able to anticipate them. We created this report with the aim of helping Spanish SMEs get to know their customers better and offer them the best possible service," says Alex Saiz Verdaguer, CEO at MONEI.
Payment method diversification is key 
Accepting card payments is still crucial. But it shouldn't be the only payment method you add to your online store. Diversify your payment stack by accepting alternative and local payment methods including: 
💡 Use MONEI to configure and manage many payment methods from a single platform. With one connection, you'll save money on integration and engineering costs, plus with dynamic pricing, your transaction fees will decrease in real-time as your business grows. And when you're ready, upgrade to MONEI PLUS to set payment routing rules and improve transaction acceptance rates with payments orchestration.  
Merchant growth 
Naturally, sales volume for most e-commerce businesses declines from Q4 (holiday season) to Q1 (post-holiday season lull), but our merchants' sales volume decreased by less than 15% in this period and was up by almost 50% in Q1 2022 when compared to the same period last year. 
The average shopping cart value continues to hover around €99-€112. 
Keep on thriving  
From shipping and logistics issues brought on by the pandemic to inflation and changes in consumer behavior, we're dealing with the most unpredictable e-commerce and retail landscape to date. But this payments report shows MONEI merchants are resilient and continue to adapt and grow. 
Thank you for choosing us to manage your payments. Your success is our success.
📚 Further reading: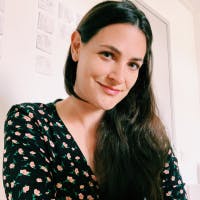 Alexis Damen
Alexis Damen is the Head of Content at MONEI. She loves breaking down complex topics about payments, e-commerce, and retail to help merchants succeed (with MONEI as their payments partner, of course).