Payments Technology
Quickstart Guide to Accepting Apple Pay for Small Business
Alexis Damen | March 1, 2023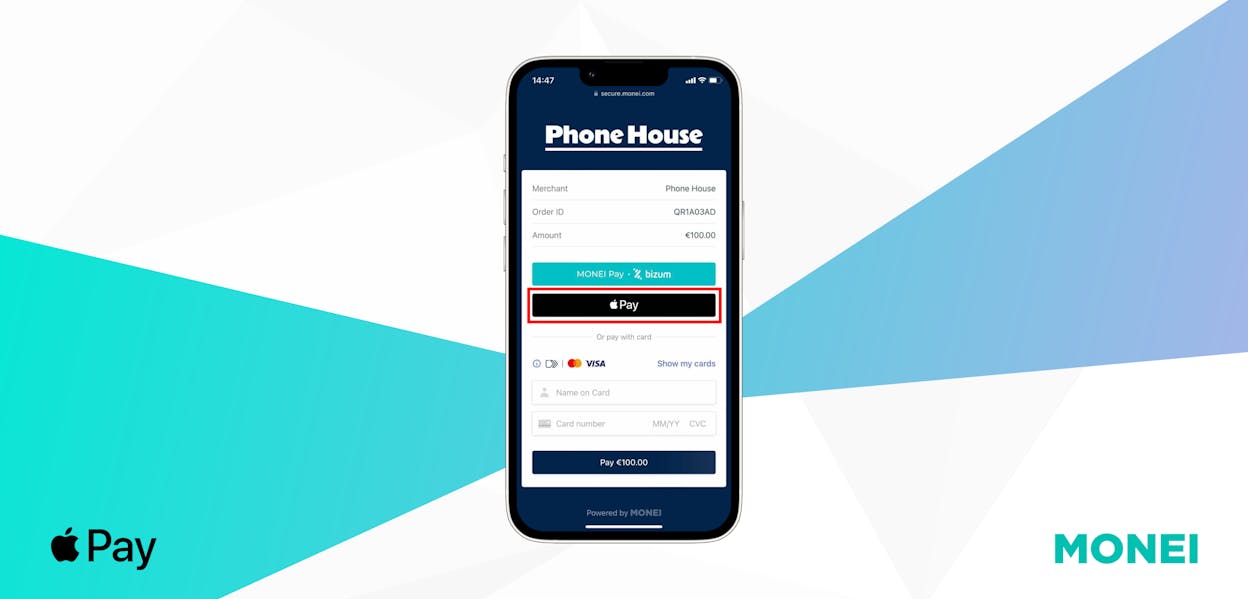 When you run a small business, you have to check every detail. You want your customers to be happy and you want to make a profit. Quick, easy-to-use, and secure payment options like Apple Pay for small business support you to do both better. Many customers expect you to accept it and as long as you're using the right payment service provider (PSP), letting people pay via Apple Pay won't eat up all your profits. 
Before you implement Apple Pay in your small business, you need to know exactly what it is, how it works, and why it matters. Read on to see its advantages, challenges, how to set it up, and the steps you can take to market Apple Pay to your customers.
Table of contents
What is Apple Pay?

Apple Pay is a mobile wallet, available to Apple (iOS) device users. It allows you to save your credit or debit card information in the app to pay for items with your iPhone, iPad, Apple Watch, and compatible devices, both online and in-store. 
How does Apple Pay work?
Apple Pay is quick, easy to use, and secure. To pay in-store, customers open up the Apple Pay app on their device and hold it next to an NFC-enabled card reader. Or if you use a mobile payment app like MONEI Pay to accept contactless in-person payments, you can use your phone to create a digital QR code that the customer can scan to complete the payment. 
If the customer has an iOS device, an Apple Pay button will automatically appear on the mobile payment page. Once they select it as their payment method they'll be prompted to complete the payment in the Apple Pay app. 
For online payments, the Apple Pay button appears as an option on the checkout page, and upon selecting it, the customer can trigger a payment with a simple tap on their phone. 
📚Further reading: 
The importance of Apple Pay for small business
According to Statista, Apple Pay is the third most popular mobile payment option in Spain after Bizum and PayPal, accounting for 24% of mobile payments in the country throughout 2022.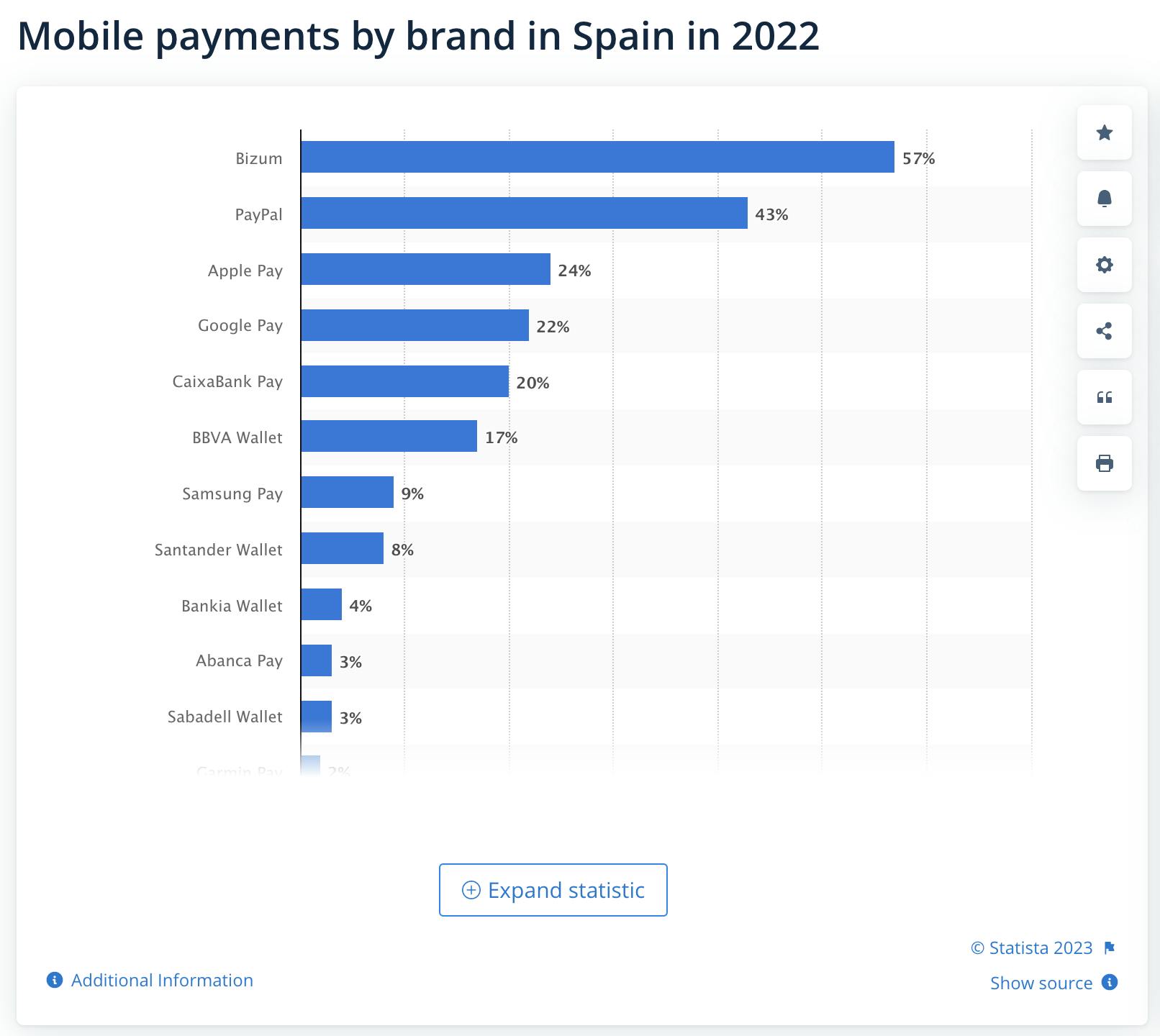 MONEI's payment trends report in Spain for Q2 and summer 2022 showed a general increase in mobile payments of more than 10% compared to the previous period. 
The mobile payment growth rate in Spain is set to continue with an estimated CAGR (compound annual growth rate) of 20.5% over the next five years, which is actually slightly slower than Europe's anticipated 26.3% growth. 
There are a lot of statistics to decipher, but the overall trend is the same. Mobile payments are growing and so is Apple Pay. If you want to keep up with your customers' needs and make their payment experience as positive as possible, you need to accept Apple Pay in your small business. 
Advantages of Apple Pay for small business
You've seen the importance of Apple Pay but keeping your customers happy isn't the only advantage:
Cost effective
With the right PSP, you can accept Apple Pay both online and in person. An omnichannel payments platform that lets you accept Apple Pay anywhere is cost effective and therefore, a big advantage for your business. 
Increased security
Apple Pay uses tokenization and encryption to secure card data. This means your customer's card data is replaced with a series of randomly generated numbers for every transaction, which is changed back to useful information when they reach the payment processor. 
Customers have an extra layer of security with the in-app verification features. They have to identify themselves with FaceID, a fingerprint, or a mobile device passcode in order to authorize the payment. 
Improved customer experience
Convenience is something most customers crave and Apple Pay is a convenient way to pay. Not only is it fast and contactless, but instead of carrying around a wallet or purse, your customers only need to bring a phone or a wearable device. An improved customer experience increases the chances of customers coming back and buying from you again. 
Boosted sales
If a customer goes into your store without their wallet handy, they'll have to leave and come back another day. At least, that's how it used to be. With Apple Pay, customers can buy what they want with ease. This makes them more likely to buy, more often, which will boost your sales. 
Easy integration with other tools
We can't speak for all PSPs, but with MONEI, Apple Pay is automatically configured once your account is approved. It will appear on your checkout page along with the other payment methods MONEI supports. This way, you can easily accept Apple Pay via your e-commerce website or physical retail store. 
Speed
Accepting Apple Pay in person or online is fast. Your customers' transactions are processed with a tap, using their stored payment details. As long as the payment amount is below 50 euros in Spain, you usually don't have to enter a pin, which further speeds up the payment process. 
Popularity
Apple Pay is known all over the world. It works in more than 60 countries and its use is consistently growing. Customers buying within Spain and across the world use Apple Pay so accepting it in your small business means you'll be ready to satisfy more potential and existing customers. 
How to set up Apple Pay for your small business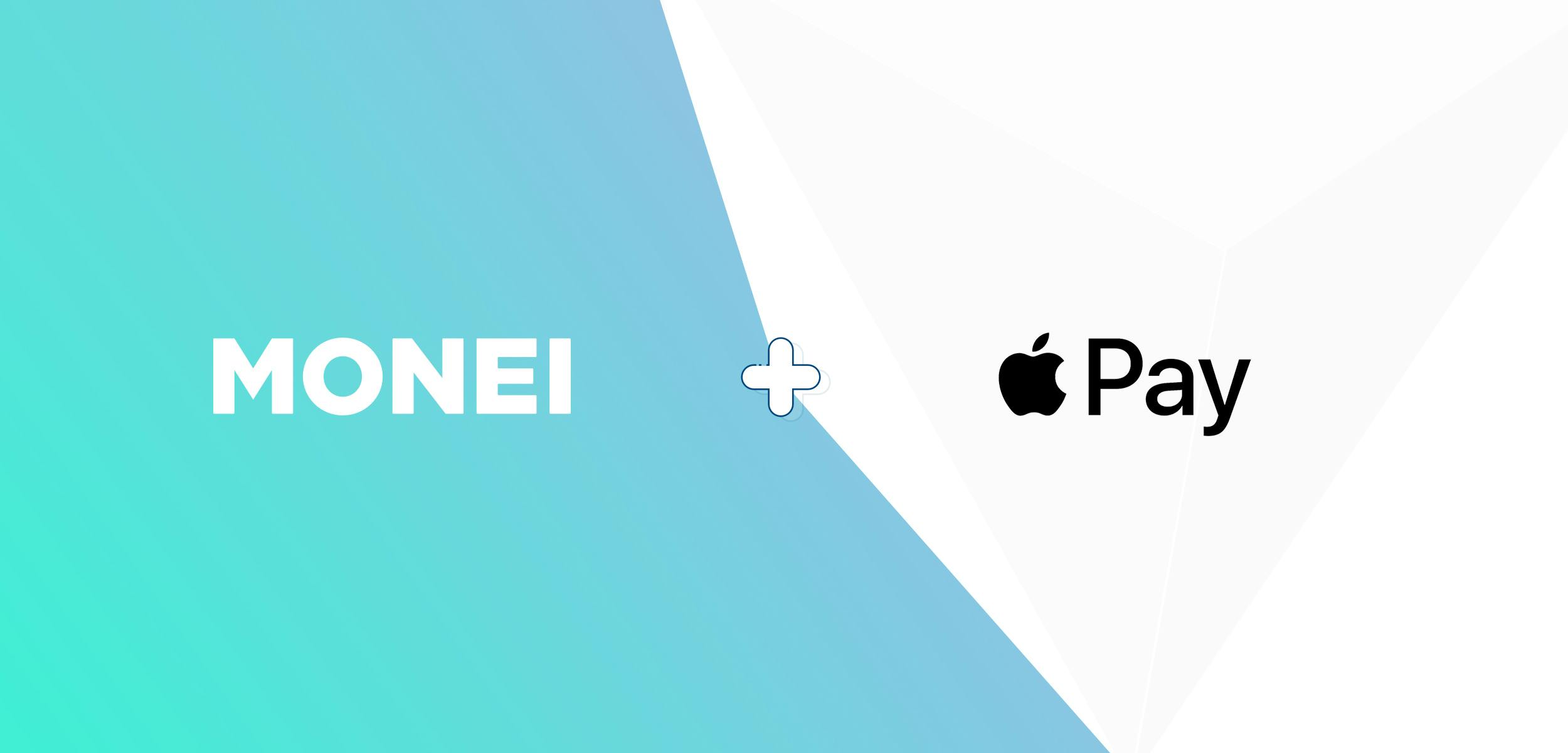 With MONEI as your payment service provider, adding Apple Pay to your small business is quick and easy. Follow these steps:
Apple Pay for small business use cases
Apple Pay is useful in multiple situations, but what do small businesses use it for the most? 
Accept in-person Apple Pay payments
Bulky payment systems take up space. Simple, secure, and affordable POS (point-of-sale) alternatives like MONEI Pay let you use digital QR codes or payment requests to accept payments through any mobile device. That means you can easily process Apple Pay transactions in a restaurant, a taxi, a hair and beauty salon, or anywhere you do business, making the payment process easier for you and your customers.
Accept online Apple Pay payments
Apple Pay isn't just for in-store payments, you can accept online payments too. This means you can accept Apple Pay in your e-commerce businesses just as easily as in person. Whether you're selling jewelry, clothing, or crafts online, speed up the payment process and improve the customer experience by accepting Apple Pay.  
💡Try MONEI to accept a wide range of payment methods (including Apple Pay) from a single platform. 
Send payment requests
When you send a payment request to your customer using MONEI Pay, they can choose to complete the payment using Apple Pay. As a personal trainer, for example, you could finish a training session and send a link to your customer to pay directly, or maybe you'd be better off sending the link before the training begins, so they still have the energy. 
📚Further reading: What is an Email Payment Link? [+How to Use Them to Accept Payments Anywhere]
Receive omnichannel payments
Customers want to buy from the most convenient location at the time of purchase. A seamless experience, from searching online to trying and buying products in-store, makes for a better, truly omnichannel, customer experience. 
💡Pro Tip: Boost sales with a better payment experience. Use MONEI's omnichannel payments platform to accept card payments, alternative options, and local payment methods online, in-store, or on the go. Manage it all from a single platform. 📌Get started ›› 
Challenges of using Apple Pay for small business
Although Apple Pay is a great way to accept payments, there are some challenges that you may need to overcome:
Compatibility with point-of-sale systems
Not every POS is compatible with Apple Pay and Apple Pay isn't a payment processor. There's a simple solution. To accept Apple Pay with MONEI, all you need is your phone or tablet and the MONEI Pay payment app.
Consumer adoption
Apple Pay is becoming more and more popular but it's still nowhere near as popular as paying with a credit or debit card. One of the reasons for this is perception and awareness. The more consumers see Apple Pay, the more likely they'll be to start using it. MONEI Pay makes it obvious that you accept Apple Pay and that consumers can feel secure when using it.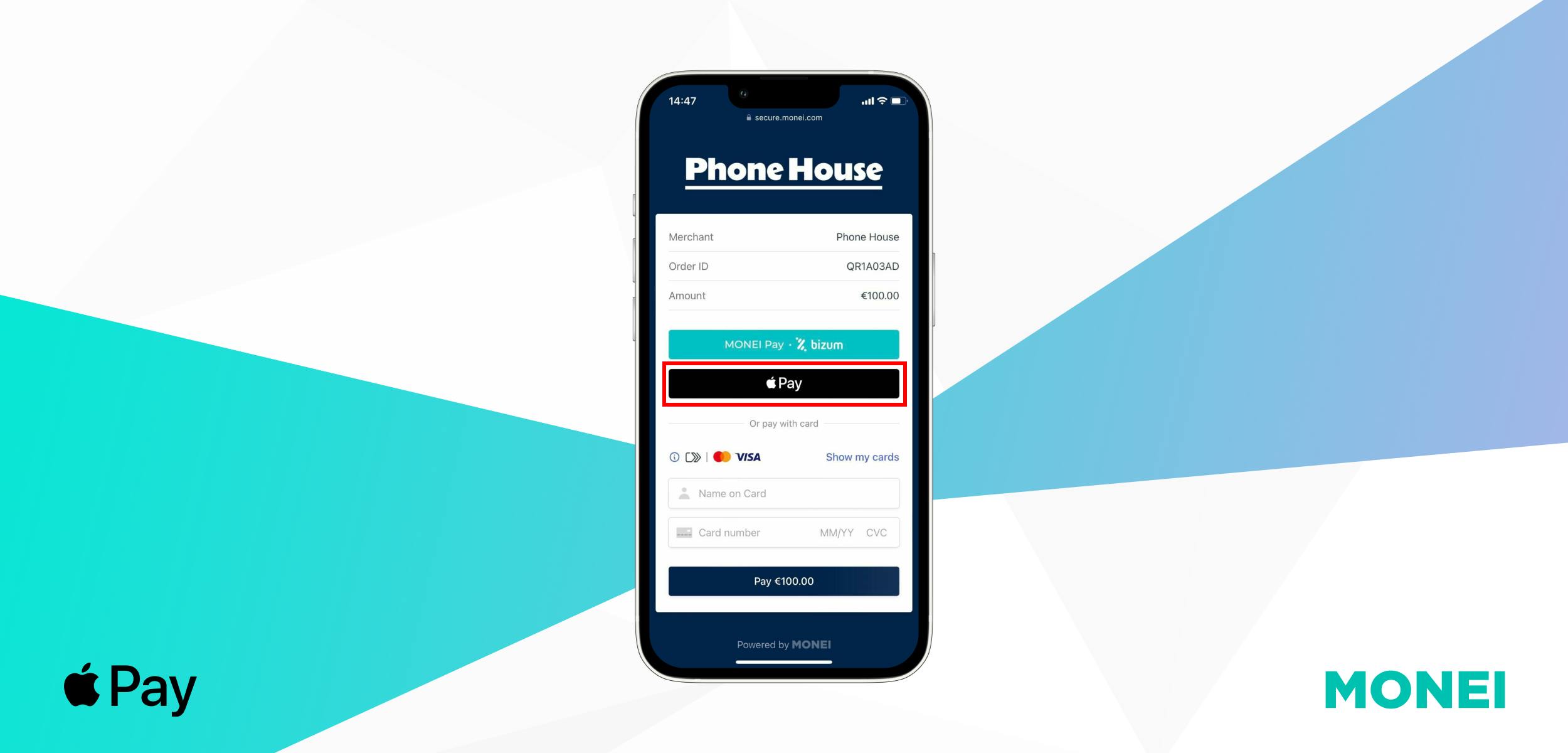 Only supported by Apple devices
If you're not an Apple user, you can't use Apple Pay. This is a downside that Apple Pay can't overcome by itself but MONEI Pay can. MONEI Pay accepts multiple payment methods, including Google Pay, credit and debit cards, and Bizum in Spain.
Marketing Apple Pay to your customers
You've seen the benefits of accepting Apple Pay but to make the most of them, you'll need your customers to start choosing it as one of their payment methods online and in person. 
Here are some tips to get them on board: 
Advertise it on your website and social media
Make it clear on your website and social media channels that Apple Pay is one of your accepted payment methods. You can place an Apple Pay button on your checkout page, add the logo to the footer of your site (along with the rest of the payment methods you accept), and spread the word about accepting Apple Pay in your small business via social media and email marketing campaigns.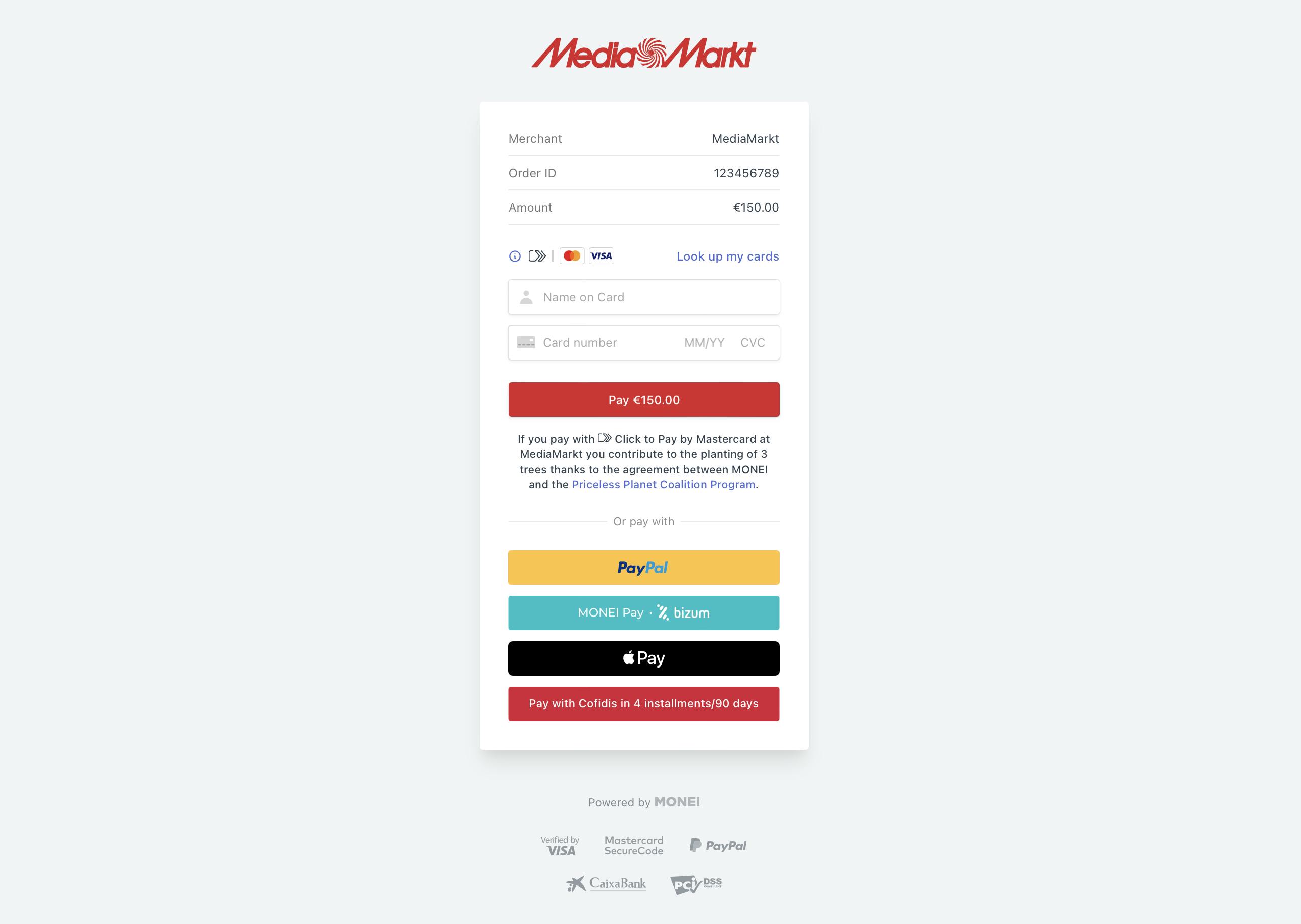 Send an email campaign
Thinking of the next reason to persuade subscribers to open an email is sometimes a challenge. Promoting the fact that you accept Apple Pay is a great way to entice people. For example, you can talk about accepting Apple Pay in your taxi, so customers don't have to worry about carrying cash. 
Claim your business place with Apple
Make it official. Use Apple Business Connect to "claim" your business place. This means you'll show up on Apple Maps and you can add the Apple Pay icon to your Apple Maps listing. 
Hang Apple Pay signage at your physical business
Retailers, restaurants, taxis, hair salons, food trucks, dentists, it doesn't matter what products or services you sell, you can hang Apple Pay signage in your physical location so customers know you accept it. The Apple Pay Merchant Supplies Page offers resources so you can advertise your status. This includes glass decals, posters, countertop postcards, and more. The kits are completely free. 
Moving forward with Apple Pay for small business
Now that you know what Apple Pay for small business is, how it works, and how to set it up, it's time to get started. When you integrate with MONEI for online or physical payments, Apple Pay is already configured. Join us now!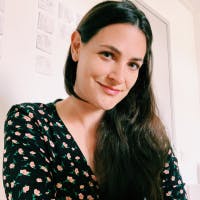 Alexis Damen
Alexis Damen is the Head of Content at MONEI. She loves breaking down complex topics about payments, e-commerce, and retail to help merchants succeed (with MONEI as their payments partner, of course).