Payments Technology
8 Important Benefits of Mobile Payments
Alexis Damen | March 9, 2022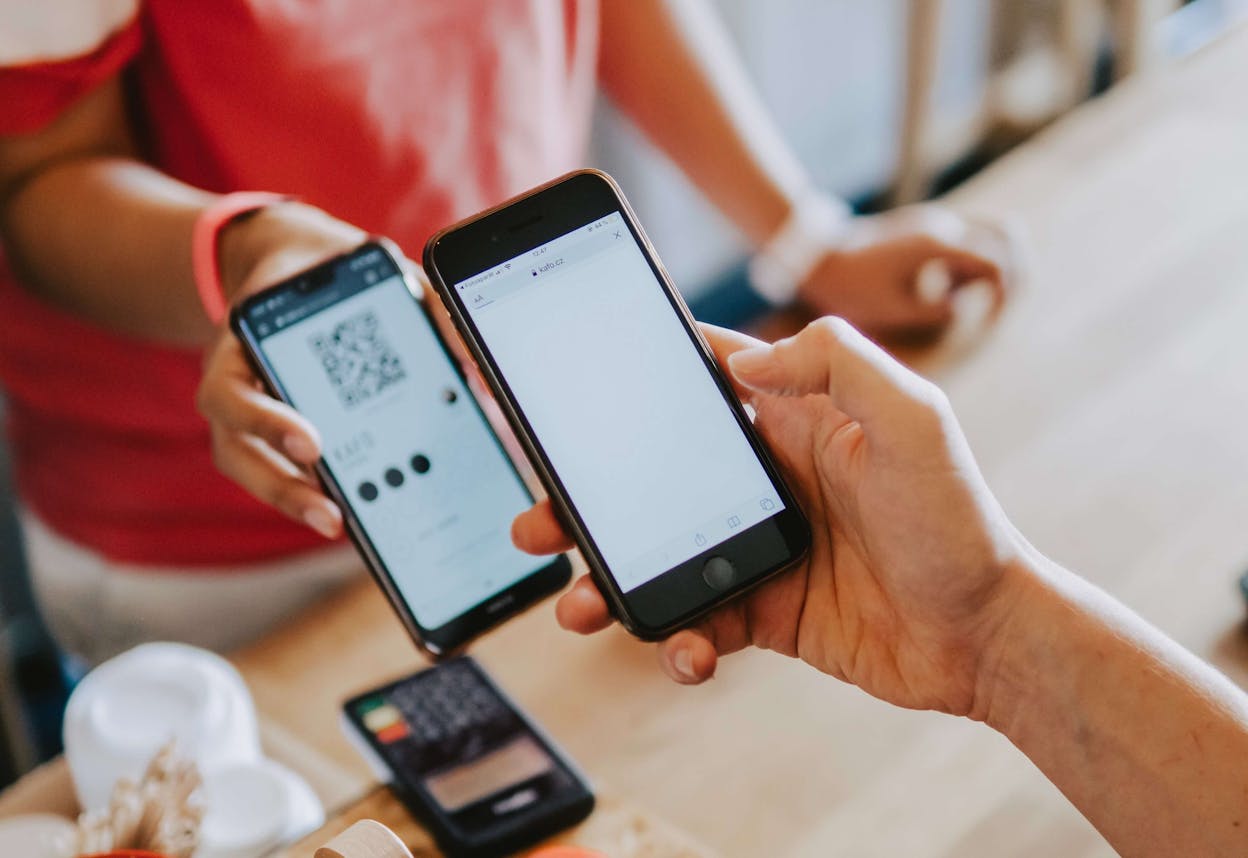 Mobile payments make it easier to accept payments anywhere for goods or services either through a mobile POS or mobile devices like a smartphone or tablet.
Peer-to-peer (P2P) payment apps like Bizum also use mobile payment technology to let users send money to friends or family members and pay for purchases in-store and online. 
Whether you need to collect contactless payments on the go, offer a wider variety of payment options, or cut down on in-store queues, mobile payments can help solve these problems.
Keep reading to learn more about what mobile payments are, the stats behind them, and the advantages (and disadvantages) of using them.
What are mobile payments?
Mobile payments are a popular way to accept in-person customer payments thanks to their security, speed, and level of convenience.
With mobile payments, you can accept card and mobile wallet payments from virtually any location as long as you have a mobile POS, smartphone, or other mobile device configured with a credit card payment app to collect scan to pay or tap to pay NFC mobile payments.   
Then shoppers can use an EMV chip card or mobile wallets like Google Pay or Apple Pay (that have contactless NFC technology) to pay in-store or at a restaurant without having to present their credit card. 
💡Did you know? The terms mobile wallet and digital wallet are interchangeable, but there's an important difference. Mobile wallets like Google Pay and Apple Pay work for online and in-person mobile payments while digital wallets like PayPal only work for online mobile payments.  
Mobile payment statistics and trends
The usage of mobile payments is increasing rapidly. In fact, studies show that:
Thanks to stats and trends like these, we can see that mobile payment adoption will continue to increase in the coming years.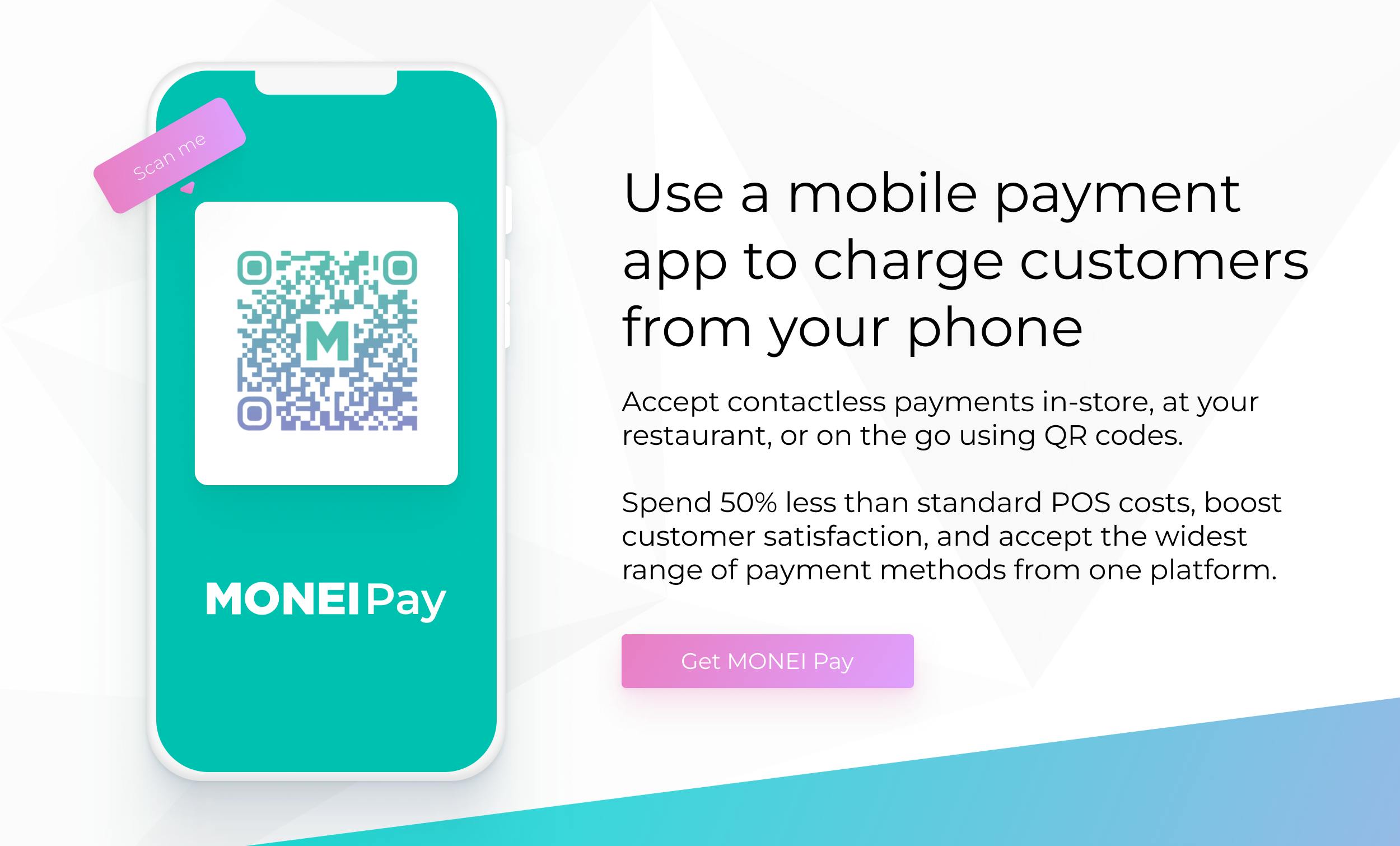 8 Benefits of mobile payments
There are numerous benefits that lend themselves to the global widespread adoption of mobile payments. 
1. Reduce expenses
Opting for mobile payments can help you reduce expenses in a few ways. You don't need to buy expensive point of sale (POS) equipment or paper and ink due to the ability to email receipts. And because you can use a tablet or smartphone as your mobile point of sale terminal, the only external cost you'll need to set it up is a card reader.
The cloud-based subscription models that mPOS systems have also generally mean low sign up and monthly maintenance expenses.
📌Or you could opt for QR code payments and then you don't need a card reader or mobile POS system. All you need is a smartphone or mobile device to get started.
2. Improve cash flow
When using mobile payments, customer funds are transferred to your account either instantly or within a few days. 
This means you get money faster and, because customers can pay as long as they have their personal mobile device on hand, you're more likely to receive payments from customers who prefer paying with their mobile wallets. 
And considering over one-third of mobile wallet users now have three or more mobile wallets like Google Pay and Apple Pay installed on their smartphones, accepting these alternative payment methods is crucial in today's retail landscape. 
In short, with mobile payments, you increase your chances of getting more money from more customers faster than you would with traditional payment methods.
3. Easily integrate loyalty programs
Since customer information is stored in mobile payment apps, coupons or discounts can quickly and easily be sent out to specific customers to reward repeat purchases.
These loyalty programs can include:
Points loyalty programs. Customers get points for each transaction and can put them toward discounts or free products.
Tiered loyalty programs. A certain amount of purchases unlocks a new tier of reward points or discounts once the specified number of purchases has been made. 
Hybrid loyalty programs. Combine two types of loyalty programs for greater incentives. 
4. Get insights into actionable data
Using a mobile point of sale system means you have instant and secure access to key customer data.
This data can help inform you of your current customers' purchasing behavior and give you the opportunity to further tailor your products, services, or overall customer journey funnel.
Data types include how frequently customers shop at your business, their average spend, preferred payment methods, and the products they buy the most.
5. Increase customer convenience
By adopting mobile payments for your business, customers can leave their wallets at home and still complete purchases.
Alongside this, adding a minimum of one mPOS to your store can improve the customer experience by making it faster and more flexible. And depending on the mobile POS system, you'll be able to accept the most popular (and customer-preferred) payment options anywhere in your store or on the go.  
📌 Get started today with mobile QR code payments to accept a wider range of payment methods including credit cards, and mobile wallets like Apple Pay, Google Pay, Click to Pay, and Bizum from your smartphone. 
Accepting a wide range of payment options will help you reach more people and see an uptick in customer loyalty long-term. 
6. Keep competitive with more ways to pay
How likely are you to frequent a business if you can't pay with your go-to payment method?
By offering multiple ways for customers to pay via mobile payments, you're staying ahead of the competition.
When investing in an mPOS system, choose one that can process the following types of frictionless payments:
Remember: every payment option you offer that a competitor doesn't, means you'll have an advantage when it comes to convenience and flexibility.
📚 Further reading: 11 Important Reasons to Accept Bizum in Your Physical or Online Business
7. Better payment security
Mobile payment apps use an encrypted or protected code to shield customers' personal data.
This means that customers' real card numbers are never stored on either their personal device or your mobile payment equipment or software.
Because of this, payment security is increased and your liability is significantly lower. 
8. Simplify bookkeeping
Alongside actionable customer data, using an mPOS system also works to collect the following kinds of information for your business:
Sales information
Payment records 
Inventory updates
All of these benefits act as a bonus to mobile payments' main upside, which is improving the customer experience and making it easier to accept payments on the go.

5 Downsides of mobile payments
Despite the many benefits of mobile payments, no technology is without its downsides.
1. Slow user adoption
Some customers might be reluctant to switch from traditional payments like cash to mobile payments.
But in reality, this applies to only a small number of consumers. One-third of customers who prefer paying through mobile QR code payments have stated they would not complete a purchase at a business where that option was not available.
2. Some security concerns
While tokenization and biometrics keep the majority of customer information safe, the potential for hacking or data leaks exists for all types of payment methods.
You can add further protection by investing in an mPOS or mobile payment software that has an emphasis on security and responsive customer support should any hacking or data leaks occur.
3. Lack of technology and infrastructure in developing countries
Although the United States, Europe, Spain, and other developed areas see little-to-no difficulty onboarding mobile payments thanks to their strong WiFi connectivity and technology resources, developing countries may find the necessary near field technology too costly and unreliable to integrate.
4. No one-size-fits-all option
When you're looking for mobile payment processing services, you'll need to comb through the available options to see which best fits your specific business needs and payment goals.
Features you should look for include:
A high level of security 
Fast transaction times
Both online and offline compatibility 
An intuitive interface
Responsive support options
Low monthly maintenance or subscription fees
5. Understanding the terms and conditions
Pages upon pages of terms and conditions can be difficult to fully comprehend, especially if you're new to the world of mobile payments.
You'll want to pay close attention to the fine print when it comes to transaction and platform usage fees. For example, some processors charge one fee for swipe or scan transactions and a different fee for transactions entered manually.  
Types of businesses that should accept mobile payments
Whether you have a retail store, a restaurant, work at a hair salon, or offer another service, taking in-person mobile payments from your phone is easy with MONEI Pay. Here are a few use cases:
💡 Have questions about MONEI Pay? Contact us today!
Start enjoying the benefits of mobile payments today
Now that you're familiar with what mobile payments are and how they can benefit your business, it's time to start enjoying their many advantages.
🚀 Join MONEI today to get started with mobile QR code payments. All you need is your smartphone to experience the convenience, security, and speed that come with accepting mobile payments anywhere.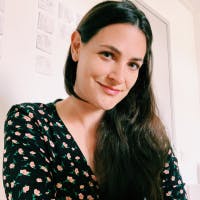 Alexis Damen
Alexis Damen is the Head of Content at MONEI. She loves breaking down complex topics about payments, e-commerce, and retail to help merchants succeed (with MONEI as their payments partner, of course).