Payments Technology
Your Guide to Payments Terminology
Alexis Damen | November 13, 2020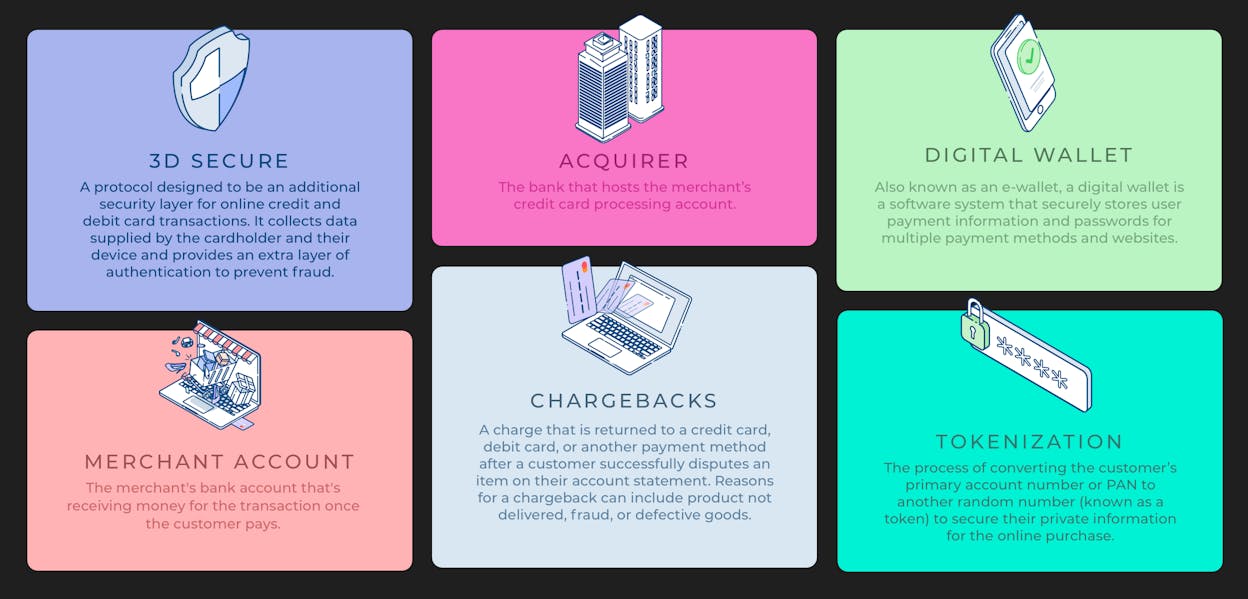 Payments technology offers shoppers an abundance of payment methods to safely and securely pay for products or services online and in-store. From cash to contactless payments, the way businesses process payments and how customers pay is always evolving. The world of payments is complex. We've compiled a list of payments terminology used for both online and in-person transactions. Refer back often. We'll update this list on a regular basis to help you demystify the payments industry.
Payments Terminology  
The following is a list of commonly used payments terminology. For your convenience, it's sorted in alphabetical order. If you can't find the definition you're looking for, get in touch and we'll add it. 
A protocol designed to be an additional security layer for online credit and debit card transactions. It collects data supplied by the cardholder and their device and provides an extra layer of authentication to prevent fraud.
Acquiring Bank (or Acquirer)
The bank that hosts the merchant's credit card processing account.
Alternative Payment Methods
Alternative payment methods are methods of payment that are not a major card network. Not all markets use card payments as the predominant payment method. Bank transfers, digital wallets like Apple Pay or Amazon Pay, direct debit, or cash transactions are more common in certain markets.
API
API or Application Programming Interface is software that allows two applications to talk to each other. Take a look at MONEI's API and dev documentation. 
Authorization
Authorization is when a card issuer like a credit card company or bank verifies a user's request to purchase something. Once approved, the issuer reserves the authorized amount on the cardholder's account to prepare for the capture (transfer of funds). The percentage of transactions that are authorized is an authorization rate.
Bitcoin Payment Gateway
Allows merchants to accept transactions in bitcoin.
Card Networks (or Card Schemes) 
Visa, Mastercard, American Express, Discover, and UnionPay are considered the largest card networks. However, a card network is not technically the same as a credit card company. Card networks also known as card schemes are a paid service that sets the rules and technical infrastructure for payment processing.
Charge
The amount of money you have to pay for a product or service. 
A charge that is returned to a credit card, debit card, or another payment method after a customer successfully disputes an item on their account statement. Reasons for a chargeback can include product not delivered, fraud, or defective goods.
Technology that allows customers to tap or hold their credit card, debit card, mobile wallet, and other payment methods near a point of sale terminal (POS) to complete payment. Sometimes this technology is also called tap, tap-and-go, or touch-free.
Cross-Border E-commerce
Whether you sell products to another business (B2B) or direct-to-consumer (DTC), you'll likely want to expand internationally to other countries or regions. Selling outside the geographical border where your business is located is called cross-border e-commerce.
Cross-Border Payments
Online transactions where the customer and the merchants are based in separate countries. Cross-border payments can be among people, companies, or banking institutions who are looking to transfer funds across territories.
Customer
In e-commerce, this is the person who is paying for products or services. The customer enters their payment details to initiate an online payment transaction. 
Digital Wallet
Also known as an e-wallet or mobile wallet, a digital wallet is a software system that securely stores user payment information and passwords for multiple payment methods and websites. With a digital wallet, customers can complete their purchases quickly and easily thanks to near-field communications technology. Unlike a mobile wallet, it can also be accessed on a desktop or laptop. 
EMV Chip
The computer chip that you can find in smart credit cards. It generates a one-time use transaction code to help prevent fraud when a card is used at a point of sale (POS) terminal. EMV is the abbreviation for Europay, Mastercard, and Visa, which were the three original processing firms that agreed to implement these chips in their cards. 
Fraud (or Fraudulent Payment)
These are illegitimate transactions that can either be attempted or completed in malice.
Learn more about how MONEI helps with chargebacks, disputes, and fraud. 
Interchange Fee
A fee paid by the merchant for each card-based transaction. The fee amount can depend on the merchant category, card type, and transaction value — it gets paid through the acquiring bank and to the shopper's issuing bank.
Issuing Bank (or Issuer)
The customer's bank that issued their credit card.
Local Payment Methods
Local payment methods are payment options that are popular in a specific geographic location as well as the payment options that are only available in certain countries or regions.
Merchant
The business supplying products or services for sale. This can be online or in-person. 
Merchant Account
A merchant account is an account that you (the merchant) need in order to accept credit card payments. It's the account where information about the transaction is collected. Funds are held and once the payment is verified the money is sent to your business bank account. But depending on the payment service provider (PSP) you use, accepting credit card payments without a merchant account may be possible
Mobile Point of Sale Terminal (mPOS)
Hardware or an app that allows physical stores to accept contactless payments through a mobile device like a smartphone or tablet. 
Mobile Wallet
A virtual wallet in the form of an app on your mobile device that stores payment card information. Unlike a digital wallet, it cannot get accessed via your desktop or laptop. Mobile wallets are a convenient way for customers to complete contactless payments as long as the merchants use a mobile wallet service provider.
Near-Field Communication (NFC)
A short-range wireless technology that allows you to transfer information quickly between devices like your smartphone, wearables, tablet, payment cards, and other devices. It can be used to share documents, pay bills, exchange information, and download coupons.
📚 Further reading: What are NFC Mobile Payments? All You Need to Know About This Contactless Payment Method
Allows you to accept payments by creating a manual order that generates a link that you can send to your customers. Your customer can click the link and complete their purchase. 
The equivalent to a point of sale system for online transactions, it encrypts and transmits information to the payment processor. A payment gateway provides integrations into different e-commerce platforms and APIs to perform transactions. It also receives authorization for the banks to move money from the customer to the merchant.
The way in which customers pay for products or services. Offering many payment method options can help you increase your conversion rate.
Payment Processor
The service that sends transaction info between the merchant, the issuing bank, and the acquiring bank. 
Further reading: What's the Difference Between a Payment Gateway and a Payment Processor? 
PSPs partner with acquiring banks and their payment processors to offer merchants the capability to accept payments. Via a payment gateway, once transaction information is initiated by the customer (with the merchant), the PSP sends transaction information to a PSP used by the merchant's acquiring bank.
Payment Transaction
Communication in the form of payment between a customer and a merchant. It ends in a change in the status of the finances between the parties involved — usually two or more businesses or individuals. 
A comprehensive set of requirements created by the Payment Card Industry Security Standards Council to enhance cardholder data security and to ensure the safe handling and storage of sensitive customer credit card information and data.
Peer-to-Peer Payments (P2P)
Transactions used to transfer funds between two people using their individual bank accounts or credit cards through a mobile or online app. P2P payments can get used for splitting a bill between friends, paying your rent, or you can add peer-to-peer apps like Bizum as a payment method for your Shopify store.
Point of Sale Terminal (POS) 
A credit card processing machine at a brick and mortar location that reads EMV chips in credit cards and sends it through the payment processor.
Primary Account Number (PAN)
A unique number generated as an identifier for a customer's primary account. PAN is found on credit cards, debit cards, and other cards like gift cards that store value. 
PSD2
The second Payment Services Directive (PSD2) is part of a global shift in bank regulation. It brings attention to innovation, market competition, and security. PSD2 benefits digital payments due to the elimination of surcharges on payments made by customers in the European Union.
Refund
Money that a merchant refunds to a customer if they are not happy with the goods or services they purchased. 
Visit the knowledge center here for more information about charges and refunds. 
RFID Chip Technology
A passive wireless technology that allows for tracking or matching of an item or individual. It can be used for tracking the supply chain, contactless payments, and several commercial and industrial applications. 
Strong Customer Authentication (SCA)
A rigid security requirement to initiate and process electronic payments — SCA is a requirement of PSD2. It's a way to authenticate online payments by asking the customer for something they have, something they know, and something they are. 
The process of converting the customer's primary account number or PAN to another random number (known as a token) to secure their private information for the online purchase. You can also use tokenization so customers can save their payment method for future transactions. 
Two Factor Authentication (2FA)
An extra layer of security used to ensure the security of online accounts and transactions through additional authentication steps.
You may also like to read: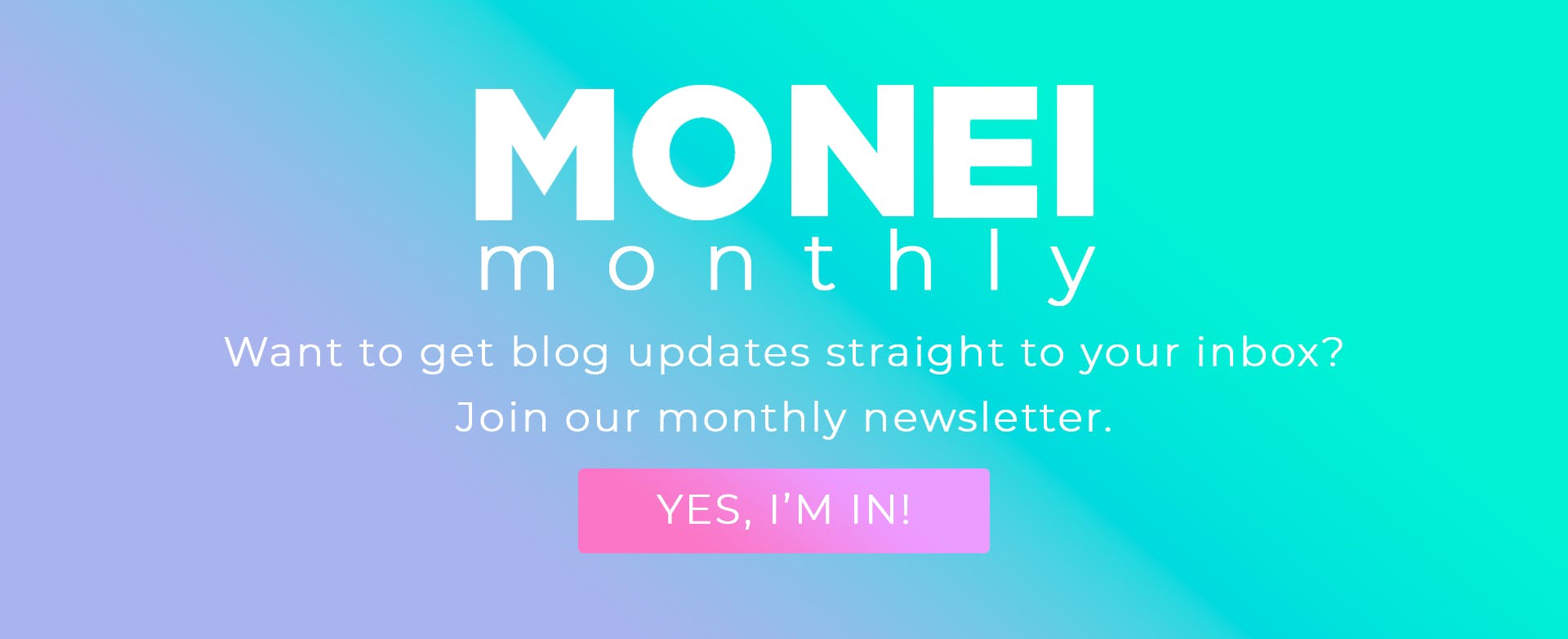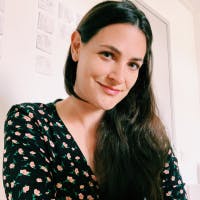 Alexis Damen
Alexis Damen is the Head of Content at MONEI. She loves breaking down complex topics about payments, e-commerce, and retail to help merchants succeed (with MONEI as their payments partner, of course).