Payments Technology
What's the Difference Between a Payment Gateway and Virtual POS?
Alexis Damen | August 31, 2023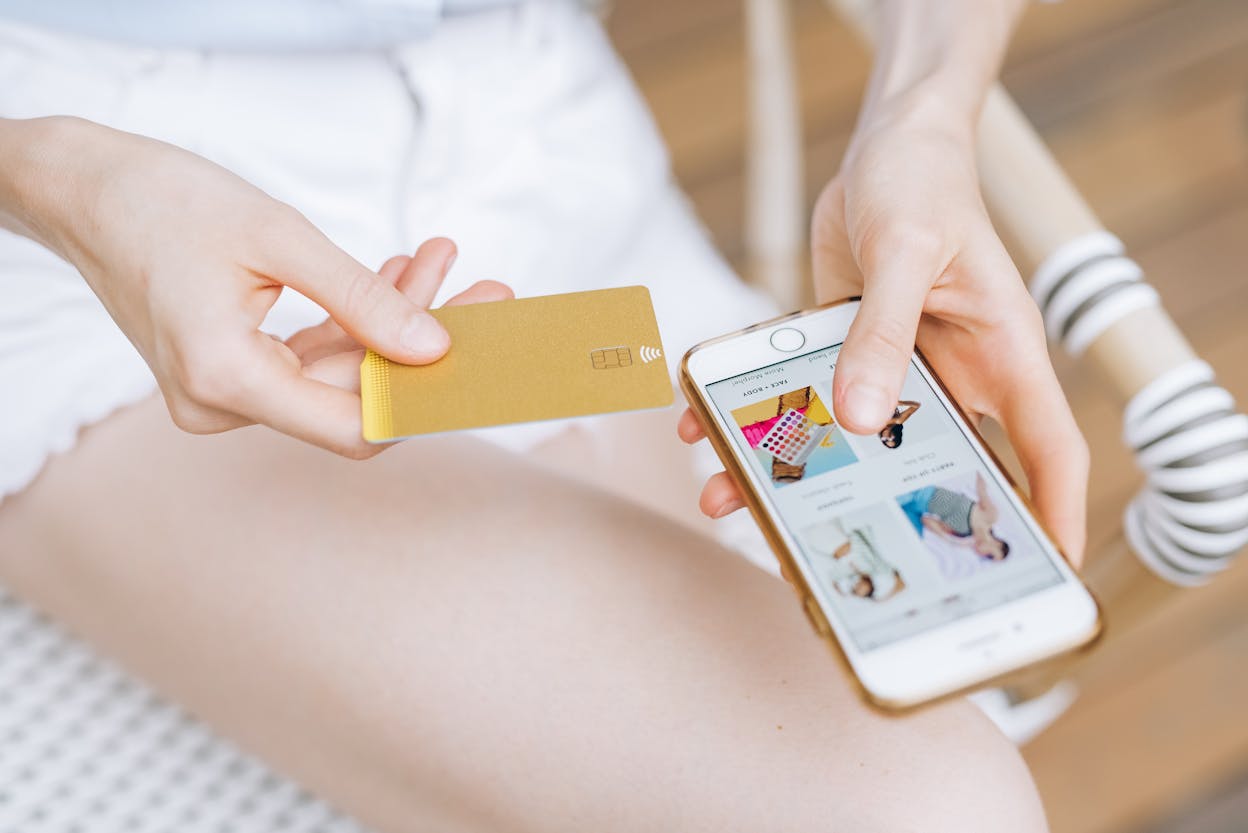 You're in the process of setting up your e-commerce website when you realize you need to integrate with a payment gateway to accept online payments and in many cases, in order to create an account with the payment gateway, you need a virtual POS. But why do you need both? What's the difference between a payment gateway and a virtual POS? How do they work together? And are there all-in-one solutions that you can use to get all these payment services from one platform? 
Fortunately, there are payment gateways (like MONEI) that have built-in virtual POS services. This way, all you need is one integration and you don't have to deal with the headache of getting virtual POS credentials from an acquiring bank. You can spend more time creating product pages, developing your marketing strategy, and building brand awareness via social media and email.   
That said, it's still important to understand the difference between the two and how they complement each other. In this article, you'll learn what a virtual POS is, what a payment gateway is, how they're similar, and how they're different. 
Table of contents
What is a virtual POS?
A virtual POS (sometimes also referred to as a virtual terminal) is required to take payments online. You need it to accept credit cards, digital wallets, electronic banking methods, and most APMs (alternative payment methods) through your e-commerce checkout. 
As soon as a transaction is initiated by the customer, the virtual POS collects their payment information. The payment gateway connects to the virtual POS and facilitates routing the payment to and from the processor for verification. The whole process is complete within milliseconds.
Let's explore some of the key features of a virtual POS:
Supports APMs and local payment methods. A virtual POS combined with the right payment gateway opens up a world of APMs and local payment methods, without the need for third-party integrations. Accept Bizum, Google Pay, Apple Pay, Click to Pay, iDEAL, Bancontact, MB WAY, and more with just one integration.

Accepts traditional payment methods. As well as APMs and local payment options, you can accept traditional credit card and debit card payments with Visa, Mastercard, and Discover. 

Low fees. With a payment gateway like MONEI that has built-in virtual POS services and dynamic billing, you pay less on transaction fees as your sales increase.

Speed and convenience. Payments are processed instantly with a virtual POS, which benefits your business and enhances the customer experience. 

Security. Secure payments are vital to keep your business safe from fraud and to increase customer trust. A virtual POS includes authentication systems for the cardholder, like SMS or in-app authentication. This is all backed up with PCI DSS compliance and tokenization.

Easy e-commerce integration. With the right payment gateway (like MONEI), getting virtual POS services for your online store is quick and easy. Integrate with popular e-commerce platforms like Shopify, PrestaShop, and Adobe Commerce (Magento 2), or use our Payments API to integrate online payments with your custom-built website. 
📌 Ready to streamline your online payment process? Get started with MONEI, a robust payments platform with built-in virtual POS services. Accept a wide range of payment methods with just one seamless e-commerce integration. Same time and money, and elevate the customer experience today!
What is a payment gateway?
A payment gateway is a safe and secure infrastructure that transmits payment data during an online transaction. It uses fraud management solutions like tokenization and PCI-DSS to guarantee secure payments. 
During the payment flow, the main purpose of a payment gateway is to facilitate communication between the customer's card network, the payment processor, the issuer, and the acquiring bank. It then confirms whether the payment is approved or declined.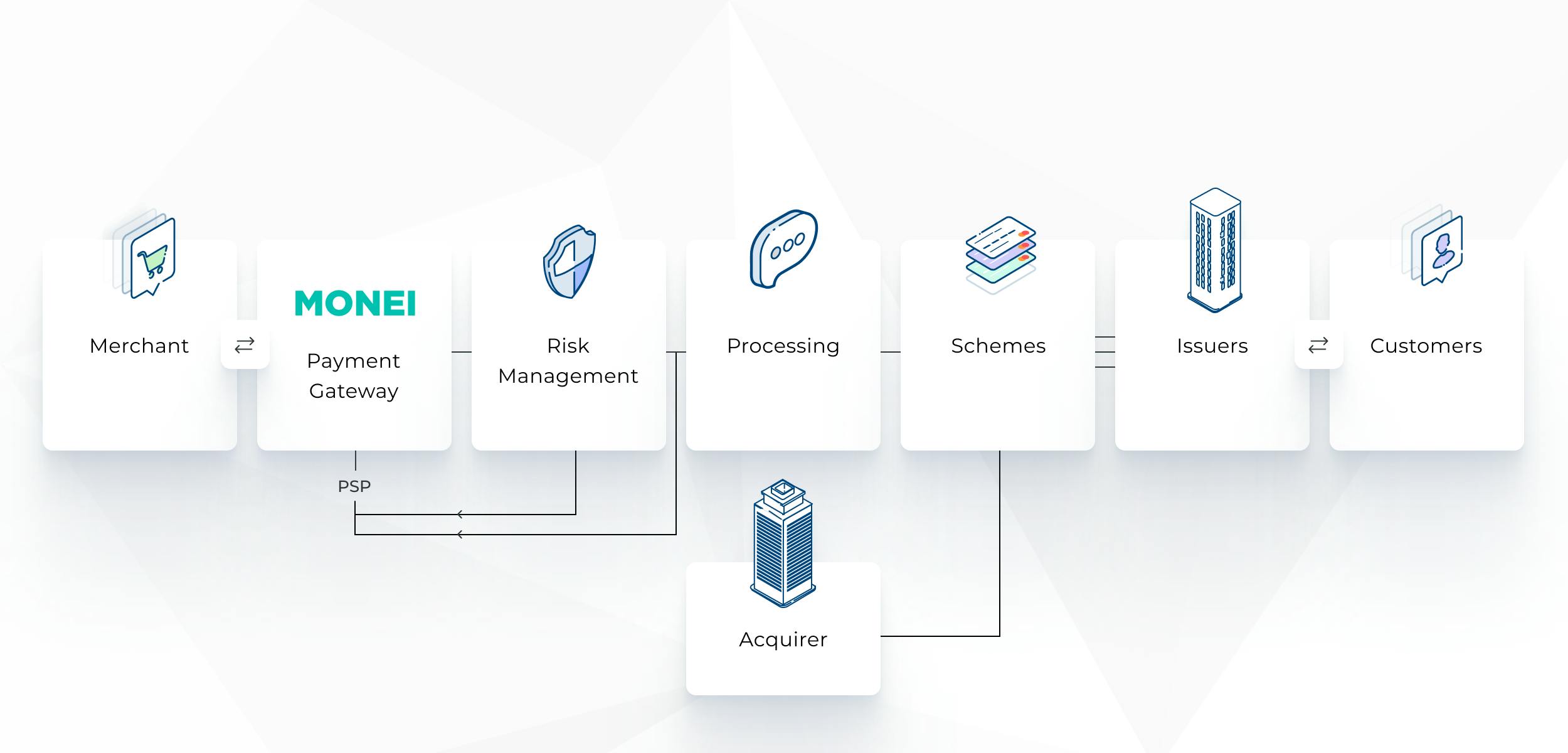 The best payment gateways have built-in virtual POS services so you don't have to go to an acquiring bank to get virtual POS credentials (sometimes also called a merchant ID or merchant code).
A few of the main benefits of integrating your e-commerce store with a payment gateway that has virtual POS services (like MONEI) are: 
The ability to accept more APMs and local payment methods.
Lower transaction fees.
Built-in payment security and compliance.
A pre-built payment page that you can customize with your logo, brand colors, and company domain to avoid third-party redirects.
Integrated virtual POS services (not all payment gateways have this feature, but MONEI does). 
Short payment settlement times. 
Personalized support from payments experts who can suggest which payment methods to configure and how to increase conversions.  
A robust dashboard with real-time payments data so you can understand what causes failed payments and how to optimize your checkout. 
Increased transaction acceptance rates — MONEI lets you configure multiple payment processors in your account and route transactions to the best-performing one (i.e., payments orchestration). 
💡 Pro Tip: Check out our guide on how to choose the best payment gateway for your e-commerce business to learn what questions to ask and factors to consider before you select a payments partner. 
Do I need a payment gateway or a virtual POS? 
You need a payment gateway and a virtual POS to accept online payments. But with an all-in-one payments platform (like MONEI), you only need one integration to get both. Save time and money, get personalized advice from online payment experts, and manage all your payment needs from a single platform. 

Difference between a payment gateway and virtual POS FAQ
Which is more secure, a payment gateway or a virtual POS?

Both are designed with security in mind, using encryption and other measures to protect sensitive data. However, since a payment gateway is fully automated and requires no human intervention, it's less susceptible to human error or misuse. Always ensure that any system you use is PCI-DSS compliant. A solution that combines the benefits of a payment gateway and a virtual POS, like MONEI offers excellent security.
How do fees work for each system?

Both systems typically involve transaction fees. Rates can vary widely depending on the provider, so it's essential to shop around and read the terms carefully. For example, with MONEI's dynamic fees, the more sales you make, the less you pay, and there aren't separate payment gateway and virtual POS fees.
Do I need special equipment or software?

For a payment gateway, you'll need to integrate it with your website, often via an API or an e-commerce platform integration. And depending on the provider, you also need to get a virtual POS from an acquiring bank so you can use those credentials to configure the payment gateway. But with MONEI, you can skip this step.
How quickly can I access the funds from transactions?

This varies by provider, but it's typical for funds to be available in your bank account within a few business days, whether you're using a payment gateway or a virtual POS. With MONEI, settlement times typically range from 1 to 7 days from the transaction date, but factors like risk level, sales volume, and how long you've been a MONEI user affect how quickly payouts occur.
Are there any legal or regulatory considerations specific to Europe?
Can I use these systems for international sales?

Yes, both payment gateways and virtual POS systems can handle international transactions. However, be aware of cross-border fees and ensure your solution supports the currencies and payment methods popular in your target markets.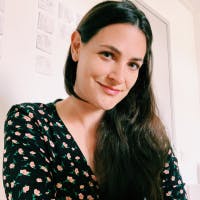 Alexis Damen
Alexis Damen is the Head of Content at MONEI. She loves breaking down complex topics about payments, e-commerce, and retail to help merchants succeed (with MONEI as their payments partner, of course).