Payments Technology
7 Reasons to Add Buy Now, Pay Later Options to Your E-commerce Site [+6 Examples]
Alexis Damen | April 19, 2021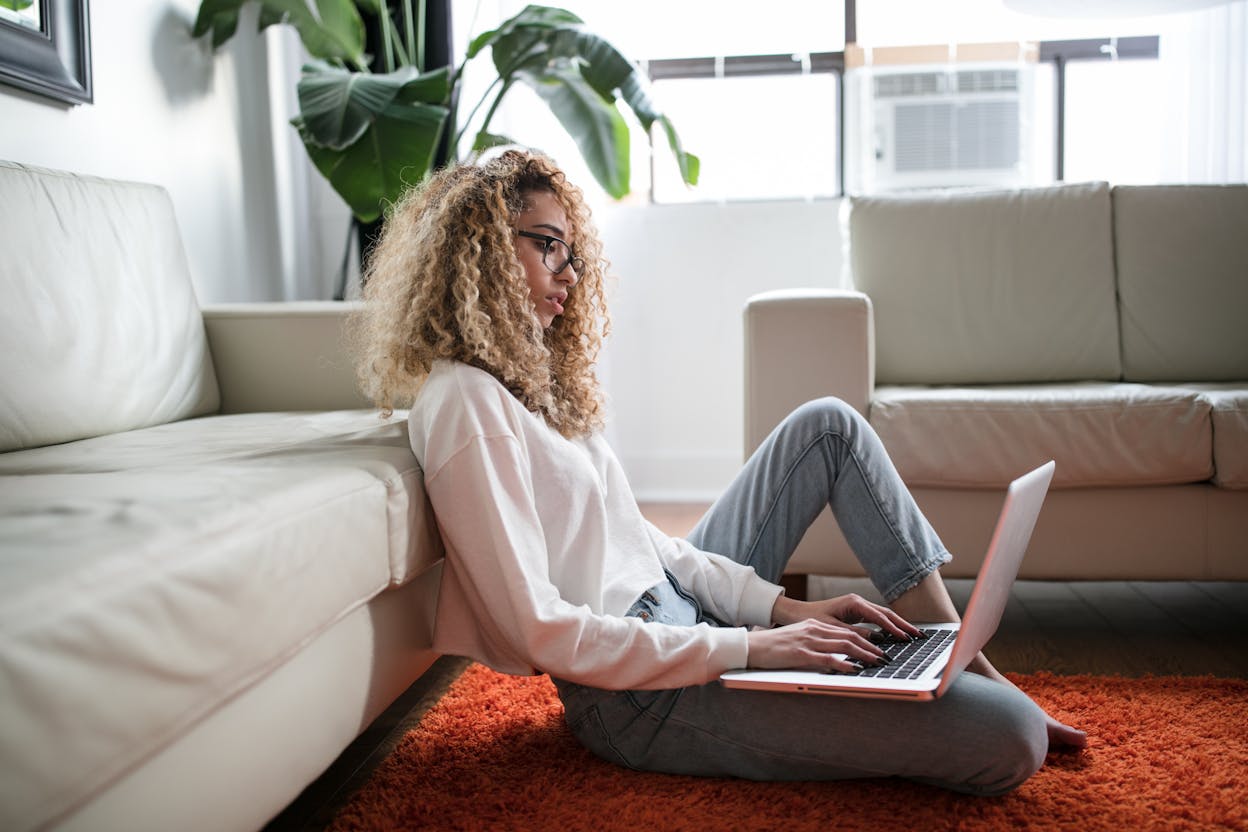 Buy now, pay later has become a popular payment method among online shoppers — especially since the pandemic hit. In 2020, the use of installment payment options grew by 55% in Spain.
In addition to allowing customers to pay their full order amount over a period of time, pay later options have no additional fees or interest. There are also many benefits to merchants, including increasing your conversion rate, attracting new customers, and staying competitive.
This option of online payments is ideal for younger audiences — specifically those who have no credit cards or don't want them.
In this article, we'll take a closer look at what buy now, pay later is, how it works, the benefits of BNPL, and examples of e-commerce businesses that are getting it right.
What is buy now, pay later? 
The option of "Buy Now, Pay Later" (BNPL) has been around for many years so it's accumulated a number of descriptions. Some of the terms you may have heard include installment payments, shop now pay later, pay in 4, or deferred billing. 
Whatever the term used, they all ultimately mean the same thing: consumers get to buy a product, have it delivered, and make payments over time. Installment payments are generally paid in three, four, six, or 12 months until the total value of the order is paid off.  
What it means for you as an e-commerce business is that you still get paid in full through a partnership with a financing company. It produces a win-win for you and the customer because you get paid right away, but they can pay over time. 
How does buy now, pay later work? 
As an e-commerce merchant, you can add buy now, pay later options to your checkout by working with a payment gateway that supports installment payments.  
For example, we partner with Cofidis to make it easier for you to accept payments in installments and your customers can enjoy pay later options. 
Buy now, pay later is particularly advantageous if you sell larger ticket items like fitness equipment, furniture, or home appliances. Letting shoppers make installment payments can improve your e-commerce conversion rate and customer satisfaction.  
Set up your BNPL system in three quick steps:
1. Easily integrate with your website. Once you've registered and activated your MONEI account, you can configure various payment methods including credit card, digital wallets, and installment payments via our partnership with Cofidis. This will allow the payment option to display upon checkout. You can also customize the appearance of your checkout page with your branding and domain.
2. Consumers can choose to buy now and pay later. Once you've activated pay later payment options, shoppers can choose to pay in installments. With Cofidis, they can pay in 4 payments and it's eligible for purchases between €75 and €1,000. 
3. You get paid in full while the customer pays in installments. Part of building a relationship with new customers is allowing for flexibility. People who don't know your company yet are more likely to be comfortable committing to a lower payment in the beginning.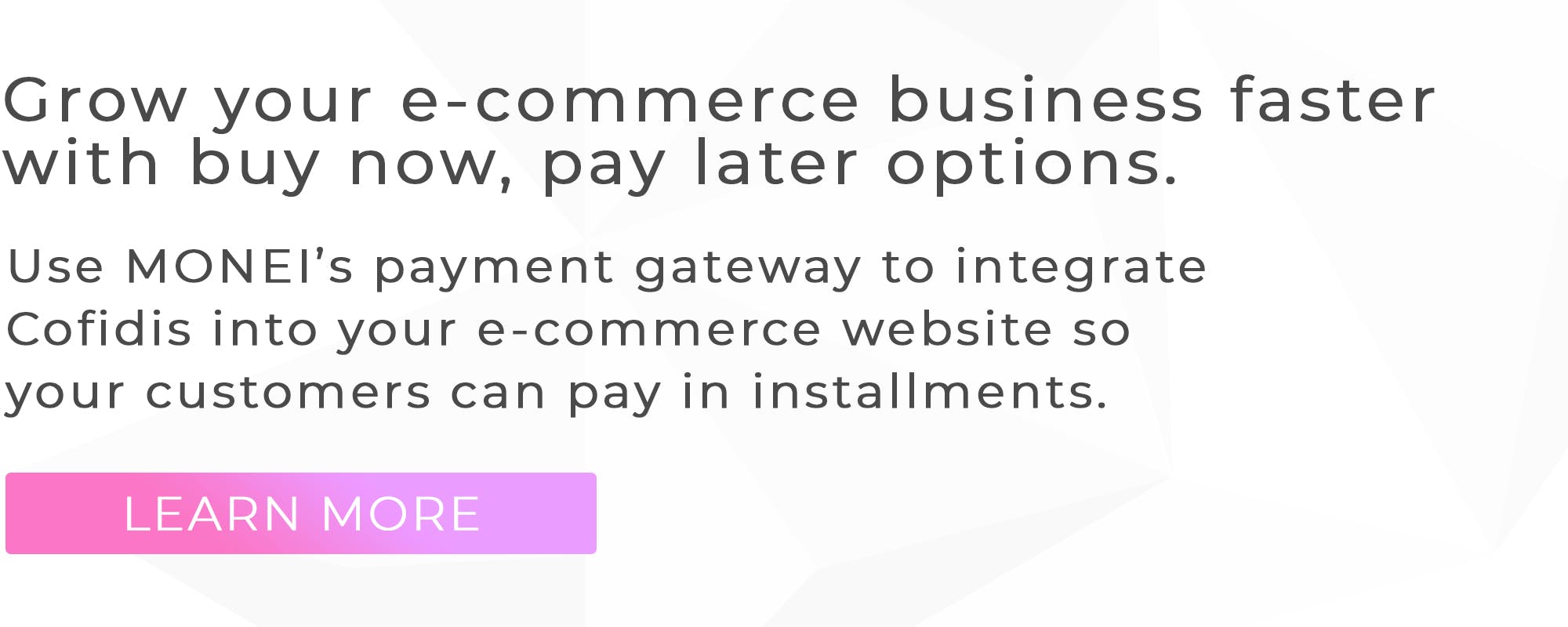 The benefits of offering buy now, pay later options 
As mentioned, having options is always helpful for converting new customers who visit your online store. Consider adding a BNPL option to your site to help with the following: 
1. Increasing sales
Oftentimes people are ready to make a purchase mentally and emotionally, but financially they aren't able to. By accepting buy now, pay later payments, you'll convert more website visitors from browsers into paying customers.
Further reading: 15 E-commerce Conversion Rate Tips to Help You Sell More
2. Staying competitive 
Your competitors are already accepting installment payments. In fact, by 2025 it's estimated that BNPL payments will increase to $680 billion in transaction volume worldwide. Business Insider forecasts a compound annual growth rate (CAGR) of 13.23% from the $285 billion the industry was estimated to record in 2018.
It's not a matter of 'if' at this point, but 'when' BNPL will explode. Being left behind in this now even more highly digital world can be detrimental to your business.
3. Attracting new customers
Letting customers buy now and pay later can help you attract all the people who have not only been looking to purchase your products, but also those who aren't ready to spend the full amount right now. This is especially true if they don't have to pay extra to do so. It's an increasingly desired option over credit cards.
Accepting Cofidis installment payments via MONEI can also build trust as Cofidis is a widely known and used financing solution. Cofidis clients often search directly in its database for companies that offer buy now, pay later options. 
4. Giving customers an affordable financing solution 
Allowing for better financial management will ultimately provide the long-term growth and trust you need to bring in repeat and referral business.
It's also a highly desired option due to the massively lower fees versus a credit card. These types of payments are much more doable for the average consumer, but they're also cheaper in the long run.  
5. Building trust
You've developed an excellent content marketing strategy for your e-commerce business, you're getting plenty of new people to your site, but no one's buying. Enter BNPL. Purchases can now be made with less commitment up-front, leading to a better customer experience and increased trust in your business. 
Use BNPL to develop a growing relationship with consumers. Once customers know and like you, they start to trust you. Once they trust you, they'll stick around and come back to buy more.
6. Decreasing cart abandonment 
Six percent of people browsing for products abandoned their carts because of a lack of payment options. The number one reason is for extra costs above their purchase, such as shipping fees.
Providing all the information consumers need up-front in order to feel confident making a purchase is vital. Creating the confidence that they will get their money's worth and transparency around what they can expect when they check out will improve customer satisfaction.
7. Increasing customer lifetime value (CLV)
Customer lifetime value (CLV) is the total amount a person spends at your store over their lifetime as a customer. 
Since the cost of earning new customers is up by over 50% in the last five years, keeping your current customers is more valuable every day. 
Not only will BNPL allow your customers to extend their payments over their chosen period of time, they'll also be engaged with your company longer. This ultimately leads to better customer retention rates. 
With BNPL options, you'll develop trust, brand loyalty, and encourage repeat purchases (i.e. increase CLV).
💡Further reading: Buy Now, Pay Later Installment Payments — Is All That Glitters Gold?
E-commerce businesses excelling at buy now, pay later 
Many businesses have adopted the buy now, pay later e-commerce experience and are seeing a much higher repeat customer rate as well as an increase in CLV. 
Here are a few of the highlighted companies doing just that:
1. Evvo Home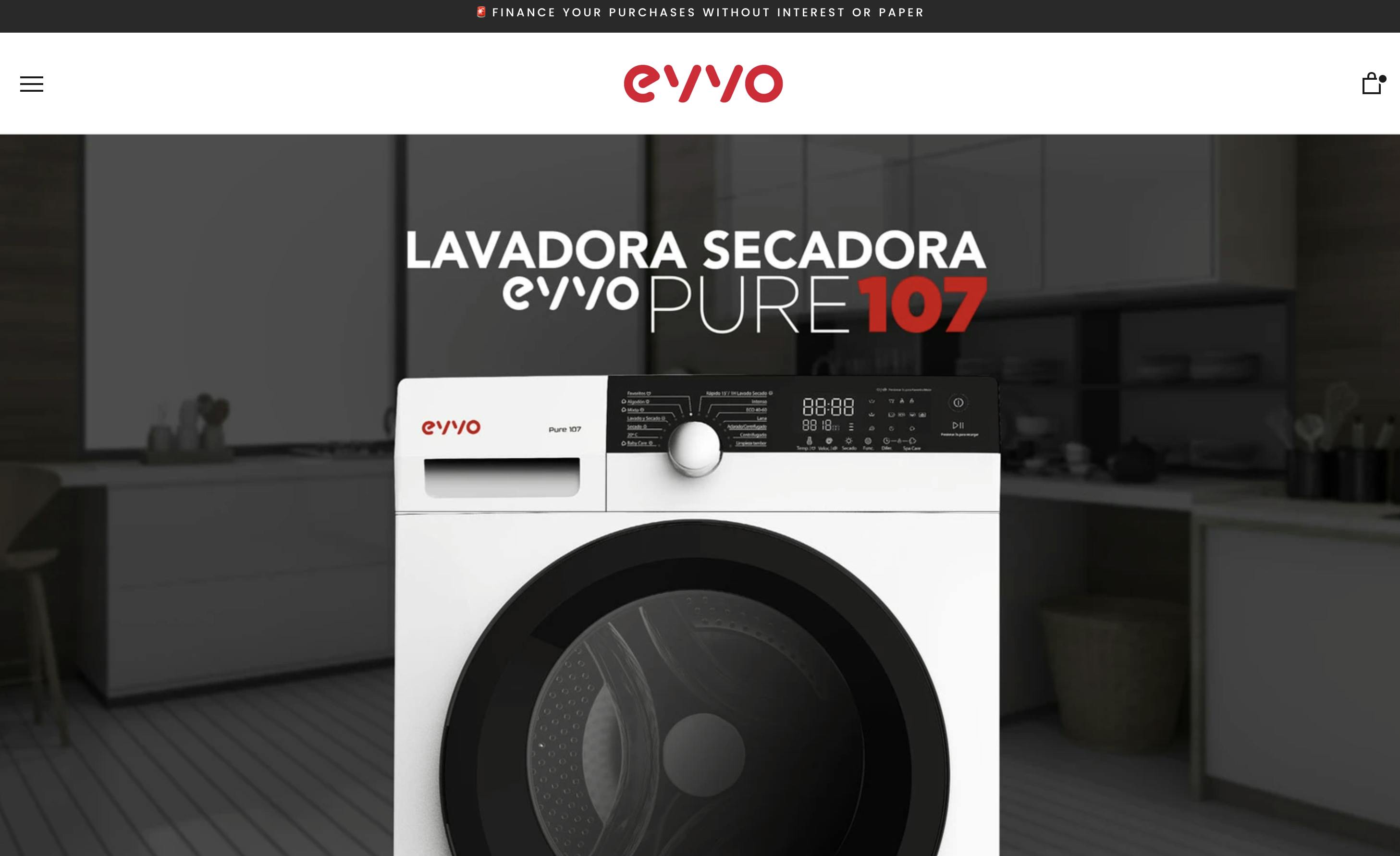 Evvo Home makes buy now, pay later options a key selling point by promoting it through an announcement bar that appears on every page of its website. Once you make it to checkout, you can choose to make installment payments over three or six months. Either way, customers don't have to wait to save up to buy their home appliances and they don't have to pay any interest.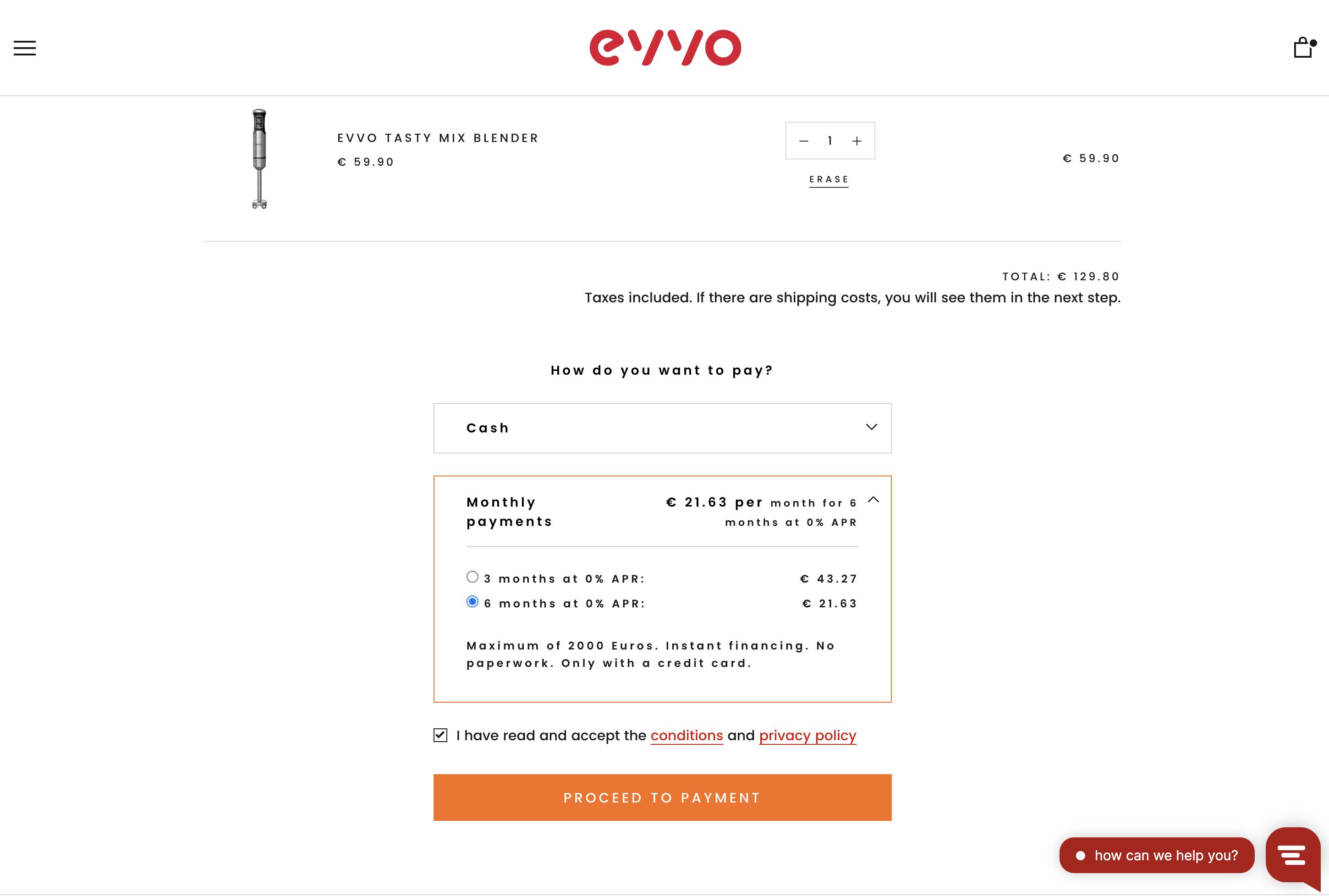 2. Amazon with Abunda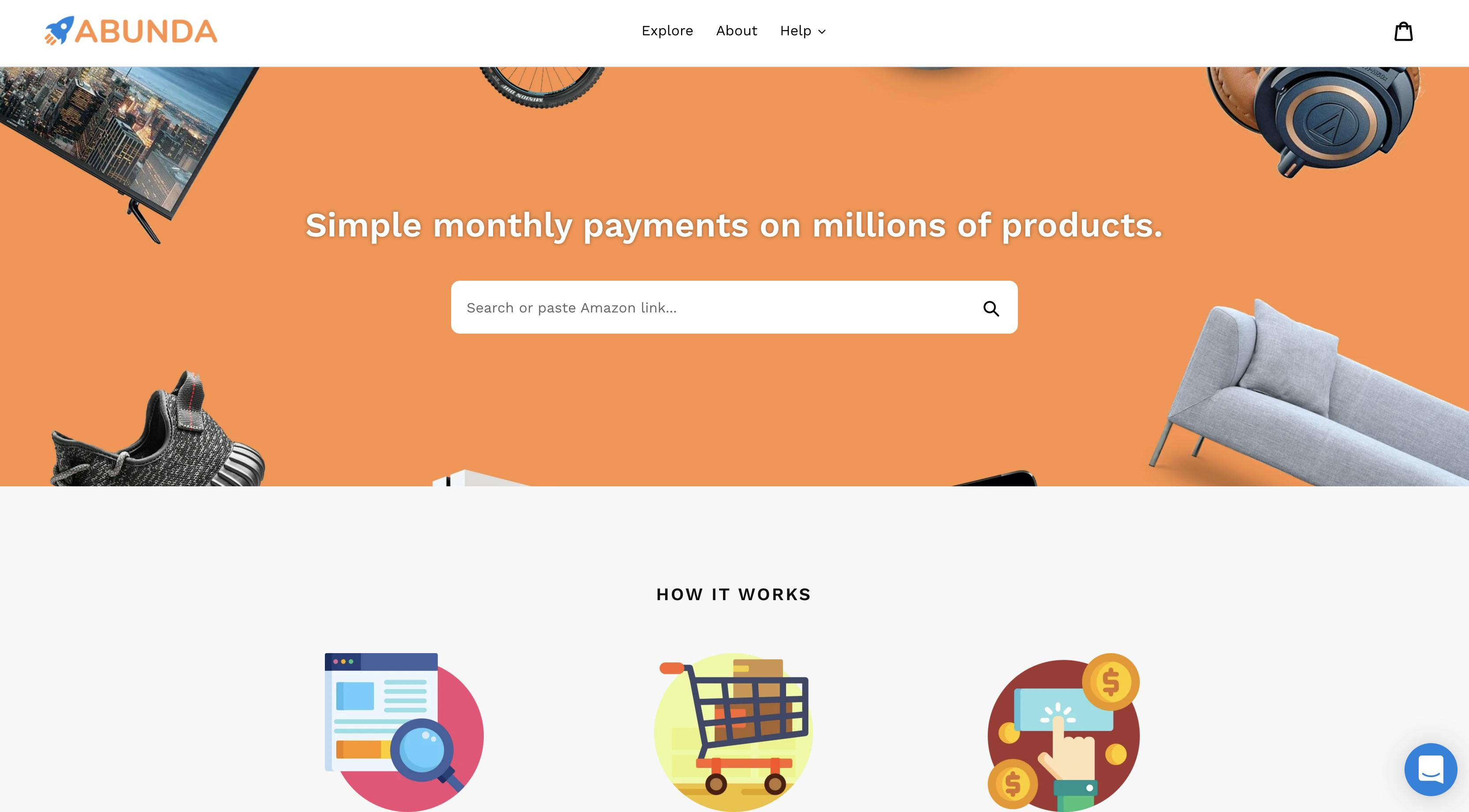 Using Abunda, shoppers can copy and paste a link from Amazon and complete their purchase using its buy now, pay later system. It connects with the user's account but instead of using Amazon's checkout, it uses Abunda's. This allows customers to choose pay later billing options instead of only Amazon's. 
3. Gap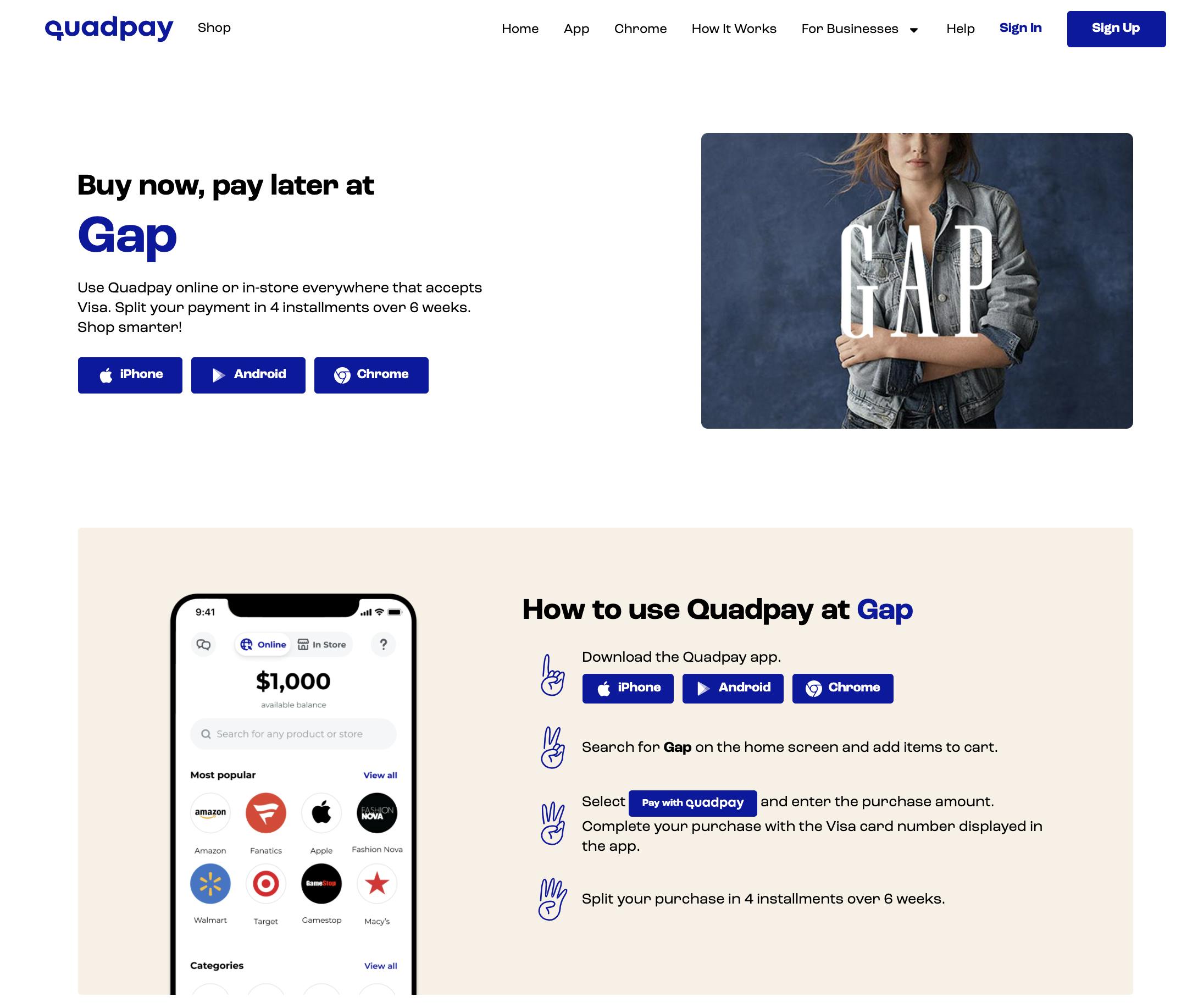 The Gap lets its customers split payments into 4 installments using Quadpay. This payment option can be used in-store or online and payments are made over six weeks. 
4. LuxeDH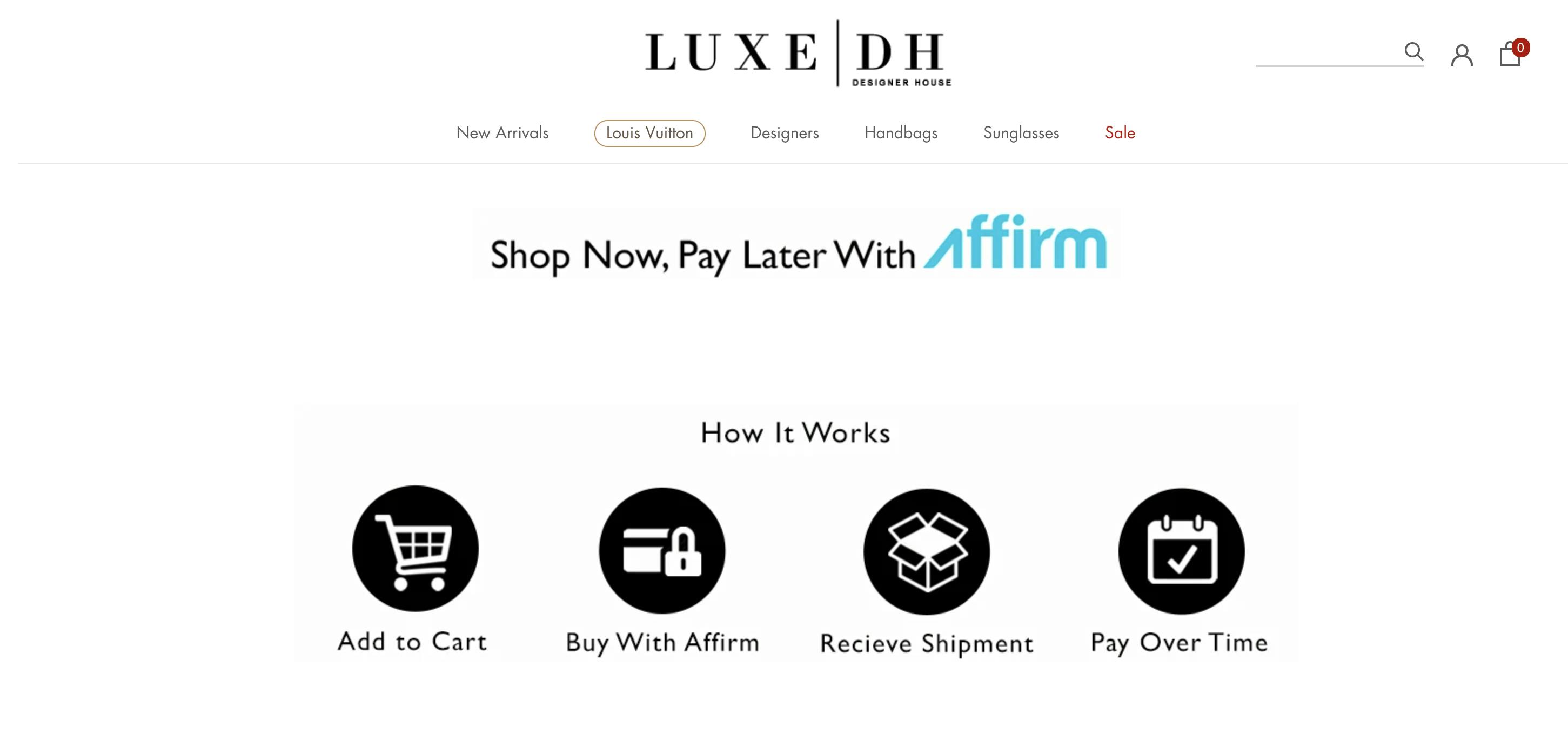 For customers purchasing higher ticket items such as luxury goods, you have companies like LuxeDH that make payment options available as well. Shoppers can use a debit or credit card as usual, but they can choose a shop now, pay later option to pay for expensive products over time. 
5. Hannun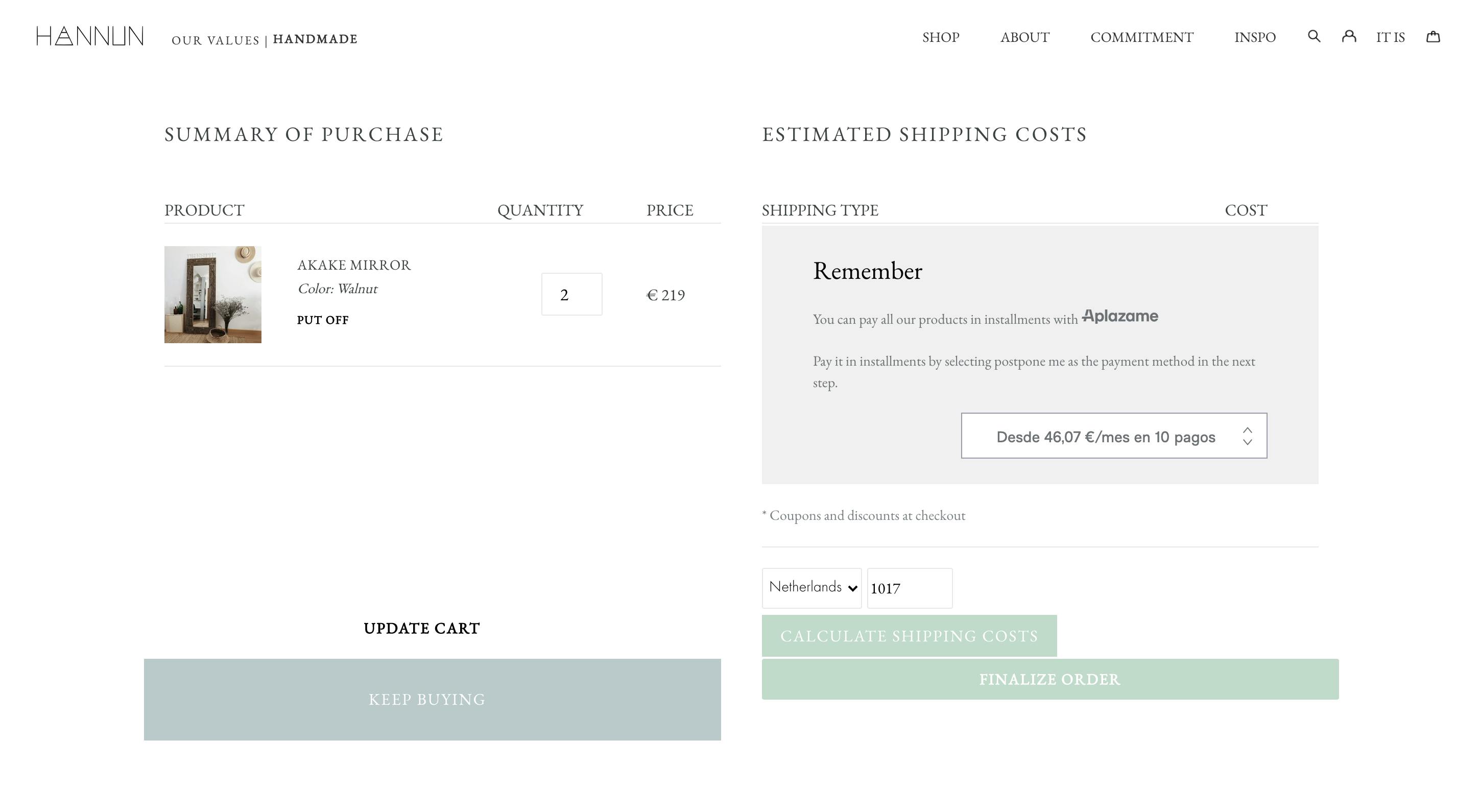 Hannun sells furniture that is handmade by local artisans. It's a perfect example of the type of products that consumers might be looking to buy in installments. By letting customers pay for higher ticket items over time (via Aplazame), Hannun provides a better customer experience.
6. Huawei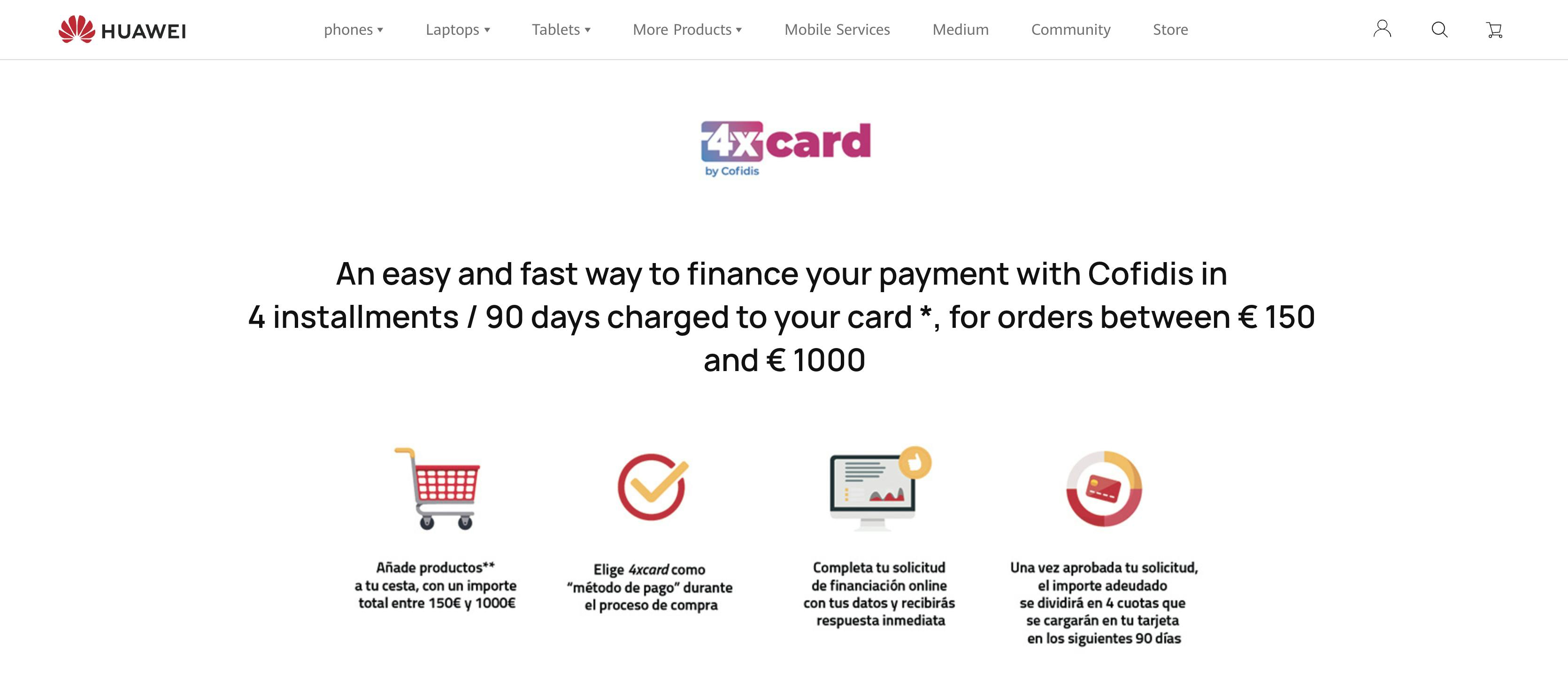 Huawei 4xcard is a financing solution powered by Cofidis. Customers who meet the requirements to use Huawei 4xcard can choose the products they want to buy, start the checkout process as usual, and then change the payment method to financing with 4xcard.
Then the user is redirected to the Cofidis website to enter their identification number and bank card details. In the last step, the customer confirms the order and makes their first installment payment.
Start accepting buy now, pay later options today 
Providing your customers with many payment options is essential to boost customer experience and it can help you convert more shoppers into paying (and loyal) customers. A smoother checkout experience is likely to lead to more sales, brand trust, and decreased cart abandonment rates. 
Use an e-commerce payment gateway like MONEI so you can accept and manage all major and alternative payment methods in a single platform.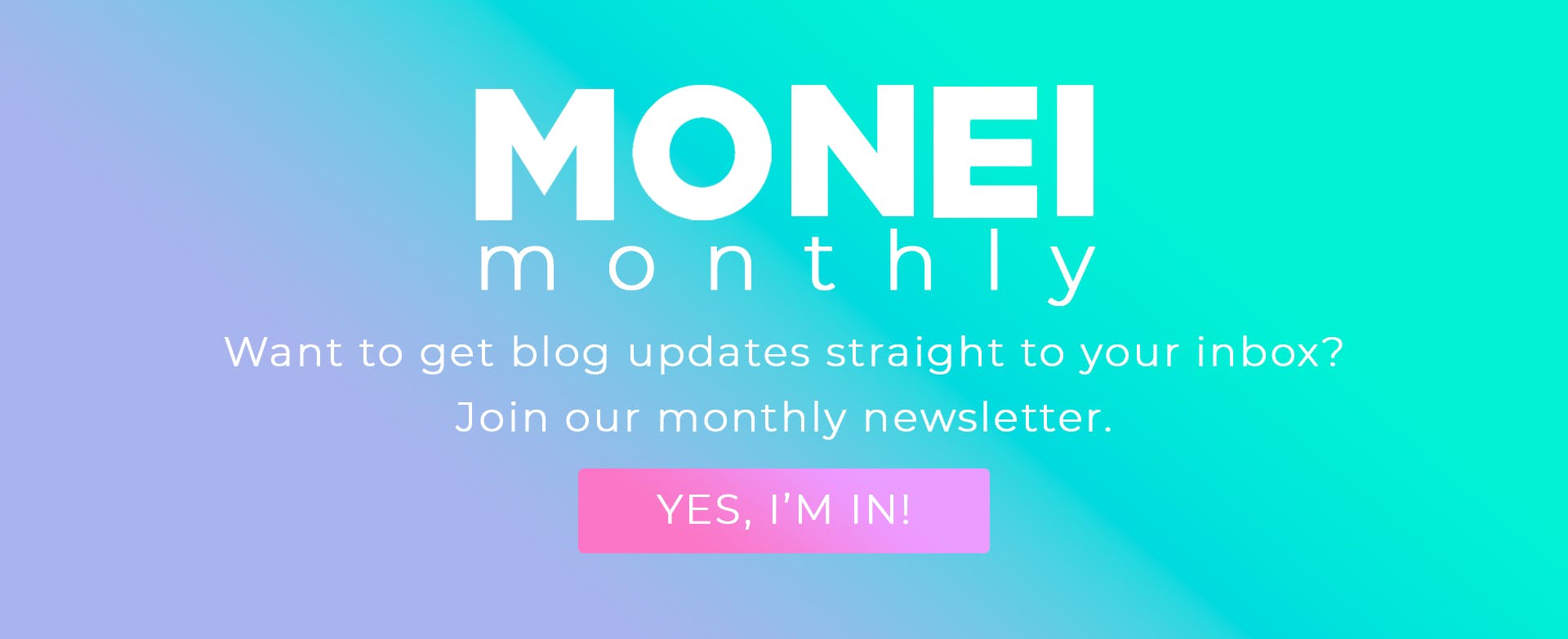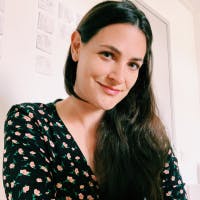 Alexis Damen
Alexis Damen is the Head of Content at MONEI. She loves breaking down complex topics about payments, e-commerce, and retail to help merchants succeed (with MONEI as their payments partner, of course).