E-Commerce Tips
Subscription E-commerce: All You Need to Know (+13 Examples)
Alexis Damen | March 18, 2022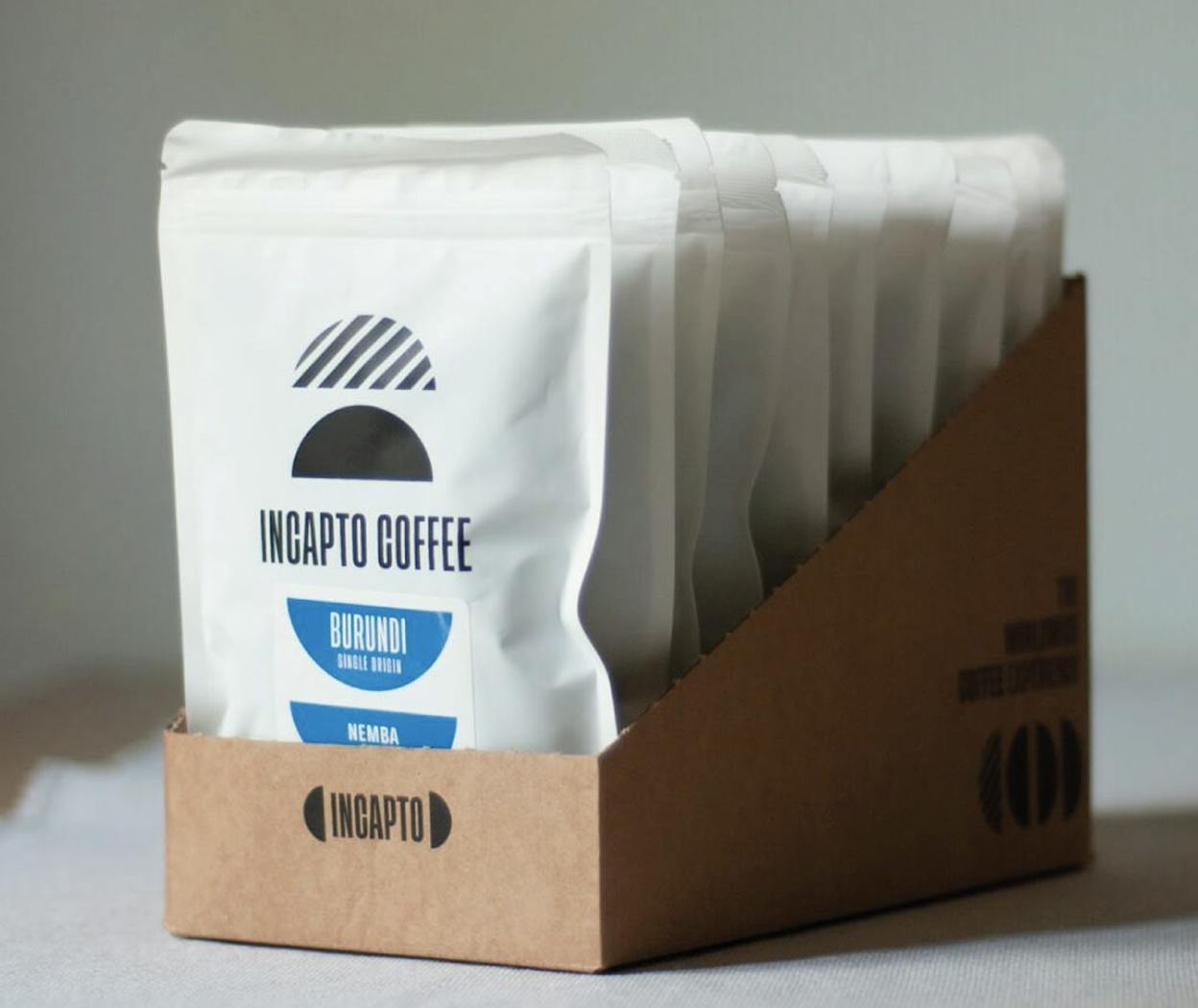 The subscription e-commerce market is growing exponentially. 
On a global scale, it's expected to reach $478 billion by 2025. And if you need more reasons to start your own subscription e-commerce services (or improve existing ones), then you should know that:
15% of the 2.14 billion online shoppers worldwide have signed up for at least one subscription e-commerce service in their lifetime
European, Middle Eastern, and African subscription businesses have grown by 25.6% over the last seven years, with North American subscription business trailing only slightly behind
The Subscription Economy Index has reported that subscription businesses grew their revenues approximately five times faster than Standard & Poor's 500 revenues (a stock market index that tracks 500 publicly-traded companies) 
Before you start a subscription business or work on strategies to grow an existing one, it's important to know the types of subscription e-commerce businesses that exist, the top tips for starting one, and our go-to examples of e-commerce subscription models done right.
Table of contents
What is the e-commerce subscription model?
With an e-commerce subscription business model, customers are charged a recurring fee, usually monthly or yearly, for access to a product or service — the objective is to build long-term customer relationships with billing that runs on autopilot.
The goal of this business model is to turn customers who already see the value of your product or service into loyal followers via subscriptions. This fostering of long-term loyalty works to increase repeat purchases. Since you have a 60%-70% chance of selling to an existing customer (versus only a 5%-20% chance of selling to a new one), repeat purchases work to both increase your brand's reputation and keep revenue consistent. 
Types of subscription e-commerce businesses
Now that you know what an e-commerce subscription model is, let's outline the many different types of models that are commonly used.
Subscription box
Firstly, there's the subscription box e-commerce model.
Subscription boxes are product-based and offer customers a way to regularly receive products related to their interests.
Subscription boxes commonly feature books, cuisines, cosmetics, toiletries, and other types of consumer goods. 
Curation
Curation e-commerce subscription models are a type of subscription box most commonly used for apparel and beauty products. This type of subscription e-commerce business offers a collection of products based on each customer's individual needs and tastes. Customers' preferences are usually collected via a quiz or a short form ahead of their first purchase.
This type of subscription model is associated with both high cost and high quality thanks to the level of personalization it offers. However, you should expect to pay a premium on marketing, branding, and packaging to attract and retain long-term customers.
Service
Service-based subscription models make it so your customers can subscribe to a service they regularly need.
Examples of services offered through this type of model include:
Email software
Website domains
Mobile phone services
Project planning apps
Online learning
Service subscriptions are associated with value-based pricing, which offers tiered subscriptions to customers so they can pay only for what they need, and have the flexibility to scale up or down as their needs fluctuate.
Access
Subscriptions are automatic recurring payments, and that extends to memberships, too. Access-based e-commerce subscription models do this by automating membership fees so customers can use your products on an ongoing basis.
Access subscriptions are popular with customers thanks to the long-term savings, convenience, and wide range of products they provide access to. The caveat of this subscription model is that your terms need to be reviewed and adjusted periodically to stay competitive with businesses in your niche. 
Replenishment
A replenishment e-commerce business model makes it easy for customers to purchase consumable products that they use on a consistent basis. These products are then delivered to them on autopilot at set intervals, typically for a discounted rate.
Items that customers want on replenishment generally include the following convenience items:
Vitamins
Groceries
Pet food
Toiletries 
A replenishment e-commerce subscription model has a high conversion and retention rate thanks to the level of convenience it offers. During the height of the COVID-19 pandemic, when customers were encouraged to shop for essentials online, replenishment subscription models became a straightforward and cost-effective reality.
Because of the significant discounts associated with replenishment subscription models this type needs to operate at scale to make a profit. 
Digital content
Digital content subscription services allow customers to access exclusive online resources, with loyalty rewards and discounts often used as incentives for initial sign-up.
Here are examples of companies that offer digital content subscription services: 
Benefits of starting a subscription e-commerce business
There are many benefits to starting a subscription e-commerce business, no matter what industry you're in or what niche you're targeting.
Offer a seamless customer experience
Rather than customers having to search for the products or services they need and then manually input their payment details for every purchase, subscription e-commerce businesses provide a seamless customer experience by automating the entire process.
This makes for a more convenient shopping experience and, in turn, boosts overall customer satisfaction.
Increase customer loyalty and retention
According to Accenture, 57% of consumers spend more on brands that they feel loyal to.
This means, through the convenience, security, and high level of personalization that subscription models provide, you'll increase customer loyalty and retention while simultaneously reaping the benefits of those loyal recurring consumers.
Lower customer acquisition costs (CAC)
On top of loyal customers spending more money on average, focusing on them can also help lower customer acquisition costs (CAC). This is the amount you spend to convert browsers into paying customers.
Subscription models can help you build long-term relationships with your customer base, which means you don't have to rely as much on acquiring new customers (reducing your CAC) and it generates more opportunities for referrals.
Easier to predict sales and revenue
Unlike the traditional e-commerce business model, subscription e-commerce businesses allow you to both calculate and forecast monthly revenue quickly and accurately.
This predictable revenue stream simplifies business decisions and provides a financial safety net in the case of potential supply chain disruptions.
Better cash flow
E-commerce subscriptions guarantee that you receive full payment upfront, which heightens your probability of positive cash flow.
This helps reduce the unpredictable cash flow that e-commerce businesses often encounter, and is a large reason why Spanish SMEs and businesses around the world are turning to e-commerce subscription services.
Simplify inventory management
Through e-commerce subscription services, you can count how many subscribers you have and exactly how much stock you need. 
Accuracy of this level ensures that you can anticipate upcoming demand and plan inventory well in advance, saving you time, money, and the hassle of last-minute inventory management.
Build relationships and trust with customers to grow sales
Thanks to the consistent flow of orders a subscription e-commerce model offers, you can get better insight into your customers' timing preferences, shopping habits, and payment types to optimize their subscription experience.
These long-term relationships have the added bonus of giving you more opportunities to engage with your customers across multiple channels, making it easier to foster trust and consequently up-sell and cross-sell products. 
Recurring sales = recurring revenue
With the convenience, flexibility, and financial security that e-commerce subscription services provide, it's no wonder why 70% of business leaders say subscription business models will be key to their prospects in the years ahead.
10 Top tips for starting a subscription e-commerce business
Let's dive into how you can start a successful subscription e-commerce business of your own.
1. Choose the right idea or niche market
To cut through an oversaturated market, choosing the right idea or niche market is non-negotiable.
For some, this can be one of your biggest challenges. Start by looking at what your competitors aren't offering (or aren't offering successfully), what products or services you already have in stock, and what industries you understand or have the most familiarity with.
2. Define your USP
A unique selling point (USP), also called a unique selling proposition, is what makes your product or service stand apart from your competitors.
USPs can be:
How advanced your product or service is
How new your product or service is
How simple your product or service is
How affordable your product or service is 
A USP should encompass your product or service's benefits, key selling points, and competitive advantage.
3. Create a business plan
Now that you've determined your niche market and USP, it's time to create your business plan.
Break down the process of business planning into simple action steps:
Craft your executive summary. An executive summary will outline your: 
Business concept 
Goals and vision for your business 
Product or service description
Target market
Initial marketing strategy
Current and projected financial state
Which team members and stakeholders will be involved with your business
Solidify your company description. Your company description should detail your business's structure, your business model, your business objectives, and your key team members.
Do a market analysis. Understanding your ideal customer profile, researching relevant industry trends, and doing a competitive analysis of the market are all crucial for identifying your USP, and drawing in your first customers.
Make a marketing and sales plan. Which channels will you be marketing on first? How will you price your products or services? Where will you sell your products? A marketing and sales plan will answer these questions so you can implement your marketing and sales tactics with purpose.
Finish with logistics and operations. Lastly, determine who your suppliers will be, what production will look like, how shipping and fulfillment will be handled, and where you will store your inventory.
As Joaquim Mach, e-commerce subscription expert and co-founder of Incapto, says, "My top tip is to think before starting your business proposal. Obviously, you can pivot your idea once you face the market, but if you build a strong initial value proposition related to your subscription it will be easy to acquire and retain subscribers."    
4. Start with an MVP to test the market
Receive feedback and improve on your initial product or service with a minimum viable product (MVP).
An MVP is a quick release of a new product or feature used to validate both customers' needs and demands prior to further developing the product or service. MVPs work to reduce development time and improve the product-market fit by leveraging customer feedback early on in the process.
5. Invest in branding and presentation
Branding and presentation are key when starting a subscription e-commerce business.
Online shoppers can't touch, feel, or physically see the product or service you offer, so branding and presentation become their first impression. Make it matter with branding that is in line with your offering, is appealing to the eye, and clearly conveys the advantages your products or services provide.
6. Create a lead generation strategy
A lead is someone who is already interested in your e-commerce subscription business and has provided their contact information (usually through a signup form). Giving you this information means they are officially part of your sales funnel.
To generate leads, create many opt-in opportunities, frequently test the audiences you're targeting, and make your initial offer irresistible.
Common ways of generating leads include:
Giving customers one free month of subscription
Gifting 10% off a customer's first box
Adding in a mini box of samples as a gift with purchase 
Offering free webinars
Providing industry-related reports that customers must sign up for to access
Plugging your newsletter at the end of your blogs or social media posts
Remember: provide value, establish brand authority, and give signup incentives.
7. Focus on customer retention
Once you've attracted your first leads and converted them into customers, it's time to focus on customer retention.
This can be done via loyalty programs, discounted pricing on long-term subscriptions or even freebies thrown in after a certain amount of renewals has been reached. 
"It's all about A/B testing and detecting customer pain points. We're maniacs about customers: we listen to more than 300 customers every day," says Joaquim Mach, Co-founder of Incapto. 
"So when we detect a reliable trend, we make changes. In just one year, we increased conversion rates by more than 50% by listening to our customers."
8. Choose the right subscription payment gateway 
When you're looking for a payment service provider (PSP) regardless of whether it's for subscriptions or to accept regular payments online or in-store, it's important to consider the following:
Does it let you accept a wide range of payment methods? 
Is it user-friendly and secure? 
What are the transaction fees and/or platform usage fees? 
Does it offer price breaks as you scale your business? 
Is the integration process quick and easy? 
All of the above will make your life easier and your business more profitable. That's why we make it so you can manage your entire payment stack (including subscriptions) from a single platform. And with dynamic pricing, as you sell more, your transactions fees decrease in real-time.  
"What we love about MONEI is the flexibility and predisposition to always find the best payment solutions for merchants," says Mach. 
"We've seen success with splitting payments for coffee machine financing (in addition to coffee subscriptions). MONEI has helped us become a pioneer in "bundling" hardware and consumables, which will be one of the biggest trends in e-commerce. Being able to accept subscription payments via Bizum is also a benefit of integrating our store with MONEI's payment services." 
Picking the right payment gateway is one of the most important e-commerce subscription model best practices.
9. Select the right subscription platform
A subscription e-commerce platform gives you the opportunity to sell your products or services online, and incorporate payment gateways that handle billing and customer invoices.
Choosing the right one makes your weekly, monthly, or annual invoices from customers automatic and collected on time, every time.
10. Define KPIs to measure success
You've completed these action steps, but how do you know if your subscription model launch is successful?
Here are KPIs (key performance indicators) you can use to measure success:
Annual/Monthly Recurring Revenue (ARR/MRR). The total recurring revenue that you make on a monthly or annual basis. 
Average Revenue Per User (ARPU). The average monetary amount you collect from customers per month.
Customer Acquisition Cost (CAC). The amount of money you spend to acquire a new customer. For example, if you spend €500 on a marketing campaign that brings you 20 new customers, your CAC is €25. 
Customer Lifetime Value (CLC). This is the total amount a customer spends throughout their lifetime as a subscriber.
Churn Rate. The rate at which customers cancel their subscription per month or year.
Subscription e-commerce platforms to consider
A subscription e-commerce platform comes with features to help you run your business usually including: 
Collecting weekly, monthly, or annual fees from customers automatically
Creating subscriptions
Allowing subscribers to pause, cancel, and renew their subscriptions
A good subscription e-commerce platform will have an intuitive interface, manageable fees for your business, and the key features you need to keep your subscriptions running smoothly. 
Here are a few platforms to consider:
Shopify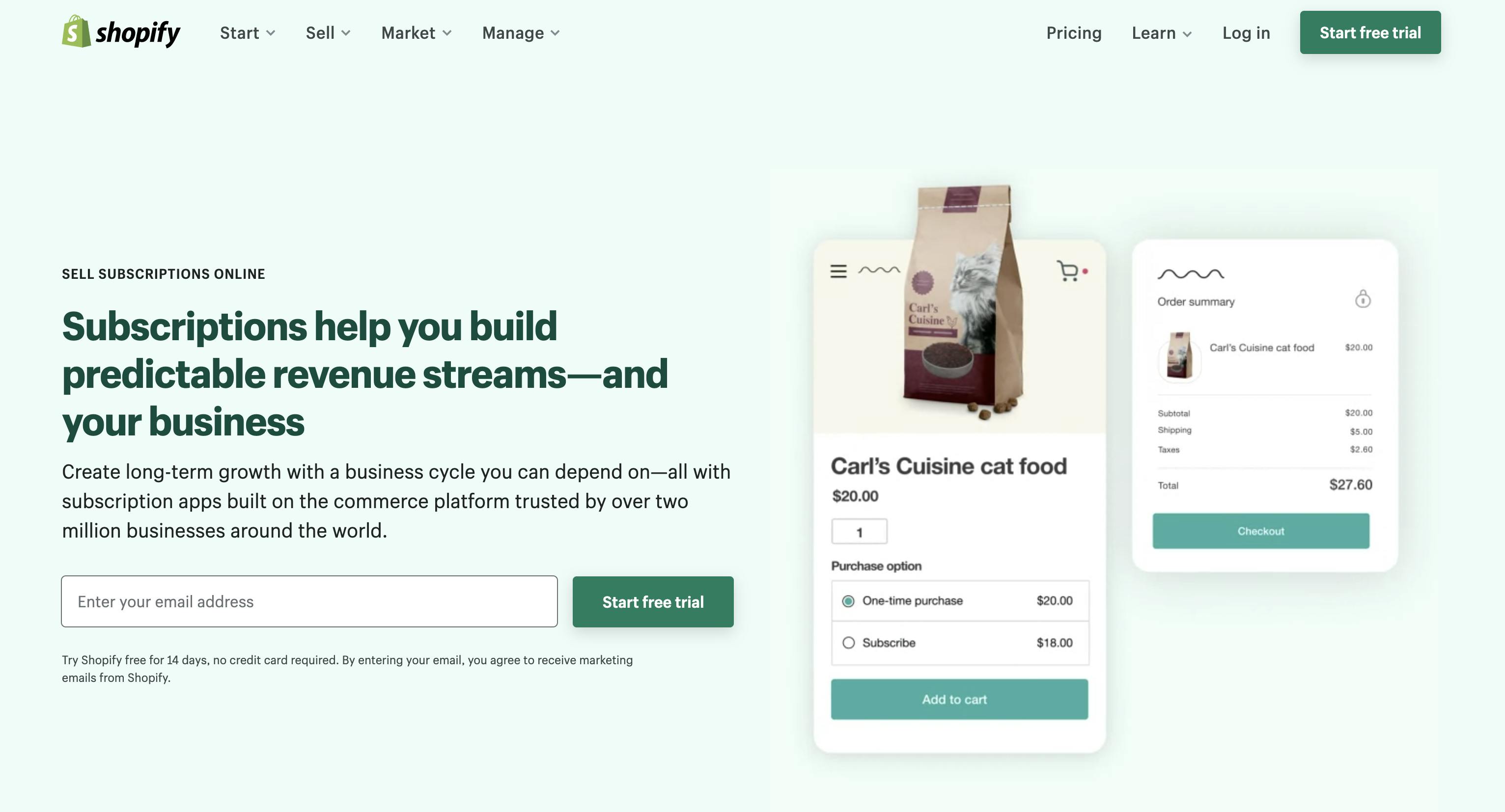 Shopify offers multiple solutions on their app store that let you turn your products into subscriptions.
These apps are available whether you use the Basic, Standard, or Advanced Shopify plan. Two popular apps are Subscriptions by ReCharge and Bold Subscriptions.
Adobe Commerce (Magento)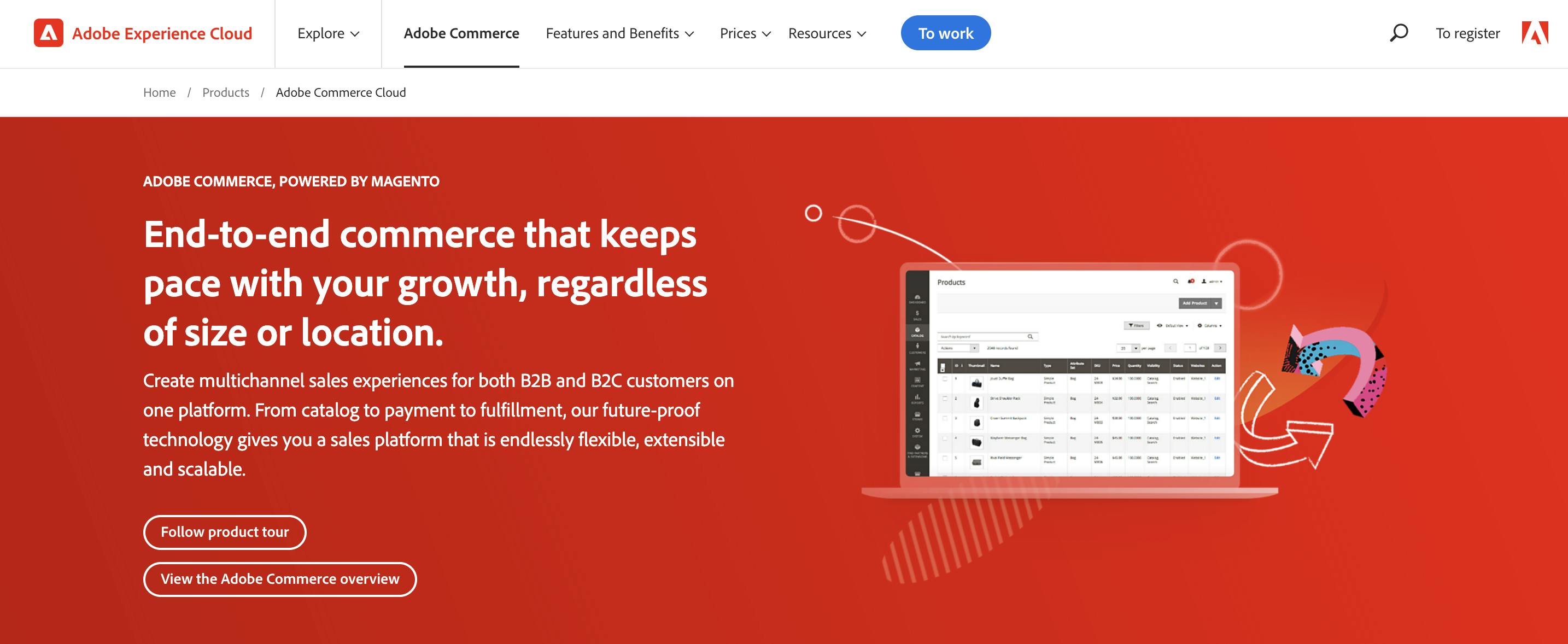 Adobe Commerce (formerly known as Magento) offers e-commerce subscription extensions that you can add to your Magento store to easily manage customer subscriptions, your inventory, and more.
You can download Magento's Subscriptions and Recurring Payments extension if Magento is your platform of choice.
WooCommerce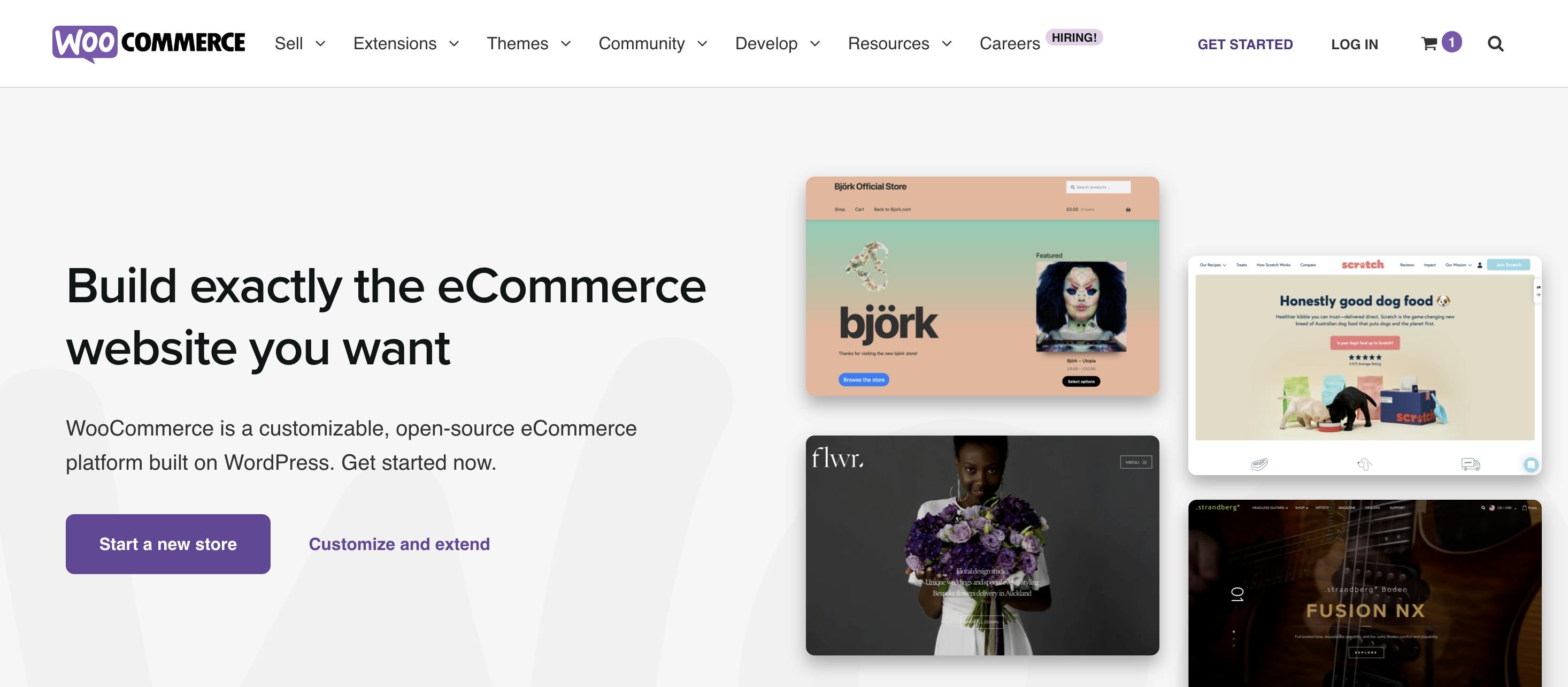 With WordPress powering 39.5% of the total number of websites on the Internet, it's understandable why its extension, WooCommerce Subscriptions, is one of the most popular platforms for e-commerce businesses.
If you have a WordPress website, you can add WooCommerce Subscriptions to your website by configuring the MONEI WooCommerce Plugin and buying the WooCommerce Subscriptions extension. 
Wix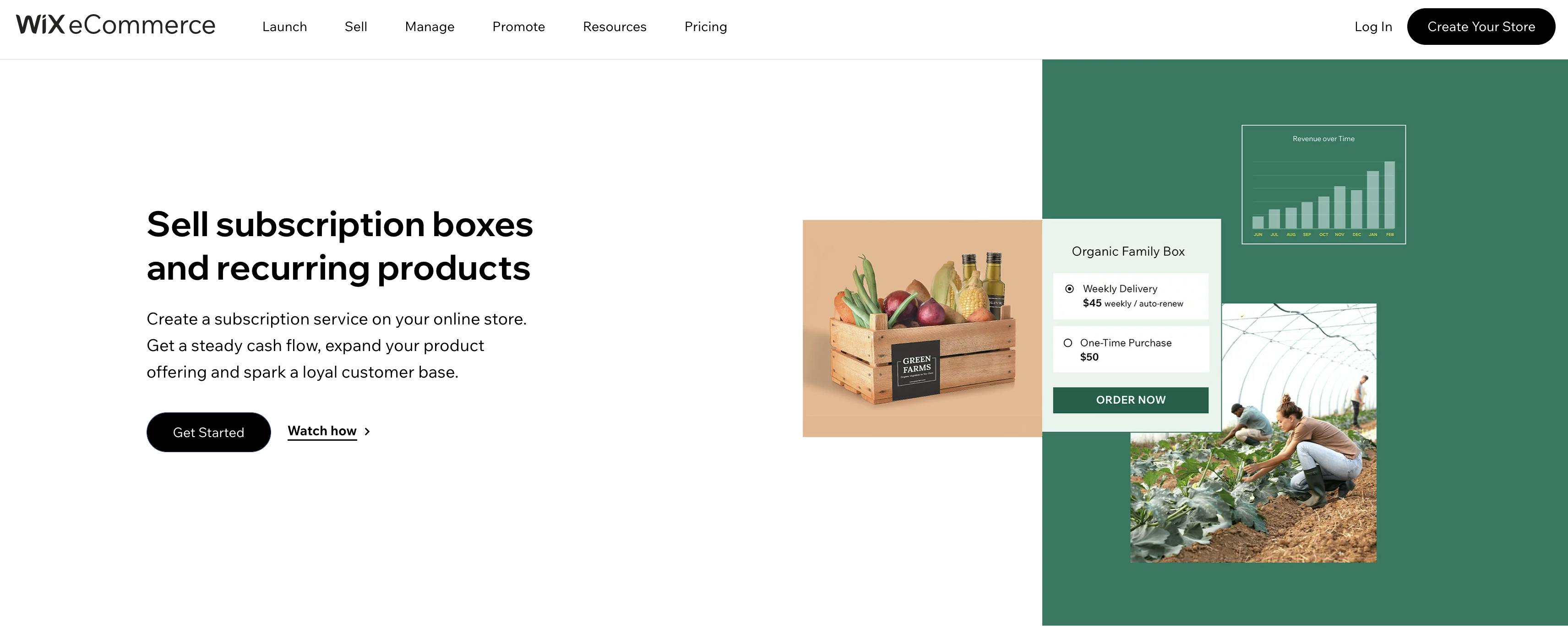 Create and manage both your business's online store and subscriptions with Wix, a platform that offers built-in subscription product and services management with no extra fees.
Wix only supports subscriptions for physical products, so if you sell digital products or services, this is not the right platform.
PrestaShop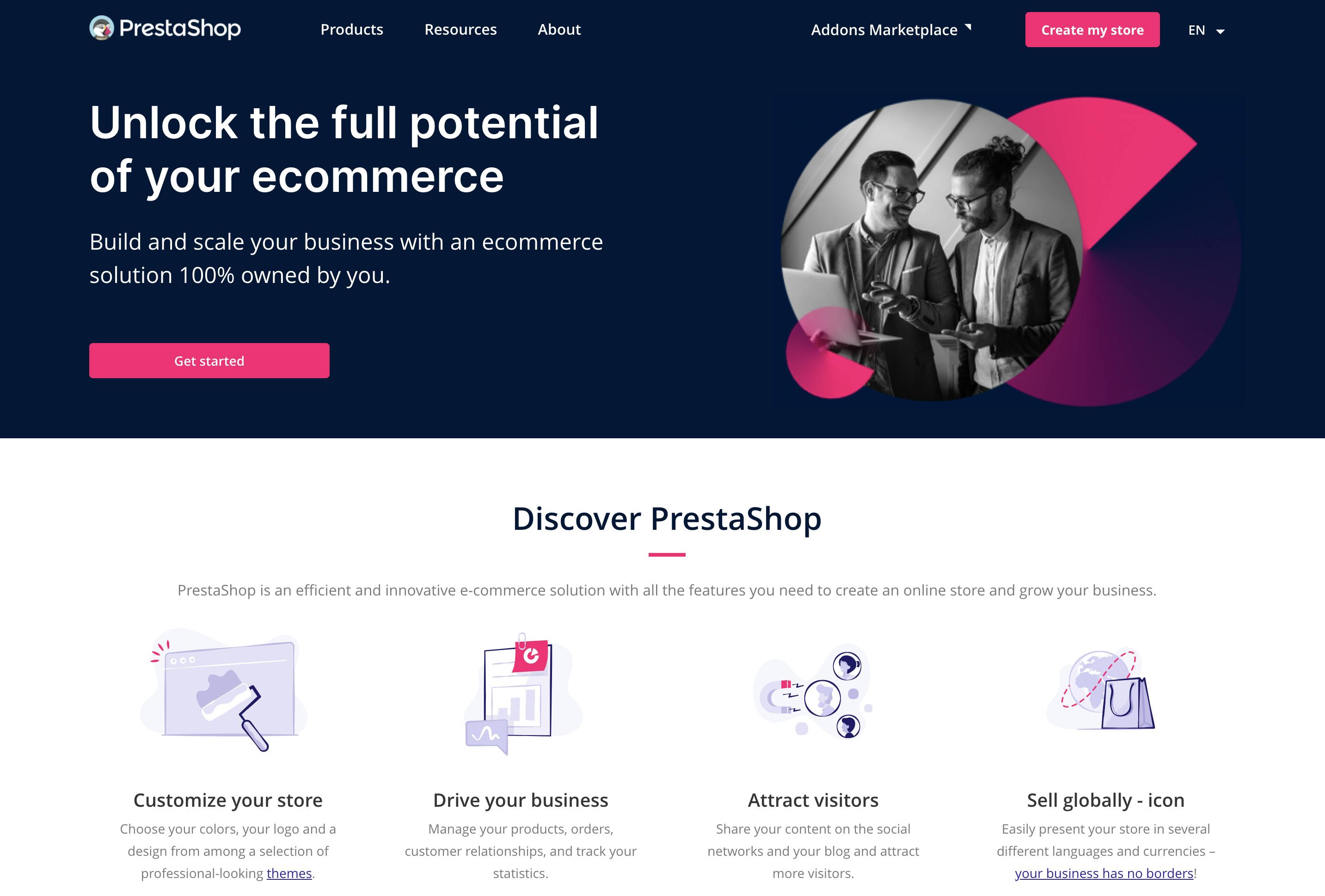 PrestaShop is an all-in-one e-commerce solution with an intuitive interface making it easier to build and customize your online shop.
This option is also beginner-friendly, as it provides the opportunity for you to connect with one of its experts for hands-on help throughout the set-up process.
Recurly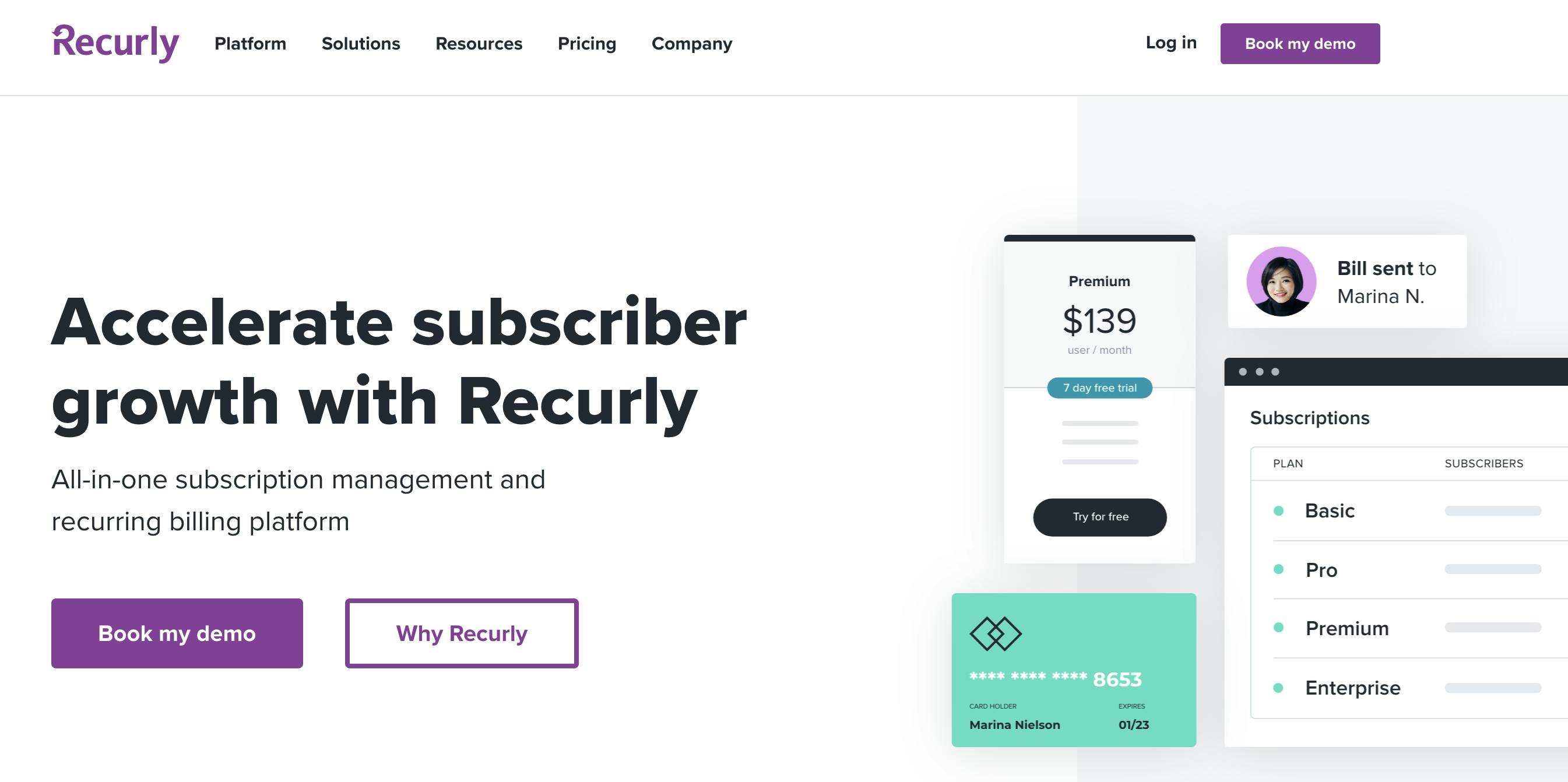 Recurly's premium plan is based on commission, meaning you pay 0.9% of your revenue.
Its subscription management program automates recurring billing, payments, and analytics so you don't have to.
If you want to add more users, more payment gateways, or more customization for your store, you will need to talk one-on-one with its sales team to determine if its Professional or Elite plan is right for your business needs.
Subbly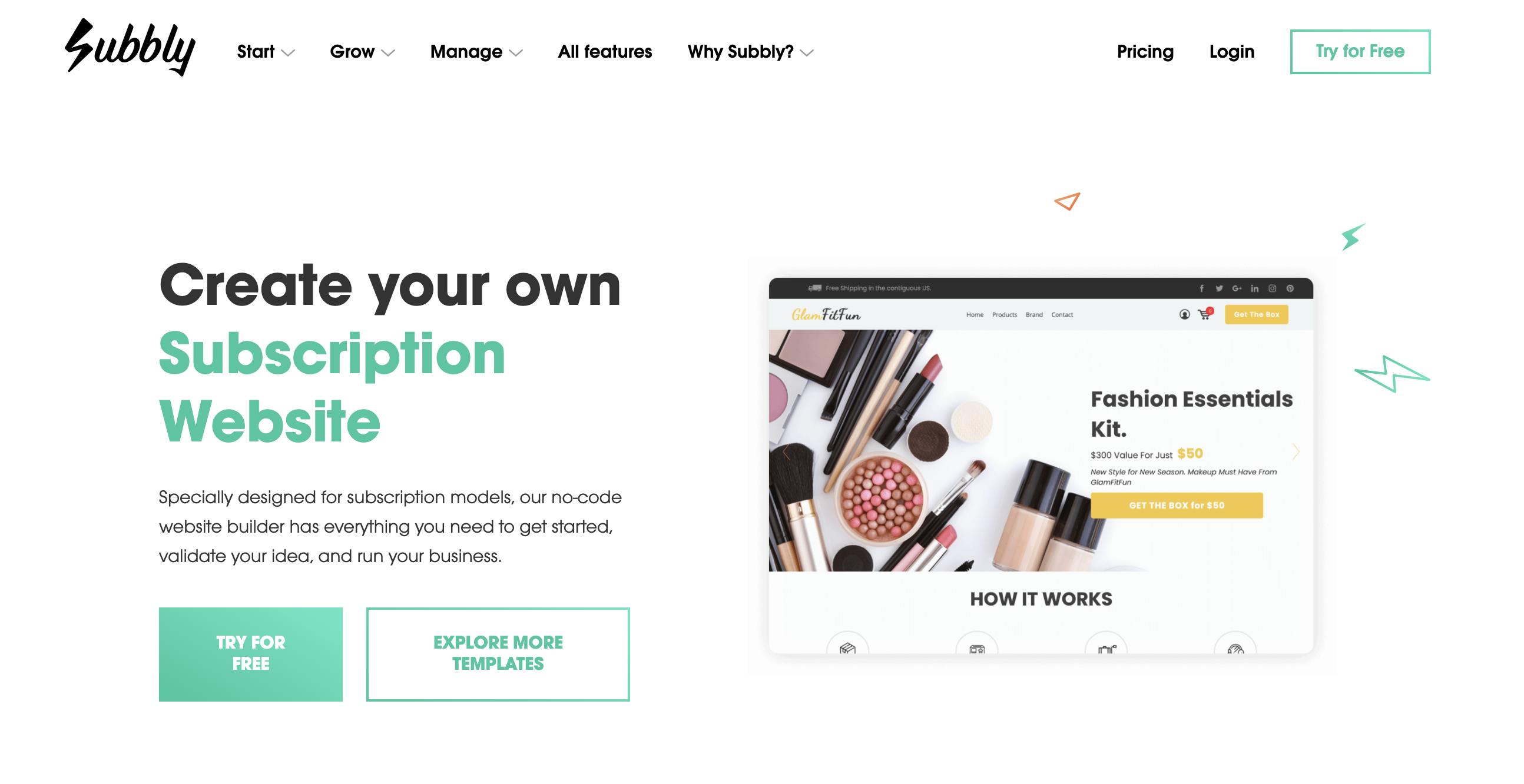 Unlike the other platforms on this list, Subbly is solely a subscription e-commerce platform.
You can easily integrate Subbly into any existing online store. It charges a 1% transaction fee and an associated monthly licensing charge.
Sellfy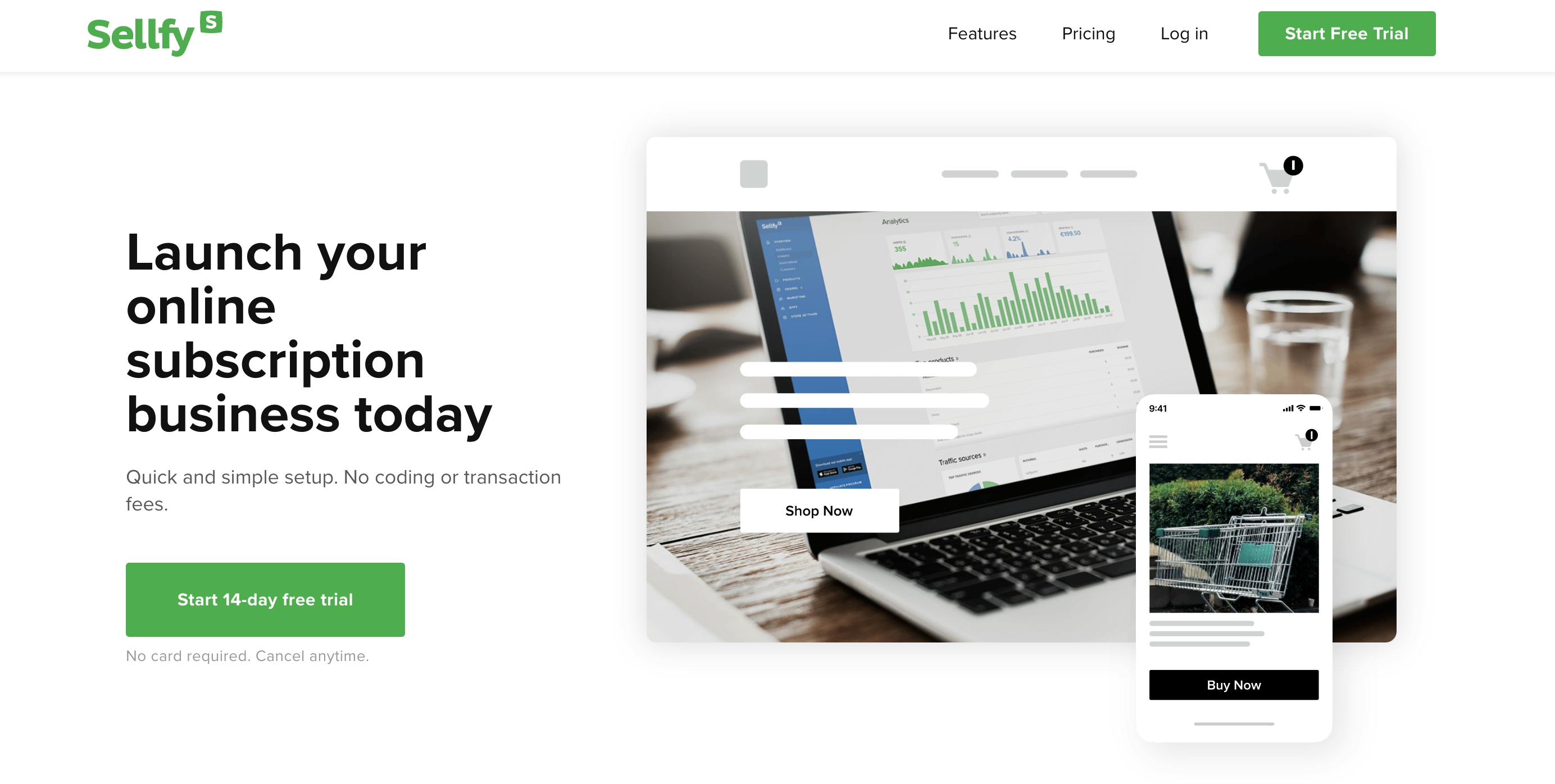 Sellfy is an e-commerce platform dedicated to helping you sell digital products, although it does have options for physical goods as well.
Sellfy's tiered pricing options and built-in features make it a promising option if you want to get your subscription business up and running immediately.
Core DNA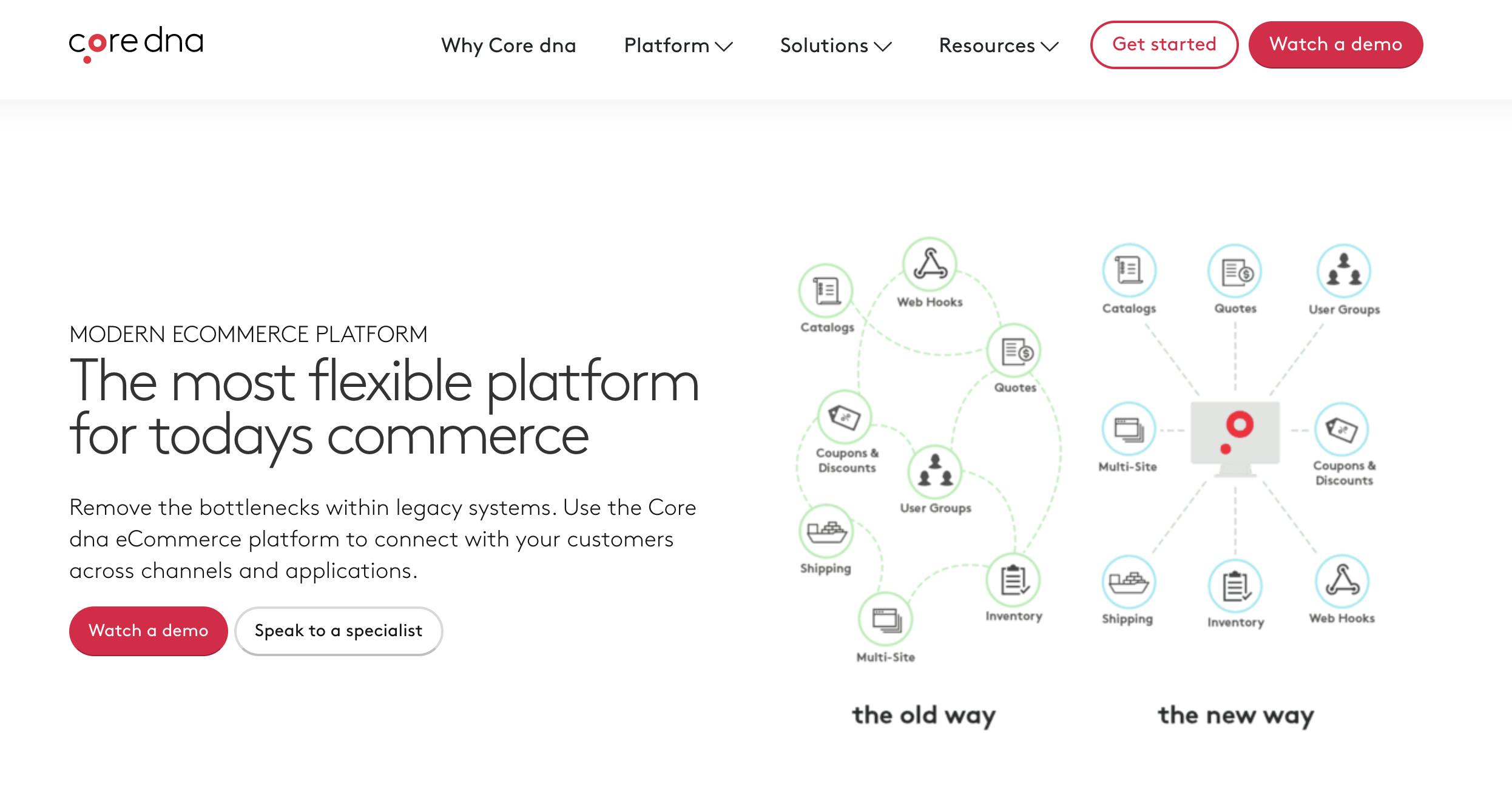 Core DNA uses an API-first architecture to provide a secure portal for your promotions, payment gateways, audience segments, and more.
It guarantees no custom codes or plugins, making it accessible for those who are unfamiliar with this type of technology.
Like all options on this list, Core DNA offers the following:
Payment gateway options
Inventory management
Subscription automation
Shipping and delivery tools
Discount and cart rules
Catalogues
SEO and performance options
13 Real-life subscription e-commerce examples
Here are our favorite real-life subscription e-commerce examples for you to take inspiration from as you launch or grow your own.
1. Incapto
Incapto is a coffee-centric curation e-commerce subscription model that delivers specialty coffee to its customers around the world.
"Our main business proposal is to offer our customers the most flexible coffee subscription on the market. Customers can change the coffee origin, quantities of the coffee, the delivery dates, and even the delivery frequencies," says Mach. 
2. BodyBox
BodyBox is an example of the curation subscription model. With the tagline, "Your beauty and makeup surprise box", BodyBox's highly polished and feminine branding makes a strong case for how investing in presentation can help launch your subscription business quickly.
Customers can pay a fee of €16.00 monthly (or the equivalent quarterly, biannually, or annually) for a rotating box of beauty and cosmetic products shipped right to their doorstep.
3. BirchBox
As a subscriber of BirchBox, you can enjoy a box of six beauty products that rotate on a monthly basis.
This revolving array of products means that subscribers of BirchBox are continuously promised a fresh, exciting experience that entices them to keep paying.
BirchBox commonly uses a monthly gift with purchase offer to entice new customers to sign up.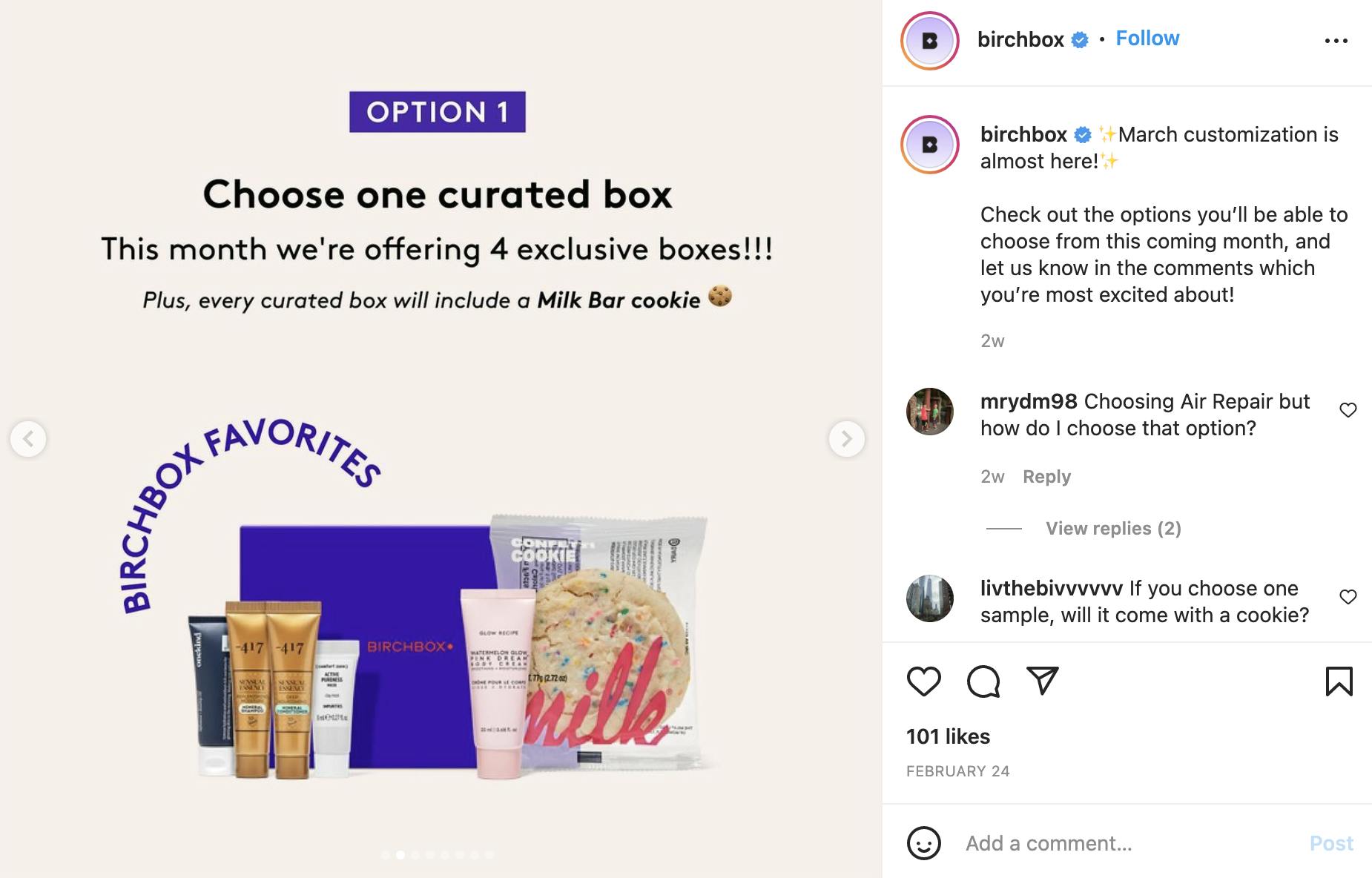 4. PastasBox
People aren't the only ones who can enjoy subscription boxes: PastasBox is a dog-oriented e-commerce subscription business that provides five-to-six pet products for your canine companion to enjoy on a monthly basis.
With its ongoing 20% discount, PastasBox's draw is that its subscription service delivers food, toys, dog hygiene products, and other goods more quickly and conveniently than going to pick them up from a physical location.
5. Wine Is Social
Wine Is Social curates a selection of fine wines for wine connoisseurs and those new to wine alike.
With its high level of offered personalization, tiered pricing system, and automated wine pairings to ensure the best experience possible, Wine Is Social is a case study on how quality sells itself to potential customers.
6. BirraBox
BirraBox is a beer-based subscription box e-commerce model that offers its customers a convenient and exciting way to discover new beers.
Every month, it offers a selection of three different beers from around the world that are shipped to customers' doors promptly on the 15th of each month.
7. Degusta Box
Customers of Degusta Box can shop online and hand-pick up to 15 products per month, or sign up for a surprise monthly "mystery box" instead.
The variety of food products its subscribers receive monthly entices customers to keep returning and selecting fresh items to try. Its model encourages revisitation and experimenting with customers' shopping habits.
8. Teretum
Teretum focuses solely on teas curated from all around the globe.
As an example of successful niching, Teretum exclusively offers a variety of teas and tea-related accessories in its monthly subscription boxes. Products can be added to customers' carts separately or all at once, making its payment plans flexible. 
9. OuiPlease
Nicknamed "the original French box", this subscription box service sells the following French items:
Accessories
Apparel
Jewelry 
Epicure
Beauty
Its boxes rotate on a monthly basis to ensure fresh customer experiences and offer high-end items that would otherwise be difficult to find in-store, like limited-time footwear or perfumes.
10. Lookiero 
Highly personalized, Lookiero bases its subscription box off of a questionnaire customers fill out. Each month, five "hand-picked" garments — chosen based on questions like their height, personal style, insecurities, and weight — are mailed to its subscribers.
Lookiero requires customers to set up a profile before purchases can be completed, which makes customers invest in the brand right off the bat.
11. Disfruta and Verda
Disfruta and Verda is a vegetables-only subscription box that makes shopping for fresh, healthy produce easy.
It offers over five different basket options at tiered prices, with individual produce products being available for selection as long as they meet the minimum order fee.
12. Tienda
Tienda is a curated selection of Spanish foods that offers free shipping on its subscriptions.
In order to provide flexibility, Tienda customers can subscribe for up to three months without renewal. From there, you can continue in either one-month intervals or subscribe for another three full months. This prevents accidental charges when customers decide not to renew their subscriptions.
13. My French Country Home
My French Country Home is a luxury French subscription e-commerce business that's available as either a quarterly subscription, a yearly subscription, or a one-off purchase.
It provides customers with six-to-eight unique French items in the categories of decor, beauty, food, and fragrance.
With its lowest-price package being $285, branding plays a vital role in My French Country Home establishing itself online as being worth the relatively high price tag.
Is the subscription e-commerce model right for your business? 
Subscription e-commerce models are a way to diversify your revenue, better connect with both existing and potential customers, and streamline your team's internal billing and analytics-gathering processes. This makes it a great business model for many markets, but before you get started, make sure it's right for your business, and create an action plan.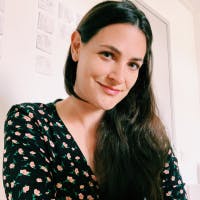 Alexis Damen
Alexis Damen is the Head of Content at MONEI. She loves breaking down complex topics about payments, e-commerce, and retail to help merchants succeed (with MONEI as their payments partner, of course).