Retail Tips
Omnichannel Commerce: Benefits, Tips, and Real-Life Examples of Brands Succeeding
Alexis Damen | October 25, 2022
Omni literally means all or every. Combine omni with channel and you have businesses that operate on every channel (online and off), wherever customers are, but there's a lot more to omnichannel commerce than meets the eye. 
The flexibility to browse online and purchase in-store — and vice versa — is something over 50% of consumers look for. If you're not setting up your business for omnichannel success, you could lose up to 30% of sales, according to Fit Small Business' 2022 omnichannel statistics.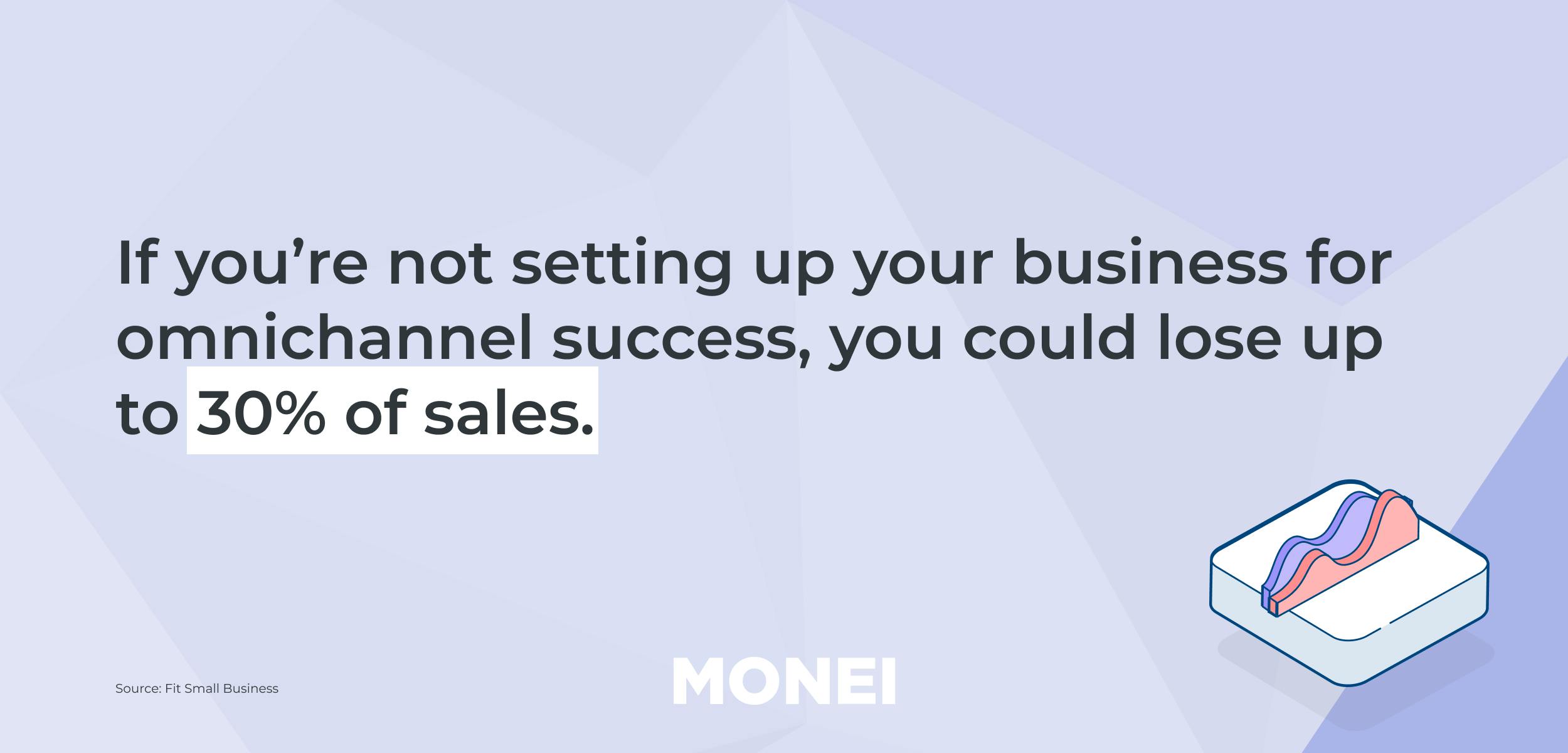 You know offering more shopping channels (and connecting them) is important, but running a small business comes with its challenges. That's why we're breaking down all things omnichannel for you. 
In this article, you'll discover exactly what omnichannel commerce means, how it works, why it's important, and what makes it different from multichannel commerce. 
Learn about examples of omnichannel commerce in action, tips on creating an omnichannel commerce strategy for your brand, and compare its pros and cons. 
Table of contents 
What is omnichannel commerce?
Omnichannel commerce is a way of selling and communicating seamlessly with customers, wherever they are. Whether you're marketing, selling, or providing customer service, customers can get in touch both physically and digitally, and trust that their information is shared securely across every platform.
Omnichannel commerce is sometimes referred to as omnichannel e-commerce or omnichannel retail. Although similar, omnichannel e-commerce is specifically about online activities and omnichannel retail focuses more on physical retail. Omnichannel commerce works as an umbrella term, covering all bases. 
How does omnichannel commerce work?
True omnichannel commerce works by connecting every sales channel so customers always have a unified shopping experience. And this includes making sure your business is set up to accept payments across all channels. 
💡Pro Tip: Boost sales with a better payment experience. Use MONEI's omnichannel payments platform to accept card payments, alternative options, and local payment methods online, in-store, or on the go. Manage it all from a single platform. Get started ›› 
For example, a customer can discover your products in an online marketplace such as Etsy, before browsing your website to find out more about your brand story and collections. 
They could go to your physical store to try a product on, check out social media for reviews, sign up for regular email newsletters, and ask for support on live chat — while seamlessly going from one touchpoint to the next. By connecting every interaction, you can gather information, while sticking to privacy laws such as GDPR.
Why is omnichannel commerce important?
According to Shopify, 54% of consumers say they're likely to look at a product online and buy it in-store. Fifty-three percent say they'd look at a product in-store and buy it online. Fifty-eight percent say flexible blended shopping options like BOPIS (buy online, pick up in-store) are important to them. 
These are great examples of why it's so important to be where your customers are and it highlights the need to be connected. Having an online and physical presence isn't enough. You need to have an e-commerce website that works with your in-store locations to make everything feel like one integrated shopping experience. 
Many digital brands are moving into physical retail to reach customers and vice versa. Shopify's Future of Commerce 2022 report says that 49% of retailers will spend more on their company-owned online store as well as social selling. 
Omnichannel vs multichannel: what's the difference?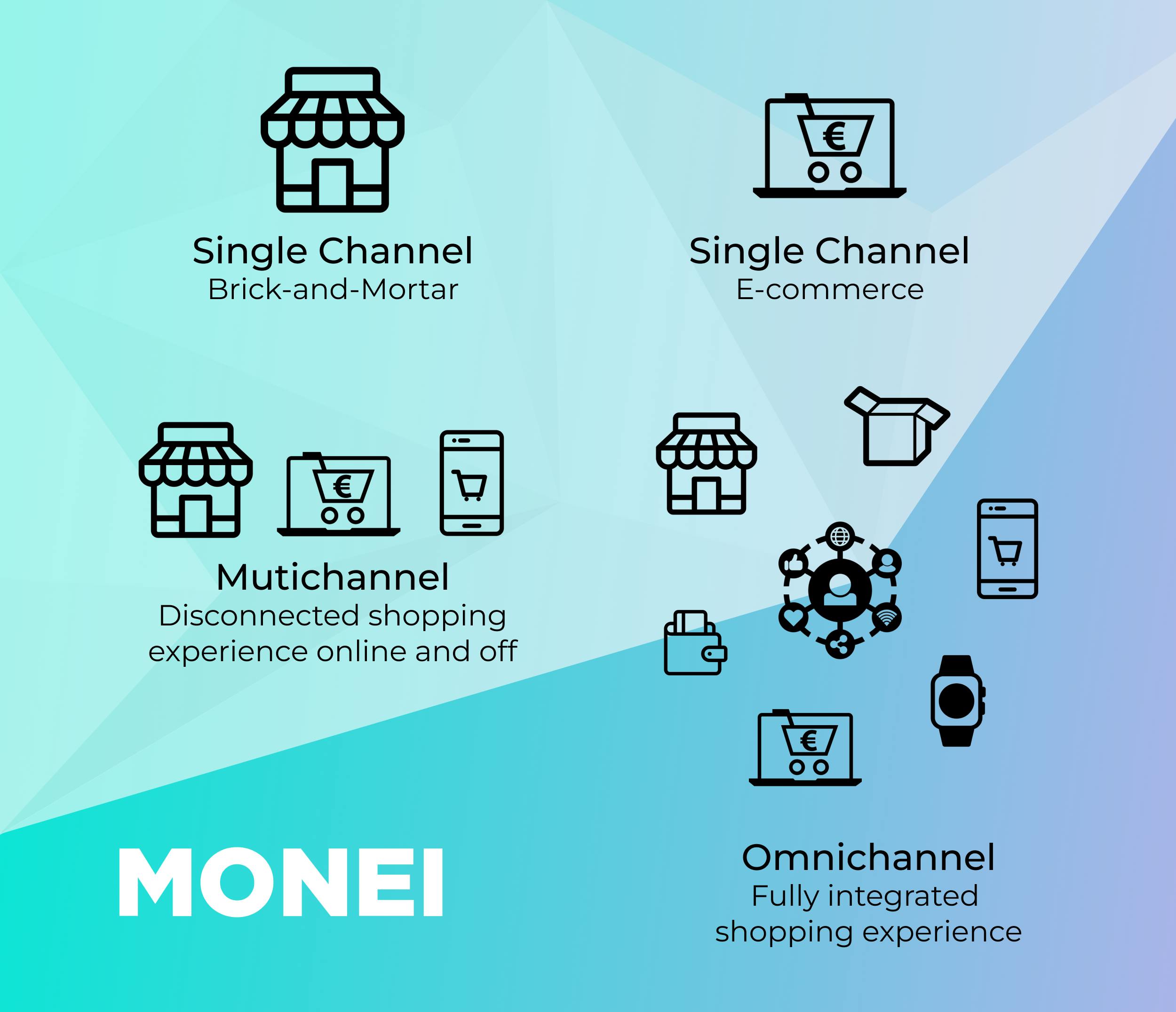 So many terms, what do they all mean? Let's start with single channel commerce as it's the easiest. Single channel means you sell in one place, either physically or online and your customers come to you. 
Multichannel is very similar to omnichannel as you sell in as many different places as possible. Customers can interact with your business via your website, an online marketplace, social media, and across multiple brick-and-mortar stores. The difference is that with multichannel commerce, nothing is connected. For example, you can't buy something online to pick it up in-store. 
Your brand is represented in each location but your customer doesn't have the seamless experience they would have with unified omnichannel commerce.
Benefits of omnichannel commerce
There are many benefits to omnichannel commerce so let's dive straight in:
Improving customer experience
As technology improves, it's becoming less common for businesses to use a single channel approach. Customers expect to find a business online and lots of customers still want to shop and discover new products in-store. 
This means that the number of customer touchpoints are increasing and many businesses are already communicating across a number of channels. As you've already seen, customers want connected online and physical experiences so for a better customer experience, multi-channel doesn't cut it anymore. Omnichannel commerce is the future. 
Boosting customer loyalty
According to Think Impact, existing customers spend an average of 67% more than new customers. Omnichannel sales help with personalization, which can potentially increase revenue and retention by 10-15% according to McKinsey's Retail Speaks report.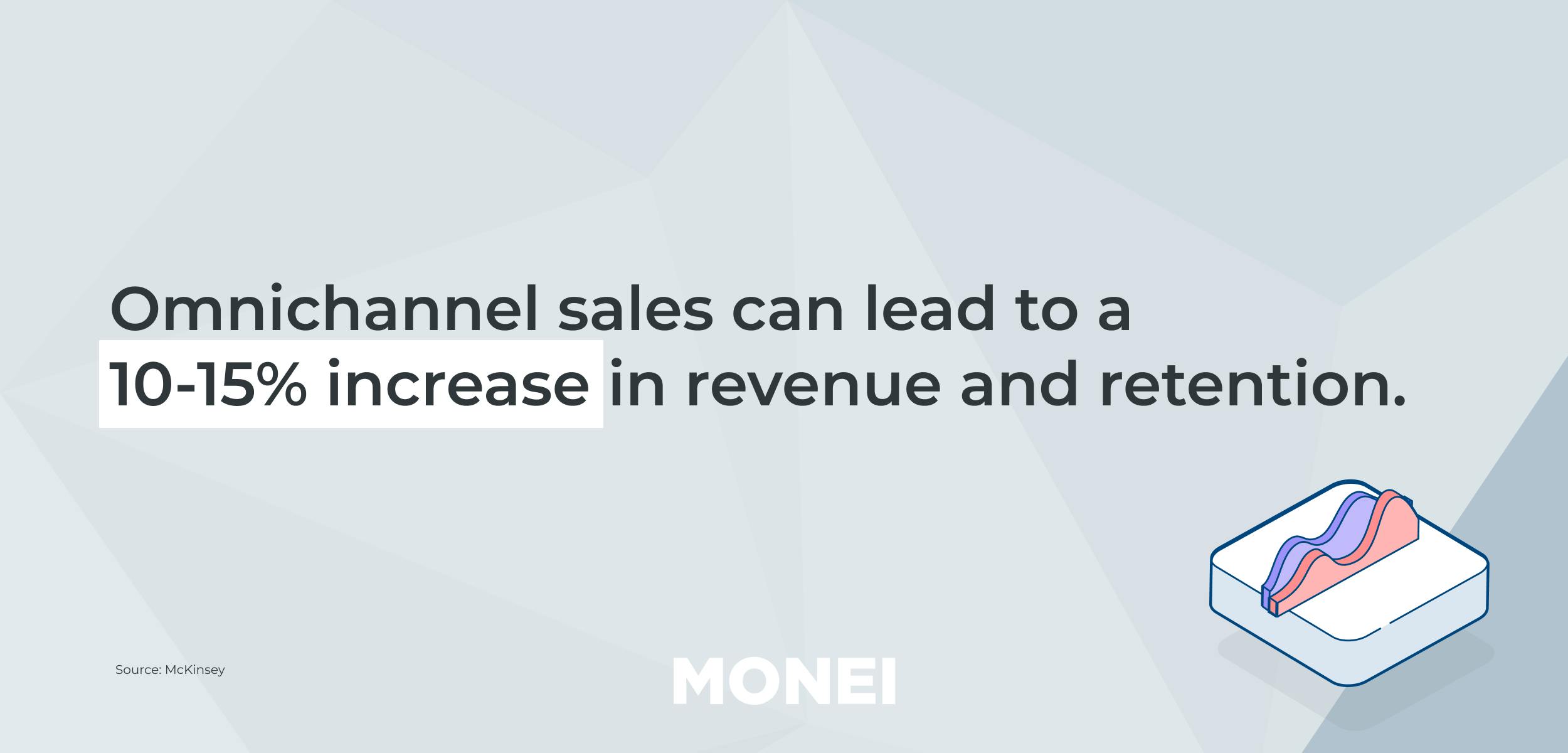 The same report also says customers are 5-10% more satisfied and engaged when their shopping experience is personalized across every interaction. A satisfied customer is a loyal customer and this leads to more profitable customers. 
Increasing traffic and sales
Would you like to attract more customers and sales? You won't go wrong with omnichannel personalization according to the Accenture Trust in Hyper Relevance report. It says 58% of customers would switch the majority of their spending to businesses that personalize experiences without compromising trust. 
Another report by the Harvard Business Review backs this up. It states that the more channels a customer uses, the more they spend. In fact, customers who use four or more channels spent an average of 9% more. 
Streamlining customer data collection
The better you know your customers, the better you can target your messages. As you've already learned, customers prefer a personalized experience as long as you're keeping their data safe and adhering to data protection policies such as GDPR. 
That's why streamlining data is so important. With every interaction, in a physical store and online, you can find out more about the person you're selling to so social media posts, newsletters, online chats, and more can be tailored to fit your customer's exact needs. 
Connecting the dots between online and offline channels
Clarity and consistency are two of the most important aspects of a well-defined brand. Connecting the dots between your online and offline channels helps with both of these important pillars. It allows for cohesive messaging and a single view of sales history.
Centralizing data makes it easier to manage your admin and sales. For example, you'll have a clearer view of company-wide information about inventory. This allows store staff to check stock online if their individual store has run out.
Accepting payments wherever your customers are
Payment methods are becoming more varied and customers want as many options as possible. They want to pay using their preferred method online and in a physical store. In fact, according to Baymard, not having enough payment methods is one of the reasons why shoppers abandon their carts. Trust is another reason, 18% of shoppers don't complete their purchase because they don't trust the site with their credit card information.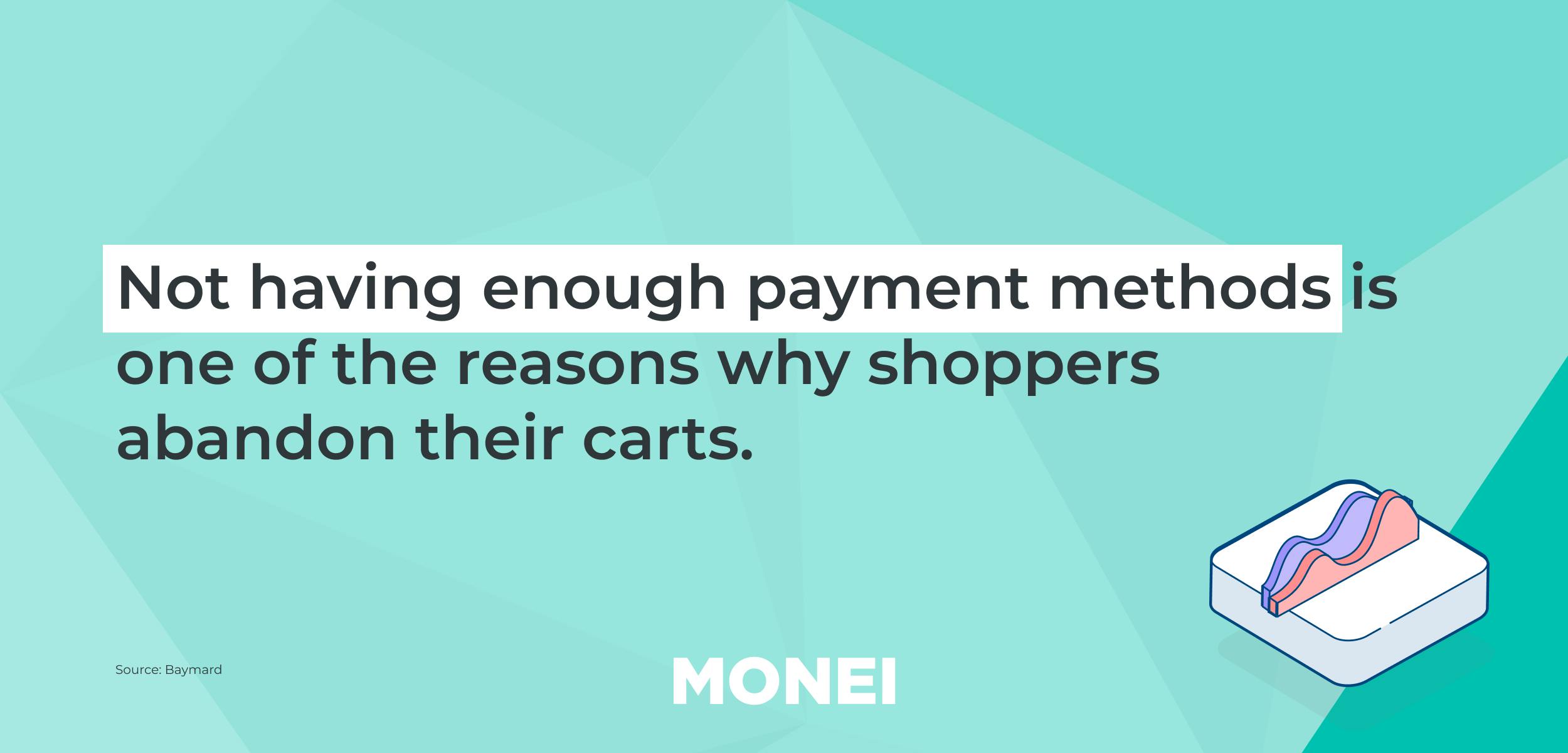 With the right omnichannel payments solution, your customers will always feel like they have a safe and convenient way to pay. 
💡Pro Tip: Use MONEI to diversify your omnichannel payment stack from a single platform. Accepting card payments is essential. But it shouldn't be the only payment method available on your checkout page or in-store. Adding alternative and local payment methods is crucial, especially if you have (or want to have) international customers. 📌Get started ›› 
Potential challenges of omnichannel commerce
Although omnichannel commerce has lots of benefits, there are a few challenges to be aware of. Let's explore them:
Synchronizing stock
You need a robust inventory management system to make sure your stock is synchronized properly. Without it, you risk upsetting customers by showing products available for purchase when they're actually out of stock. A centralized system can help with this, but you may also want to take items offline when they're close to being sold out in your physical stores. This stops online purchases from eating into your physical stock.
Getting the right infrastructure in place
Don't run before you can walk. Omnichannel commerce is brilliant when it works well but without the right infrastructure, it can make life harder. You need a powerful central system and good payment solutions in place to make sure you're taking advantage of the benefits omnichannel has to offer. 
Data protection
Data is becoming more and more prevalent and a strong omnichannel commerce strategy is great for personalization. But as you already know, making sure you adhere to all of the rules of data protection is crucial. Rules around collecting data, processing it, and keeping it vary from country to country so make sure you understand the laws and customs, wherever you sell.
3 examples of omnichannel commerce in action
Let's take a look at a few real-life omnichannel commerce examples: 
Scalpers
Click through to Scalpers' website and you'll see simplicity in action. A choice between MAN and WOMAN. It's attractive but what happens next? Click through to the MAN section and you'll instantly be offered the opportunity to subscribe to the Scalpers newsletter. If you do, you get a 10% discount on your next online purchase. Tempting, right?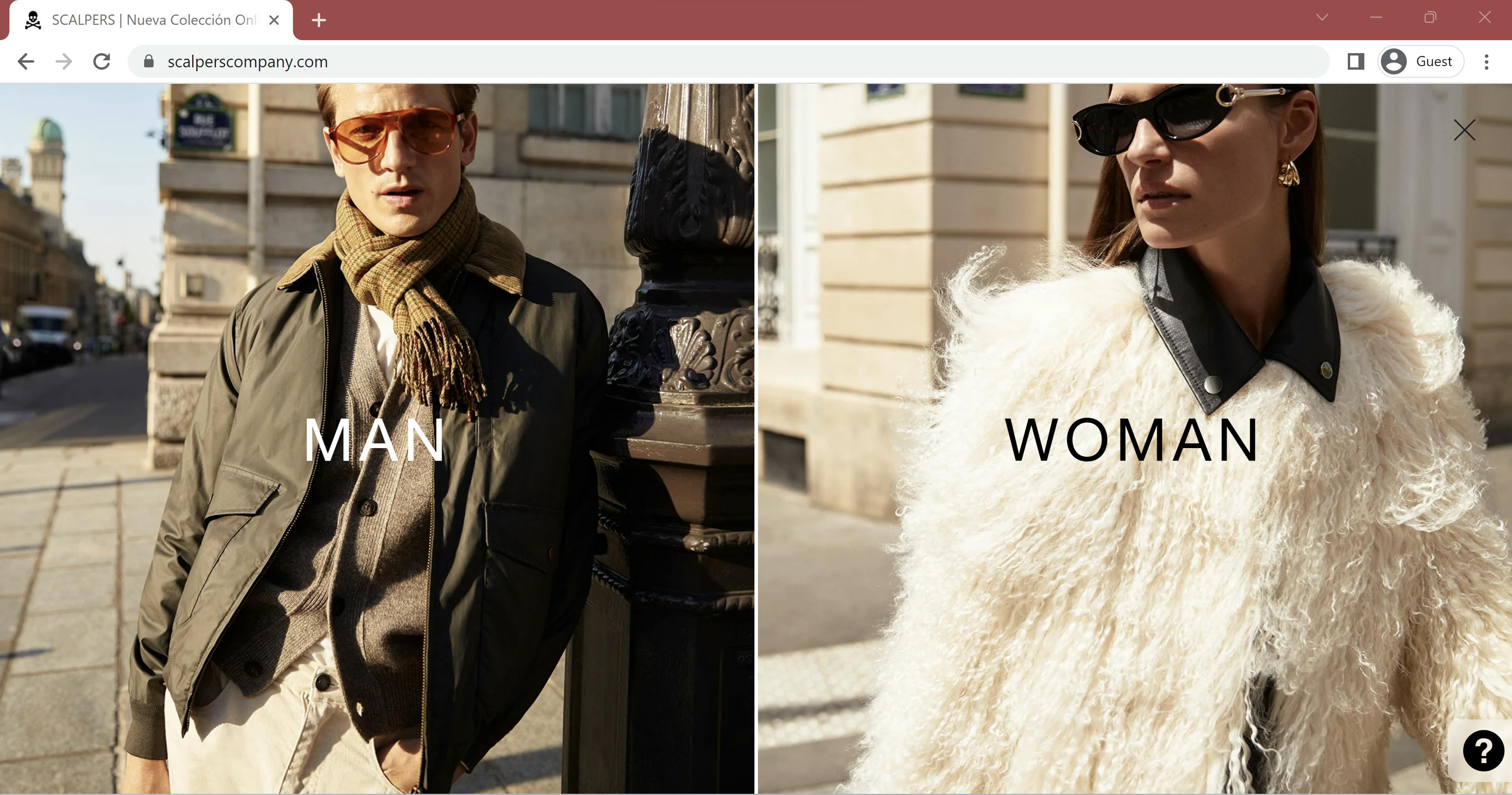 Unsure about it or want to find out about something else? Take advantage of the online chat to ask questions. As you're shopping, you'll notice a wide selection of products and if you go to the bottom of the page, you can easily click through to all of the brand's social media profiles. Right next to that, you'll notice nine payment methods, all powered by MONEI.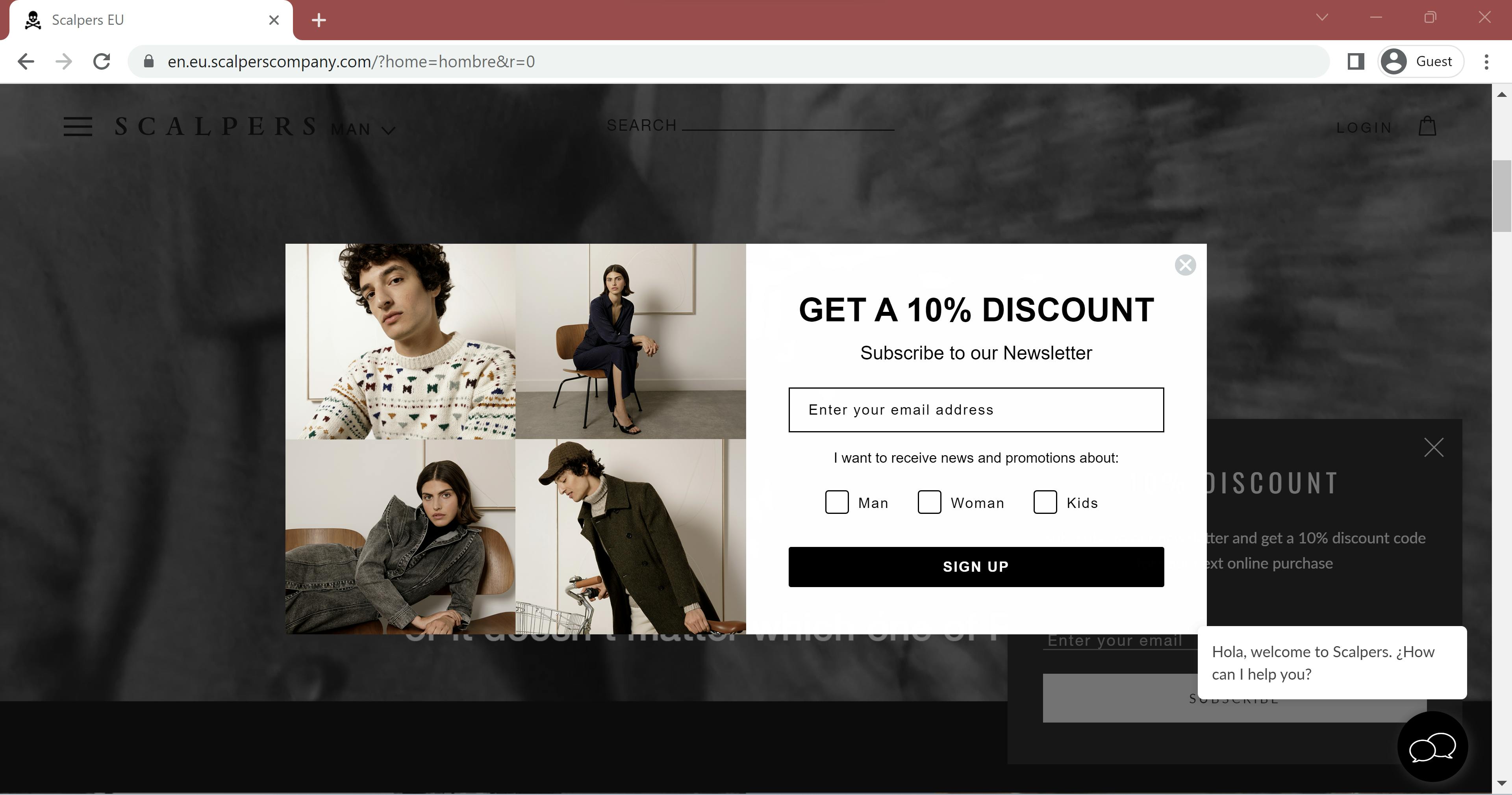 There's free shipping on orders of more than €70 and a possibility to log in. You might want to go into a physical store to see and try some clothes on in person. The list of stores with opening times and contact information is listed for every country. Of course, creating an account will make the experience both online and offline more cohesive. 
Coolligan
Are you a fan of the beautiful game? Soccer (football) transcends generations and Coolligan understands its power. The jerseys our most loved players wear and have worn connect us to the game in a tangible way. A classic jersey reminds us why we love the game today and why our ancestors have loved it since the first ball was kicked. 
Now that you're hooked, take a look at the immersive Coolligan website. They're not offering complications. You're drawn in by a selection of jerseys connected to great national teams, great clubs, glory days, and more.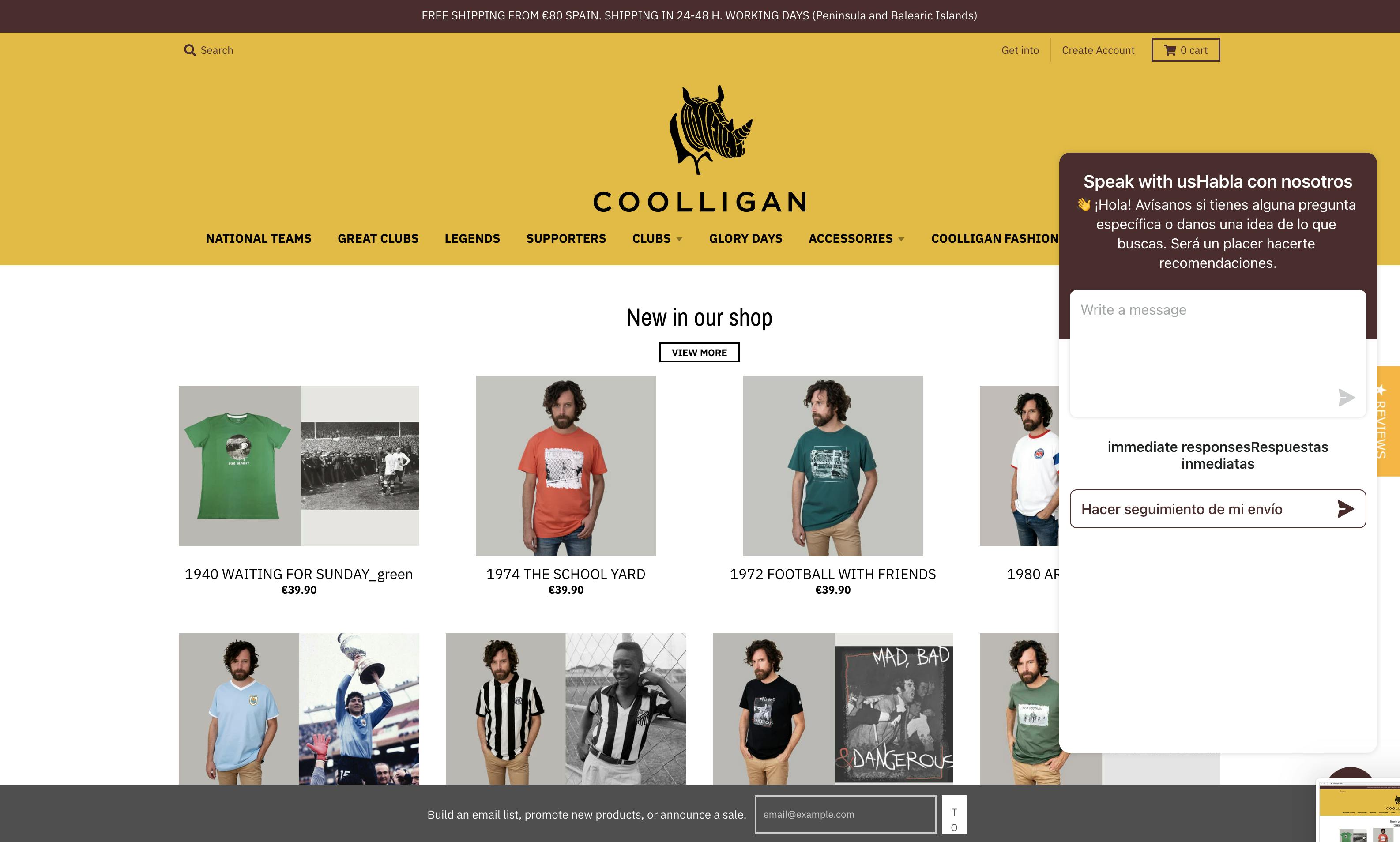 It's easy to make your way to their social media via the links at the top of the page. There's a chat feature waiting to support you on every section of the site and you can quickly create an account. 
There are reviews on every product and you can pick up your items directly from one of their many stores for free. They ask for an email to confirm payment and offer multiple payment options using MONEI. 
Oasis
Walk into an Oasis store in the UK and you'll be approached by store staff with an iPad. They're ready to give you accurate, up-to-date product information. You can also pay for your items where you stand as the iPad is also a cash register. 
Don't worry if something's out of stock, they can instantly place an order online and have it shipped to your home, making for a fully immersive omnichannel experience. 
Top tips for creating an omnichannel commerce strategy for your brand
Here are a few high-level tips to help you get started with omnichannel commerce:
Know who you're speaking to
Your customers will have behaviors that connect them and differentiate them. Get to know them better. Who they are, what they do, where they shop, and how they like to shop are good starting points. 
Remember every interaction is a sales opportunity
Every time your customer connects with your brand in any way is a chance to sell. It doesn't need to be a hard sale or a direct offer but you can point them toward a product you think they might like from previous search history or ask them to sign up for a newsletter.
Make online and offline feel the same
It's crucial to have clear and consistent messaging so your customers gain and keep their trust in you and everything you do.
💡Looking for a more in-depth overview of how to create your omnichannel strategy? Consult our Simple Guide to Omnichannel Retail Strategy. 
Be available
Customers always have questions. Try to answer them with FAQs and in an automated fashion where you can, but also make sure a human is available when they need you. Equipping store staff with tablets and 24/7 online chats can help. Of course, all of this takes resources so you'll need to choose which contact methods are reasonable and important for your business.
Keep collecting data
It's worth mentioning again, you need to obey all laws and respect people's privacy when collecting data but with that in mind, you can collect as much information as is reasonable and useful to personalize your sales and marketing messaging.
Automate as much as possible 
If it's repeatable, it's probably possible to automate. Doing so will make your life and your team's life much easier, plus it will save resources, which you can use to improve other parts of your business.
Always test
Nobody gets it right the first time so test, test, and test again. For example, you could add live chat to your site and see if it encourages more people to buy. Or you could A/B test an email campaign by sending out two newsletters with different headlines. Then you can measure which one has a higher open and click-through rate. Eventually, you'll have an omnichannel strategy that works perfectly for your business and for your customers.
The future of omnichannel commerce
Of course, many things affect the future, but there are a few omnichannel commerce trends to keep your eye on:
Mobile apps
Mobile apps have been around for a while but are becoming more and more prevalent in commerce, which means they'll be a big part of omnichannel commerce as we move into the future. 
AI-enhanced apps make it easy to try on items virtually and the convenience of mobile payments is increasingly important. It's already possible to pay and accept payments using your mobile phone in-store. Maybe one day, that'll be the only way to pay. 
📌 Pro Tip: Manage your business on the go with the MONEI Pay app. Download the mobile payment app to your mobile device (Android or iOS). View transaction history, issue refunds, generate digital QR codes (to accept contactless in-person payments), and keep a pulse on your business from anywhere.
Blended human and AI experiences 
The need to mix human and AI interactions at an optimal level will continue. Automated online chats are getting better but there's still sometimes the need to speak to a human when a customer needs to resolve something specific.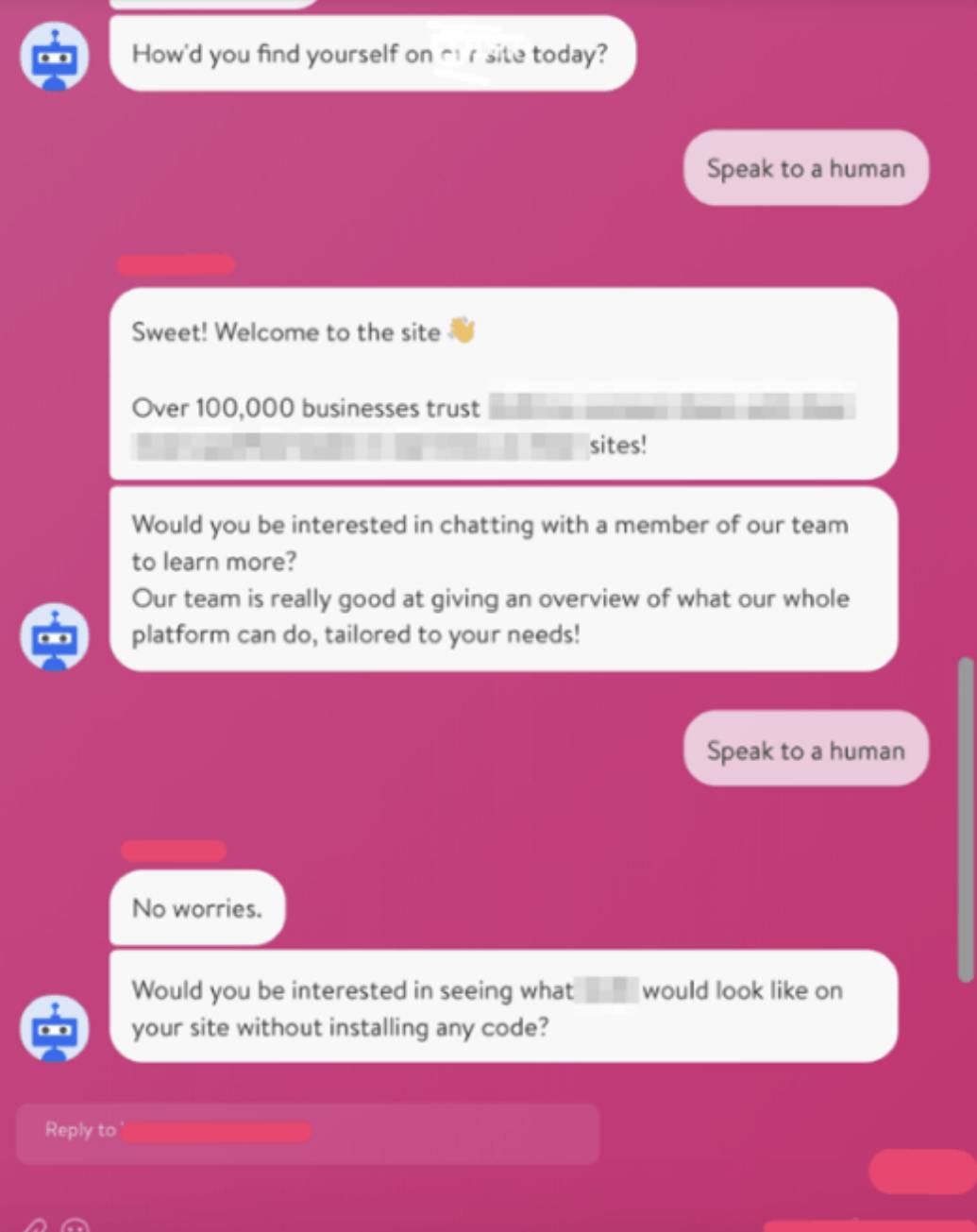 More digitally native brands are moving into physical retail 
Another trend that's becoming more apparent is online-only brands expanding into physical stores. A big reason for this is that lease prices have reduced during the pandemic at the same time as consumers feeling the need to get out of the house and into the shops, according to Shopify's Future of Retail 2022 report.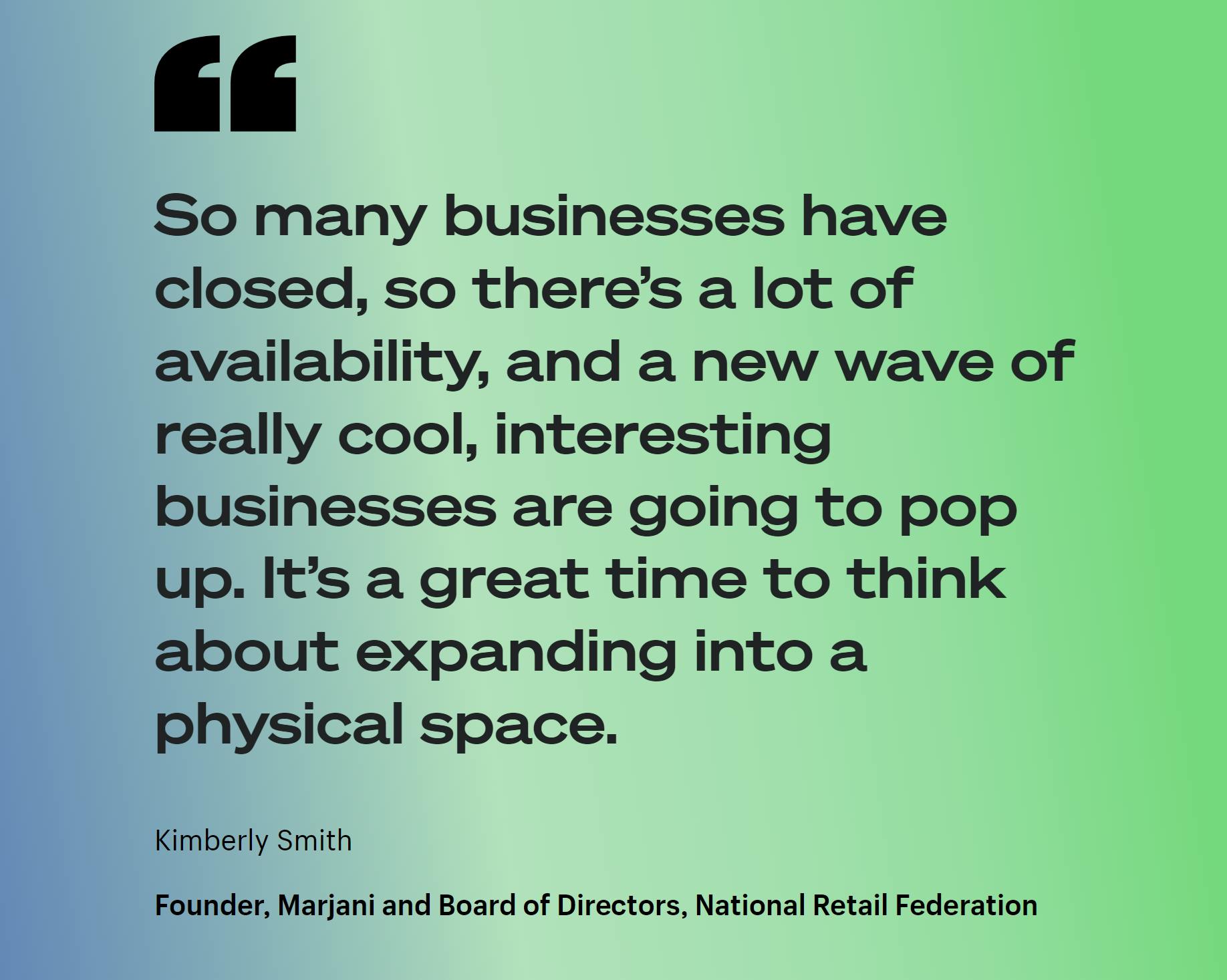 Madison Reid, BirchBox, and even Meta (Facebook's parent company) have already given it a try and as commerce evolves, it's becoming more likely that companies will spread their wings.
Omnichannel commerce: get started 
You know what omnichannel commerce is, how it works, and that its benefits outweigh the potential challenges, plus you have some top tips to get you started. Now's a great time to set up your business for omnichannel success. 
Choose the right omnichannel payments partner so you can accept a wide range of major and alternative payment methods online, in-store, and on the go — all from a single platform. MONEI is here to help. Register today to start testing integrations and payments and contact us for support.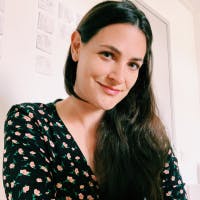 Alexis Damen
Alexis Damen is the Head of Content at MONEI. She loves breaking down complex topics about payments, e-commerce, and retail to help merchants succeed (with MONEI as their payments partner, of course).