Payments Technology
What are Omnichannel Payments? (+ How They Work and Why They're Good for Business)
Alexis Damen | November 10, 2022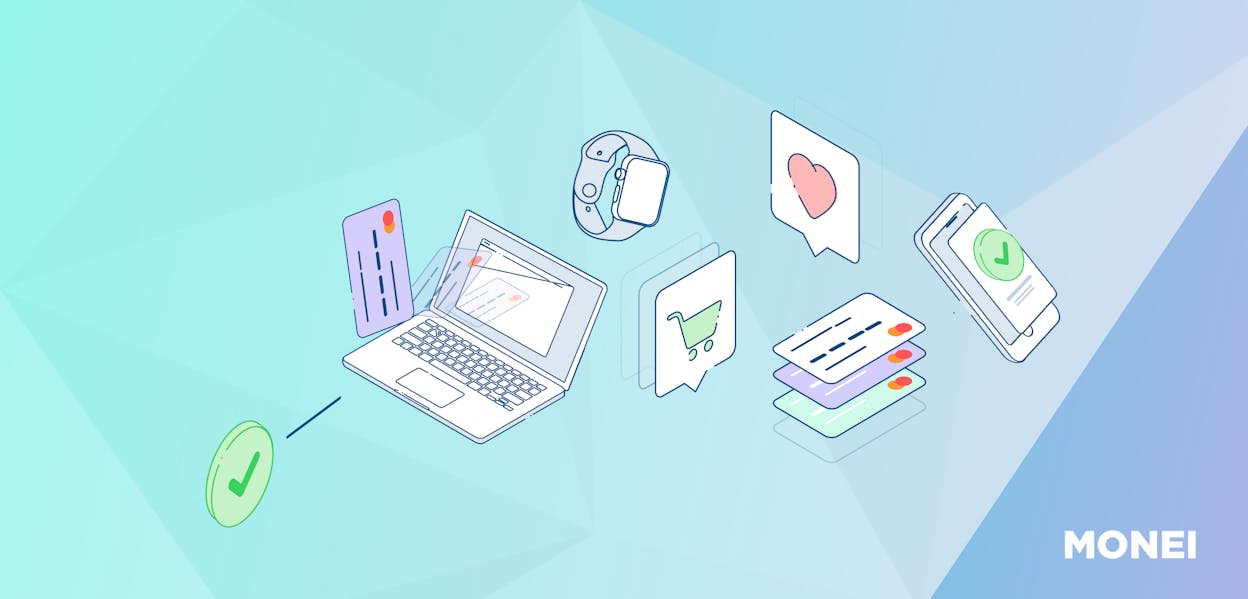 "Cash or card?" Omnichannel payments have made that question less relevant. Now, you're more likely to ask "how would you like to pay?" Answers vary from mobile wallets like Apple Pay and Google Pay to Bizum, bank transfers, credit and debit cards, and more. 
Modern consumers want to pay with the easiest and most convenient method, whether they shop online, in-store, or across every channel. 
Finding the right omnichannel payments solution for your business will help streamline payments and satisfy your customers' needs, but what exactly are omnichannel payments? 
In this article, you'll learn what they are, how they work, the benefits of omnichannel payments, and more. 
Table of contents 
What are omnichannel payments?
Omnichannel payments bridge the gap between online and offline. They allow you to take payments in-store, online, at events, or wherever you're selling products. Plus, they offer your customers a consistent, integrated shopping experience that's also easy for you to manage. 
For example, a customer might want to order online and pay in-store using a credit card. Another customer might prefer to pay online using a digital wallet like PayPal, or they might buy in-store using Bizum.
With 48% of customers switching between digital and physical company interactions, you need to be ready. That's why it's crucial to understand how omnichannel payments work.
How do omnichannel payments work?  
Omnichannel commerce allows customers to seamlessly interact with your digital and physical business channels from first contact to product reviews, returns, and also purchases.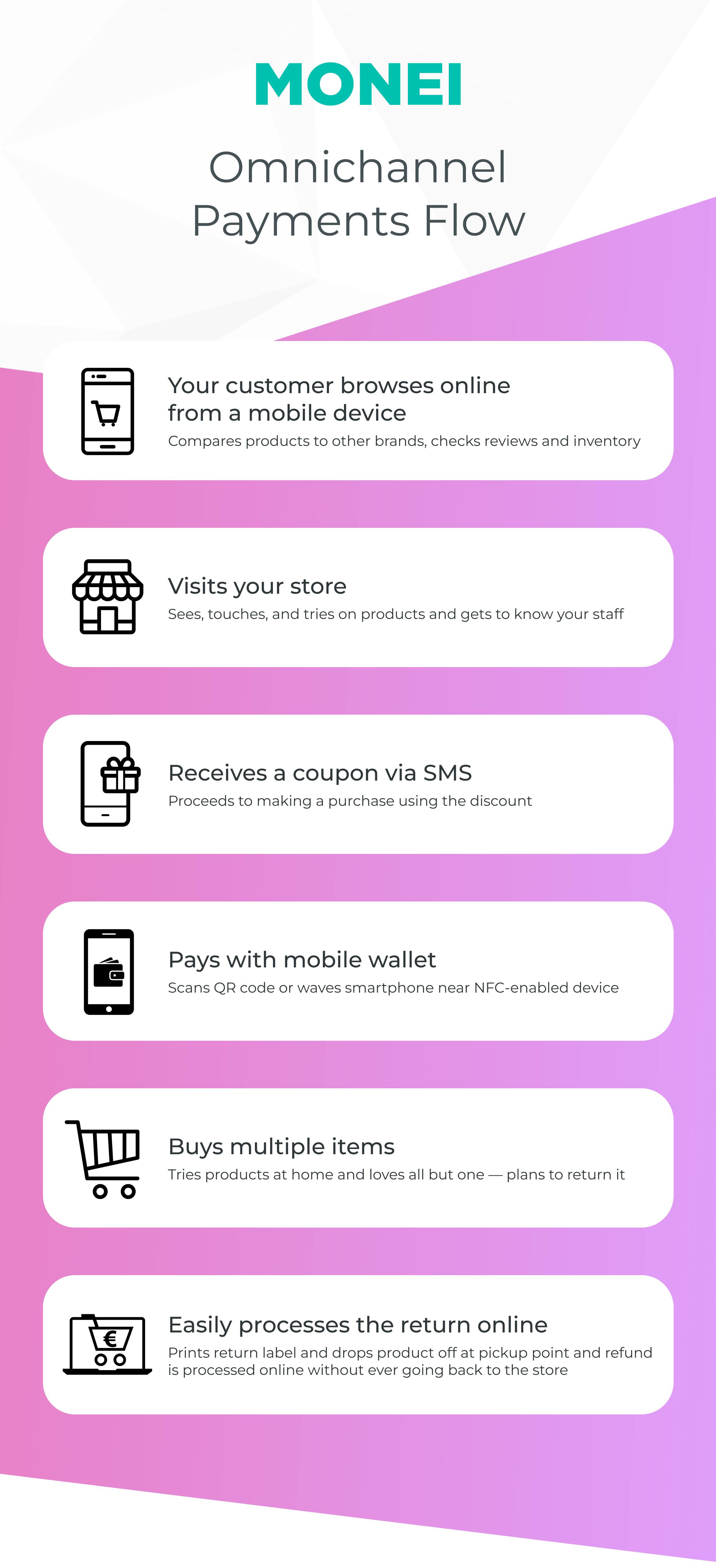 Omnichannel payments help to streamline purchases across all channels and make it easier to accept more payment methods. Let's see an example:
Mary browses your e-commerce store and comes across a dress she loves. 
She compares it to dresses in other stores, checks inventory, and uses your live chat to ask questions. 
Unsure which size will fit her best, she goes into your store to try the dress on. 
The sales team builds a rapport and makes her aware of a beautiful pair of shoes that match the dress perfectly. 
They send a coupon to her via SMS, offering a discount for her first purchase.
Mary buys the dress, shoes, and a necklace that caught her eye using her mobile wallet.
A week later, Mary decides the necklace doesn't suit her so she prints a return label and drops the package off at a pickup point.
The refund is processed online without Mary having to visit the store.
Mary was able to browse online, purchase in person, process her return online and via a pickup point, and get her money back without having to visit the store again thanks to the availability of fully connected payment processing across all channels. 
💡Pro Tip: Use MONEI to diversify your omnichannel payment stack from a single platform. Accepting card payments is essential. But it shouldn't be the only payment method available on your checkout page or in-store. Adding alternative and local payment methods is crucial, especially if you have (or want to have) international customers. 📌 Get started ›› 
What is an omnichannel payments platform?
An omnichannel payments platform helps you manage a range of online and offline payment methods all from one integration. Whether it's online card payments, in-person mobile wallet payments, or payment links, you'll have a single view of transaction history and you'll provide a consistent customer experience. The right solution will give you detailed insight into how your customers pay, allowing you to plan better for the future.
📌 Pro Tip: Use MONEI Pay to send payment links to your customers. Do you run a service-based business or need to accept payments at a later date? Create manual Pay By Link payments in the app and send them to your customers via email, SMS, WhatsApp, or social media — no website required. Get started ››
Omnichannel payment types
There are two main types of payment. Card-present (CP) and card-not-present (CNP) transactions. 
With card-present transactions, your customer or a staff member physically runs a card through a reader or waves it over an NFC-enabled device. Near field communication technology is used to transfer information quickly between devices without any contact. 
Card-not-present transactions use the information on a card to complete a purchase without ever swiping, tapping, or inserting the physical card into a machine. They are made remotely, for example online, over the phone, or by mail.
Contactless payments, including Apple Pay and Google Pay, count as card-present transactions. The customer adds their card information to the mobile app once. From this point, they scan or tap to pay with their phone to complete a transaction (also known as tap on phone).
Within the two main categories, here's how you can break down the different types of omnichannel payments:
Card present
Point-of-sale (POS) systems
Contactless NFC transactions, like Google Pay
Traditional card machines
Card not present
Online purchases
Invoices with links to secure payments
Keyed transactions for phone or mail orders
You might not want to accept every payment type listed above but whatever you choose, the right omnichannel payment solution will make managing customer transactions easier.
Omnichannel payment processing channels
Technology makes it possible to pay in ways we never imagined (even just a few years ago). There are many omnichannel payment processing channels available, too many to mention here, so let's look at some of the most popular ones:
Mobile devices
Insider Intelligence predicts that mobile commerce (m-commerce) will account for 42.9% of all e-commerce in 2024. Customers are paying for transactions using smartphones and tablets every day. Mobile wallet apps like Google Pay, Apple Pay, and Samsung Pay make it easy to buy both online and in-store with your device. 
Computer (laptop or desktop)
Online purchases using a laptop or a desktop have been rising for years and the pandemic had a significant impact. According to Statista, 52% of Spaniards shopped online more often in 2021. This was indicative of the trend across Europe and shows that online payments will continue to be a major part of omnichannel commerce.
POS payments
Many customers still shop and pay in-store. In fact, Shopify's Future of Retail report says that 50% of customers in EMEA (Europe, Middle East, and Africa) are more likely to buy from brands with a local presence. Many customers will search online and buy in-store but their payment methods will vary greatly. Your store needs to accept a range of payment options to stay competitive.
💡 Pro Tip: Skip the expensive POS hardware and use MONEI Pay to accept payments from your phone. Take contactless QR code payments in-store, at your restaurant, or on the go from any mobile device. Spend 50% less than standard POS costs, boost customer satisfaction, and accept the widest range of payment methods from one platform. Get MONEI Pay ›› 
Business-to-business (B2B) payments
Omnichannel payment processing is also important for B2B payments. Businesses like distributors or wholesalers are looking for non-cash solutions to charge their customers and streamline the payment process. Rather than collecting cash, counting all the bills, and going to the bank to deposit it, omnichannel B2B payments can help you accept card payments from your phone, set up recurring billing or subscriptions, or take payments over the phone. 
Convenience, personalization, and long-term relationship building aren't only important for business-to-consumer (B2C) sales. These principles are equally important for B2B sellers.  
Advantages of omnichannel payments
More than anything else, consumer demand is driving omnichannel payments and it's with good reason. Customers see the benefits of having a strong relationship with a business that understands their needs. Omnichannel retail, omnichannel commerce, and omnichannel payment processing play a big role in keeping your customers happy. 
Let's take a look at all the benefits: 
Boost sales
A report by the Harvard Business Review says that customers who use four or more channels spend an average of 9% more. This means you need to offer the same high level of service on every channel and it needs to be seamless. If a customer's preferred method of payment isn't available in your business, they'll buy from somewhere that it is.
Save money and time
With the right omnichannel payments platform, you don't need multiple third-party integrations. This means with a single connection, you can receive payments through any channel and analyze your data from one place. Working this way makes your omnichannel payment processing more efficient and cost-effective.
📌 Pro Tip: Save money on transaction fees with MONEI. As you sell more your transaction fees will decrease in real-time, thanks to our dynamic pricing model. You'll have more money to reinvest in your business and grow. Get started ››
Improve payment security
The best omnichannel payment solutions are protected with security protocols such as the Payment Card Industry Data Security Standard (PCS DSS) for online card payments. Different payment methods will use different security standards and the right platform will make sure it's compliant.
Enhance the customer experience
The Accenture Trust in Hyper Relevance report says that 58% of customers would spend more with a business that offers a personalized experience without breaching trust. A good omnichannel payments system will remember a customer's preferred payment method so they can quickly use it every time, no matter where they are or what they're buying. 
Centralize payment reports and insights
A centralized database for payment reports, transaction history, and channel insights gives you a better understanding of where your business is performing well and where you can improve it. You can compare the way your customers pay online to how they pay in-store and see what happens when they're interacting through multiple channels.
Easy integration
With an omnichannel payments platform, you only have to set it up once and then you can add payment methods or channels when you need them. You'll only have to learn how to use one platform and you'll never have to worry about discrepancies when it comes to sales reports. It's all centralized in a single dashboard. 
📌 Start Now: Use MONEI to accept a wide range of popular local payment methods from a single platform. With one integration you can add payment options like Bizum, Multibanco, iDEAL, Giropay, and more to your store. Skip the headache of setting up local acquiring in each of the countries you want to sell to. 
Avoid abandoned carts
According to Baymard, 18% of respondents abandon their carts because they don't trust the site with their credit card information, and 9% leave because there aren't enough payment methods available. An omnichannel payments platform helps build trust by keeping your branding consistent across channels and offering the payment methods your customers are looking for.  
Start accepting omnichannel payments today
Now that you understand what omnichannel payments are, how they work, the different types available, and their advantages, you're ready to get started. Choose an omnichannel payments platform that lets you manage your entire payment stack (online and off) from a single integration — choose MONEI.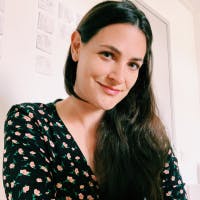 Alexis Damen
Alexis Damen is the Head of Content at MONEI. She loves breaking down complex topics about payments, e-commerce, and retail to help merchants succeed (with MONEI as their payments partner, of course).