Payments Technology
How to Offer Contactless Payments for a Safer, Faster Checkout Experience
Alexis Damen | November 4, 2020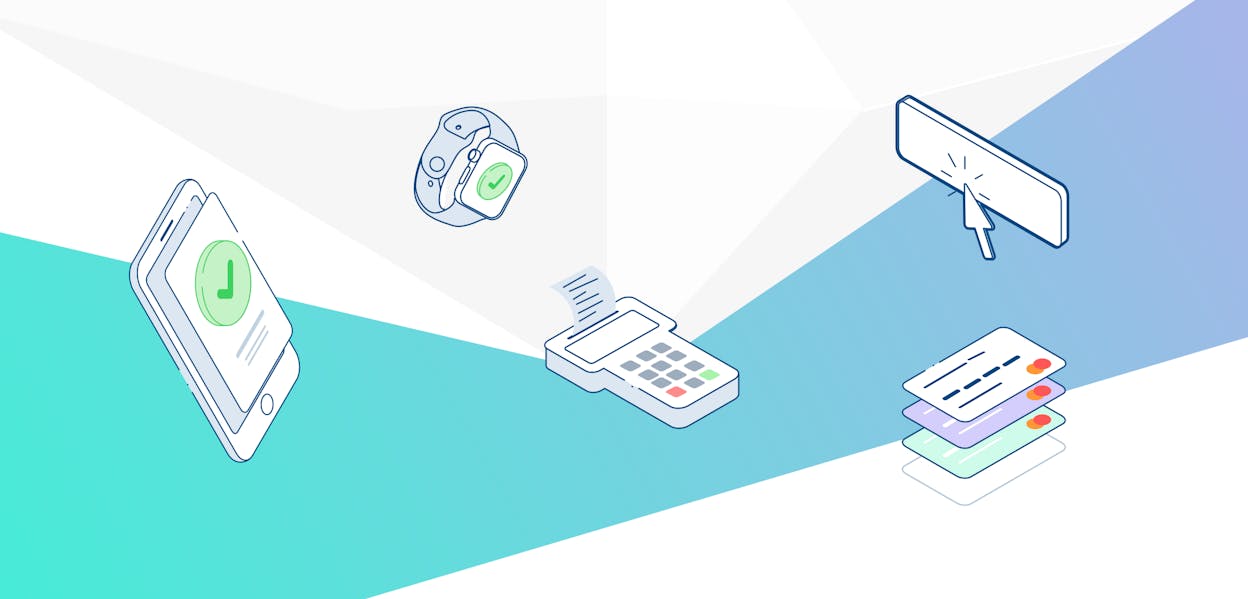 If you've ever tapped your credit card at a point of sale terminal to make a purchase, you've used contactless payment. Contactless payment is a fast, safe, and secure payment method that your customers can use to purchase products using a credit, debit, smartcard, or digital wallet. 
Two types of technology are used in contactless payments. Near-field communication (NFC), a short-range wireless technology that transfers information quickly between devices, and radio frequency identification (RFID) technology, a wireless technology that tracks or matches an item or individual. 
Sometimes this technology is also called tap or tap-and-go. Learn all about contactless payments — how they work, how you can put them to work for your business, alternatives to contactless credit or debit cards, and major benefits to using them, especially during the COVID-19 pandemic.
How Does Contactless Payment Work?
It may only be a second between the time when you wave your card over a point of sale terminal (POS) and when your transaction is approved, but a lot of technology is communicating during that time to create a frictionless payment experience.
Here's what happens behind the scenes of a contactless payment: 
The customer waves their credit or debit card over the point of sale terminal.
The merchant's point of sale terminal reads the RFID chip in the credit or debit card, initiating the transaction.
The point of sale terminal sends the customer's data to a card-processing network. 
The card-processing network verifies that the data is in the correct format. 
The customer's card issuer verifies that the card information is valid and that there are sufficient funds in the account. 
The data that tells whether the customer's card was approved or denied flows back to the point of sale terminal. The sale is either completed or denied.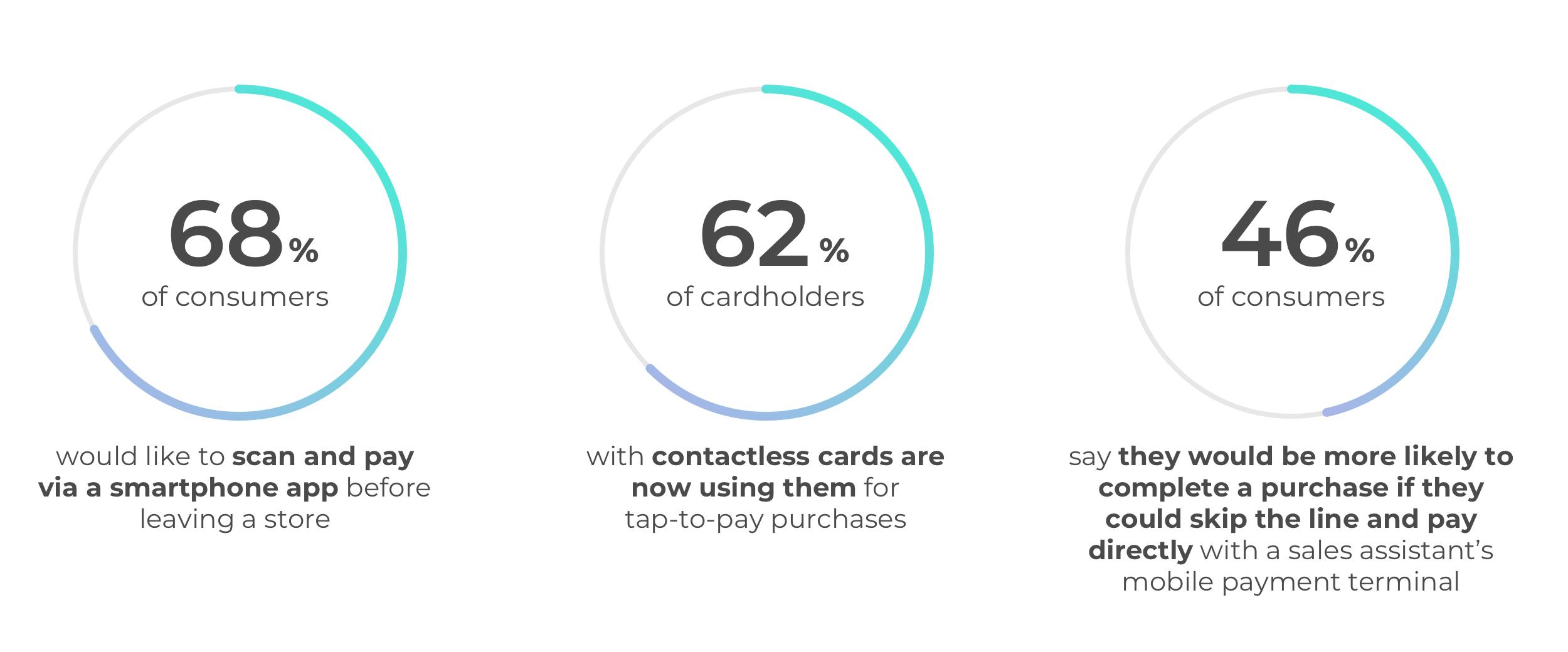 Contactless Payment Stats
451 Research found that contactless payments are gaining more traction in the United States during the COVID-19 pandemic. Here are some of the statistics they list.
68% of consumers would like to scan and pay via a smartphone app before leaving a store
62% of cardholders with contactless cards are now using them for tap-to-pay purchases
42% of consumers say their likelihood of completing a purchase with a business would increase if they could order and pay for products or services via an in-store kiosk
46% of consumers say they would be more likely to complete a purchase if they could skip the line and pay directly with a sales assistant's mobile payment terminal
How to Offer Contactless Payments
Not all credit or debit cards have the embedded RFID chip to use at a point of sale terminal, but there are other methods of making contactless payments. Learn about other methods of contactless payment for customers who may not have RFID chip cards.
Mobile Point of Sale Terminals (mPOS)
A mobile point of sale terminal (mPOS) allows physical stores to accept contactless payments through a mobile device like a smartphone or tablet. To use an mPOS, you will need a contactless reader for chip cards. The vendor you choose to use to process payments will usually offer the hardware to complete sales. For instance, Square sells a contactless reader for NFC and chip card payments. Other mPOS services that offer contactless options include Visa's Tap to Phone and PayPal Here. 
Curbside Pickup & Buy Online Pickup in Store (BOPIS)
With the COVID-19 pandemic curbside pickup and BOPIS services have greatly increased in popularity. Customers can purchase items in a physical store through the store's website or an app. They pay for the items online and then go pick them up, either curbside or inside the store, after the store fulfills their orders. This gives customers the convenience of online shopping, the safety of contactless (or minimal contact) transactions and allows brick and mortar locations to keep business that they may otherwise lose to e-commerce businesses. 
Pay By Link
Pay By Link allows merchants to manually issue a unique payment link to a customer. The link is usually sent to their email or mobile device via SMS. When the customer clicks the link they are redirected to a page where they can complete their transaction. Pay By Link is a good option for contactless payments where merchants won't need to purchase any additional hardware.
Further reading: What is an Email Payment Link? [+How to Use Them to Accept Payments Anywhere]
Digital Wallet
A digital wallet is an app that can be used on your computer or smartphone to make purchases online. Some examples of digital wallets are Cash App, Venmo, PayPal, and Click to Pay which has recently grown in popularity. These third-party apps allow you to pay online without looking for your physical credit card. You can use these as contactless payment in some physical stores by ordering through your computer, paying with a digital wallet, and then picking items up in the store or curbside. 
Mobile Wallet 
A mobile wallet is an app that can be used on your smartphone, tablet, or smartwatch that holds your payment information. The difference between a digital wallet and a mobile wallet is that a mobile wallet will allow you to pay for goods or services at a physical store's checkout, while a digital wallet will only allow you to checkout online. The major mobile wallets include Apple Pay, Google Pay, and Samsung Pay. A mobile wallet will allow you to make a contactless payment at a point of sale terminal by waving your device near the terminal. 
Contactless Credit Cards
As we discussed earlier, contactless credit cards use RFID chip technology to transmit payment information to the customer's bank and back to the point of sale terminal to process transactions. These transactions happen with the wave of a card near the point of sale terminal and are approved or declined, typically in seconds, making this form of contactless payment simple and convenient for customers.  
Making Contactless Payments Work for Your Business
If you aren't already offering contactless payments, there's no better time to implement them. Customer behaviors are changing and implementing contactless payments will help you adapt. Here are some suggestions for implementing contactless payments in your business.
Focus on Efficiency
With so many efficient payment options becoming available in brick and mortar stores, you need to adapt to stay competitive. The faster you can get your customers checked out and back to their lives, the better. Contactless payments allow customers easy, safe checkout options. 
Meet Your Customers' Needs
Different customers have different needs, so it's important to provide them with as many options as possible to make the checkout experience convenient. Some customers may need curbside to-go services, while others may be comfortable with BOPIS models. Others may want to use their contactless credit cards at physical point of sale terminals. Provide flexible options to make life easier for your customers and gain more business. 
Find the Right Company to Provide Infrastructure
Tech is evolving quickly in this space. Your business will need the right hardware and software components to begin accepting contactless payments. Find a forward-thinking company that can help you grow your business without restrictions. For example, companies like Shopify are branching out of the e-commerce space to adapt to brick and mortar contactless sales. Shopify offers a card reader that will accept contactless credit and debit cards. Investigate your options and choose a company that will grow as consumer trends and tech continue to evolve. 
Contactless Payment Advantages and Disadvantages
Still wondering if contactless payments are right for your business? We will go over some of the advantages and disadvantages of contactless payments so you can figure out the best option for you and your customers. 
Advantages
Security - Contactless cards use the same security as EVM chip cards. Every transaction uses a one-time code that prevents fraud, giving customers peace of mind. 
Safety - Contactless payment options allow customers to safely distance during the COVID-19 pandemic. 
Convenience - Customers are able to conveniently complete their transactions, giving them better experiences and making them more likely to return and give repeat business to companies. 
Disadvantages
Card limits - There are limits on how much customers can spend at one time with contactless transactions. These limits vary by card and by country. However, most cards have raised their limits with the COVID-19 pandemic to accommodate more contactless payment options.
Lost cards are a security threat - If a customer loses his or her card that can be a security threat, as contactless payments do not require a pin number. 
Customers spend more - This is a disadvantage for customers, but an advantage for businesses. Customers tend to spend more money with contactless payment options than with cash. 
Contactless Payments are Here to Stay
Contactless payments have increased in popularity because of the COVID-19 pandemic, but these new consumer behaviors are here to stay. Where people may have been reluctant to adapt to new technologies before, they are now accustomed to the convenience of contactless payments. Position your brick and mortar business to be competitive by implementing contactless payments.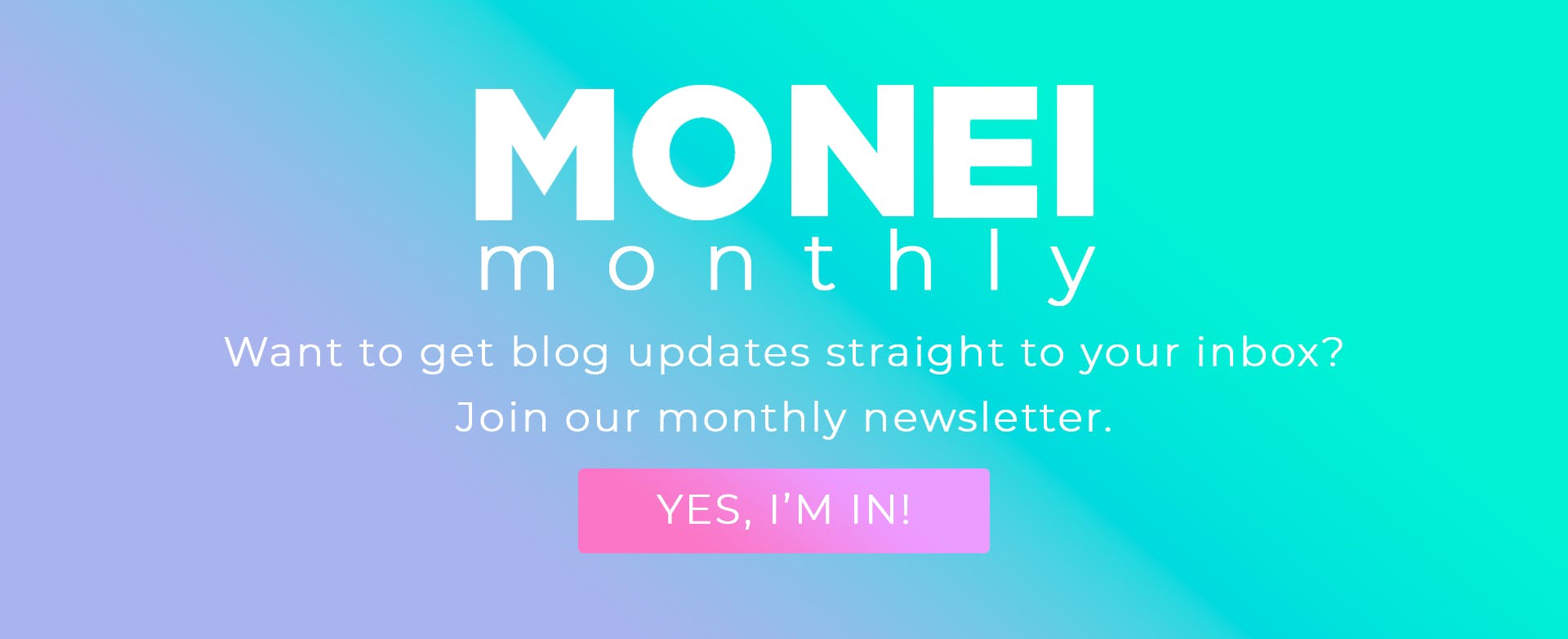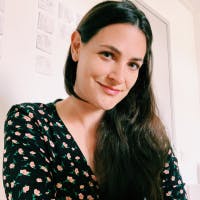 Alexis Damen
Alexis Damen is the Head of Content at MONEI. She loves breaking down complex topics about payments, e-commerce, and retail to help merchants succeed (with MONEI as their payments partner, of course).